I don't know about you, but it really felt like the holiday season just sped by so now that we're in the most depressing month of the year (Sorry any January birthdays!) I need all the help I can get in my morning winter makeup routine. You see, having to be at work before the sun fully up means that my morning makeup routine is all about being quick (so I can sneak in that extra 5 minutes between hitting the snooze button), minimalistic, and as low-maintenance as possible.
It's been a while since I last wrote about my winter makeup routine and right now I'm really loving the combination that I am currently rotating!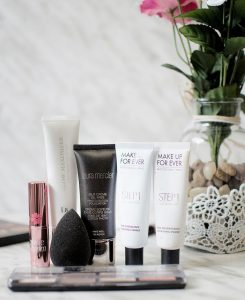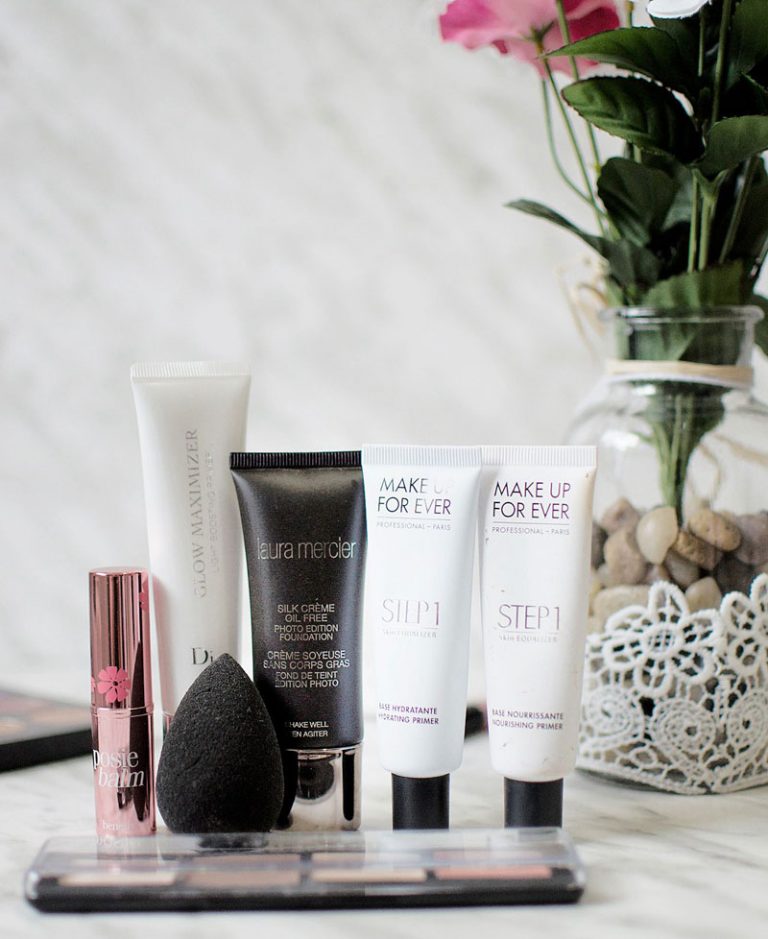 When it comes to my makeup routine, my complexion always takes the longest especially because the holiday diet hasn't been too good to my skin. Putting together my own concoction of base products is one of my favourite things to do and it helps achieve exactly what I'm looking for.
Quick Winter Makeup Routine
After I've cleansed, and woken up my skin using the ClarinsDaily Energizer Wake-Up Booster ($18, sephora.ca), I'll proceed with my hydrating skincare routine. You can read more about what I like to use in the morning in my Winter Skincare Routine post.
The Primers
As my skin is looking very dehydrated and dull, I've been alternating between the Make Up For EverStep 1 Equalizer Primers ($45, available here). Both the nourishing and hydrating formula are staples on my vanity. The two formula are very similar so it really comes down to your preference – the hydrating primer is geared for normal skin with occasional dryness whilst the nourishing primer is for constantly dehydrated skin.
To combat the dullness from the wintry weather, I'm loving the DiorGlow Maximizer Light Boosting Primer ($58, available here) which comes in a highly convenient tube-pump packaging. It is a pearlescent, slightly golden liquid that can be worn on its own or mixed into your foundation to give the illusion of a brighter and more radiant skin. This product is unique in the sense that it's going to make your skin really, really glowy! I can't think of anything else I own anything that gives me this much sheen with so little product used. I use this very sparingly (rarely on the entire face), and really only on the areas that I need a bit of oomph! I will occasionally wear this on top of the foundation as a highlighter rather than using it as a primer.
Despite the slight tint, the Dior Glow Mazimizer doesn't change the colour of my foundation but evens out the redness on my skin when used as a primer. Unfortunately, the slightly golden colour may not be suitable for those with extremely pale skin shade as it would definitely add a slight golden tint on your skin (Unless of course, you want a bit of that post-holiday tint going!)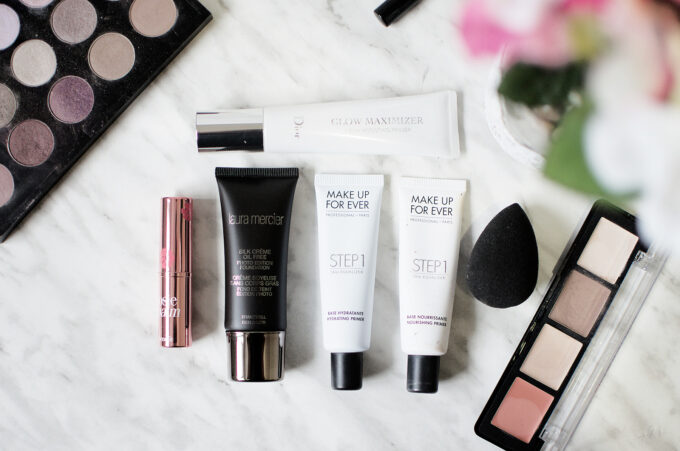 The Foundation
My foundation of choice is an old favourite, the Laura MercierSilk Creme Foundation (Oil-Free formula) ($58, available here). Many of you will recall how popular this foundation was with YouTubers and bloggers everywhere. It was reformulated a couple of years ago and re-released as two different ranges, an oil-free, and moisturizing range.
As I have normal-combination skin, I opted for the oil-free formula which means I can control how much of the dewiness, and glow I want. If you recall, this foundation is well-known for its glowiness and dewy finish so it might sound counter-intuitive to mix it with the Glow Maximizer. I honestly haven't found the combination to be much of an issue, plus, using a Beauty Blender helps apply the product more sparingly. This full-coverage foundation covers up everything so one quick application is really all I need.
To make the most of my foundation, and really reduce the time I spend on my makeup routine every morning, I rely on my Beauty Blender ($28, available here) as my tool of choice. If you have been contemplating this purchase for some time, rest assured that it is going to be one of the best investments you're going to make.
Everything Else
To finish off the quick winter makeup routine, I use the Make Up For EverPro Sculpting Palette ($54, available here) which includes a cream-based blush, highlighter (matte or shimmer) and contour in one place. I travel with this palette often, and I love using the shimmery highlighter as an eyeshadow. I also have been reaching out for my BenefitPosiebalm ($23, available here) which is a nourishing tinted lip balm that keeps my lips happy all day long!
What are your favourite products for a quick makeup routine?
[show_shopthepost_widget id="2276356″]
---
Disclaimer:
This post features product(s) provided for editorial consideration. All opinions are my own. For more information about my review policy, please
click here
.
---