I must confess that I am most guilty of not writing about my staples as often as I should. It must have been because of this beauty blogger's mindset that makes me want to always be talking about the latest and newest products in the market, leaving behind some of the most trusted names, and well-deserving ones behind! Consider the PhilosophyPurity Cleanser ($15, available here) which has been and continue to be my cleanser of choice for the past 5 years. I came upon this product entirely by chance and have continued to repurchase it for the last 5 years, thanks to Sephora's Black Friday sales.
Sephora brings the limited edition size of the PhilosophyPurity Cleanser every year during its Black Friday sale for as long as I can remember. This limited-edition 12 oz bottle retails $15 during the 2016 sale (in previous years, this cleanser retails anywhere between $10-$13) and cannot be purchased outside of Sephora, or outside of the Black Friday event. Considering that drugstore cleansers cost anywhere from $15- $20 these days, even at $15, the Philosophy Purity Cleanser is still a pretty awesome steal. There are a few other sizes available, but suffice to say that with the 8 oz bottle retailing for $32, this is the only one item that has consistently been in my checkout basket since 2011.
The PhilosophyPurity Cleanser is available at: Sephora • The Bay • Ulta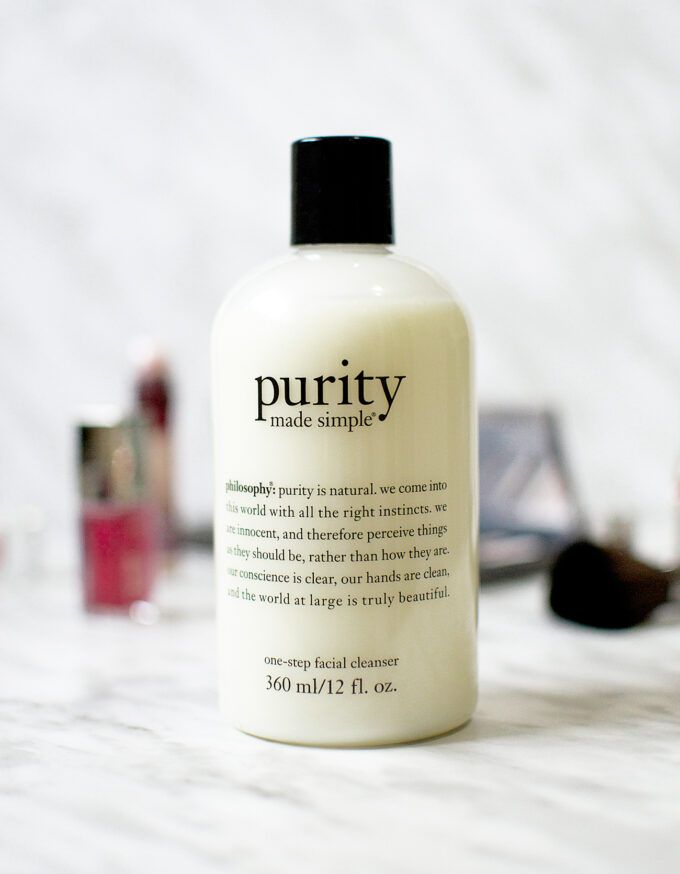 Aside from the pricing factor, the PhilosophyPurity Cleanser is one of the most gentle and effective makeup remover, cleanser and toner in one product. I abide by the triple-cleansing method so this product effectively reduces the number of products I need to use in the morning and at night. My routine usually goes as follows: I start with a makeup remover (wipes, or using my beloved the Bioderma), proceed to cleanse and finish off with a toner which the cleanser does in one product.
I quite enjoy the PhilosophyPurity Cleanser for its effectiveness in the three areas I prioritize most – as a makeup remover, cleanser, and toner. When I travel or am low on either the Bioderma Micellar Solution or cotton pads, I will use this product to remove my makeup. Typically I need at least two rinses: the first taking off almost 80% off the makeup, and the second, to remove any stubborn, clingy makeup including the mascara, and heavy-duty eyeliner. The second rinse also effectively cleanses my skin, so I don't use anything afterwards.
This product is also a toner on its own so I typically leave out the toner. On days where I have had my makeup on for more than 8 hours, I will usually continue with one to ensure that no impurities are left behind. Typically, my beloved Clarins Daily Energizer Wake-Up Booster which works as both a toner and skincare booster, picks up no dirt / impurities once I'm done with the PhilosophyPurity Cleanser.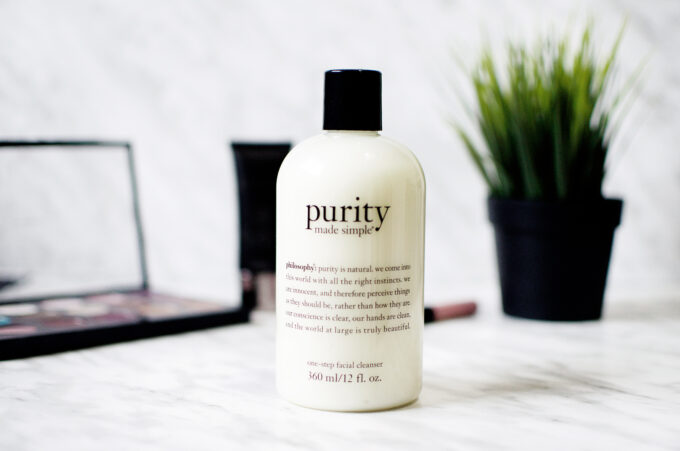 If there is one bad thing I can say about this product, it would be the packaging. I'm not a fan of this mechanism – I always find I'm squeezing far more product than I need leading to a lot more wastage. I ended up buying a soap dispenser from IKEA which costed $1 and extends the life of cleanser to 6 months!
The cleanser is very gentle on the skin and doesn't lather up which is a good indication that it is not overly infused with detergent-like ingredient that strips the skin of its natural oils and moisture. Since the cleanser is quite safe for sensitive skin, I've never had any issues with it removing my eye makeup as well! This cleanser has been so good on my skin – doesn't irritate, dry out or cause any breakouts in the last 5 years that I've been using it.
The PhilosophyPurity Cleanser is a cleanser I have purchased for 5 years and counting. Needless to say it continues to beat out department-store cleansers out there and is worth the investment, particularly if you can get ahold of this during Sephora's annual Black Friday sale like I usually do.
Have you tried the Philosophy Purity Cleanser?