It's hard to imagine that Spring is merely 1.5 months away, however so many beauty brands already releasing their Spring launches in stores, we know it's time to get excited about the warmer weather! The new ClarinsContouring Perfection collection is the brand's Spring 2017 makeup line up that includes two new innovations and several colour extensions!
The Clarins Contouring Perfection is a collection dedicated to light, shade and contrasts and combine a touch of skin care resulting in trompe l'oeil (illusion) that delicately sculpt and accentuate the facial features whilst keeping your skin healthy.
The ClarinsContouring Perfection is available as of February at Sephora • The Bay • Shoppers Drug Mart • Holt Renfrew and other Clarins counters nationally.
Clarins Contouring Perfection » Face Contouring Palette
Any time we're talking about contouring, I'm all over that – I love trying anything new to give my face some sculpted look. The first item in the Contouring Perfection is the ClarinsFace Contouring Palette ($49, available here), a 3-in-1 limited edition contour palette for the skin. The palette comes in a luxe gold casing with its own Pro Brush – a curved contour brush to designed to hug the facial contours, to help precisely apply the products.
All three shades are matte which is a lovely change from the overly shimmery powders that's been the hallmark of many highlighting / contouring products we've seen. The matte colours mean these powders apply more subtly and will be appropriate for those who don't find the shimmers in most products to be appropriate for their skin or regular use. Clarins claim the three colours to be universal but I am not 100% convinced as they don't look like they would show up well on darker skintones.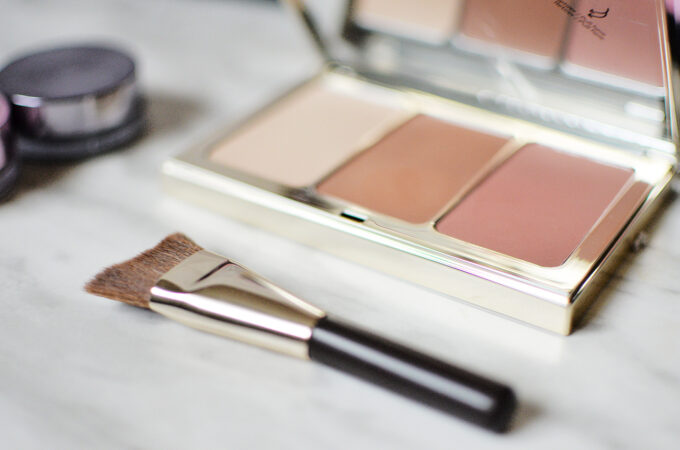 The highlight shade creates a subtle lift when applied on the high points of the face. I love how it emphasize the cheekbones without being noticeable! The contouring shade is a little too orange for my preference – it's a colour that's more of a bronzer on my light-medium (MAC NC25) skintone. The blush is a lovely rose shade that looks like a natural skin flush. Despite being a matte colour, this shade doesn't look "flat" on the skin.
The overall formula is really lovely – there is no powdery finish to worry about so this would be something that even those with dry skin will enjoy. The Clarins difference has always been the infusion of skincare products into their makeup; This particular formula is enriched with almond oil to ensure all-day comfort and white tea / nipplewort complex to protect the skin against free radicals and aggressors.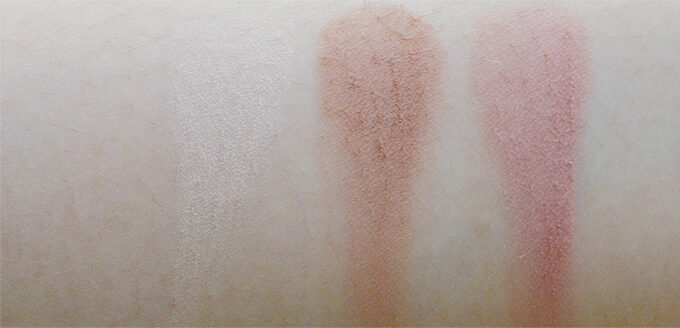 Clarins Contouring Perfection » Ombre Iridescente
Next up are three new shades of the Ombre Iridescente ($26, available here), a collection of cream-to-powder eyeshadows formulated with bamboo powder which increases hold and wear. Joining the existing range are three new colours: #08 silver white (a pearly white), #09 silver rose (powdery pink) and #10 silver grey (deep grey with silver shimmers). The finely milled shimmer has a smooth texture, and is easily picked up and applied with my fingers or a brush. Both application yields a lovely pigmented finish on the lids that doesn't feel patchy nor heavy on the lids.
The shimmer in the iridescent finish is not very noticeable so it makes the range appropriate for those who don't feel comfortable wearing bright-coloured or overly shimmery eyeshadows. The finish has just the right amount of "sparkle" to wake up the eyes subtly. This is the type of product I'd wear when I don't really want to do a full eyeshadow look but still want to appear put together or add a pop of colour to the eyes. I find this formula to be similar to the Make Up For Ever Aqua Cream but with a more iridescent finish as well as the Givenchy Ombre Couture Cream Eyeshadows. These dry like a powder would so they work really well with other eyeshadows and because of their subtler pigmentation, these are perfect to wear to the office or class on a daily basis.

Clarins Contouring Perfection » All in One Pen
If there's a way to make a splash with eyeliners or lipliners, it would be popping them into a multi-colour pen just the way Clarins did with this collection. The innovative, practical and fun product will add some excitement in your makeup bag!
The pen includes 3 eyeliner colours and 1 lipliner shade which is identified by either the eye or lip icon on the pen. I appreciate that there is a protector around the nib that prevents the very thin liner from breaking easily. This was my experience with the Clinique Skinny Eyeliner pencil – a novel concept, but poor execution as the pencils broke every time I tried using it!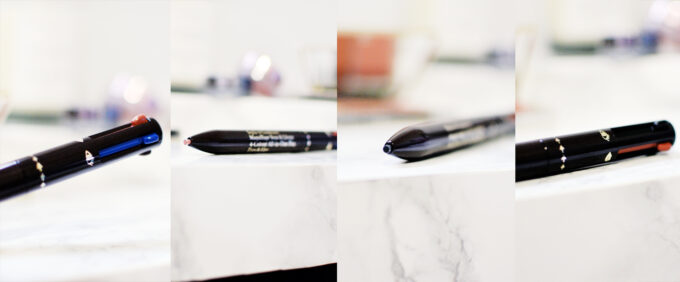 The colours included in this pen are black, brown, and dark blue for the eyes and a neutral nude shade for the lips. The black and dark blue shade applies well enough though it took a few strokes to become opaque. The brown shade and nude lipliner are my favourites – they feel a lot creamier and were immediately opaque within one stroke.
What I like about this All-in-One pen are the convenience factor, and versatility. I like having the All-in-One pen to touch up my makeup during the day and the lip-liner is a lovely extra. It's also really convenient to know that the brown liner can be used to touch up your brows in a pinch!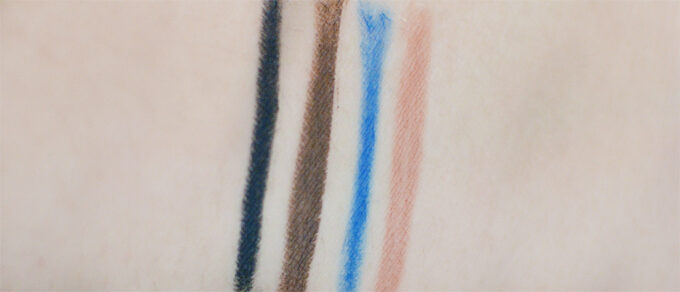 Clarins Contouring Perfection » 4-Colour Eyeshadow Palette
The Clarins4-Colour Eyeshadow Palette ($45, available here) is a palette with four shades that can be worn wet or dry. The formula is enriched with carnauba wax powder which keeps the eyelids comfortable and ensures a long wear time. From the Contouring Perfection collection, we have a new shade #05 Smoky which joins the existing range. This palette has 4 cool-toned charcoal greys. The colours work well worn by themselves for an intense smoky look but I prefer wearing them with other shades as cooler shades don't look as flattering on me!
I've had good experience with these wet / dry eyeshadows particularly with the darker shades when worn wet on the lids. They aren't too bright the way Urban Decay Eyeshadows or Make Up For Ever Artist Shadows are so they absolutely fit the bill if you prefer something a little bit more subtle. Although already quite pigmented, I find the colour intensity improves significantly when worn a little dampened which is how I prefer to wear mine.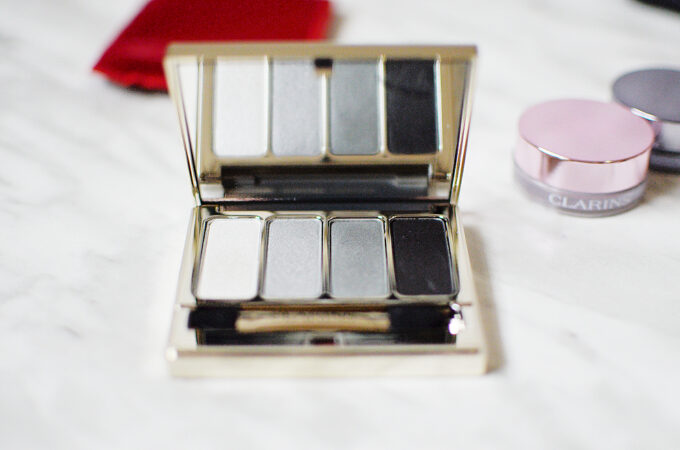 Clarins Contouring Perfection » Overall Thoughts
All the products in the Clarins Contouring Perfection I've tested really knocked it out of the park when it comes to achieving what Clarins promised with this collection. Every product provides that subtle "upgrade" to your look that doesn't look like you put a lot of effort into it! For someone who works in an office on a daily basis, subtle is a really good thing and I really enjoyed using all the products in this collection to get that.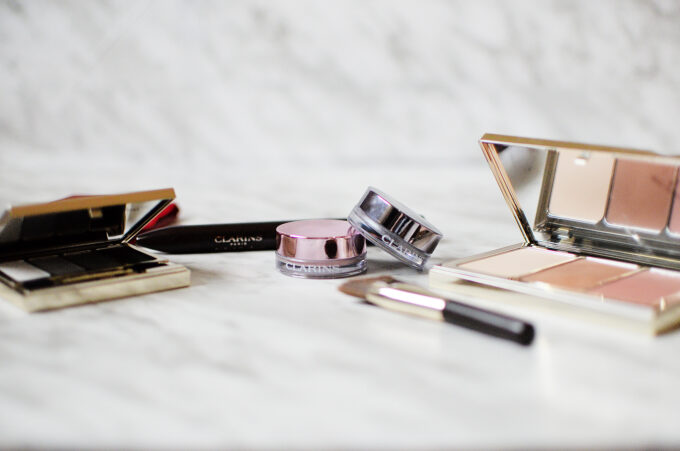 If I could only choose one or two products, I'd pick the ClarinsFace Contouring Palette and the Ombre Iridescente as they definitely upgrade your makeup bag instantly!
What do you think of the Clarins Contouring Perfection makeup collection? Which products are calling our your name?
---
Disclaimer:
This post features product(s) provided for editorial consideration. All opinions are my own. For more information about my review policy, please
click here
.
---