I'm one of the few people you'll ever meet who actually enjoys it when it's raining outside. Sure, I like the sun and sand between my toes, but I don't mind a bit of rain and clouds every once in a while! I know, I probably should live in London!
That's why I was pretty excited when two new books landed on my doorstep. Continuing the success of the previous launches, Lonely Planet is extending what I like to call their "Blow Your Mind" series. I have written about one my favourite books from the previous launch which was the top 50 Beaches to Blow Your Mind. If you're a Type A or a tick-things-off-the-checklist type of person, having a list of 50 carefully curated festivals to visit and fascinating accommodations to stay at around the world is like having someone do your homework for you!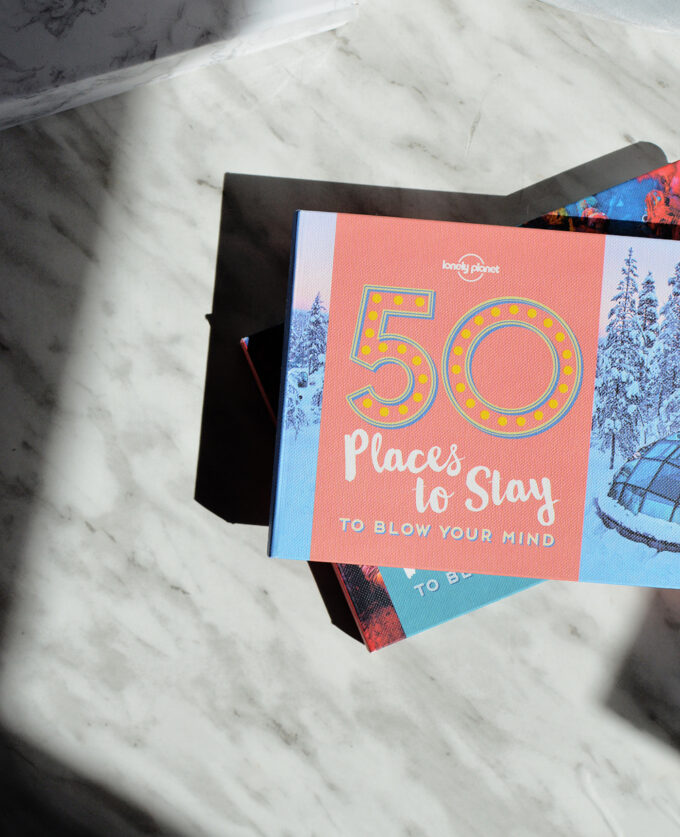 So thank you to the travel experts at Lonely Planet who extended this useful, and travel-friendly guidebook for all types of travellers! For anyone who's interested to that will make anyone with even the slightest case of wanderlust want to book a one-way flight! Even if you haven't been thinking about a vacation, you're going to be so inspired by these interesting accommodations and festivals that you'll end up booking your trip right here and now.
I was perusing the 50 Places to Stay to Blow Your Mind and I'm already pretty tempted to book a trip – staying in capsule hotels in Japan, a tree-house in East Sussex (UK), a crazy hanging sleeping pods in Cusco (Peru), or the ice hotel in Quebec (Canada)… there are 50 options to choose from! Just like the previous books, I think we can all agree that Lonely Planet's instalment of "Blow Your Mind" series are seriously going to blow our minds.
50 Places to Stay to Blow Your Mind ($17.50, available here)
50 Festivals to Blow Your Mind ($17.50, available here)
Now, you may be wondering, this is all good and interesting information but where can I get the books? The title is available as of April 2017, in-stores wherever Lonely Planet guidebooks are sold, or online. Lucky for you, I've partnered with Lonely Planet to host a giveaway for you guys!
Lonely Planet Giveaway
Things have been a little bit more silent on this end than you're probably used to so I want to thank you all for sticking with me through this quieter time! I've partnered with Lonely Planet to thank you for your continued support!
This giveaway is open to Canadians only! Enter using the form below!
Thank you for your continued support and good luck!
---
Disclaimer:
This post features product(s) provided for editorial consideration. All opinions are my own. For more information about my review policy, please
click here
.
---