There's a lot to think about when it comes to travel planning and pre-departure checks before you head to the airport. Oftentimes, we focus so much on what we're packing, the 3-1-1 TSA rule to really be worrying what you need to do in advance of the trip, and around the house just before you leave.
Take it from someone who leaves the office at 2AM and only had finished 50% of my packing and tried to get a 7AM flight (meaning I had to be at the airport around 5AM at the latest). What I've done is jot down exactly what I do each time I prep for a trip – starting from as far as out 2 months (to get the vacation days approved and book the flights).
I hope you find the following travel pre-departure checklist helpful to prep for your next trip with as little stress as possible!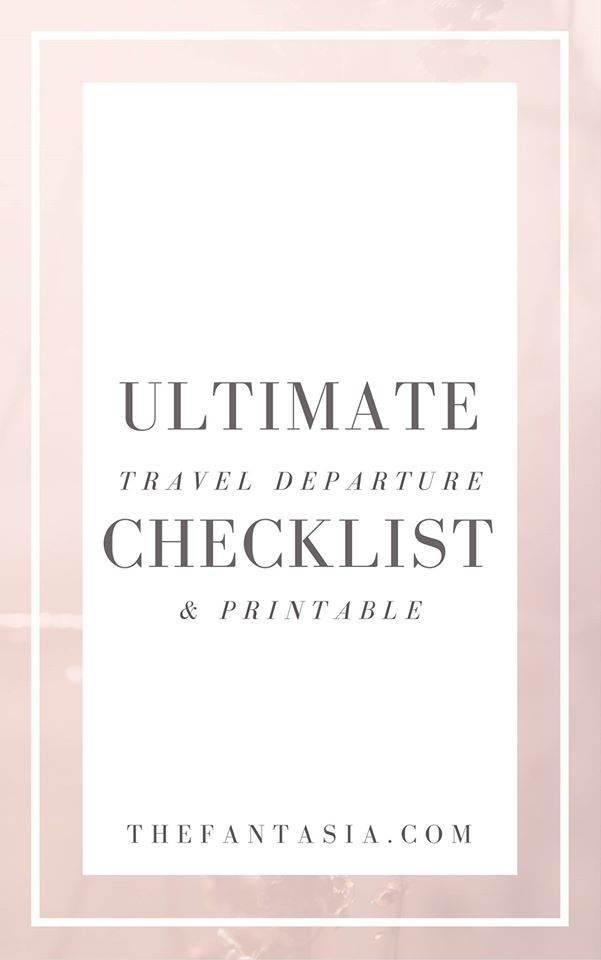 8+ weeks in advance
Get vacation days approved
Research destination
Make reservations
Renew documentations (passports)
Get entry visas
Get Vaccinations
Purchase travel accessories
2+ Weeks Before
Arrange pet / garden care
Arrange home car
Fill prescriptions
1+ Week Before
Arrange mail / deliveries to be temporarily stopped
Do laundry / dry cleaning
House cleaning
Pay bills in advance
Manage accounts (banks, online statements, etc)
Call banks to advise them of your travel plans
Photocopy important documentations (passport, IDs, itinerary
Get foreign currency
Make packing list
Begin packing
Finalize itinerary
The Day before Departure
Fully charge rechargeables (phone, camera, tablet)
Clean house
Confirm reservations
Check weather
Return outstanding items (library books, movies, etc)
Finish packing
Update contact info on luggage
Remove perishables / food from fridge
Take out trash
Share final itinerary with family / friends in case of emergencies
Register your trip in case of emergencies abroad with your local government agency so you can access consular services (Canadians can register their trips with the Ministry of Foreign Affairs, Trade and Development Canada)
Day of Departure
Adjust thermostat
Close windows / blinds
Unplug power to surge-sensitive appliances
Ensure everything is off / unplugged
Set home alarm
Lock house / garage
Double check that you have important documentations (passport, itinerary, backups)
Ensure you've packed your electronics / 3-1-1 liquids appropriately
Pin this for Later!