Despite my ever expanding makeup brushes collection, I am loyal to few. There are only about 7-8 brushes that have withstood the trials of my daily exercise of makeup application that deserves to be more than just praised. I am not the type to spend lots of money (read: North of $20) on brushes when there are inexpensive alternatives available.
The bulk of my favourite brushes are from Real Techniques, Sedona Lace and ELF. From Reach Techniques, I cannot rave enough about the buffing brush which is irreplaceable, and is such a staple that I have repurchased the Core Collection set multiple times in order to secure backups of this brush. The round-top, dense, synthetic brush is perfect for applying liquid foundation without soaking up all the product. It is also very versatile and can be used as a powder or blush brush. It just simplifies the process of achieving a very airbrushed, finished look!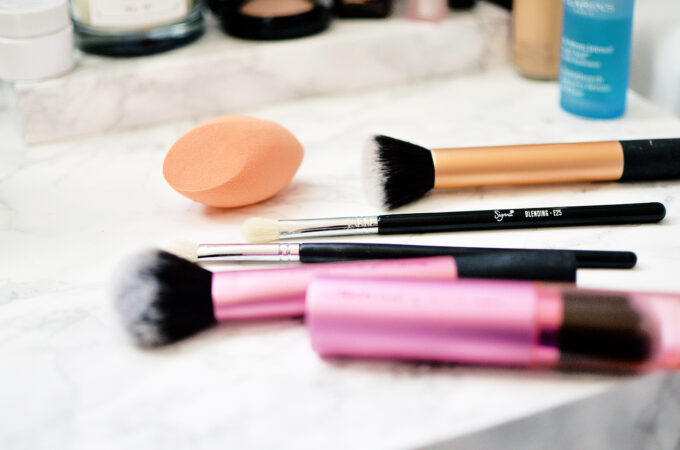 The multi task brush, just like the name implies, is really my go-to multi-task brush. Powder, blush, bronzer, and occasionally, foundation? You bet! This brush can do it all with its slightly tapered, rounded synthetic head. When I went to Dubai a couple of years ago, I only brought these two brushes for the entire trip!
I can go on and on about how fabulous their other brushes are, but suffice to say that I will direct you to individual reviews of my other must-haves: Real Techniques Retractable Kabuki Brush, and the Real Techniques Miracle Complexion Sponge.
Let's not forget Sedona Lace, a brand that is not as popular as others, but is such a hidden gem if you are a fan of the Sigma Synthetic Kabuki Brushes without the hefty price tag. I bought the Sedona Lace Midnight Lace Synthetic Brush Set which features four synthetic brush sets identical in terms of quality to its Sigma counterpart. From the entire range, my favourite brush is the angled rounded brush which is my go-to to apply liquid foundation, powder, and contour product. The best thing is that Sedona Lace often has sales (20% off) which means that you don't have to wait to score your favourite brush sets. To read more of my experience with the brand, check out the Sedona Lace Tag.
My favourite multi-task brushes and MAC 217 dupe for the eyes are the following: Bdellium 776, Sedona Lace E09 and Sigma E25 Eye Brush. If you have been wanting to try the MAC 217 without spending the eye-watering $29, but want to get brushes that are as similar in quality and performance to the 217, I suggest one of these 3. Check out my individual review on the brushes to learn more!
Have you tried any of the brushes mentioned here? Which ones are your favourite(s)? As always, I'd love to hear your thoughts! Share with me comment section or through Twitter or Instagram!