Hudson's Bay at Yorkdale recently hosted an event, called the Beauty Trend Report, an event where the audience gets a peek of the upcoming Fall beauty trends and must-have products. What hits the beauty counters every season is usually inspired by Fashion Week and runway trends, so this was a great event to get a peek at what's happening.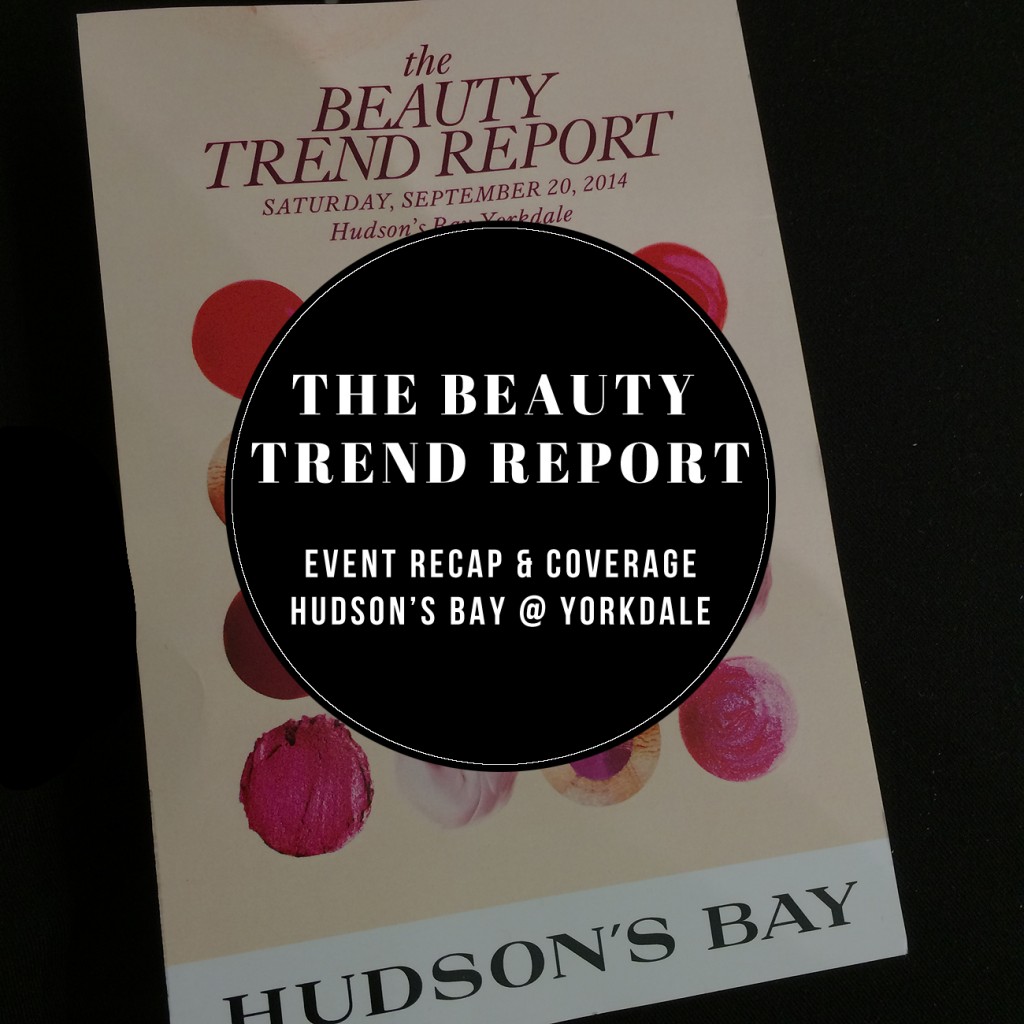 There were two events, one earlier in the morning, where various prestige brands shared their must-have products for the upcoming Fall season and the one in the evening, hosted by the one and only Dave Lackie, beauty editor for Beauty the Guide and CityLine Beauty Expert. The tickets are $25 each, which is redeemable for any beauty/fragrance purchases you make that day (from any counters, irrespective of where you bought your ticket from!)
I was able to attend both events, and am excited to share with you some tips and bits that I picked up during the events!
CHANEL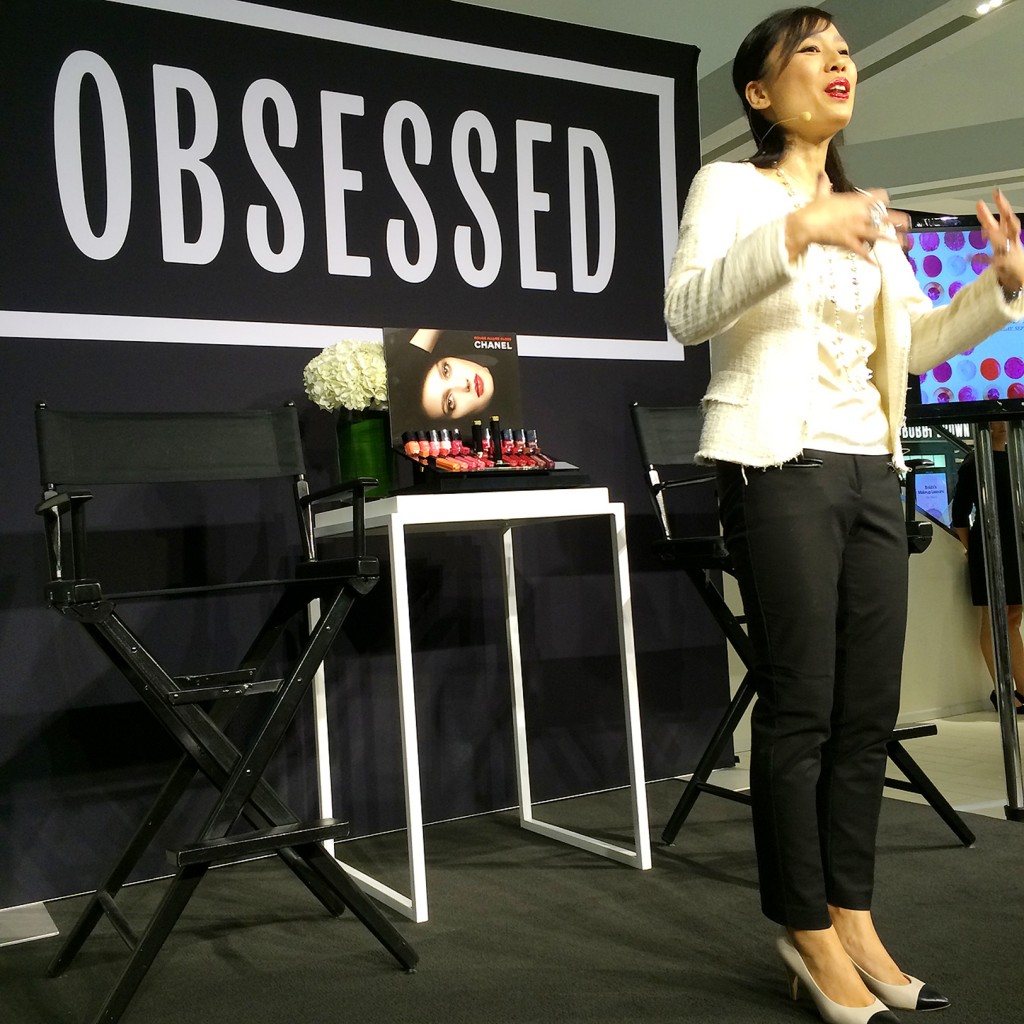 The CHANEL brand evokes elegance, and sophistication – Gabrielle Chanel's inspiration and influence extends far beyond her time. She was a revolutionary – she changed the way women dressed, and the accessories that women would carry around. She definitely was a woman ahead of her time. Some interesting bits that I didn't know about CHANEL:
Gabrielle/Coco Chanel was the first to create the shoulder straps. CHANEL handbags is iconic for its gold chain strap (updated by Karl Lagerfeld to include the leather interwoven between the links)
Pointy-toe heels with dual-tone serves multiple purposes: the black pointy end of the heels make it more feminine, and beige/nude part serves to elongate the legs
The colour red on the lips was frowned upon at the time as it was considered too bold but Coco didn't care. "If you're sad, add more lipstick and attack. Men hate women who weep." – Coco Chanel
Must-Have Product: Chanel Rouge Allure Gloss ($40, available here)
Dior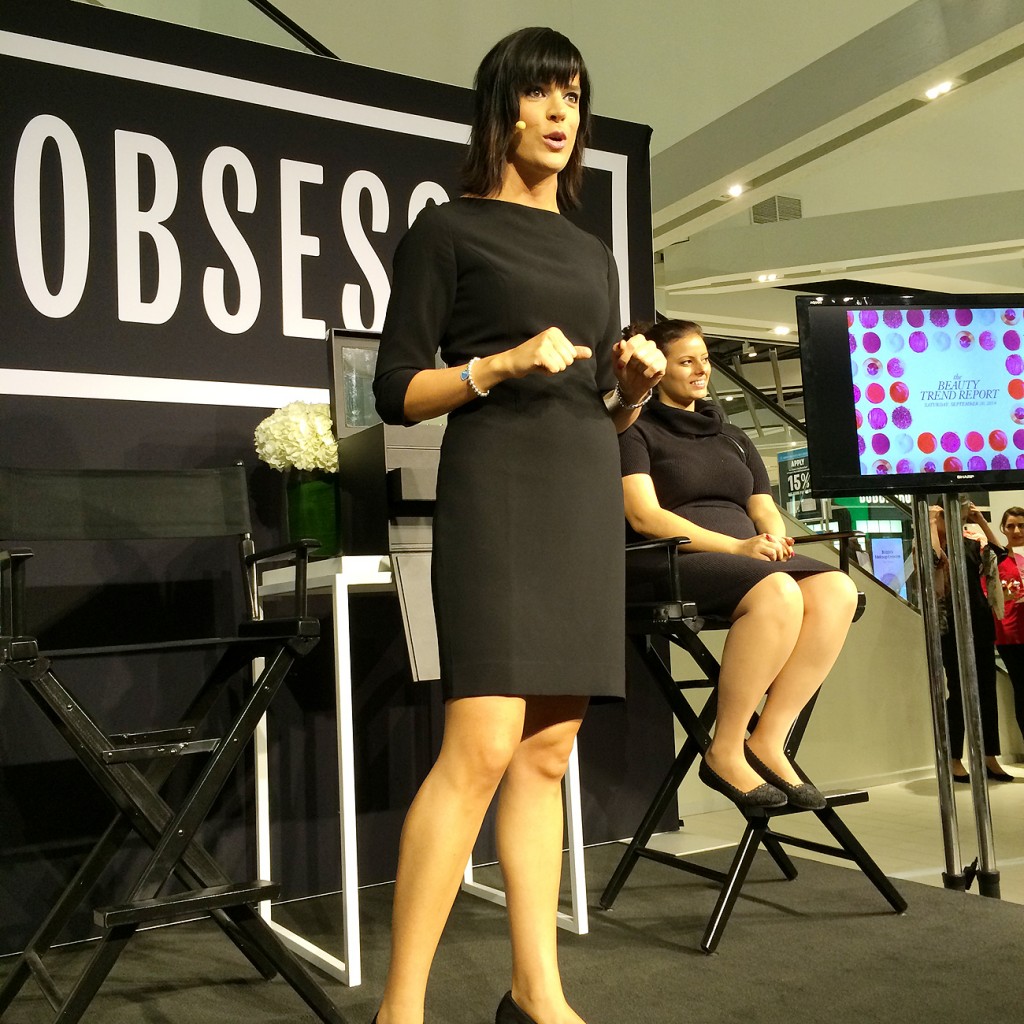 Makeup is often inspired by runway trends, and Anne-Marie used this time to demonstrate how to recreate the barely-there makeup with some of their best-selling products. Using the Airflash CC Primer, before makeup helps to even out the skintone, erase pores, and correct imperfections. Get a dewy, healthy-skin look that will withstand anything with the Diorskin Foundation. Pro Tip: Use a darker shade of the Diorskin Airflash Foundation ($58, available here) in a darker shade than your skintone to get that tanned look. The Dior Rosy Glow Healthy Glow Awakening Blush is also another staple for makeup artists backstage! Another Pro Tip: Use a little bit of the blush in the crease of your eye to open up the eyes!
Must-Have Products: Dior Airflash CC Primer ($49, available here), and Dior Rouge Baume Natural Lip Treatment ($37, available here)
Yves St Laurent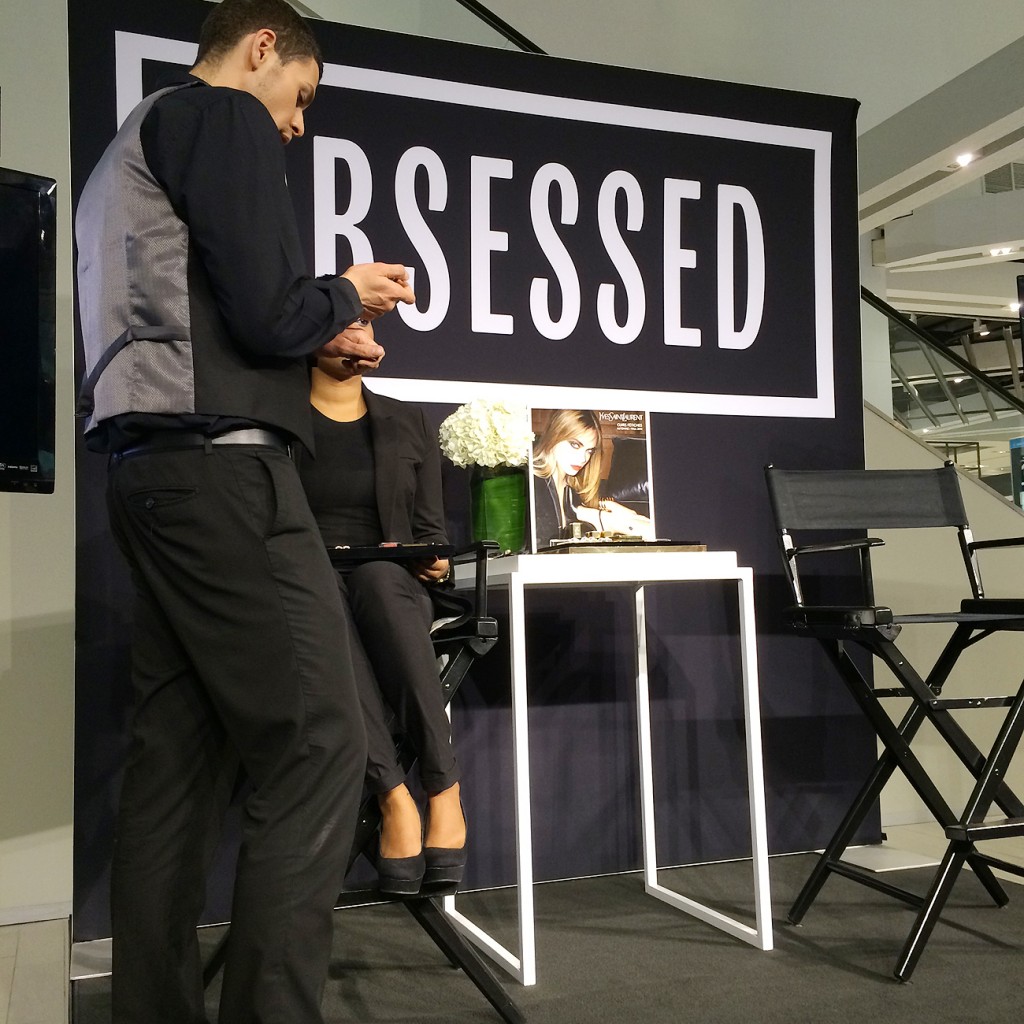 Did you know that Yves St Laurent was an apprentice of Christian Dior? Or that at the age of 21 (after the passing of Mr. Dior), Yves St Laurent was handpicked to run the Dior fashion house? Pretty big responsibilities for someone at the age of 21!
Few trends set by YSL:
Tuxedo pants for women
Thigh high boots
See-through blouses
Clarins
Clarins is going back to its roots, which is how it was founded: a spa! The Clarins Skin Spa is available exclusively at Hudson's Bay at Yorkdale where you can treat yourself to a skin-treatment using Clarins' skin treatment products (that's exclusive to the spa and not sold anywhere else!)
Clarins Skin Spa:
"Treat yourself to an oasis of calm in your busy day where a licensed Beauty Therapist deepens relaxation, inspires well-being and restores skin to radiant condition with customized Pro Formulas and Facial Methods you can only experience at Clarins Skin Spa"
For $30, you can enjoy a 30 minute "Le Petit Facial", delivering luxurious papering and visible results!
Availability:
Hudson's Bay Yorkdale
Tel: 416-789-8576
Other noteable presenters were Clinique, Shiseido, and Clarisonic. I wasn't able to get as much down but I hope these bits helped!
Dave Lackie Event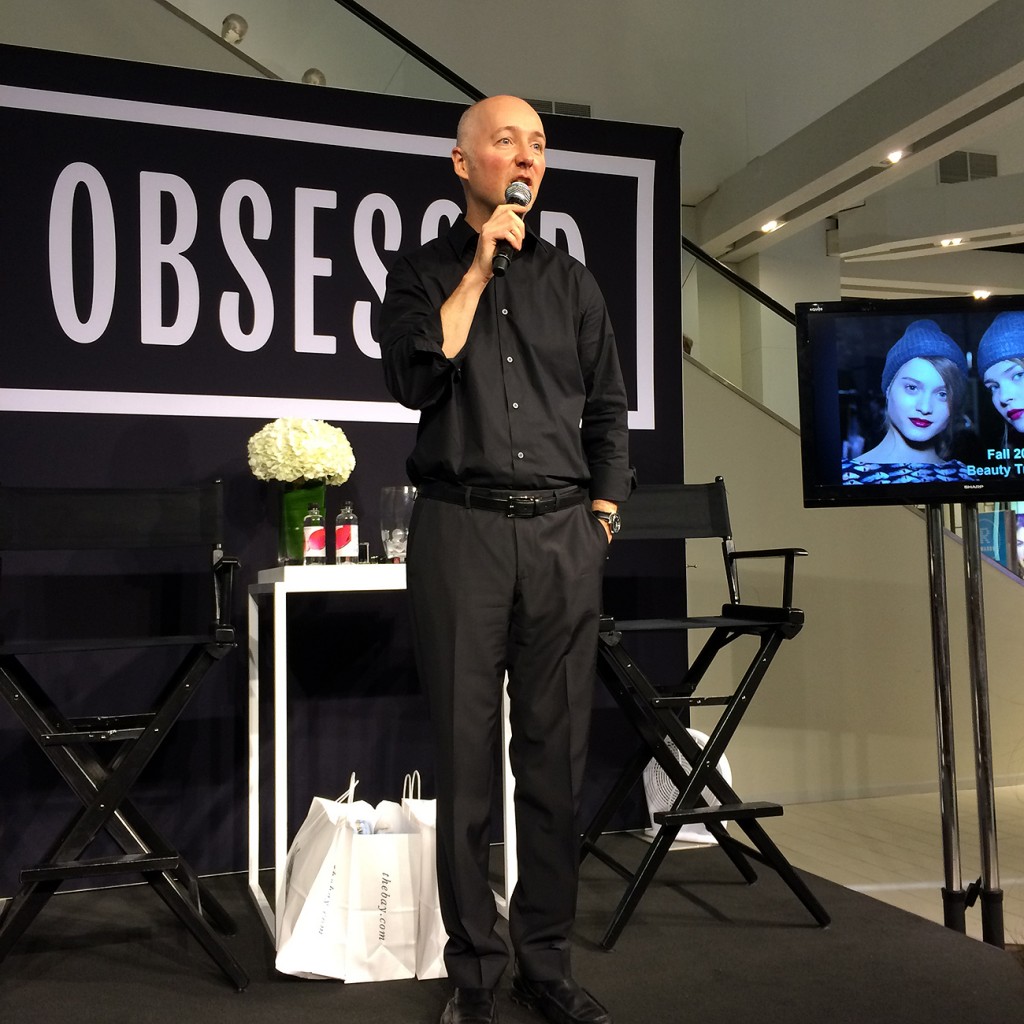 It was so exciting to chat with the one and only Dave! He was so sweet, very approachable, hilarious! He shared some trends that we can expect this upcoming fall, and took us "around the world" tour of runway beauty trends he saw. Towards the end, he shared a quick summary of his must-have beauty products from various luxury brands.
Here are some bits that I managed to take down to share with you!
Deeper red lip is in for the Fall!
Glacier blue eyeshadows were everywhere on the runway. Pair this with silver to make this look more modern (and not so much from the 80's)
Blockbuster launches/most important or best products are typically launched in the Fall
Runway trends and what we saw during Fashion Week is often the inspiration behind beauty collections. Expect some water-ed down versions of what you saw on the runway in upcoming months!
Marc Jacobs' show is the most important, from both the fashion and beauty perspective. Whatever Marc puts on the runway will get the ball rolling in both industries
Francois NARS always does Marc Jacobs' show; during the NYFW, it was all about re-creating that mannequin look (lots, and lots of powder!)
Grace Coddington, former model and the creative director of American Vogue magazine, is someone you always want at your show – if she's there, that's millions of dollars saved in endorsement!
Sophia Coppola always goes to the Anna Sui show – they share the same office floor in New York
Calvin Klein shows always feature minimal makeup
BCBG started the pink eyeshadow trend during NYFW, and took the beauty industry off-guard. It wasn't expected to last, but then Rihanna showed up wearing pink eyeshadows, and the rest is history!
Oscar de La Renta's makeup artist (Dick Page) uses makeup to "young-up" the models so that the pieces have a more modern feel to it
Michael Kors is all about that jet-set lifestyle. He likes lots of blushes on the models too.
Ralph Lauren – always classic, tasteful and conservative makeup.
Rodarte usually features makeup that you would not normally wear or even think about wearing
Anna Wintour's Devil Wears Prada "stories" are all true (especially that elevator scene)
Burberry spent about $1M on a 7-minute show to recreate the city of London during London Fashion Week
You do not want Paris or Nicky Hilton at your shows. Your show goes down about 4 notches if they show up.
Armani is probably the most serious designer (that according to Dave) out there. Models are fired on the spot if they screw up, even during rehearsals/run-throughs
Eyewear ads always feature tons of fake lashes on the top and bottom lashes. Don't feel bad if a certain style doesn't look as good on you as the ads!
With my $25 gift card, I splurged on something nice from Dior! Review to come ????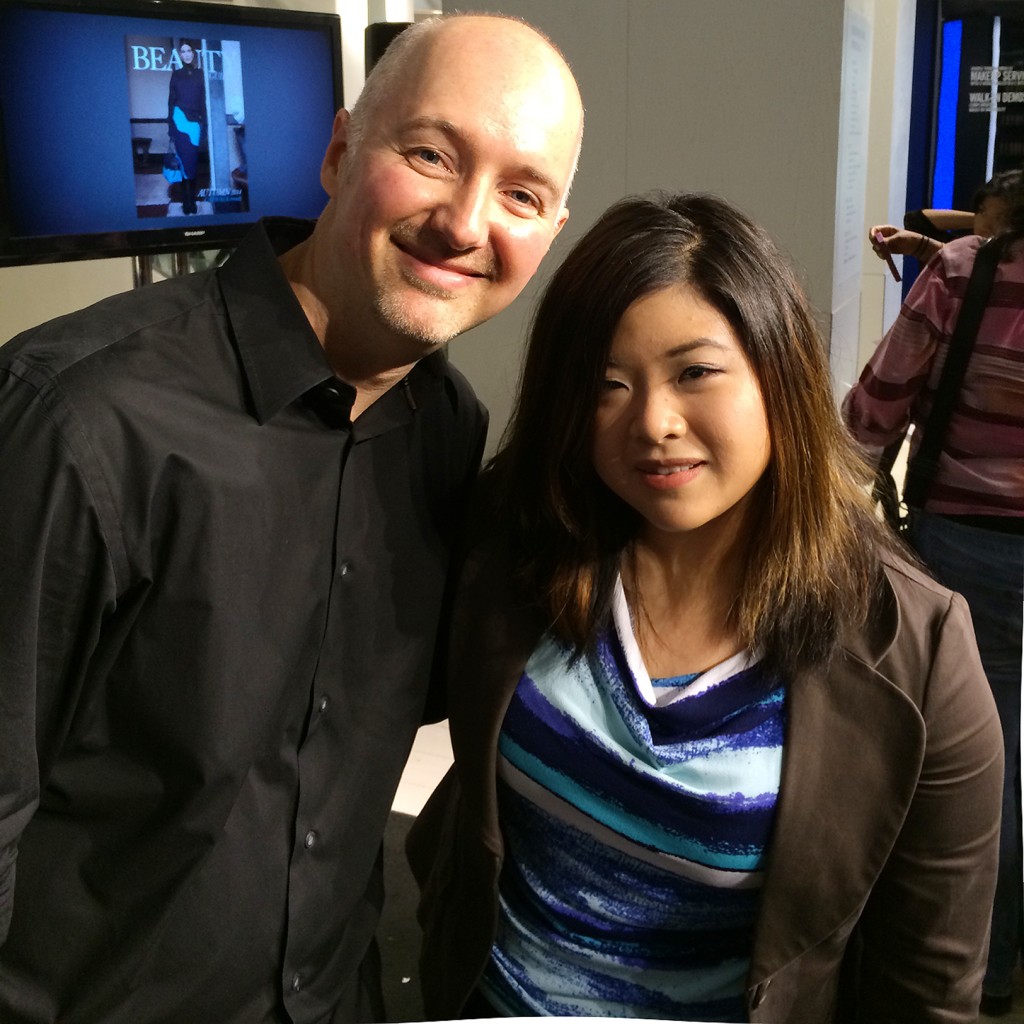 I hope you enjoy this recap/coverage and learned something new! Shoutout to Liz and Kaitlyn who were at the Inglot Toronto event, and I bumped into again during this event!
Now it's your turn! What do you think of some of the runway trends we've seen? Will you be trying any of them? As always, I'd love to hear your thoughts! Share with me comment section or through Twitter or Instagram!