Like many, I am spending the first quarter of the year detoxing from a very spendy holiday season of 2015. No matter how much I tried avoiding the malls, the lure of online shopping meant I was parting with my hard-earned cash faster than I could say no!
In the spirit of a proper makeup detoxing, I've been bringing out a whole bunch of old favourite products back in the game and am I glad I did! These products just upped my makeup game to a whole new level and the best part is that they're already in my stash, so no more money being spent "to try out new things"
Today I'll be chatting up an old classic foundation that started it all, a powder foundation that didn't work but is a total game changer as a setting powder, a broken blush that made me regret throwing out the other half, a kabuki brush dupe that's been a staple in my arsenal, and a popular fragrance that I swore off a long time ago, only to have back in my rotation in the middle of the winter.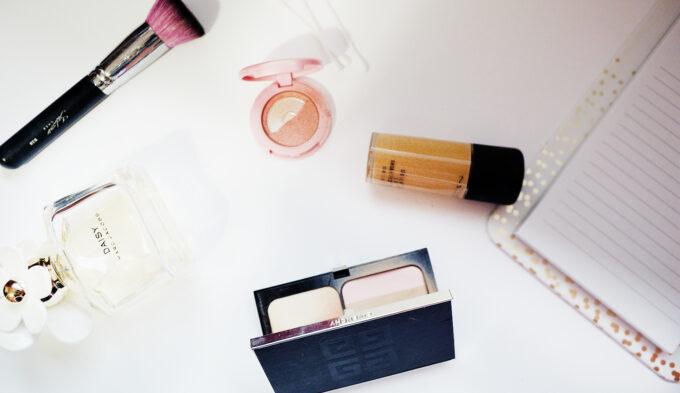 MACStudioFix Fluid Foundation in NC25 ($42, available here)
I have been debating whether I should put this foundation in the blog sale pile or not, and decided that at the last minute, to bridge me between my Dior Diorskin Star foundations, I could crack open a new foundation that "started it all" This was one of my very first beauty purchases (not this particular bottle of course!) when I was nothing but a young'un with little experience in the world of beauty. I built up the courage to step into MAC for the first time (My mall didn't have a Sephora then, only a MAC and Shoppers Drug Mart to get our beauty fixes) and purchased three "classics": a foundation, concealer and a blush.
Aside from the minor inconvenience of not having a pump, this full coverage foundation is a total dream to apply and lasts so well in this winter weather. It covers up the pores, and the most stubborn spots and redness, plus it doesn't transfer, nor require touch-ups during the day. It's a total dream foundation and you need the smallest amount to get full coverage from the start.
GivenchyTeint Couture Compact Foundation ($61, available here)
When I first received this compact, I was super thrilled because I've always wanted to give compact makeup a try. The thing is, this powder foundation would be absolutely perfect for those who have very little and minimal minor skin imperfections which unfortunately, meant that I was out of the game. It's a very expensive foundation too so I didn't want to simply throw it out if there was a way I could use it.
I ended up using this as a setting powder, and my goodness. I don't even need any other "skin-perfecting" powder because this does the job so so well! It gives the softest, most airbrushed, and flawless skin I've ever seen and I get so many compliments when wearing this. The secret lies in combining the right kind of foundation (I use the MACStudioFix Fluid Foundation in NC25 because it hides textures and imperfections) and layering this "skin veiling" powder over it. If I was in front of a 4K camera, you would not be able to detect the slightest hint of imperfections ever! The soft-focus and glowing effect comes from the pink highlighting strip which was meant as a highligher to apply over the cheekbones. However, as you can tell, the matte powder doesn't do much on its own, so I swirl it together with the powder to give that lovely effect.
Marc JacobsDaisy Eau de Toilette ($85-$101, available here)
Who didn't love Daisy when it first came out? It quickly gained a status, and a cult following, replacing Vera Wang's Princess perfume as the "it" fragrance. Light, floral, with a touch of innocence, it strikes the right balance of charm, vivaciousness, and refinement. I loved it at the beginning but it was still quite "average" for me – it didn't make me want to repurchase immediately the way D&G L'Imperatrice did for me. With the cooler weather, I've been finding this floral fragrance to be the star: not too overpowering for work but still gives out that aura of mystery and evokes a sense of curiousness.
Sedona LaceFlat Top Powder Brush ($59.97, available here)
A brand that's known for its dupes of the slightly more expensive Sigma Beauty makeup brushes, I have always preferred Sedona Lace's due to its lower price point without any discernible difference in the quality. This flat top brush has been another one of those old favourite that made its way back to the top of my list given that I can use it for every single makeup application including the obvious foundation/concealer, powder, and even blush or bronzer.
TarteAmazonian Clay Blush in Energy ($31, available here)
Last but not least is the TarteAmazonian Clay Blush in Energy was a sad little story because it was a total accident that it broke in half. I'm glad that I still got to use it because it reminded me of how much I loved it from the first moment I got it! It is a subtle light rose shade that flatters the NC25 skintone. The subtle colour has that angelic innocence vibe to it that just looks so stunning, even for a first date. I'm regretting not getting the full-sized blush of this because it's a beauty!
It has been a fantastic month of discovering old favourites chez Stephanie's makeup stash and I'm pretty excited to start using these up and make some room in the stash!
What products have you discovered and loved lately?