The GivenchyTeint Couture Compact Foundation ($61, available here) is a luxurious compact powder foundation that was released alongside the GivenchyTeint Couture Long-Wearing Fluid Foundation ($59, available here, my review).
Available exclusively at Sephora, the Givenchy Teint Couture Compact Foundation retails for $61 for a 0.35oz worth of product (that's the same size as the HourglassAmbient Light Powders if you are looking for comparison). The foundation is available in 6 shades (based on the current shade availabilities on the Sephora website). The compact comes with a strip of highlighter at the bottom.
Now, if you have been following my blog for a while, you'll know that my number one beauty product is foundation. No matter the brand, or price, it is the only product I am willing to shell out money for. When I heard about the release of the GivenchyTeint Couture Compact Foundation, my heart skipped a beat and I could not be more excited – the GivenchyTeint Couture Fluid Foundation convinced me that I can actually get away with using lightweight, lighter-coverage foundations again and I was very excited to explore the powder foundation version. For reference, I currently use the shade #4 Elegant Beige which matches my NC25 skintone very well.
Givenchy Teint Couture Compact Foundation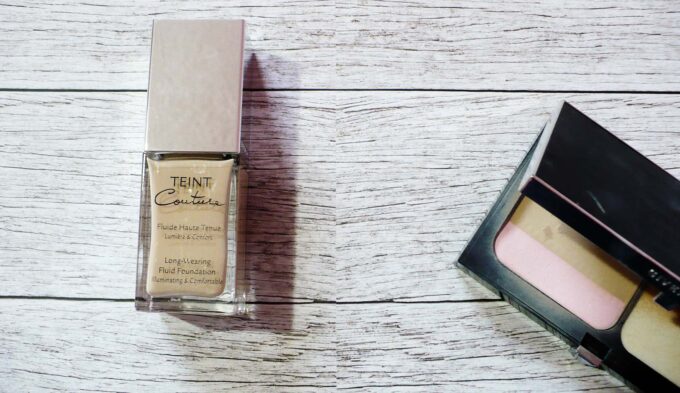 Firstly, let's take a moment to appreciate Givenchy Teint Couture Compact Foundation packaging. While I mostly like to gloss over this aspect of the product, it's worth noting that this luxurious compact really deserves to be, and has become a permanent fixture on my vanity table. Embossed with the Givenchy logo on the top lid and encased in a similar luxurious leather-like packaging as the Le Rouge lipstick range, this powder hits all the right notes when it comes to the definition of beautiful packaging (and show off to your girlfriends!)
I was a late-bloomer when it comes to makeup and have only used liquid foundations ever since I started out with makeup. Using powder foundation is very foreign to me, and I am fortunate enough to never need powder to touch up during the day. That being said, my lack of experience in using powder foundation is the main reason why this review took so long to publish! To ensure that I can provide the most honest and relevant feedback, I had my mom test the powder foundation for me as she has flawless, and very smooth skin (I am not lying, she has no skin imperfections except for wrinkles and age/sun spots) of which I am envious of. I also tested this powder foundation as a setting powder to the GivenchyTeint Couture Long-Wearing Fluid Foundation because I wanted to see whether I can achieve greater coverage by combining both products and in the process, skip the concealers.
As expected from a brand like Givenchy, the powder is incredibly finely milled, smooth, and applies beautifully on the skin. The sponge is a nice touch, and according to my mom it feels like most sponges she's used. It washes well without leaving traces of beige on the white surface, but I would still recommend replacing it once in a while as it can be the breeding ground for bacteria. I typically use a kabuki or a large, fluffy brush for to apply face powder but with this compact, it is harder to pick up the powder with such a large brush head (given the smaller surface area) unless you don't mind mixing the powder with the highlighter.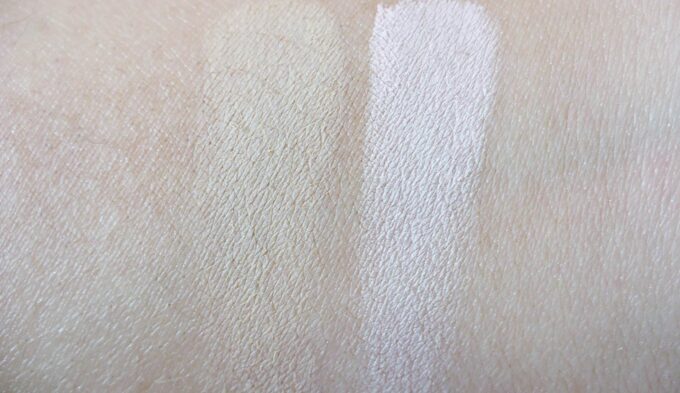 Since powder foundations are not meant to provide full coverage, I would describe this as a light-coverage foundation at best. Whilst Givenchy claims this powder to be buildable, I always hesitate to pile on powder foundations as it will eventually look very cake-y and evident on the face. That being said, I find that this powder foundation would work best for those with very little/skin imperfection who may only need to even out the skintone (like my mom). On my mom, the powder easily evened out the redness on her cheeks, and covered up most (90%) of her age/sun spots.
The GivenchyTeint Couture Compact Foundation is very natural looking, fool-proof and hard to overdo. It has a matte finish, but doesn't flatten the face or make it look dull. There is a subtle rose scent to the powder (similar to the fluid foundation version) which disappears immediately. The highlighter is a matte cool-toned pink shade with no visible shimmers. I am still playing around to get the most out of it as I am more used to shimmery highlighter. Applied on the high points of my face, this highlighter gives a very subtle, and almost hard-to-see highlight.
As a Setting Powder
I didn't get much use out of this powder foundation on its own, but combining it with the GivenchyTeint Couture Long-Wearing Fluid Foundation as a setting powder improves the coverage on both foundations. The combination of the fluid and powder version results in a medium coverage that I am more used to, therefore I was happier using the combination as opposed to individually. I did still require a little bit of concealer, but it was significantly less than I would otherwise use. Blushes, bronzers, and highlighters apply and blend easily over both products. I also find that the powder is much better at blurring out imperfections, pores, and fine uneven textures over the liquid foundation than when worn alone. One thing that I really wished to see more of is more shades akin to the shade selection available with Make Up For Ever's foundation line. I think the foundation would have catered and be more appealing to more customers.
This is a very expensive face product, and I don't doubt that it's not going to be a purchase decision easily made. I highly encourage you to get one of the Sephora SA test it on you in store, walk away and see how you like it in different lights/locations (i.e. sunlight, at home).
The GivenchyTeint Couture Compact Foundation is a multi-purpose, highly versatile powder foundation that truly delivers. While I didn't get much use wearing this powder foundation alone, using it as a setting powder got the most out of it as well as my other liquid foundations. If you are looking for a lightweight, matte-finish foundation, and lucky enough to have minor skin imperfections, this could you worth checking out. For those who prefer greater coverage, using this powder foundation over your regular foundation really helps improve the overall skin texture and finish.
Where to Buy: Sephora ($61)
---
Disclaimer:
This post features product(s) provided for editorial consideration. All opinions are my own. For more information about my review policy, please
click here
.
---