At one point or another, I may have raved about or hated on these products. Fast forward a few months / years / days later and I feel I need to share a bit of an update. These days, I've changed my tune. Either ways, a beauty blogger is allowed to change her mind so here are a few products that I've changed my mind on.
Some of these were once my tried and most loved product – frankly I can't tell you why there's been such a major change, only that there has been. Let's dissect and go through some of these in greater details!
The Wet n WildPhotoFocus Foundation has been one I had mixed feelings about – the formula is fantastic – lightweight, with great coverage and wear. Unfortunately the shade match is where it fell short – I wasn't sure I could get a good use out of this foundation, but with a little mixing and matching, we may have a foundation that went from my blog sale pile to a regular use pile. I can't get over how lovely the finish on this foundation is – I just hope it stays this way for the foreseeable future.
The Kevyn AucoynSkin Enhancer is one of those super beloved product by an incredibly remarkable makeup artist. Despite the price, this tiny pot will last you ages as the pigment level in this is incredibly high – mix it with your moisturizer and adjust how much you add to control the coverage, use it to spot conceal, or change up the tone of the foundations that are not the right colour due to seasonal changes. Unfortunately, I just don't reach for it as often – I think the extra work is not really my style so I've had to tuck this away.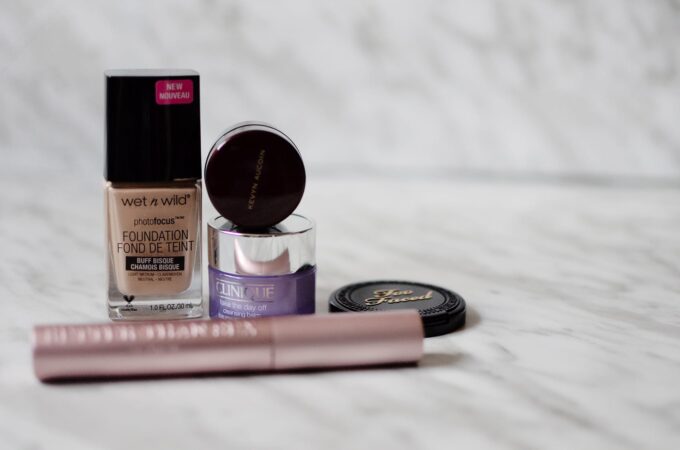 To say that the Too FacedBetter than Sex Mascara is something I wished didn't end up to be something I didn't like as much – it delivered quality result when it worked so it was disappointing to open a tube and discover that it was just blah? Not sure if it was because it's been in the storage for some time but it didn't impress me like the first time around. I think the drugstore dupe, the L'OrealLash Paradise which I've also reviewed, is a much better and cheaper alternative compared to shelling out $30 on a tube of mascara!
The CliniqueTake it Off Cleansing Balm is another one of those so-so love turned into outright disappointment. I started out feeling kinda bleh about it mostly because I never really liked the texture of balm on my skin. The fact that it didn't do the best job to actually remove my makeup and made my skin feel really dry just immediately made this
Another Too Faced product here but this one is one that I ended up loving so much that it's replaced all the bronzers in my life. The Too FacedChocolate Soleil Bronzer (which also smells like chocolate) is the zero-calorie, super-healthy chocolate alternative you never knew you needed until today. The chocolate scent that greets me every morning satisfies my chocolate craving without actually having to indulge and it really does an incredibly job at shaping my cheeks to be a little more contoured without looking overdone! No shimmers, and just the right balance of warm-toned brown that works really well on my skintone!
Do you have products that you've changed your mind on? What are some of your love-to-hate or hate-to-love products?