The Body Shop and I have a crazy love-hate relationship. When there's the occasional Groupon offer to take advantage of, I usually purchase a small amount of skincare products to play with, but never a copious amount of products the way I would stock up on my Sephora favourites during one of their rare sale event.
I was reading a fellow Canadian blogger, Natalie at Ivory Avenue's blog post on her favourite products of the month. I remembered coming across The Body ShopCamomile Cleansing Balm ($16, available here) which she said it was a great travel-friendly cleanser, and one that feels like a spa ritual. You already know by now that I'm quite obsessed with travelling, so I had to make my way to the online website. I was thrilled to discover that their Cyber Monday deal was still happening – 50% off the entire store, and free shipping on $40 order.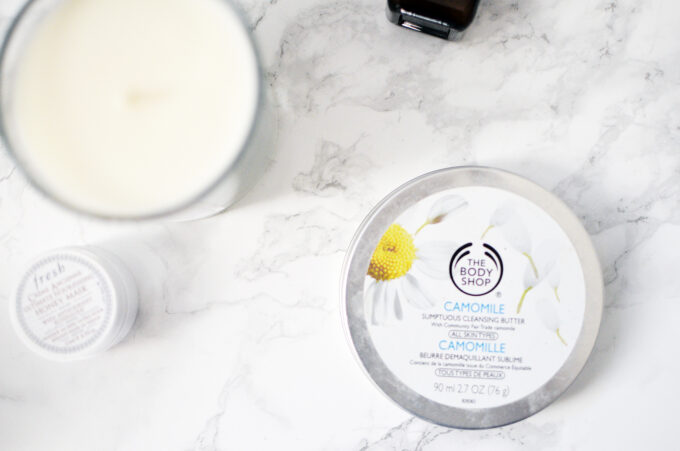 I quickly grabbed one of the The Body ShopCamomile Cleansing Balm because it closely resembles an old purchase, the CliniqueTake the Day Off Cleansing Balm ($36, available here) at a fraction of the price. The Camomile Cleansing Balm comes in one size, at 90ml per tin ($16 regular price, or $8 when I bought it due to the sale) compared to Clinique's 125ml at $36.
At first glance, both products look quite similar: a white wax-like balm a tin/pot that melts to remove your makeup upon contact with the skin. It's important to remember that you need to apply this on dry skin, not wet as it will reduce the efficacy of the product.
What I really like about this product is its portability – travelling with this is a breeze, and I don't really have to worry about finding a sample-sized cleanser that meets the TSA 100ml rule. It also reduces the risks of spillage and hard-to-clean mess in my suitcase or carry-on so from that perspective, this is a very suitable product to have on hand for those who travel quite often.
I also agree with Natalie's comment that using this product feels like a spa ritual. Since you need to massage the product into your skin, and massage it all over to remove all traces of makeup, this isn't the same case as spending 5 seconds with a wipe to remove makeup. This is a product that you need to budget time for, and is suitable for those who enjoys a cleansing ritual rather than considering a chore.
As far as removing makeup go, I find the product to be quite effective at removing makeup, even eye makeup. I do find it stings a little if it gets into your eye which is quite typical when it comes to getting any sort of foreign substance into your eye.
The product smells like actual camomile and does not feel or smell man-made, so I really appreciate that kind of spa-like ambiance in my daily post-work cleanse. There seems to be a boatload of moisturizing agent in this, as my skin feels like a baby's bottom post-cleanse. I still follow up with a moisturizer because the Canadian winter is nothing to be trifled with!
Having owned both the CliniqueTake the Day Off Cleansing Balm and The Body ShopCamomile Cleansing Balm I can safely say that both are comparable. One is certainly a more premium offering, but without much discernible difference to the cheaper alternative. Both are quite unique and offers very similar product experience, and personally I feel the biggest differentiation is on the price.
I would recommend this product over Clinique if you are new to the balm-cleanser format, and are still deciding whether you like it or not. With 90ml worth of products, this will last you quite some time, but at $16, it won't break the bank if you don't end up liking it!
Have you tried a balm-turn-oil based cleanser before? Which of the two would you try?