It's been a hot minute since I posted a haul and since beauty posts are getting rarer on this blog, I thought I'd show you what I picked up from my recent birthday haul. My birthday rolled around a few days after I got back from a recent trip to Turkey so there was an added excitement of that as well colouring my shopping trip.
Given that I just came back from vacation, I tried to be conscious with my spending and fortunately, lots of retailers have birthday rewards/incentives to help keep my spending in check!
Birthday Haul from Sephora
From Sephora, I opted to pick up the 250pts reward instead of the minis as I feel they've started to up their loyalty program and I'm keen to benefit from the point perks just in case! I can't remember if you can pick up the birthday gift without reward or not but to be safe, I decided to buy the Sephora Favorites Mystery Cheek Kit which I've already reviewed. This set really piqued my interest and it was probably the only Sephora Favorites kit that I actually want to get based on the ones that's been released so far.
I was also super lucky to be offered to try out the Sephora Facebar x Dermalogica ProSkin30 experience on my birthday and so between getting a facial and a small Sephora treat, this was a good way to celebrate my birthday after coming home from the office!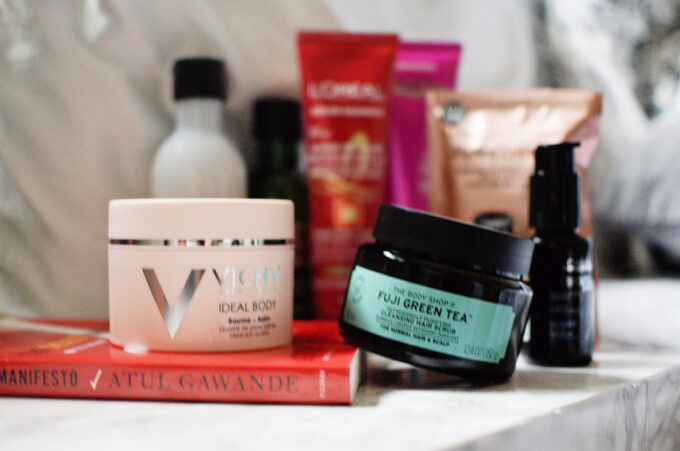 Birthday Haul from The Body Shop
It seems you no longer have to pay any sort of membership fee to join The Body Shop's Love Your Body program now. One of the perks of this program is that you receive $10 coupon on your birthday month. Given they had some really awesome promos including new products, going on at the time, I opted to go for a few new pieces. I picked up two toners: the British Rose Petal-Soft Gel Toner ($22, available here) and the Chinese Ginseng & Rice Clarifying Milky Toner ($22, available here). I also wanted to try out a new hair product from the brand and the Fuji Green Tea Hair Scrub ($22, available here) seemed quite promising and I've been wanting to try a new hair scrub that won't leave my hair feeling greasy.
Birthday Haul from L'Oreal Private Sale
Last but certainly not least, I went to the L'Oreal Private Sale to pick up a few backups of skincare and haircare products. Since tons of items were heavily discounted, it was also a good way to try out some salon/pro products that are not normally sold at major retailers.
Have you shopped around lately? Let me know what you picked up in the comments section below!