I chose to make Iceland my 25th country I visit to round up my 25 countries before 25 list because it's a country that has long been something I see in documentaries and textbooks. It's mysterious. Partly mythical. Definitely otherworldly. So here's my Iceland itinerary from my first visit to this incredible country!
Iceland is certainly a country full of drama and extremes. Both, I mean in only positive terms. Dramatic landscapes and sceneries that will make you feel like you landed on a different planet. A country so safe, and so laid back that their police force does not carry guns nor tasers, only mace. A country that doesn't have a navy nor army, and only has a lightly armed coastguard consisting of 2 ships and 1 airplane to protect the nation. A bus filled with tourists valuables, left with its doors opened and the car key in its fob for 60 minutes with nothing missing once we returned. That's how extremely safe the country is.
If you enjoy this post, check out the rest of my
Iceland
travels!
4 Days Iceland Itinerary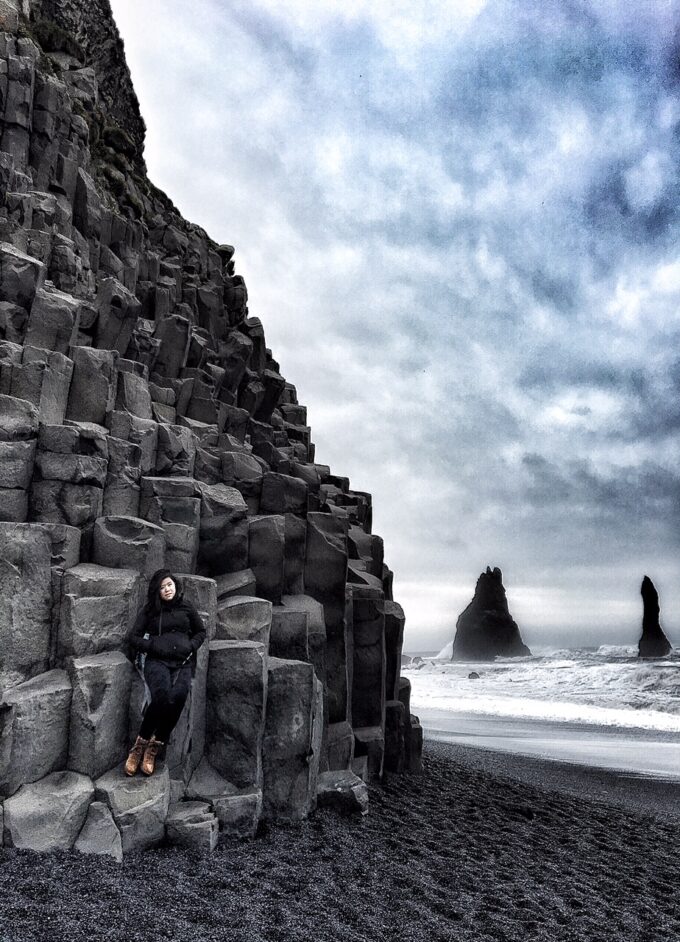 What did you fly?
I flew with WowAir when they first started the Canadian routes with their incredible introductory fares of $99 one way. I paid a total of $193 for my flights. Stay tuned for a WowAir review in case you are interested in learning more about it!
How long did you stay?
4 days, 3 nights which I feel is more than enough to get a flavour of the country. Any longer and I'd be quite broke because the cost of food is astronomical
Where did you stay?
I had an Airbnb located immediately across from the BSI Bus Terminal (i.e. Like the Union Station of the city) and is a 10 minutes walk to Hallgrimska (The iconic church shaped like a bursting geyser)
Favourite place?
Reynisfjara Beach (Vik, Iceland) with its black sands. It is one of the iconic beaches to visit in Lonely Planet's 50 Beaches to Blow Your Mind.
What did you do there?
Road trips to the South Shore (and southern-most point of Iceland) and Snaefellsness Peninsula (West Peninsula). I also did walking tours of the city. I paid to join a small tour group (6-11 people) rather than driving it myself as I wasn't sure if I would be capable of driving through the wintry road condition myself. Better be safe than sorry!
How to go from the Keflavík airport to Reykjavík?
The Flybus operated by Reykjavik Excursions runs from Keflavík airport to Reykjavík and departs daily starting from 3AM to 9:15pm. You can opt for the Flybus (drop off at the BSÍ Bus terminal) or the Flybus+ (drop off at your hotel or Reykjavík Domestic Airport)
You have to be ready about 15 minutes prior to departure to ensure you have a seat on the bus (if you're taking the Flybus) although I haven't had or heard of issues with limited seating on the bus as there's multiple buses running at each departure time. Both the Flybus and Flybus+ tickets can be purchased for a one-way or round trip. Be sure to bring your voucher as they need to scan your voucher once on the bus. The buses also have free wifi that you can connect to!
Did you get to see the Northern Lights?
Yes, as I was flying over Greenland, I could see the Northern lights from my windows seat. I watched it for hours and did not sleep during the entire flight.
Must try when visiting Iceland?
The Icelandic Hot Dog which you can get at any gas stations. It's about $4 each and make sure you have it the Icelandic way (with fried onions and special Icelandic mustard). It's so delicious.
Also be sure to try the lamb. I hate eating lamb when I'm home, and I've never been a fan, but I can tell you that I had the best lamb of my life (and also the most expensive at $50 a plate for a 0.5lbs piece of lamb steak) when I tried it in Iceland.
Do I need Local Currency?
No, Iceland is a plastic country so credit cards are accepted everywhere, even hot dog stands.
Advice for Packing?
I went during Autumn and the weather forecast indicated that the temperature was never going to dip below 8C. I left my winter coat at home, and brought as many pieces of clothing that I could layer including some thermal sweaters and wool socks. Bring a rain jacket – you will need it. Bring a hat / something to protect your head with the insane wind. Don't bring an umbrella – it won't last even one second with the wind.
How did you get around?
Walked everywhere in the city!
Do I need to know Icelandic?
It's nice to know a few basic words, but everyone in Iceland speaks English!
Anything else?
There isn't any fast food chains in Reykjavik. There is only one or two odd ones – I've seen 2 Subway, and 1 Dunkin Donuts. For some reason there are 2 Quiznos outside of the city, around the gas stations.