Third time's the charm they say, and that's certainly my experience being in Amsterdam this time around. Having been to Amsterdam in the summer of 2013, I felt my list of things to do in Amsterdam got significantly longer this time around – perhaps, I now have the "travel blogger" perspective to it and I wasn't as overwhelmed by my solo trip the way I was 5 years ago.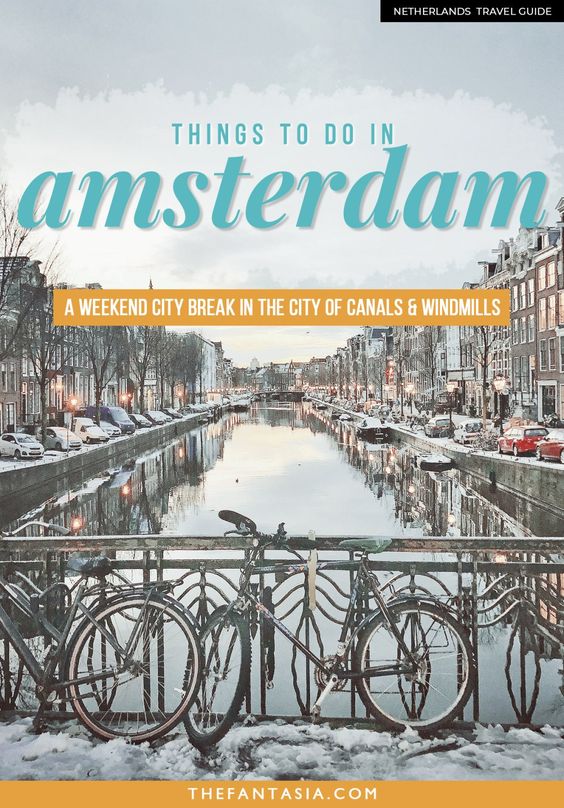 I only had 2 days to explore Amsterdam (2.25 if I'm being generous since I had the Friday evening after my work conference was done) which was sufficient time to explore all the things recommended by TripAdvisor and other bloggers' recommended "things to do in Amsterdam" blog posts. Check out this incredibly helpful post if you plan on visiting Amsterdam for the first time so that you don't miss out on any hotspots!
If you plan on spending time at the many museums that Amsterdam offers, I would budget an additional day or two so you don't feel as rushed going through the many masterpieces Amsterdam has to offer.
Below I've shared a list of things to do in Amsterdam that I did on my recent trip in March 2018 and also from 5 years ago. I had more than enough time this time around to revisit some of my favourite spots from my first trip without feeling like I missed out, and enjoying a very leisurely pace!
But before we get started, how do you get around?
How to Get Around in Amsterdam
By now most of you would know that I'm a huge fan of public transit. The Europeans know, understand and are the best when it comes to very efficient and frequent public transit system that would put ours in North America to shame! Amsterdam is no exception – although the city is incredibly compact, and easy to get around by foot, the tram and metro make it convenient to save some time in between sites.
Cost-wise, you could save a lot of money by purchasing a multiday pass (1-7 days) or purchasing a city/museum pass which covers both entrance fees and public transportation. The tickets are easily purchased at vending machines located at various stops, stations and central area, and the booth has English language option so you don't have to try to translate everything from Dutch. Note that the GVB public transit system is cashless, so your best bet is to carry a credit card when buying a ticket.
Amsterdam is incredibly scenic, especially along the major lines like Line 2. I prefer taking the public transit and "hop on, hop off" at my own pace so the tram/metro are really your best bet.
If you really feel like taking an Uber or taxi, they are also widely available throughout Amsterdam. I've taken Uber thrice whilst there mostly to get from the airport to my hotel, then to my Airbnb and back to the airport. It made sense and would save me from the back-breaking efforts! Taxis are also abundantly available and there are designated taxi stops at the airport and central station. Be warned though, the traffic in downtown Amsterdam can be a major headache so you could be looking at a very expensive ride!
Now that we've covered the basics of getting around in Amsterdam, let's dive into the list!
Things to do in Amsterdam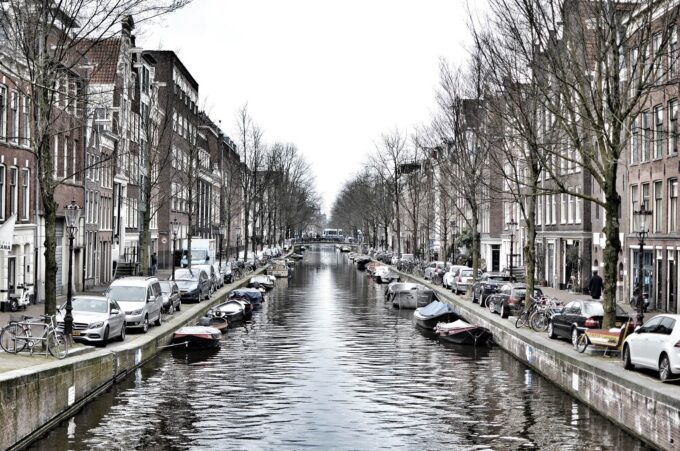 1. Get Lost Among Amsterdam's Many Museums
For a very tiny city, there are far more museums than one would expect in Amsterdam. Home to some of the most renowned museums and art pieces, beloved around the world, you will appreciate what this small country contributed to the art scenes throughout the ages. According to lists I've seen online, there are as many as 40+ museums in Amsterdam alone. If I could pick a few, I highly recommend the four that I've highlighted here: Rijksmuseum, Van Gogh Museum, Anne Frank House and Rembrandt's House for a little taste of everything.
I've been to both the Rijkmuseum and Van Gogh Museum and I highly recommend getting the audio guides for each. These two are incredibly popular tourist sites so I recommend purchasing tickets ahead of time and arriving early where possible. The Van Gogh museum recently did a Van Gogh & Japan exhibit which I would have loved to see more of but tickets were sadly already sold out.
2. Rijksmuseum Gardens
Although going into the Rijksmuseum will cost a pretty penny, you can explore and enjoy the gardens for absolutely free! Follow the signs for the garden and you'll get there! The garden is open from 9-5pm daily.
3. Anne Frank House
Although I included this in the "museum" section, I felt this particular site deserving of its own line on my list. I've missed my chance to come here thrice now because recently there is some renovation works going on. Many of us studied the Holocaust in school but I would say visiting Anne Frank's house would be an incredibly moving and powerful experience of its own. It's another one of the most popular sites in Amsterdam and it's quite tiny, so expect line ups if you arrive late.
4. Albert Cuyp Market
You like food? Cheap food? Well, the Albert Cuyp Market should be on your list. This open market is the largest in Europe with 260 stalls selling everything from fresh fruits, vegetables and fish, to local delights like pickled herring sandwich, to the more well-known Dutch snacks like stroopwafel, poffertjes, cheap rotisserie chicken, fresh Greek olives and Turkish pancakes. Come with a hungry stomach, and loose change because you will really fill yourself up as you walk through the whole stretch of the street.
Conveniently, the market is only 10 minutes away from the Rijksmuseum so it's the perfect spot for lunch!
5. Vondelpark
Vondelpark is what Central Park is to New York city. A green oasis in the middle of a busy city, this park can be access from the Leidseplein stop. Stroll through the well-manicured garden, picnic and people-watch away or bike your way through the park, Vondelpark is a great place to relax if you found yourself museum-ed out!
6. Heineken Experience
The Heineken Experience is not to be missed by any fans of the brew! Born in the city, Heineken has become a household name today. This excursion will allow you to enjoy a tour of the former brewery facility and corporate centre. Due to demand, a more modern and larger brewery was built outside of the city but you will still get to enjoy a beer tasting finale through your tour!
7. Jordaan & Dutch Canals
Amsterdam is synonymous with canals and it feels like every corner hides a more picturesque canal that needs to go on Instagram. There are a few choice neighbourhoods to base yourself out of if you're looking for that perfect Instagram shot. My favourite neighbourhood, that has both canals and cool vibe to it, has to be Jordaan. If you're wondering what an authentic Dutch neighbourhood looks like, this is it! Get lost among the alleys and pathways – it's a great way to really enjoy Amsterdam and all it has to offer!
8. Dam Square
Dam Square is a site of historic significance for the country – it got its name from its function, a dam over the Amstel river (hence the name, Amsterdam). It's a bustling busy square with tons of sites around that is great for photography or relaxing while you people watch. It's less than 1km away from Amsterdam Centraal stop so it's easily walkable. It's a very, very busy square so keep an eye out for your belongings at all times. I find the evening to be a bit easier to explore as it is less crowded (but still well-lit) with fewer people trying to sell you things!
9. Red Light District / DeWallen
Amsterdam is incredibly famous for its Red Light District (otherwise known as DeWallen by locals). I was underwhelmed the first time I visited in 2013, but got to truly appreciate it this time around when I went in the evening. If you're not comfortable being on your own in this area (which I admit, did feel a little shady for a well-seasoned traveller like myself), there are plenty of Red Light District tours that don't cost too much. Photography is strictly forbidden particularly of the workers, so be very careful of that!
10. Bloemenmarkt
I hesitated putting Bloemenmarkt on this list as I felt it truly one of the least favourite things I did in Amsterdam. Bloemenmarkt is a flower market, and its claim to fame being the only floating flower market in Europe. The entire street is filled with sellers selling tulips, bulbs, and even fake tulips (plastic ones) that they cleverly call "all-year-round tulips". It was immensely crowded and every seller has exactly the same price point. The tulips sold here are way too overpriced (I definitely saw cheaper bunches at Albert Cuyp market and Albert Heijn supermarkets) so it's not worth buying your tulips/bulbs here.
If you do end up buying tulip bulbs, be sure to find a vendor that carries bulbs you can bring home. The US and Canada have specific rules as to which bulbs can be brought back so to prevent disappointment, it's best to look it up ahead of time.
11. Amsterdam's Famous Coffeeshop (or koffieshop)
The caffeine and cannabis culture in Amsterdam is quite unlike any other so it's worthwhile checking both of them out. But don't accidentally go into the wrong one though – a coffeeshop in Amsterdam is your legal dispensary who is allowed to serve you cannabis up to a certain amount. If you're interested in seeing what a typical Amsterdam coffeehouse menu and price list looking like, check out the link! Keep in mind, you'll likely come across tourists enjoying themselves here rather than locals.
A visual sign that best identifies whether that place is a coffeehouse/dispensary or not, is the white and green sign along with their license which is typically posted somewhere visible near the entrance. Amsterdam has make it really safe to enjoy cannabis so have fun while you're there (but don't abuse it!)
On the other hand, a coffee house (or Koffie Huis) is where you can pick up espresso coffee, tea and basically your local Starbucks equivalent.
Have you been to Amsterdam? What are some of your favourite spots in the city?