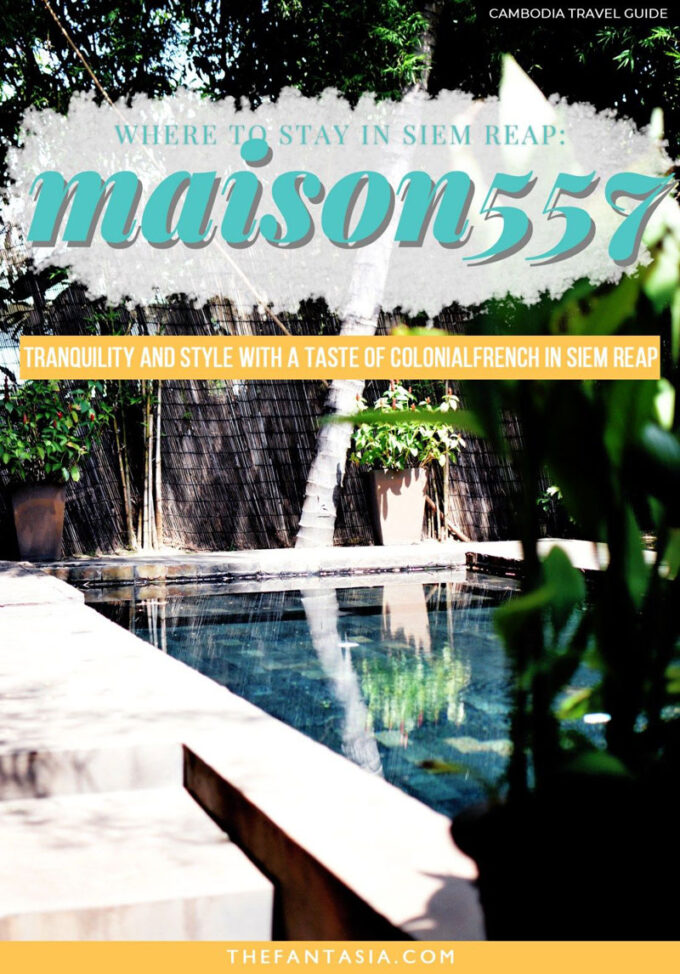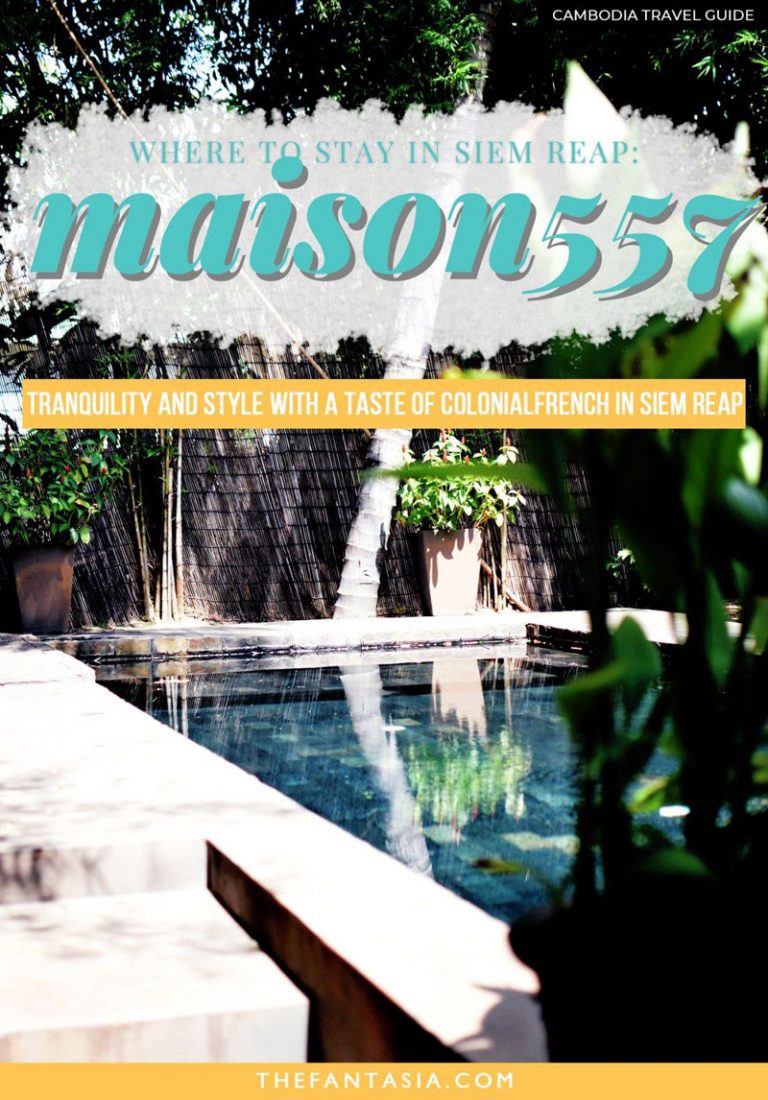 The very promise of staying at an ethically-run and gorgeous green villa oasis in Siem Reap was all I needed to immediately choose Maison557, a luxurious and tranquil hotel near the famous Wat Bo road, as my base for the 3 days I was spending to explore the world-famous UNESCO World Heritage Site Angkor Wat.
Maison557 is located a few minutes away from the main market and ease of access to the temple, I was very keen to explore all that Angkor Wat has to offer with and escape the humidity and heat of Siem Reap at the comfort of my own little villa. Being the most expensive room in the entire property, you won't believe how little my stay costed. Spoiler alert, regular rates at the villa is only USD$90 / C$105 per night (And this includes free breakfast, and daily room service!) for two people!
Lush, leafy and authentic are three words that came to mind when I first stepped to this charming bed and breakfast. It feels like a little green paradise in the middle of the busy city. Inspired by the architecture of the bygone French colonial era of the 1950s, this little bed-and-breakfast is your little heaven if you wish to avoid all the branded hotel chains that have seemingly popped up everywhere overnight in Cambodia.
Why You Should Stay at Maison557 in Siem Reap
Siem Reap is a famously touristy destination, and there's no shortage to find a budget hotel or hostel as your base to stay in whilst exploring Angkor Wat. With so many tourists and motorists around, you'll find that it can get super noisy in the area, but fortunately, Maison557 is located at a convenient spot in the Wat Bo Area neighborhood, only minutes away from Pub Street, local markets and only 8km away from the airport, which is often the point of arrival for most tourists.
If you are arriving by bus like I did from Phnom Penh, the Siem Reap post office is located on the other side of the Siem Reap River, making it a quick 5 minute tuk-tuk ride to get to the hotel.
Being close to as many possible interesting sites with plenty of food options, markets and stalls to browse are really important to me. The last thing I'd want to be doing in Siem Reap is nothing, and fortunately, staying at Maison557 ensure that I am always 5-10 minutes' walk away from everything. For someone who loves to walk and regularly tracks my steps, skipping the tuk-tuk means I could use more of my calorie and monetary towards eating out and sampling all food/snacks there are!
The location of this luxurious hotel/B&B is really great with a local market right across from the Siem Reap River, restaurants, pizza / pastry shops (thanks to the French influence, there are tons of bakeries/pastry shops, and coffee shops found throughout the city), and even the famous Pub Street is an easy 10-minute walk from the B&B. I walked home in the evening (8pm and later) a few times with no issue, and if you feel safety is a major concern, there are still plenty of tuk-tuks to be found.
The allure of having my own luxurious room and space to escape the heat and humidity was too much to pass up so I was glad to indulge in the Maison557 Villa Suite with its own pool, for my personal use during my stay.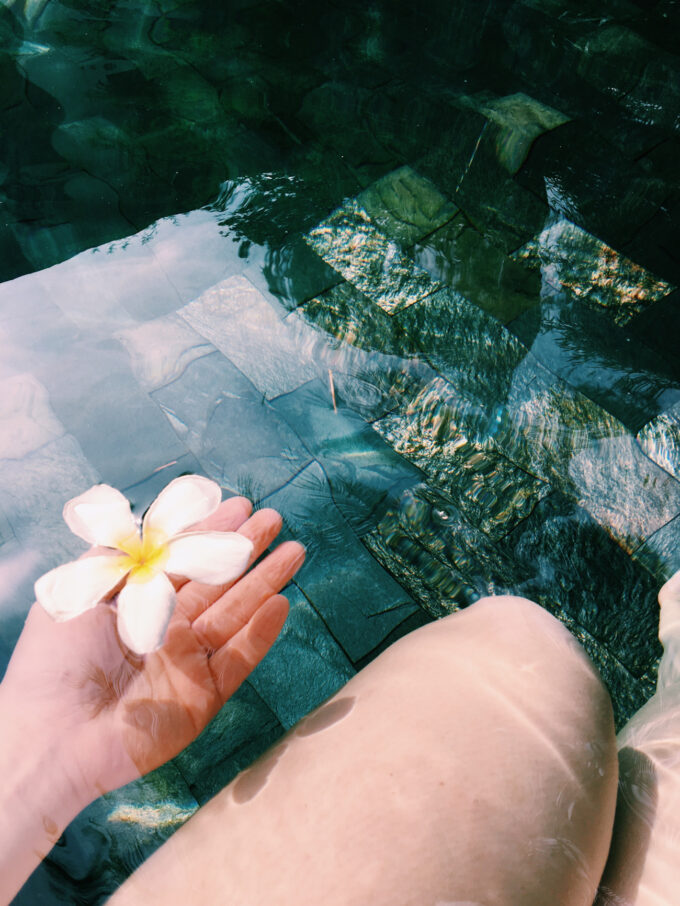 Hotel isn't probably the best word to call this place; the B&B consists of 7 rooms so it's best to book earlier than later, especially during the high-season. With standard rooms, loft suite as well as the Villa Suite for families available, it's a charmingly delightful place to stay. Given the room sizes and cost (relatively speaking to other Siem Reap accommodations), this would not be the ideal place for solo travellers.
Maison557 is a more upscale experience, and your experience will reflect that. With a complimentary breakfast spread that's simply begging to be posted on Instagram, as well as details to personal touches like welcome fruits in addition to locally-sourced toiletries, this is one of those places you can feel really good about splurging a bit of extra money on.
I knew how hot and humid Cambodia can be so I knew I was also going to spend a lot of time at my chosen accommodation. That's what made the Villa Suite at Maison557 so attractive. Beyond the welcoming king-sized bed, was my own personal 10×3.5 pool and a private terrace surrounded by fronds and palm trees for a truly relaxing and indulgent experience.
The Maison557 Villa Suite Experience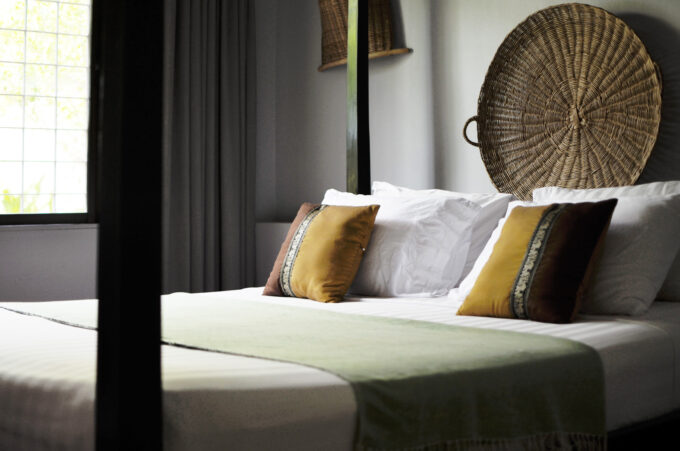 I wanted a taste of tropical paradise without the price tag and Maison557 is the place to splurge. The Villa suite boasts a massive bedroom, lounge, private terrace, free breakfast and your very own pool; I knew this was going to be a fantastic 3 day stay! Rates start at only USD$90 / CAD$105 for the Villa Suite – that's a total bargain when you consider this is their most expensive room and comes with its own pool and breakfast too!
Tastefully decorated, and peppered with locally-sourced toiletries, Maison557 quickly became a home away from home that I couldn't wait to tell everyone about. Within a few minutes of my arrival, I had already insta-storied, and sent my friends a family a peek and snapshot at my home away from home which made them jealous and wished they joined me in Cambodia!
Upon arrival, I was provided refreshments (alcohol and non-alcohol drinks!) which was a welcome respite from the 5 hour bus trip from Phnom Penh. The manager on-site provided me with details on the area, a map, and asked me what my general plans for the stay was. This allowed her to help me get organized with respect to ordering tuk-tuks and planning my sunrise trip to Angkor Wat. If I hadn't had her help, I would have wasted an entire day wondering what I needed to do to get my tickets to see the temples. By choosing to get a tuk-tuk that the hotel ordered ensured that I didn't have to worry about getting ripped off (the standard fee is around USD$10-15 to get your Angkor Wat tickets in the evening, after 5pm).
There are always 2-3 people on-site, keeping an eye on the surveillance camera, and helping out with luggage as needed!
Breakfast is served outside, overlooking the pool and garden and within the comfort of your private terrace. If you are a fan of French pastries (and who isn't?) then you'll definitely enjoy this breakfast spread. Fruits, yogurt, croissants, sweet rolls, coffee/tea to get you started for the day!
If you plan on doing a day trip or plan on leaving the vicinity for your tours earlier than when breakfast is provided, be sure to ask to have some breakfast wrapped to go. They provide a simmilar breakfast in a little plastic box that you can leave on your tuk-tuk while you're exploring those temples. The suite probably suits honeymooners / couples best as it provides a lot of privacy, and relaxation opportunity.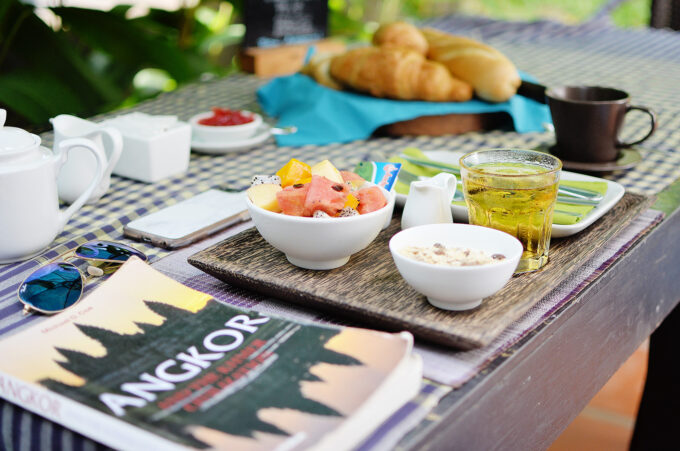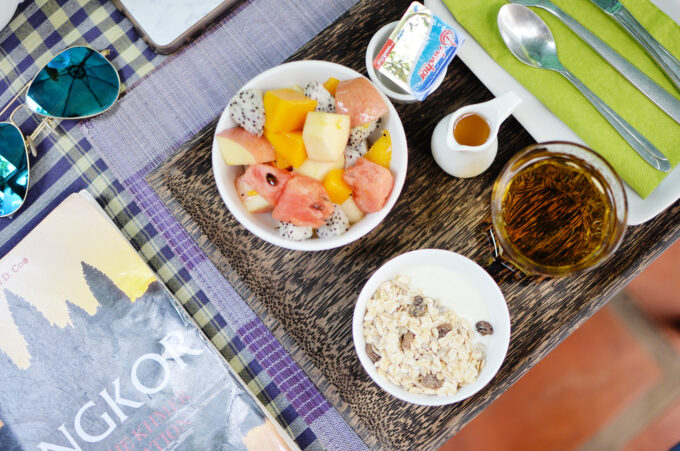 The staff is what really made my stay all that much more enjoyable – from the initial contact over email all the way to alleviating my concerns about being a solo female traveller in a quieter part of town. Every morning, I am greeted with smiles and my breakfasts are ready even before I'm fully awake. They are incredibly helpful when it comes to helping me arrange day trips and tours for my short stay – no question was inconvenient and all I had to do was ask and they'll come back with a few options for you to choose from! It's like having your own personal concierge!
A quick glance of their website showed a bunch of options for tour guides, and drivers. Knowing that there are pre-vetted and highly recommended guides helped me narrow down my options quickly, spending much less time on research and trying to guess who I should hire for my trip.
Additional Pictures from Maison557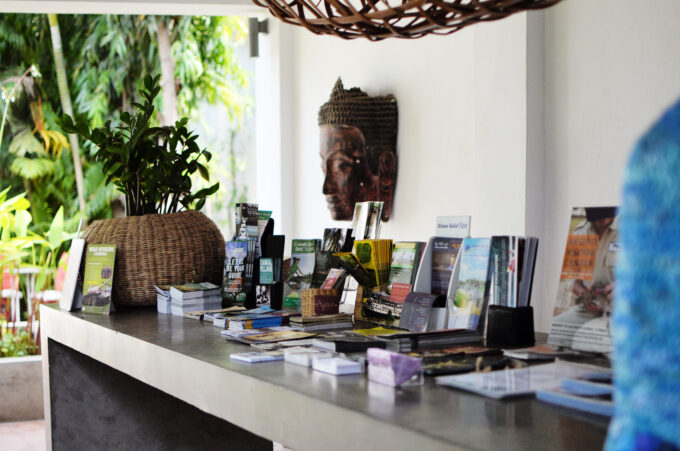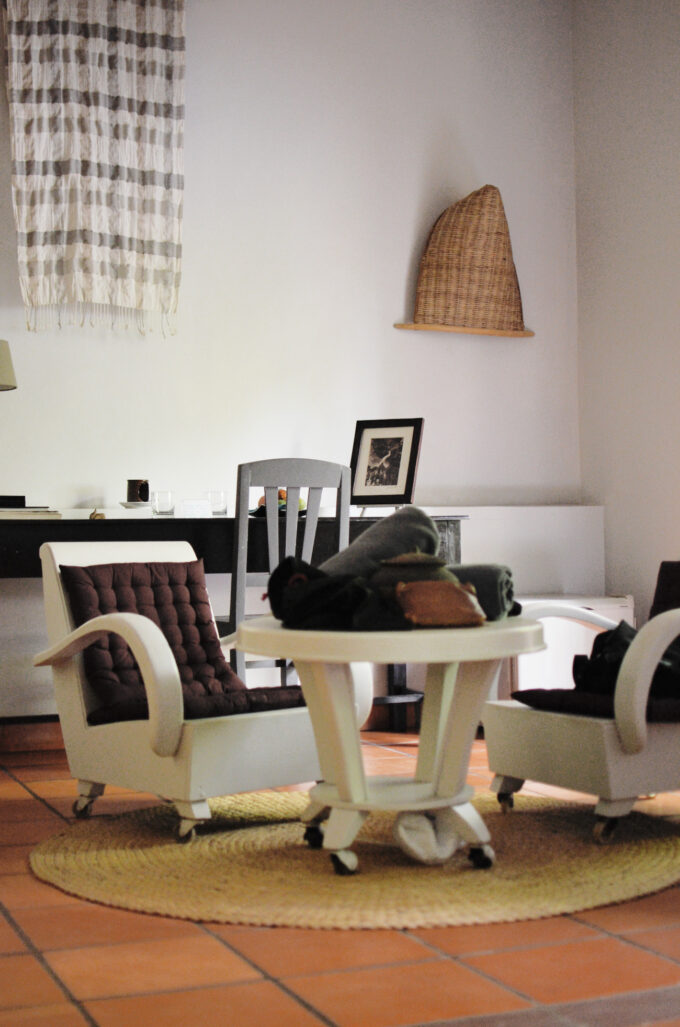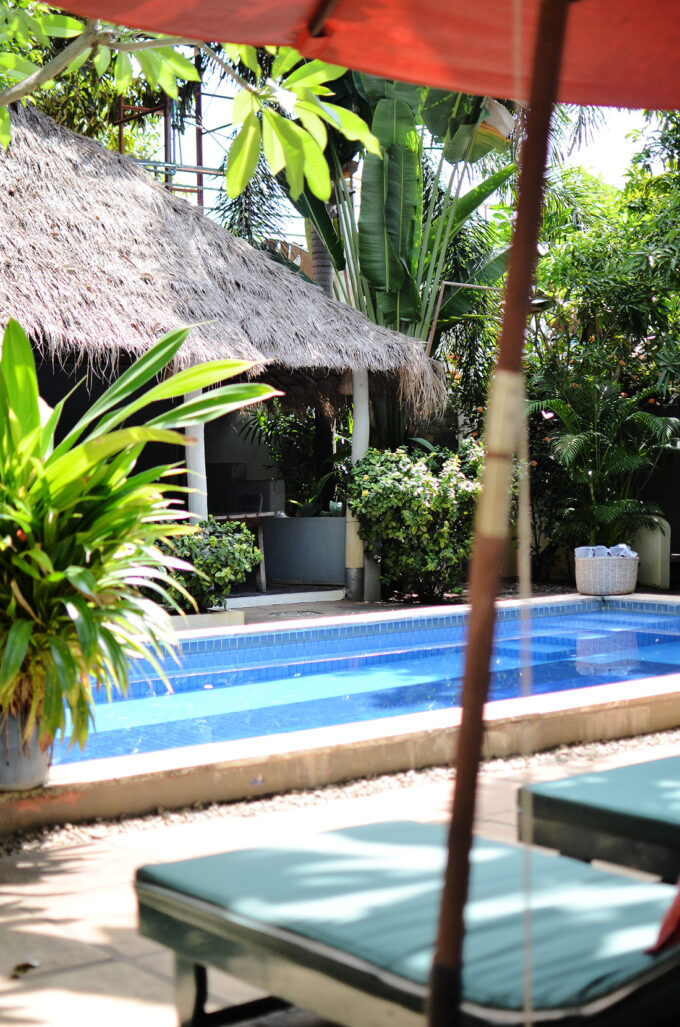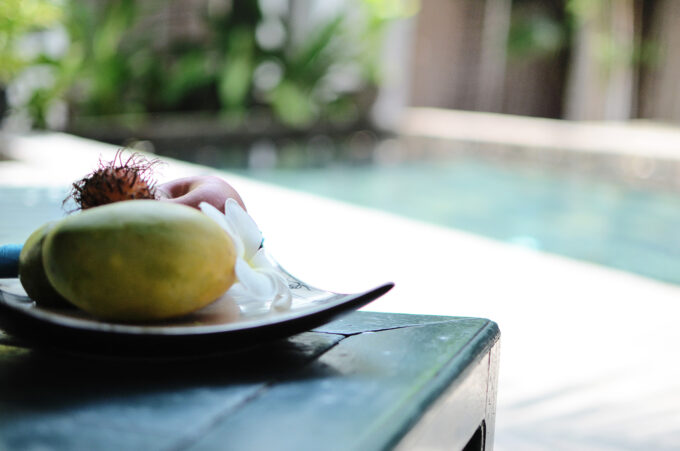 My Overall Experience with Maison557: A++ Stay!
Maison557 is a stunning bed-and-breakfast that has an authentic Southeast Asia vibe to it, and feels a world away from the chaos and hubbub of Siem Reap. Perfect for anyone looking to indulge at a reasonable price, local experience and have the most comfortable quiet spot after a morning of temple-hunting all over Angkor Wat.
Once you enter the gates, you don't really feel like you're in Siem Reap anymore! I only wished my stay could have lasted much longer as this felt like one of my favourite hotel accommodations to stay at in all of my travels!
Conveniently located close to Angkor Wat, this hotel makes the perfect base for couples, families, and anyone looking for a quiet, relaxing time in Siem Reap. With only a few rooms and limited number of guests, this may not be the most convenient hotel to find travel partners / enjoy the social scene.
More Information
Address: #557, Wat Bo Street, Group 12, Siem Reap Cambodia. PO Box: 93136
Website:Maison557
Booking: On their website or Booking.com
Payment: The hotel operates on a cash-only basis (so bring those USD) and via PayPal
---
Disclaimer:
I stayed as a guest of Maison557. All opinions are my own. For more information about my review policy, please
click here
.
---