On my last day in Istanbul, I treated myself to a true Turkish hammam (AKA Turkish bath) experience in Istanbul, to relax and soothe those achy muscles after 3-days of full exploration in the city where I felt like I barely scratched the surface but should be rewarded for my efforts regardless.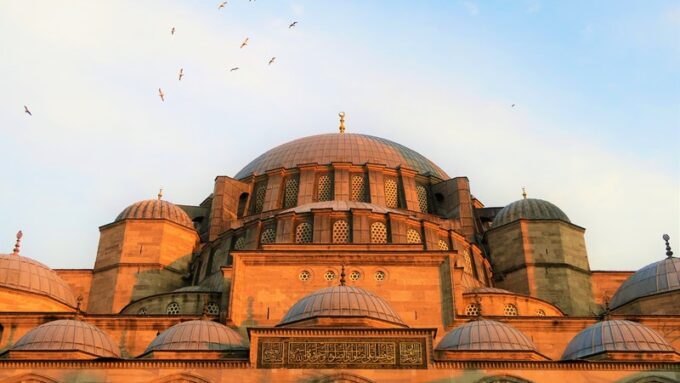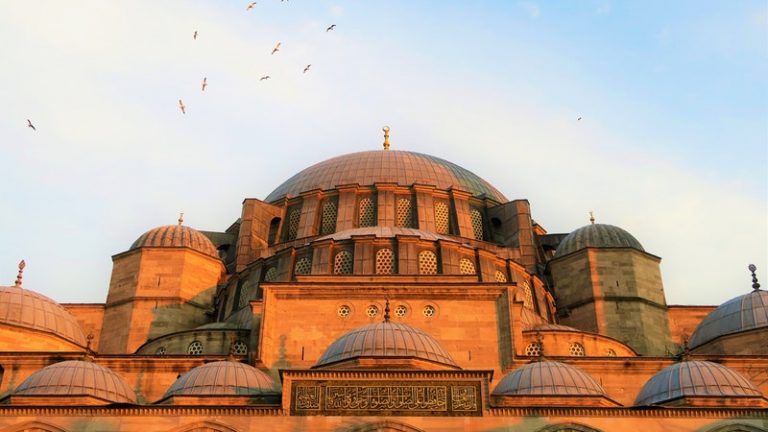 So a quick check over to TripAdvisor led me to Kilic Ali Pasa Hammam, a top-rated hammam located just 1 tram stop away from the hotel where I was staying in Karakoy. This hammam, similar to most hammams in Istanbul, is quite old; this one has been around since 1580. It feels very modern and new due to a recent renovation completed a few years ago.
I made the booking the day before and promptly received a confirmation for their earliest available slot at 8:15AM. The hammam operates with women-only and men-only hours. Women's hours (staffed exclusively by women as well) are from 8am-4pm. The men's hours (presumably staffed by men) are from 4-11PM. I was impressed by the extensive hours of operations so you do get a few options to choose from.
Wondering where to stay in Istanbul? Rachel breaks down the different neighbourhoods and hotel options in Istanbul that you should check out when travelling there!
What is a Turkish Hammam?
The Turkish hammam is a public Turkish bath ritual dating from the Ottoman Empire involving a massive hot marble stone, bubble bath and massage as well. When the Turks conquered Hungary, it brought this public bath ritual there, hence why Budapest became known as the spa capital of Europe. If you've ever tried the Budapest public bath experience, the Hammam is a must-try. If you're based in Toronto, the Shangri-La Miraj Hammam Spa is a good way to splurge on the experience without travelling all the way to Istanbul.
Do You Get Naked? What to Expect During Your Hammam Treatment
First of all, you need to know, coming into your hammam treatment, exactly what you're getting into. Spa etiquette is even more important considering how much of a ritual process this is. At most Turkish bath spa locations, a couple of options will likely be available to choose from:
Self-service: where you do your own scrubbing, bathe yourself, and probably have to bring your own soap and shampoo. Probably the cheapest option too.
Traditional: where an attendant scrubs and bathe you. It's the best option for your first visit to a hammam.
I went with the traditional hammam option and it set me back TL270 (Around CAD$56). Admittedly, it's very expensive for what it was but it's a bucket list item for me, and the experience definitely made up for it. There is a price list for their hammam and massage services and a reservation link on the website which makes it super easy to get yourself booked in. The hammam also won the Europa Nostra Award in 2017 for its redesign!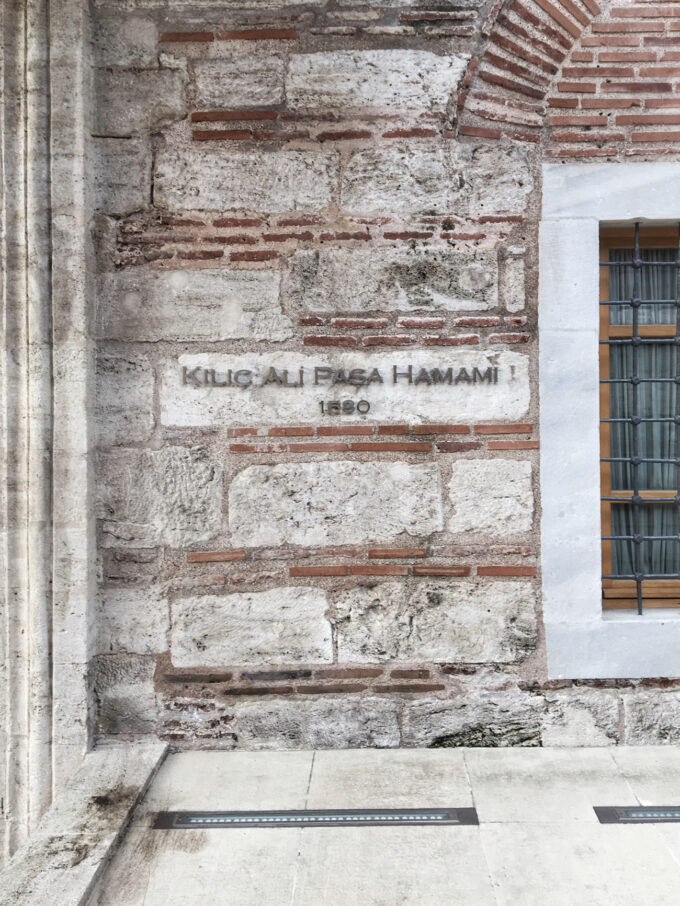 The hammam experience does require you to be comfortable semi-naked. You're topless from the waist up, and it's recommended that you bring a bikini bottom and extra underwear, if you prefer not to be totally naked. Kilic Ali Pasa Hammam offers disposable underwear but I promise you, you wont want to use it – it felt like it will likely disintegrate while you're being bathed and probably won't stay up with all the turning around you have to do. They do provide a bath-wrap to cover your waist – you can choose to keep your underwear on or not – your choice really.
And yes, it's a public bath which means that you're topless with other women in the hammam chamber – it's really an experience. Which is also why I went for their first slot – I was hoping for some privacy to ease myself into it.
Pro Tip: Definitely get as an early of a timeslot or a weekday appointment if you can. You will likely be the only guest and it's a good way to ease yourself into the public bath experience.
The Turkish Hammam Experience: Arriving & Pre-Hammam Details
When I arrived, I checked in and was promptly provided a cup of apple tea and towels to refresh myself. I was then led to the locker rooms upstairs. The main hall is quite grand and although opulent wouldn't be the word for it given its size, it felt luxurious like stepping into Toronto's Shangri-La spa. In the centre of the hall is a fountain, with these antique candle holders around the fountain which I imagine would look quite magical when all lit up. The domed ceiling and stone walls gives the illusion of stepping back in time and it honestly felt like a totally magical experience overall.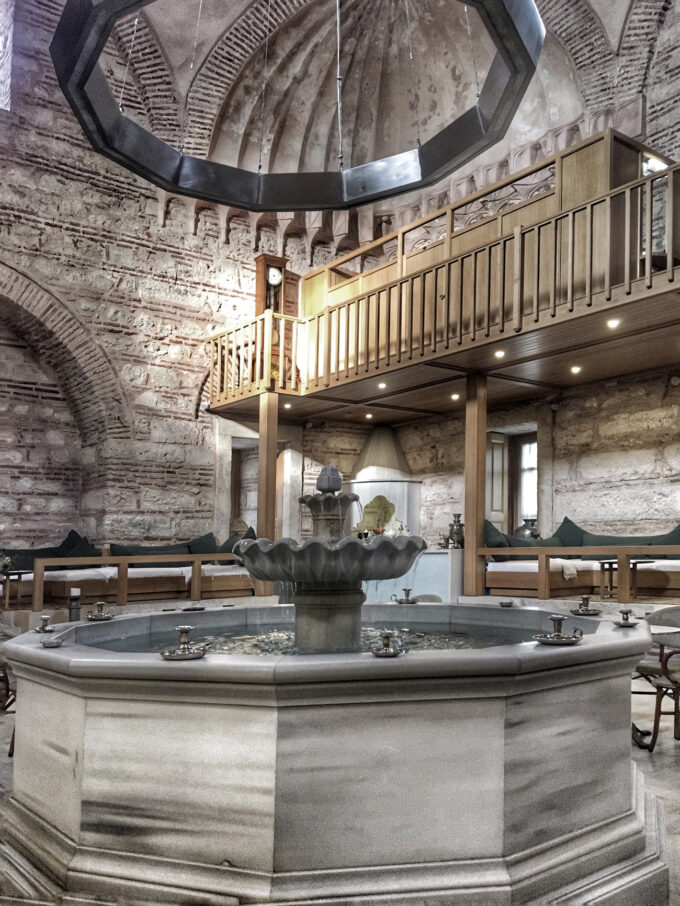 The lockers are located on an upper floor, in a u-shape. There are also grooming stations beside each locker section, complete with a hairdryer, cotton swabs, and makeup remover and a seating area so you can lounge post-treatment. I took off my top, leaving my bikini bottom on, covered myself in the bath-wrap and changed into the slippers provided.
The Turkish Hammam Experience
There's obviously no photos from the actual treatment so I've left some stock photos thanks to the website.
After I got changed, I was met with my attendant, a matronly woman by the name of Serap who was going to look after me for the whole treatment. She is old enough to be my mom, so I felt like a kid again, being washed and shampooed by mom – ahaha.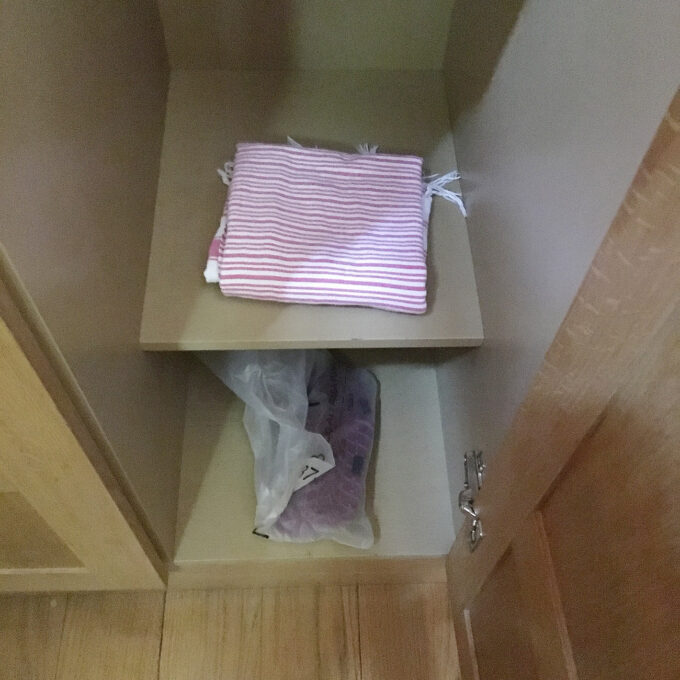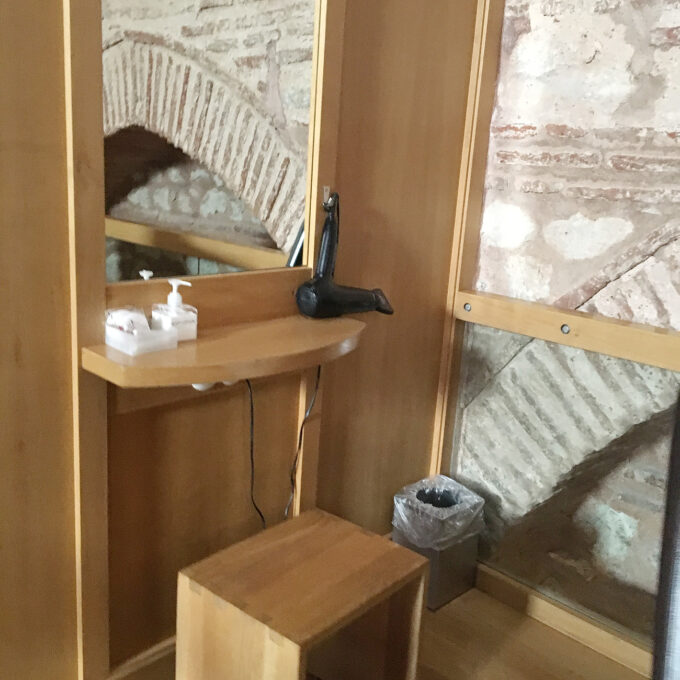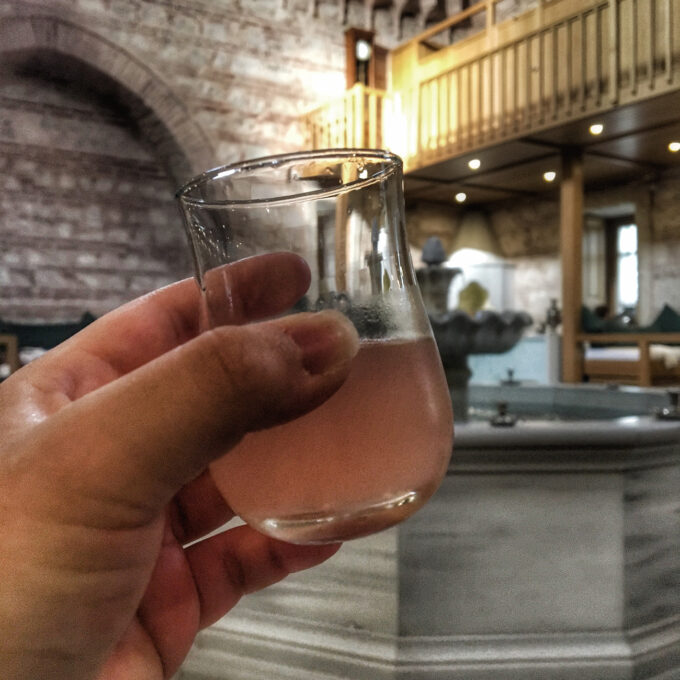 At this point of the day, I was the only guest, so it felt nice to have the privacy for at least the first 30 minutes of my treatment. It was just me and my attendant to get comfortable with the hammam experience.
The first 15 minutes of the treatment is to relax on the steamed hexagonal marble centrepiece in this cavernous chamber. The circular chamber was white with grey marble decor on the lower half. Around the perimeter of the chamber are around 12 washbasin stations, all gray marble of course – accented with intricately-designed gold-colour faucet.
The domed ceiling is decorated with stars and hexagonal cutouts to allow natural light to shine through. It was a very relaxing ambiance. My attendant left me alone while I steamed (stomach-side down) so my muscles can relax and my body can sweat a bit. It wasn't hot enough to actually sweat but warm enough to relax those weary muscles.

After I was done steaming, I was led to a station, where the with a small tin bucket, I was promptly doused with warm water to begin the scrubbing. The high hygiene standard is quite obvious from the way Serap had a brand new set of scrub mit and washcloth and there were piles of them nearby.
Pro Tip: don't wear lotion the night or immediately before the treatment as the scrub won't really pick off the dead skin, only the layer of lotion.
The scrubbing isn't too hard and personally it felt like something i could do myself, but again, it's all about the experience. I think the real hammam experience is supposed to be a bit more scrubby – I've read it can feel like being sandpapered down so I was expecting a bit more. It could have been the lotion too which sucked.
At some point, about 4 women joined me for the steaming. You can tell we were all tourists given how self-conscious we were and how we kept sneaking furtive glances to see how each other was dealing being semi-naked in a public setting.
After the scrubbing was done, it was followed by a quick rinse before moving onto the bubble bath massage. I've got to say, this was my favourite part. A large bucket was filled with warm water and mixed with soap/bubble bath oil. The result is a very sudsy bucket. Serap then took a muslin washcloth, dipped it into the bucket, and wrung it. Then she proceeded to squeeze the lather from the washcloth all over me. The experience is everything you loved about your childhood bubble bath experience.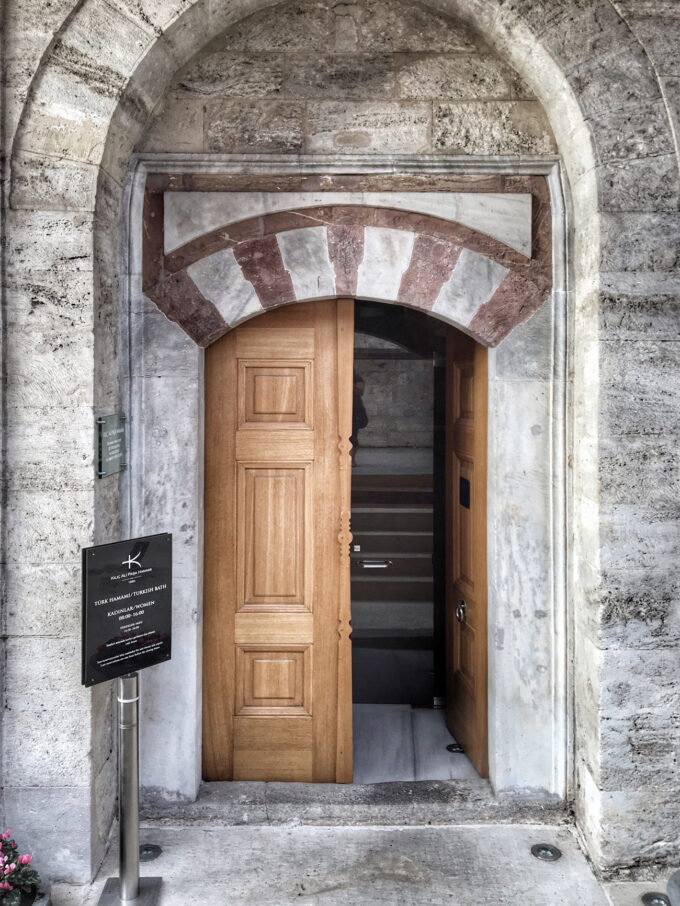 After I was buried in lather (it did involve me spluttering a few times because my nose and mouth were fully covered in suds), it was followed by a nice massage all over the body. Yes, being told to relax while covered in suds is quite redundant – I did it involuntarily and it was the most glorious feeling.
Pro Tip: Wear a bikini bottom during your treatment and bring a change of undergarments!
Then it was another rinse, and off to a private chamber, separate from the steam room, to dry. After I was nice and dry, I was led back out to the main hall where there are cushions located around the hall. There is a drink menu should you wish to indulge (non-alcoholic of course) but there's no pressure to buy. Water is complimentary.
As I was relaxing, I was offered a massage. I was pretty keen on getting a massage since I felt like I hurt my back in Dublin. For 25 minutes, it was another TL190 (Roughly CAD$40), not the best deal ever but I was so much in the zone that I didn't mind. You can stay in the hall for as long as you'd like to relax, read a magazine or just enjoy the quietness.
The massage was very lovely by the way – no regrets about it at all. I asked her to focus on my back (Carrying a heavy carry-on is a lesson I need to learn from).
After the whole service was done, I was provided a feedback form and proceeded to make the payment.
Pro Tip: For cash payment, you get 7% discount. Otherwise, you can pay with credit card as well.
Where to Go to Experience a True Turkish Hammam
Where to Find Kilic Ali Pasa Hammam: Kemankeş Karamustafa Paşa Mahallesi, Hamam Sk. No:1, 34425 Beyoğlu/İstanbul, Turkey
Closest Stop: T1 (Tophane stop)
Operating Hours: 8am-11:30pm
Phone: +90 212 393 80 10
Kilic Ali Pasa Hammam is a great tourist-friendly hammam for your first Turkish bath experience, located near the Galata Tower areas, making it easily accessible by tram, but not overpriced or over-touristic. A couple of other popular options include Ayasofya Hürrem Sultan Hamamı located right next to the Hagia Sophia. Reviews for these facilities appear to be mixed so I opted for the more consistent place and had no regrets.
​
From my research, the hammams that are closer to the main tourist attractions tend to be very, very expensive for the experience. Kilic Ali Pasa Hammam struck the right balance between the price and authenticity of experience. Although most guests that morning were tourists, we did come across a bridal party enjoying a treatment and doing a traditional dance prior to the treatment, so I feel this is one of those high-end facilities for locals but also authentic enough for tourists.
How to Find the Kilic Ali Pasa Hammam & Book Your Appointment
The hammam is located right next to a mosque, and conveniently, a few steps away from the T1 tram stop (Stop: Tophane).
Pro Tip: The entrance to the hammam is on the side so you may have to walk a little bit – facing the mosque, the entrance is on the right hand side of the mosque.
To book an appointment, you can use their Contact/Reservation form on the website. I received my confirmation within an hour and was provided details of my visit with the confirmation email. It was a flawless process overall!
The staff speaks English quite well and I found their instructions easy to follow despite how scary it felt at the beginning. If you have been thinking about visiting a hammam, I highly recommend trying this one to really try it out!
Have you been to a Turkish hammam before? Have you heard of the Turkish bath ritual? What did you think of it?