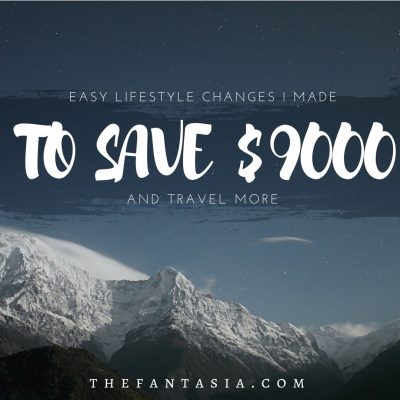 No, I'm not talking about skipping your daily Starbucks (because I won't give it up either) or living on a strict budget (because let's be realistic yes?) but a few lifestyle changes I've made last year to travel more! I ended up saving way more than I spent on travelling, which is a huge point of price for me. See my 2016 Travel Review & How Much I Spent post and the 2015 Travel Review if you are curious about how much I spend travelling annually.
This is a post that's been in the works for some time. After receiving a few emails and questions on my travel reports mentioned above, I felt compelled to share some of those tips here.
Like most millenials, I have student loans ($65K) to pay off despite receiving tons of scholarships (I went to one of the most prestigious business schools in Canada where tuition is through the roof), and am lucky enough to be able to live with my parents.
My decision to live with my parents is something that I struggle with often but it makes sense financially and logistically since I work a 20-30 minute drive from home. Aside from a very easy and inexpensive daily commute, it also means that I have easy access to downtown Toronto for blogging events as well!
These are a few easy lifestyle changes to save money and whilst some are very one-off (i.e. selling my Louis Vuitton bags) these are essentially extra savings on top of the money I make. Plus, they are good habits to get into even as I save for other big purchases like a Masters or a house!
1. I Pay Myself First
When I first heard of this advice, my first thought was "I like the sound of that – treating myself first every payday!" But I misinterpreted this advice – I should have read it carefully because it actually meant "paying my savings account first".
Instead of giving my hard-earned money to a restaurant and / or retailers like Sephora, H&M, the first thing I do after each paycheque is deposited is to transfer a fixed amount to my loan, and then to my TFSA, and RRSP accounts. Once that's done, I can be realistic about how much I could actually afford!
Estimated Savings: $1100
2. I Shop Smartly by Taking Advantage of Discounts, and Weekend Sales
I am a huge bargain hunter, and scour coupon / deal websites on a regular basis. For Canadians, my favourite forums and bargain sites to peruse are RedFlagDeals (they have an App for your phone), SmartCanucks and Canadian Daily Deals (run by Justine whom I've known since her beauty blogging days!)
I make a point of being very diligent with every purchase so while I can't go to a mall and bargain to buy a new pair of jeans, I have a few options to save some money:
Wait until the weekend when there's often some sort of savings or sale that lands in my inbox
Shop online where typically the price is lower and there's often online-only promo codes available
Use cash-back systems like ebates or a cash-back credit card
I've trained myself to do this in the last few years and would say that it is my one of my best habits. I have earned over $400 cash back from ebates alone, and about twice as much from my cash back credit cards. Granted these savings are over the span of 3 years, but that's $450/year from just one "savings" stream! The savings combined is quite significant even if it didn't look like it at the time!
Estimated Savings: $600/Year
3. I Plan my Splurges
I love to treat myself to Starbucks, bubble tea, sushi, new clothes and gadgets. I really don't try to deprive myself because I've found it to be very counter-productive. Instead, what I do is plan my spending carefully to maximize my savings!
I only buy Starbucks when there's a Star Dash or similar promotion happening. Instead of spending $80+/month to refill my Starbucks app, I've maintained only putting in $25-30/month. I've stopped shopping for trendy pieces but invested in a few basics from Uniqlo and Costco (on top of $1.50 hot dogs, yes please!) I only buy gadgets for my camera, GoPro and laptop around Black Friday so I plan my wishlist early on.
Estimated Savings: $1400/Year
4. I Negotiate Everything!
One of my goals that apply to both my personal and professional life is to become a better negotiator. This means negotiating everywhere possible in my day-to-day.
Every 6-8 months, I call up my phone provider, and insurance company to see where I can shave off some costs. After doing some math, I fully bought my iPhone in 2016 and it shaved my monthly bills by 60%. My phone paid itself off in just 13 months and I never have to worry about accidental charges or being locked in a 24-months contract!
Total Savings: $600/Year
I've also negotiated my car insurance several times because Toronto has one of the priciest insurance market for young drivers. My dad taught me this and actually handled most of it. A lot of my friends pay anywhere from $275+ monthly and that's on the low end of the spectrum. I started out paying $225/year several years ago, and negotiated down to ~$165 range which is considerably cheaper than what a lot of my friends pay!
Estimated Savings: $720/Year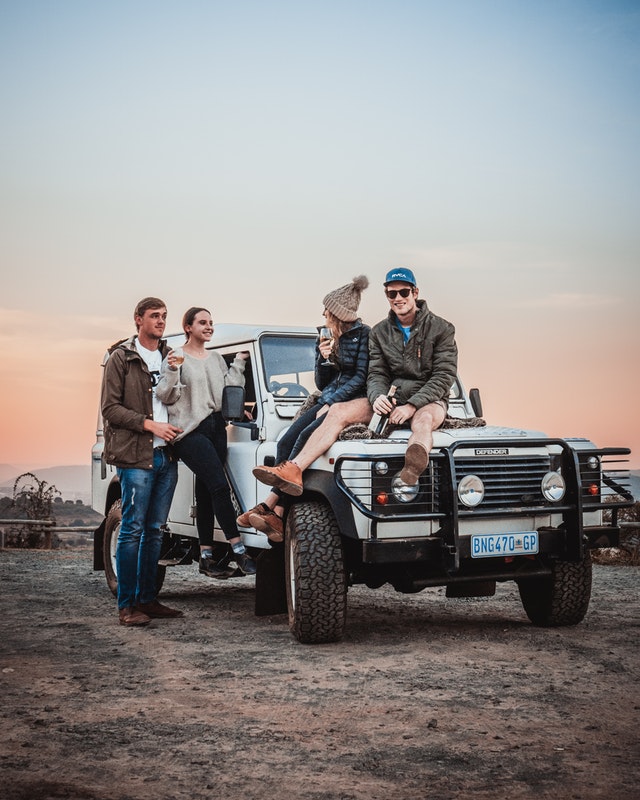 5. I Don't Deprive Myself of Experiences
I'm a busy bee and I love pushing myself to try new things. One of my favourite things to go is to get outdoors and try new things. Trying new things, or hobby often equals spending money. That's why I love using Groupon or other discount websites to get a better deal on a service or activity I want to try out. I've been using Groupon regularly to save money on hair / spa services, yoga, and summer activities.
I love browsing their Groupon Signature series which offers luxury treatments at a fraction of the price! They recently offered facials and massage at the Miraj Hammam Spa by Caudalie and the Four Seasons Spa which I fully took advantage of! Plus, some of the offers are eligible for Groupon discounts (Anywhere from 20-30%) and you can get an RMT receipt for your massage services. So despite paying $145+ for the Groupon, I still got reimbursed by my insurance company.
Estimated Savings: $500/Year
6. Before I Buy Something, I have to Earn It
This habit stemmed from my belief in delayed gratification. Before I go out and splurge on a new phone or clothes, I have to make some extra money for it or have earned it for a reason. For example, when I bought my iPhone, I sold off my old iPhone 5S for $350 (A really awesome price considering it was valued by Apple for $150) which reduced the price of the 6S quite a bit. Before I splurged on my South African safari, I sold off 2 Louis Vuitton bags that earned me $1650 and fully justified my trip!
Estimated Savings: $800
7. I Build and Use Points Programs Wisely
I make a point to make my money work hard in every way I can. One way is to maximize points programs where possible. My favourites are the Shoppers Drug Mart Beauty Boutique's Optimum Program, Husky Gas Station and on my American Express Gold Card. I love that I can spend these on grocery and towards my spending so it has saved me quite a bit!
Estimated Savings: $600/Year
8. I Plan my Groceries
Realistically, it's almost impossible for me to deprive myself of after-work drinks, and hanging out with friends. Instead, I focus on what I can control and in this case, it's my groceries. I like to eat healthy but as we all know, that often comes at a cost. What I do is plan my grocery list in advance and use the Flipp app to check which grocers have a sale on the items I'm shopping for!
Estimated Savings: $360/Year
9. I Take Advantage of My Connections
Now, before you get your panties all twisted, this goes both ways. As much as I "take advantage", I also make sure to share the connections and offers I have. My sister is interning at a well-known Canadian corporation so just like me, she now has a number of employee discounts and offers that are quite distinct from mine so we both can mutually benefit from the relationship.
In March, she invited me to join her company's Skiing/Snowboarding Employee & Family event which covered all costs to the event, except for the entry fee and rental of $80! This isn't too bad considering how much more expensive it can get! In turn, during my company's private sale events, I make sure to stock up on household and personal care stuff for my family so they don't have to pay the insane markup in stores! Win win!
Another example is those warehouse sales I love! I have a friend who gets the Estée Lauder warehouse sale tickets whilst I get the L'Oreal ones. Every year, we make sure to trade tickets so that we both can totally enjoy both companies' sales!
This is just two of the many examples that I do to cut cost but still enjoy activities and save money where possible!
Estimated Savings: $1200
10. I declutter regularly
Whether it be Kijiji or my online blog sale, I am always adding and making sure that I am decluttering as much as possible. I don't realistically need this much stuff so I've been diligently adding new things that I don't need so it can go toward someone else! This habit is an important one for me – I don't have a lot of space at home so I need to make the most of what I have. Plus, I love it when my space is completely clean and decluttered!
Estimated Savings: $1150
Now it's over to you! What are some of your favourite money savings tip to travel more?