So you've made it – you've booked your trip, you've book your time off, and the anticipation of your upcoming trip is making you all sorts of excited. Now it's time to plan out your itinerary and look into how much your travelling is going to cost in total. Total shocker – with the tanking Canadian dollars, your [insert destination here] which uses the US Dollars / Euro / British Pound Sterling is looking a lot more expensive than you anticipated!
Or maybe, some unexpected expenses / news came in after you've already booked the trip of a lifetime, and now you have to watch your travel expenses carefully so you can come back with as much as possible…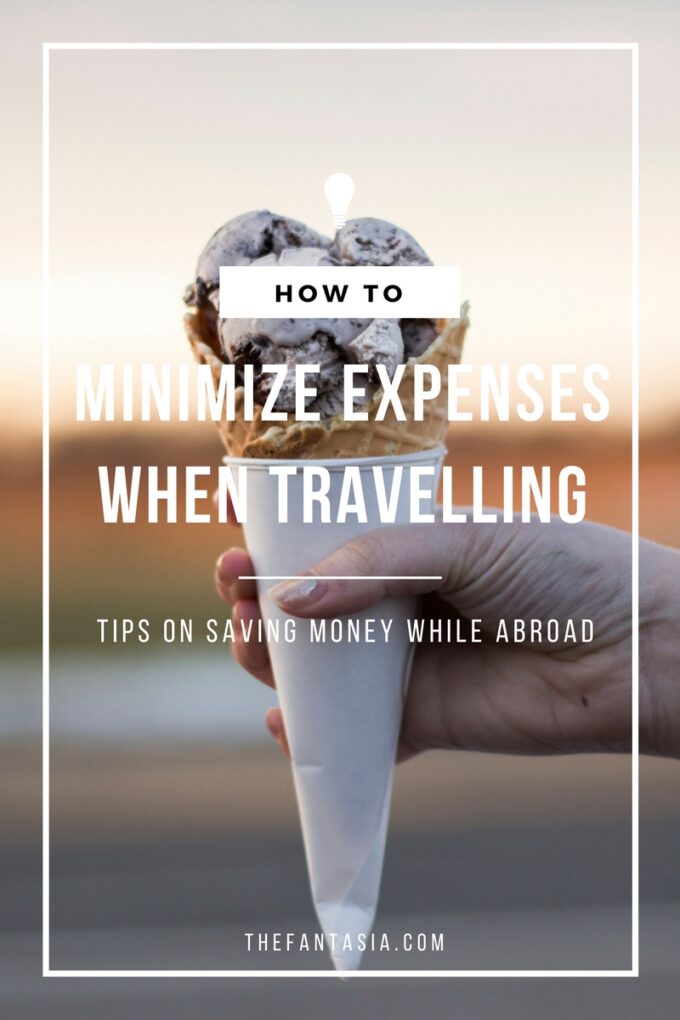 How To Minimize Expenses While Travelling.
Life happens (Don't worry – I'm not trying to sell insurance here!) but it shouldn't result in you not being able to enjoy your trip to the max. Here are a few ways you can save money, and minimize expenses while travelling!
Don't forget! If you're looking for inexpensive flights, don't forget to use Skyscanner or download the App on your smartphones so you can always find the best deals for your next trips!
1. Book in the the shoulder season
If this is an option, try to pick your destination's shoulder or low season to save money. Not only can you benefit from low-season pricing but the savings you can expect to realize, from flights, accommodation, and daily activities can result in some incredible savings. And don't be afraid to explore new destinations that may not be
1b. Pick destinations based on seasons
There are some destinations that, depending on the season, tends to be cheaper. For example, I travelled to Cape Town, South Africa in May which is Spring/Summer in Canada but Fall/Winter-ish there so I benefited from getting low-season pricing and also lesser/smaller crowds. Same thing when I travelled to Portugal in the Fall season. I plan to travel to Thailand at the beginning of the monsoon season and while that likely means dealing with rainy days, my flight (Round trip from Toronto) costed a mere C$650!
2. Are You A Student (Or under 26-30 years old)? Bring your ID!
Certain destinations (notably Europe) is a favourite among many students and youth because despite how expensive certain cities can be, Europe is known as being student-friendly. Expect discounts up to 50% off with a valid student ID. For the most part, a simple student ID from your university would suffice, but for more tourist-heavy destinations and ISIC (International Student ID Card) is required. When I was in school, it costed $10 to get one of these cards, so it's not too expensive to get if you plan on travelling for a while.
Depending on the country, the rules can vary – I remembered barely being able to get discounts in Paris (Only the Catacombs of Paris gave me student pricing) and it was a mere €2.50. In Portugal, not only was the age limit higher (you can get youth pricing if you're under 29), the discount was fairly sizeable too (Mine was almost 60% off the round-trip price if paid at regular price)!
3. Buy Grocery/Cook Your Own Food Instead of Eating Out
Whether it is a 3-day or a 2-week trip, I try to always buy grocery instead of eating out. I feel much more energized and happy because I know what I'm putting in my body and it keeps the cost low. Plus, if you're a snacker like myself, bringing an apple or banana during my excursions keeps me happy all day long!
Sometimes, depending on the destination, I'll join one of those cooking classes so I can get a feel for the local flavours / delicacies and learn it straight from the source! It's one of the best "souvenirs" I can bring back because it impresses people and is a good conversation starter!
By no means do I skip tourist and locals' favourites when I'm travelling. I just don't do it for every single meal (because that would be so expensive!)
3b. Avoid the Tourist Traps
Whether it be a restaurant that's always buzzing near a well-known tourist spot, or souvenir / curio shops along the same tourist spots, you're most likely going to be overpaying for mediocre food and souvenirs. Instead, walk a little further away for your next meal, check out TripAdvisor in advance for highly rated restaurants, and ask locals for recommendations!
I usually read a couple of travel blogs ahead of my visit and will note some of the recommended, "off-the-beaten-path" food places. And yes, I'm one of those people who will pre-plan and go out of my way for delicious foods that will also save me money.
4. Skip the Private Tours – Go for the free tours!
As an introvert, I sometimes will pay extra to go on a private or smaller group tour and airport transfers. Not the best use of money because you are paying the premium for a more private experience. Instead, take one of the many free walking tours (the only fee you're paying is the tips) and get a bit of exercise during the day!
4b. Pre-Plan Your Activities
When possible, consider pre-planning and booking your trips in advance. In most cases, this is a great way to save money though there will be times when it may make more sense to pay in person / on the day of. The benefit of pre-planning at home is you can compare pricing online – sites like Viator, Skyscanner, Expedia, TripAdvisor can offer a very varied price range. Unfortunately you're often stuck with a price set by the operator when you're booking on the day of and could be targeted for "tourist pricing". Best to do some research ahead of time where possible!
5. Skip the Uber or Private Transfers, Take the Transit
Where possible, and I'm aware this is not the case in a lot of places, walk as much as possible particularly since you get to see more, and you're more likely to find those hole-in-the-wall amazing local food vendors. Plus, you're getting plenty of exercise, and have the flexibility to avoid the crowded areas. Taking the transit is a great way to experience how the locals live and enjoy a more relaxed pace.
6. Travel Insurance: Plan Ahead
In the last 2 years, I've never travelled without a travel insurance and if you haven't considered it before, I would like to make a case for it! My favourite travel insurance are World Nomads, and American Express. I've shared some of my travel recommendations on this post.
I look at travel insurance as a three-fold: medical, logistics (flight delays, cancellations, etc), and personal effects. Travel medical insurance is something I'm automatically covered for thanks to my company insurance plan. This coverage applies to all countries (I usually check to make sure certain destinations get covered) for up to 30 days at a given time. That leaves me to get coverage for the other 2.
Generally, I don't always get travel insurance for flight delays and cancellations – I know my passenger rights and in the last 5 years of solo travel, I've not had a flight delay or cancellation that affected my itinerary. I am partially covered for any trip interruption and unused portion of my trip through my credit card (American Express Gold Card) so I generally don't get an added insurance for it.
The reason I've been getting insurance is because I started travelling with more valuables (think: DSLR camera, GoPro, iPhone). I think the $25-40 cost of being covered would give me the peace of mind should anything go wrong (phone gets damaged, camera gets stolen etc) compared to replacing the product completely.
7. Pay in Cash
Avoid that dreaded 2.5% exchange fee, bank withdrawal and currency conversion fees when you pay in cash. Plus, you can estimate and control how much money to exchange ahead of time so you're less likely to overspend.
Now it's over to you! How do you minimize expenses when travelling? Any secrets that I've missed?