One of the most overlooked ways of putting together travel-inspired home is by repurposing or using maps. What more obvious icon of travel is there other than maps? There are plenty of Pinterest DIY tutorials, shops that you can purchase select vintage print from, but what if you're truly looking for a hard-to-find-city, or very unique decor piece in the first place?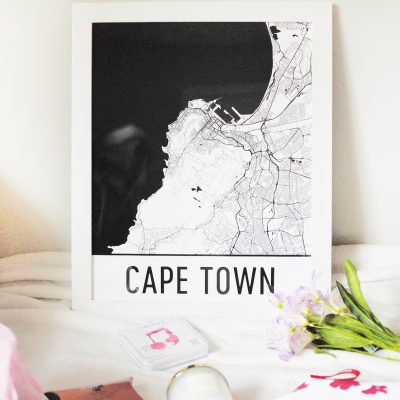 Enter where you can turn your favourite cities/destinations into a beautiful work of art! Offering a selection of map and skyline art posters, as well as accessories like iPhone cases and pillows, you might find yourself getting fairly carried away with your shopping here! The shop is based in Los Angeles and every map and print is custom-made to order. Whether you're shopping for yourself or looking for a thoughtful gift for a friend, be sure to check out Modern Map Art for some inspiration!
I have been wanting to get myself a map art for a while. Not of Toronto (I love my city) but of Cape Town – the city I have spoken of so often and so much since my visit there in 2015 and 2016. It can be hard to source local arts and bring it back in one piece. Thought I was able to bring back two prints from a local shop, I still wanted something larger and more present in my home.
I really like the map art print I got from Modern Map Art – available in 5 poster-sizes (from 8×10 to 24×36) and 2-4 different colour schemes, these make for a fantastic decorating piece! They are printed using special ink that makes the colour truly standout. I really love how precise and sharp the print job was – there's no bleeding or smudging on the print which is something I would expect.
Shipment arrived quickly and in a poster-tube to ensure perfect condition upon arrival.
There are over 500 cities available though they can create a city/custom art if it's not already on the list. Since I love a good deal, you can get a 10% coupon code if you sign up for their mailing list. Shipping is free in the US, and is fairly reasonable internationally!
What are you waiting for? Check out the Modern Map Art store or their Instagram page for your next artwork inspiration!