Visiting Angkor Wat was a highlight of my Siem Reap trip and it's on many people's bucket lists too. It's one of the most epic and interesting series of structures I've visited in my travels and I'm not the only one who thinks so. Despite the oppressive humidity, suffocating heat, even in the wee-hours of the morning, the crowds that descend upon Angkor Wat will convince you to stick it out and enjoy the peacefulness of the temples.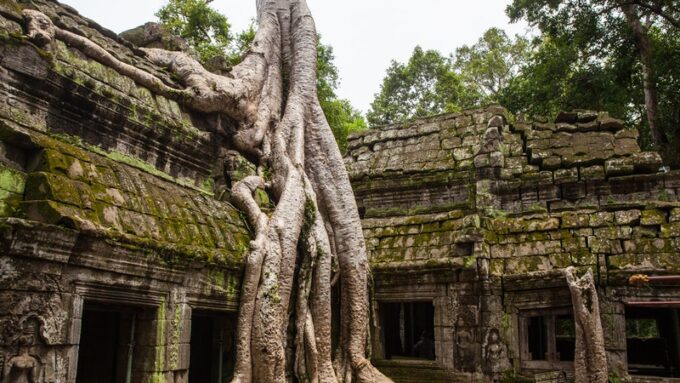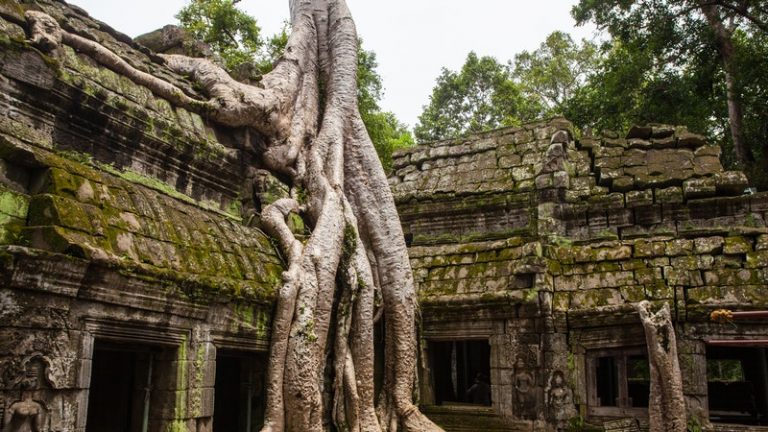 Angkor Wat is a magnificent site, a crown jewel of the Khmer empire that has been made popular through Hollywood by being featured in adventure movies like Indiana Jones, Tomb Raider, and Kingsman: The Golden Circle. Any trips to Cambodia would be remiss if it missed on Angkor Wat in the itinerary.
As much as I am a fan of ruins, history and old structures, I had been afraid of being templed-out because I didn't feel I had done sufficient research before going. I really shouldn't have worried – there were so many aspects of my trip to Angkor Wat that blew me away, even without the guidebook, tour guide or too much prior research.
How to Deal with the Crowds at Angkor Wat
I'm sorry to say that it's practically impossible to enjoy Angkor Wat wihtout the tourists – about 2M people descend upon the temples annually. Everyone is mostly interested in taking that iconic silhouette picture at sunrise of the main Angkor Wat temple where tourists in your photos are practically guaranteed.
Being a smart traveller means being strategic so you can try to get to the sites with as few tourists as possible. My suggestions? 1) Go as early as you can (if interested in the sunrise, you'll be in at 5AM anyways), 2) knowing your route ahead of time and 3) spreading your visit over a few days.
How to Buy Tickets to Visit Angkor Wat
Visiting Angkor Wat is somewhat of a pricey excursion and I felt the most expensive part of the costs is the ticket itself. The most recent rates for the visit is outlined below and be sure to come prepared because even the line-up for the tickets are that much longer! All prices listed below is in USD and is payable in cash, Visa, Mastercard, UnionPay, JCB, Discover and Diners Club. There is an ATM on-site which you can use to withdraw cash just in case.
1 Day Ticket: $37
3 Day ticket: $62
7 Day Ticket: $72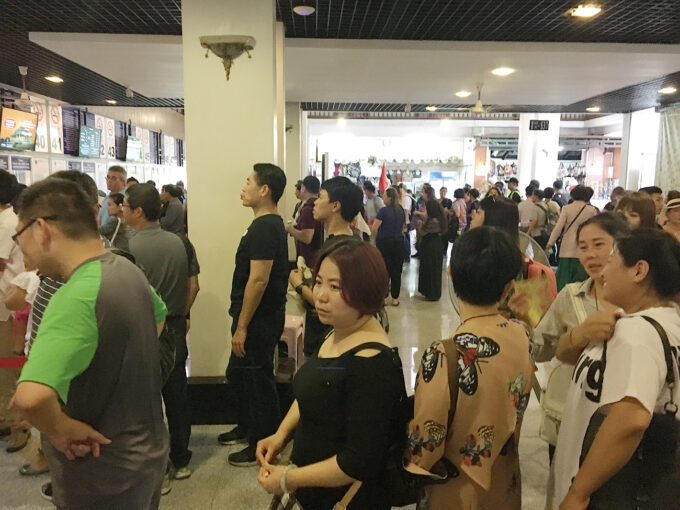 These prices apply to foreign tourists, and visitors under 12 years old can enter for free must show their passport). The tickets are printed with your photo on it (which is taken on the spot) so the person who wants to enter the temples must be present when purchasing the tickets.
You can only purchase your tickets from the Angkor Ticket Center (Angkor Enterprise), open daily from 5am until 5.30pm. This is the only place you can buy your tickets from so don't buy it from any other third-party providers or guides who claim they can sell to you cheaper. Unfortunately, you can't buy the tickets online.
Why You Should Buy Your Angkor Wat Ticket in Advance.
It is absolutely necessary (especially if you plan on going for only 1 day) to buy your ticket in advance. This is recommended by pretty much all the tour guides, local operators, tuk-tuk drivers, and bloggers so it's pretty much the norm. The ticket office is not located anywhere near the entrance of the temple – it's actually about a 10 minute tuk-tuk ride from the ticket office to the temple entrance site.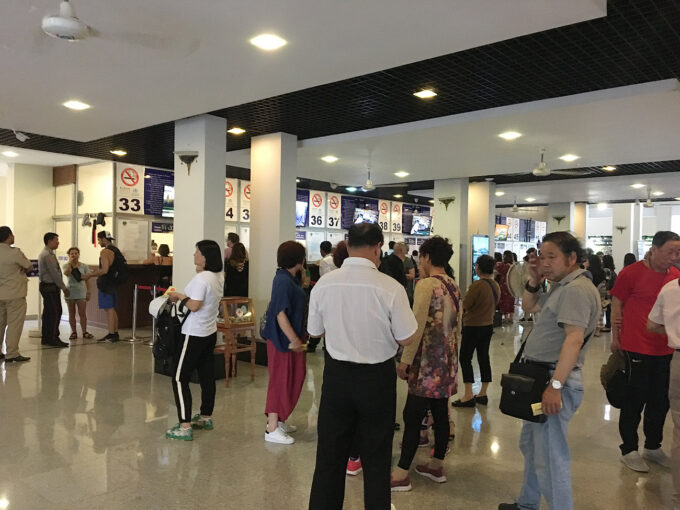 If you buy your tickets in the evening (around 5pm) the day before you plan to visit, you can enjoy the Angkor Wat sunset. While not as spectacular as the sunrise, it is worth going to at least plot your route so you can enjoy the Angkor Wat complex without much interruption. Keep in mind, the tickets have the dates the ticket is valid for printed on it, so you should plan to use the ticket pretty much the next day.
Most bloggers recommend going to Phnom Bakheng to view the sunset but Srah Srang Lake is also another good alternative.
How long should you stay in Angkor Wat?
There tends to be a lot of discussion around which pass the best. 1 seems too short, while 3 seems to be the average number that most agree as being an appropriate time. 7 days should be reserved to those who truly don't mind exploring every nook and crannies of the many temples.
Here are a few things you should consider if you're looking to visit:
The temperature: No matter what time of the year you're going, it's going to be hot and humid (I visited at the beginning of the rainy season and it reached 31C at 5:15AM); do you feel comfortable enough to explore the temples in this kind of heat?
Angkor Wat is vast: the Angkor Wat complex is a series of temples located some distance away. Temples are usually 10-minute or even 1-hour away from each other so factor in that travel time too
Small vs. Big Circuit? You will need to know approximately which route/circuit you want to take as it affects the cost of the tuk-tuk driver and amount of time you have. Are you happy visiting only 4 temples (small circuit)? Or would you prefer to spend longer?
There's lots of hiking/climbing/walking: Inside each temple itself, you can expect to do a lot of climbing, and walking on uneven grounds. The physical exertion could impact the number of days you would want to spend at the temples
I opted for the 1-day pass and discovered it was enough for me. I did feel like I missed out on some temples, but the oppressive humidity and heat were too much for me to keep going. I also went without a guide which I was completely fine by as I could eavesdrop (I know, I know) on a few on-going tours. I didn't see too many people / groups with guides either, so you can absolutely skip it if you'd like.
This may also sound very obvious, but keep your ticket with you at all times. There is a check-point at every temple entrance and it would suck to be turned away before you were done exploring!
The Famous Angkor Wat Sunrise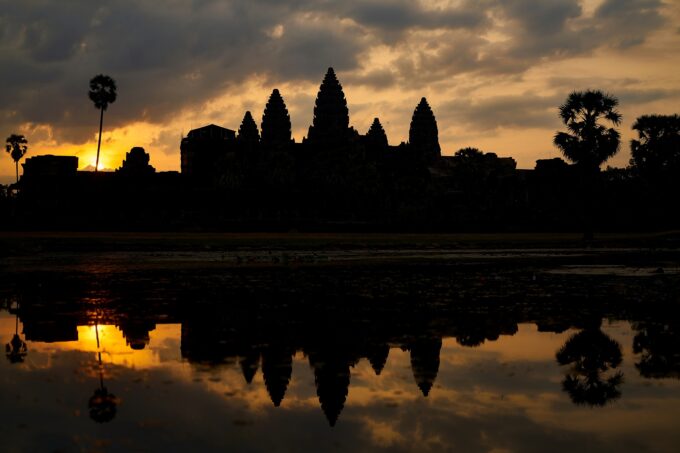 Going to see the temples at sunrise is something most tourists want to do because of how stunning the Angkor Wat temple looks bathed against the pink, purple and orange hues of the sun rising. To do this, you need to get up early (and do need to pay your tuk-tuk driver and guide an extra USD$5) at around 4:45am to make the 20-30 minute journey to the temples. It is then another 10 minute walk past the entry-point past the moat, where there are the ponds that would show a lovely reflection of the temples as the sun rises.
Do a quick check the evening before to see the water level in the ponds. When I went, the right side had no water and the left, while it had water, had too many water lilies (which didn't provide the clear reflection I wanted). Planning your route, and getting there on time is absolutely critical to get the best spot for the photographs. Recently, there is a vendor who sells coffee and small breakfast, and if you buy from him, you can sit on their mats which is at the prime spot for photography.
What to wear when Visiting Angkor Wat.
I know you want to do it for the 'gram. I know those sleeveless short dresses are just calling out to you because of how hot it is but you need to cover your shoulders and knees when visiting Angkor Wat because it is a holy site. Monks still pray here. If in case you forgot, the are ladies that go around the main temple selling pashminas.
Which Temples to Visit in Angkor Wat?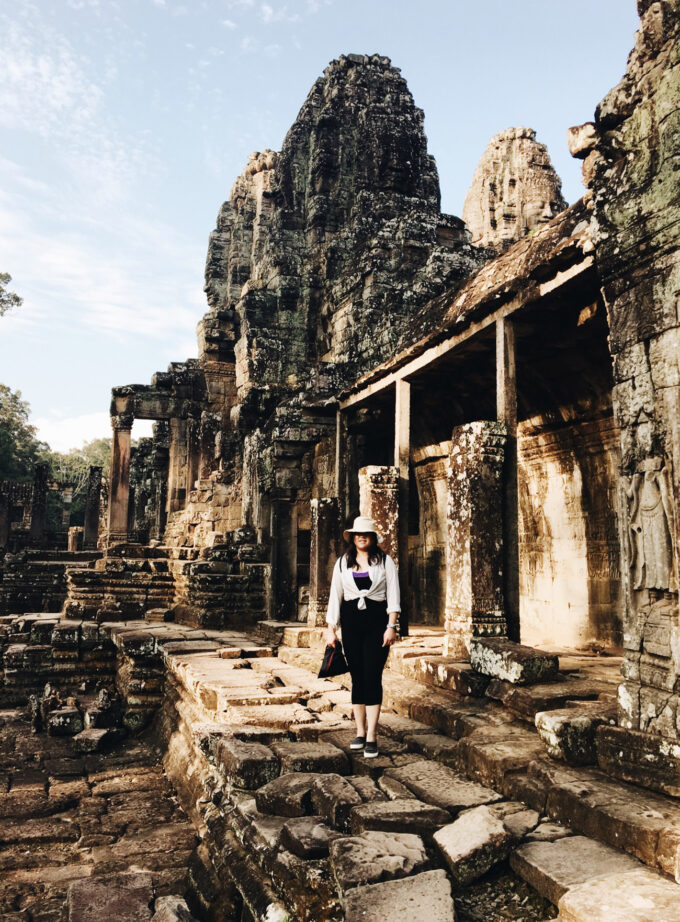 When you're doing your research to visit Angkor Wat, you'll hear a lot about the small and big circuit. This refers to the route and which temples you'll be visiting. The small circuit comprises of 3 temples, the main Angkor Wat temple, Bayon and Ta Prohm (Tomb Raider one). My tuk-tuk driver did a small detour and took me to the Victory Gate and Ta Keo as well.
My favourite wasn't the Angkor Wat temple, but Bayon. It was serene, peaceful, and still very interesting. Ta Prohm (Tomb Raider) felt too popular for its own good although its location, nestled deep in the jungle was also quite interesting in its own way. If you can get to the back of the Angkor Wat complex, it was a lot more interesting and calm – without all the tourists jostling in the pictures. It makes for some interesting photography too!
The big circuit should probably be done if you have a 3-day pass. Some of the temples are 1-hour away so you would need to budget your time accordingly. I did the small circuit in 6 hours (It was almost noon and I'd been at Angkor Wat since 5am) so it was doable in a single day!
In case you're curious about the difference between the two circuits, here is a map that illustrates which circuit covers what.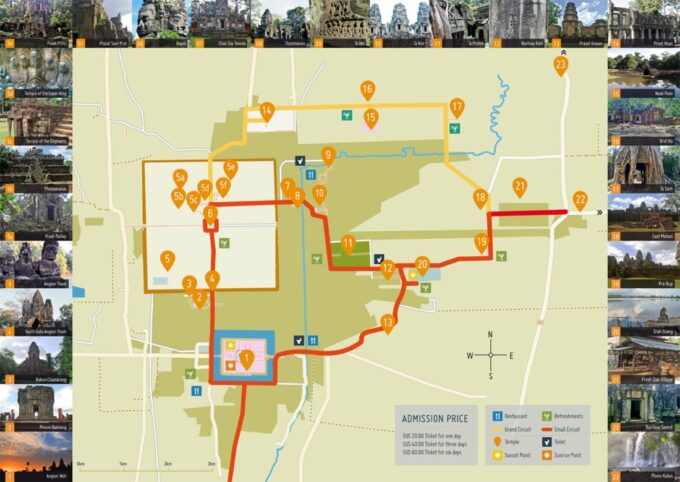 How to get Around in Angkor Wat
I personally didn't mind paying the price of the tuk-tuk (USD$15 for the Small Circuit + USD$5 for the sunrise) that took me to the various temples that day. The breeze and the fact that I got to relax for a little bit in between temples was worth the price despite the fact that I could have rented a bike to get around. I think the exertion from riding combined with the hiking and walking in the temples would have been too much for me. Despite seeing a few brave souls who rode their way through the temple complex (kudos to you all!) the number of visitors that took the tuk-tuk surpassed the riders by a lot.
Pin it for Later!