Despite being a popular backpackers destination, Cambodia still lacks the transportation infrastructure that would easily connect its cities on the cheap. While this is improving, the options remain limited, especially when you're working with a tight timeline (4 days in my case) and cannot afford to do a long day bus-trip or risk the bumpy/unsafe ride by taking the night buses.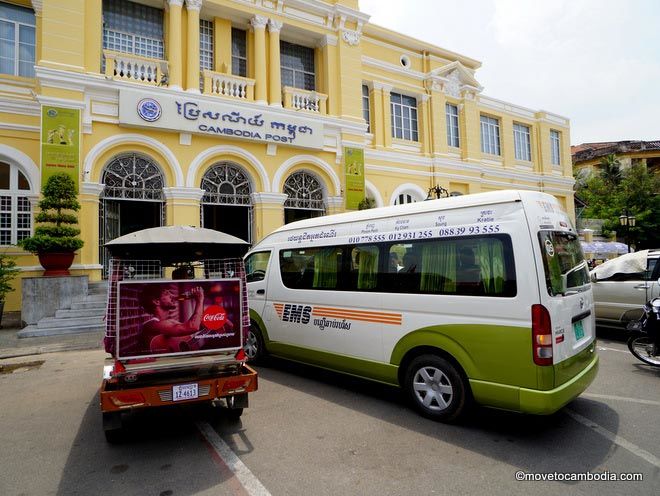 Enter the Cambodia Post VIP van transfers, a mode of transport I discovered completely by accident through a popular Cambodia expat blog. The review intrigued me and I thought it was a much better option than the ones I had considered previously. TripAdvisor reviews seemed to confirm the good experience, so off I went and booked my tickets!
How to go from Phnom Penh to Siem Reap (And Vice Versa)
I wanted to go from Phnom Penh to Siem Reap and based on my extensive research and limited time (4 days), my options were:
Fly with Cambodia Angkor Air – 1 hour, USD$71
Day-bus with tourist-friendly buses like Giant Ibis or Mekong Bus – 6 hours, USD$15 + $1 processing fee
Night bus with tourist-friend buses like Giant Ibis – 6 hours, USD$15 + $1 processing fee
Take the Cambodia Post VIP Van transfer – 5 hours, USD$9
Hire a private taxi/transfer service – USD$100+ per vehicle
For any bus routes, you can book your tickets on BookMeBus, a real-time booking platform that not only allows you to compare different transportation / provider options, but also select your seats in the bus ahead of time.
Why would you want to do this?
If you need the extra leg room for the 5-hour journey, or want to be seated with your travel companion, you can reserve everything ahead of time. As a solo female traveller, being able to view the booked seats in real-time meant that I knew that I won't be in the bus alone for the journey, an important safety aspect to consider when deciding to book with them.
Cambodia Post VIP Van Transfer is owned and serviced by the government and uses the Cambodia Post VIP vans that normally transfer mail / parcels in Cambodia. While the thought of being in a post office van might conjure up images of an old beat-up truck with sacks of mail in the back, it couldn't be further from the truth!
These are brand new Toyota Hi-Ace vans – clean, comfortable (with consistent AC that isn't blasted), free wifi (very strong connection in the city that worked 3.5/5 hours, the remainder was a bit spotty due to connect in the countryside) and the driver I had drove safely (no more than 80km/hr)
Reviewing my options, it was clear that:
Flying with Cambodia Angkor Air wasn't worth it as reviews of this airline indicates constant delays and hidden luggage fees, as well as being far more costly than the other land-options
Taking a day-bus seemed to be the most recommended though more recent reviews of Giant Ibis seems to show a marked decline in service and safety and would eat up too much time
Taking the night bus whilst attractive, presented a host of safety issues that I wasn't to keen to deal with (road conditions in the Cambodian countryside is not up to the standard we would expect in North America/Europe, plus there have been reports of alleged sexual harassment on the night buses)
Taking a taxi or private transfer is way too expensive for one person and not worth the money when there may be other alternatives available
It was why the USD$9 ($8 for the ticket + $1 processing) transfer with Cambodia Post VIP Van came on top!
Operating on a 12-seater Toyota HiAce mini-bus, the shuttle connects various cities in Cambodia, including the popular Phnom Penh – Siem Reap route. The bus operates from 7AM in the morning with 3 stops along the way (15 mins for the first and last snack/washroom break, and a longer 30-minute lunch/washroom break on the second stop).
How to Book the Cambodia Post VIP Van
The Cambodia Post VIP Van can be booked online and paid for ahead of time, allowing you to also pick your seat in the minibus so you can snag the seats with roomier legroom if necessary for the 4.5-5 hour journey.
Costing a mere USD$9 (which includes a $1 processing fee), the Cambodia Post VIP Van is not only the cheapest and safest option but was surprisingly an incredibly comfortable journey that I would recommend.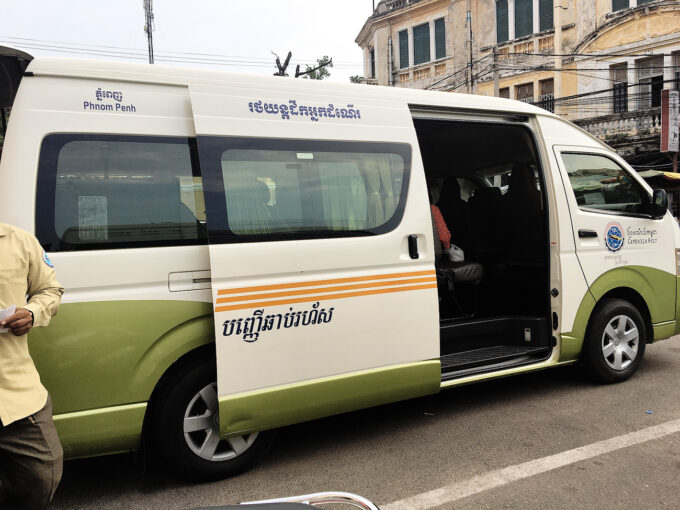 Book your seats on BookMeBus website, where you can review seat availabilities and compare rates with the other bus operators in real-time. Although I was travelling in the low-season and have heard of other travellers being able to book their tickets in-person or on the day of, my bus was full for the 7am departure so if you can't afford to miss it, better book ahead of time than risking missing a bus. Daily departure times are at 7, 8, 9:30AM and 2PM.
My Experience Taking the Cambodia Post VIP Van
I booked a 7am departure from Phnom Penh to Siem Reap. The arrival and departure points are the post office building in each city so it was easy to find and there are tuk-tuk drivers around to take you to/from your hotel. Confirm with your tuk-tuk driver ahead of time (show him a map if necessary) to avoid confusion as in Phnom Penh, there were more than 1 post office building.
After I showed my voucher (printed), the driver took my bag and stored it in the back with the other luggage. I held on to my carry-on as it was too small to be in the back.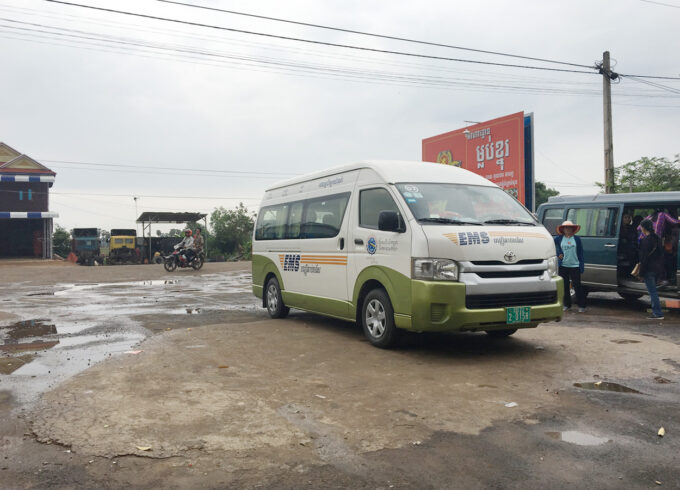 The van was air-conditioned (not blasted) which made the journey incredibly comfortable. There is free wi-fi in the bus that worked for 3.5 of the 5 hour journey – the lapse in connection was due to driving in the countryside where the connection wasn't very strong. I was still able to load twitter, and Google Maps but it was slow and spotty at best. In the city, the connection was strong, so you can check out Instagram, do research for your destination and so on without much issue.
The driver drove at a reasonable speed and I know this is often a point of concern for many travelers. The state of most Cambodian roads makes safety a priority so driving slower is almost always much preferred. Bus drivers are also known to be fairly aggressive which also adds to the tension/anxiety of those not used to driving in Asia. Since I was awake throughout the whole 4-5 hour journey and checked the driver's speed frequently, I was pleased to discover he never went above 65-80km/hour which made it a fairly safe driving experience.
The Cambodia Post VIP Van appears to be very popular with locals as well as I was the only foreigner in the bus at 7am. Perhaps it was also because it was so early that there weren't other foreigners, but I felt fairly safe and comfortable during the journey as I was able to track and share my location with my family the whole time.
There were three stops during the journey; #1 and #3 were brief 10-15 minute washroom and snack break while #2 was a longer 30 minute lunch break that you can opt to skip. All in all, I didn't feel like we wasted too much time as the driver got in as soon as he noticed the passengers being ready to go.
Find the Cambodia Post VIP Van Office
Phnom Penh Wat Phnom Post Office
Street 13 at Street 102, Phnom Penh
T: 012 931 555; 010 778 555; 088 39 93 555
Siem Reap Post Office
Pokambor Ave, Siem Reap
T: 088 8711 807
My TripAdvisor review can be found here.
Overall
I found the Cambodia Post VIP Van to be a surprisingly safe and comfortable journey worth the USD$9 to travel between major tourist attractions/cities in Cambodia. Beyond Siem Reap and Phnom Penh, the van also connects Kep and Kampot so it might be worth reviewing if you're concerned about the quality of driving and service with other bus providers.
My whole journey was smooth and without any issues; reviews on TripAdvisors indicate that most people have had mostly positive experiences with the company so it's something worth checking out for your upcoming trip.
Pin it for Later