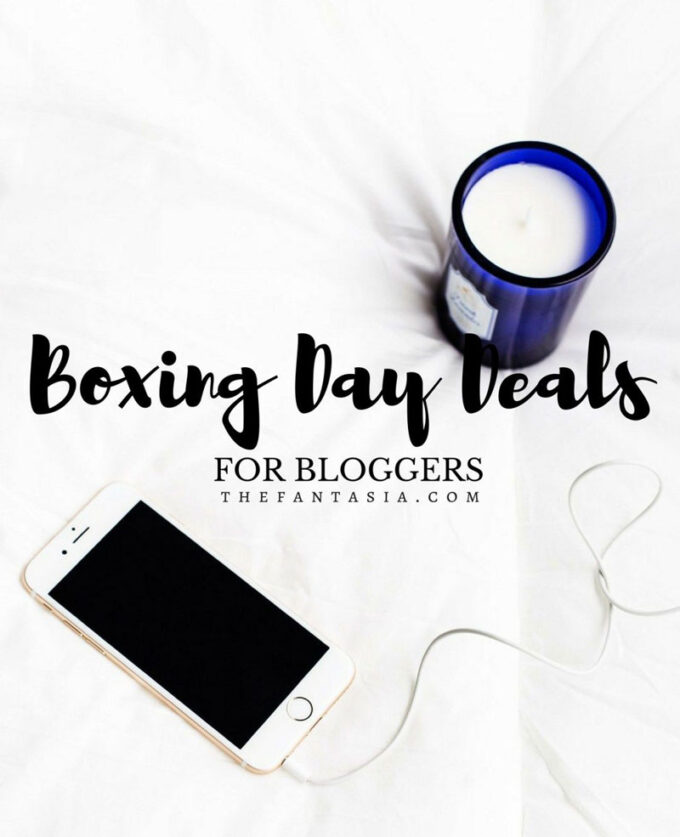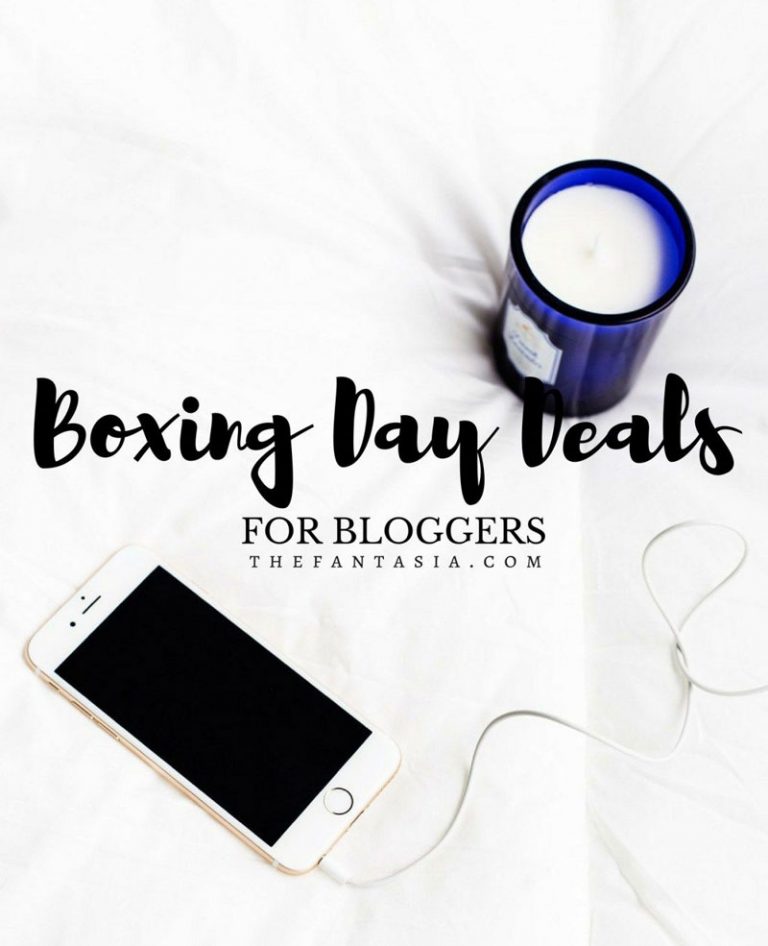 After receiving great feedback on my recent post Gift Guide | Gifts for Bloggers in Your Life, I realized it would be a really great idea to round up all the boxing day deals and sales that I've come across. It may not be as big as Black Friday, but there are still a few things that are worth looking into if you missed out on the deals from the last big sale!
Like before, I am sharing gift ideas for aspiring or well-established bloggers – whether you're helping your bestie/sister launch that blog she's been talking about, or improve your blog photography, I think I have a few things worth looking into!
I have personally used the items/services listed below because I would not recommend or share something I don't believe in. Note that products / tools linked below may contain affiliate links which goes to further support running this blog! If you are looking for more information before making a purchase or thinking about investing in these yourselves, but still not 100% sure, leave me a comment or send me an email – [email protected]! Happy to chat and share some of my experience!
Best Buy Canada
Sale on Nikon & Canon 50mm Prime Lenses
Creating really dreamy, surreal, bokeh-ed out images for blog has become somewhat of a staple. To achieve these beautiful effects, you need a lens with a very low f-stop number (or large aperture) – anywhere from 1.8-2.8 which I've found to be much easier to achieve with a prime lens rather than the standard lens your camera kit comes with.
I was flipping through the Best Buy Canada Boxing Day flyer recently, and I was so excited to see that two prime lenses on sale on Boxing Day! Just so you know, at these prices, they are even cheaper than Black Friday! Although they are not the exact item that my sister and I use (She uses the Canon 40mm and I use the Nikon 35mm lens), there isn't too much of technical difference, meaning that you'll be able to replicate the bokeh effects as if you were using the same lens I use.
For some context on pricing, when I splurged on the Nikon AF-S DX Nikkor 35mm f/1.8G Lens, I bought it for $196 on Amazon which happens to be the cheapest prices I've seen around! This is what I now primarily use in my beauty blog posts – you can see examples in this post and this one as well! My sister bought the Canon EF 40mm/2.8 Prime Lens second hand for $100!
I also recommend the following lenses on Amazon: Nikon AF-S DX Nikkor 35mm f/1.8G Lens • Nikon 50mm f/1.8G AF-S NIKKOR FX Lens • Canon EF 40mm/2.8 Prime Lens • Canon EF 50mm f/1.8 Lens • Nikon 18-55mm f/3.5-5.6G Zoom Lens • Nikon 55-200mm f/4-5.6G Zoom Nikkor Lens
GTA Photography
15% Off ANY Adult Classes & Workshops or 20% off Introduction Courses
Use coupon code GTAPhotographyClasses15 to get 15% off ANY Adult Classes/Workshops. Applies to Feb / March 2017 courses in-person or online.
Use code BOXINGDAY2016 to get 20% off Photo 101 & Photo 201 courses in Jan / Feb (studio / in-person courses only). Expires on Jan 3, 2017
Be sure to review their 2017 schedule on the registration page
The beginning of January usually marks the beginning of another "New Year's Resolution" and learning how to use the manual mode on my DSLR was on top of my 25 Things I want to Achieve Before 25 list. Having completed this in the first two weeks of 2016 gave me a confidence boost! In my earlier post, Gift Guide | Gifts for Bloggers in Your Life, I had briefly mentioned GTA Photography as my go-to photography school. Located in Toronto, I was first introduced to this school through a blogger contact. Throughout 2016, I've taken 1 course and 1 workshop and have recently enrolled in another course for the beginning of 2017.
I really enjoyed the classes I have taken so far – with such a varied Adult Classes & Workshops available for those interested in picking up a new hobby, or Winter & Summer Camps for Kids/Teens, photography can be a family-endavour! The good news? You can save 15% off adult classes / workshops (in-person or online) at GTA Photography for classes in February / March using the promotion code provided above. I've been following this school for over 2 years now and I can tell you upfront that they don't do promotions / offers very often! This is a chance to brush up your photography skills and save a few bucks doing it! Since class sizes are quite small, you'll want to sign up asap otherwise you won't be able to secure your spot!
Udemy
USD$10 / C$15 courses at Udemy

(valid between Jan 1 – Jan 11 12AM PST) – No promo code needed!
I talked about how you can invest in yourself with a new skillset or improving your existing ones. Udemy

has become somewhat of a one-shop-for-all online learning platform. With a variety of topics ranging from free to premium content, you can be sure that there's something new to learn!
For Boxing Day and New Year, Udemy has a really great promotion – USD$10/C$15 courses! How incredible is that?
If I could recommend one course, it would be the The Complete Digital Marketing Course – 12 Courses in 1 which covers everything from SEO, Facebook, YouTube, Email Marketing, Copywriting, Google Analytics, Adwords & More! If you want to grow your blog or get into the world of Digital Marketing, this course is it!
The content covered is very similar to the training I had to take at work (Media Marketing 101!) and I cannot tell you how much I have learned and utilized towards growing my blog! There are plenty of courses available for aspiring and well-established bloggers out there!
For a few thought starters, here are some of the top courses in each category on Udemy!
Expired Deals:
USD$10/C$15 Courses at Udemy using the code BOXINGUDEMY (Valid for ALL courses only on Dec 26!)
Use code BESTOFU if you missed the Boxing Day deal! All courses available for USD$15 / C$19 (Valid until December 31st 9am EST)!
Beauty Deals for Bloggers
Just in case you need some fresh content to put on the blog, there are some awesome deals around worth looking into this boxing day! I've rounded up the three retailers that I'll be shopping from this year:
1. The Body Shop: 50% Off Sitewide plus FREE Shipping Canada-wide.
I haven't shopped at The Body Shop in a while but I've been meaning to replenish a few "home" and bath items. I am also really interested in their new range of face masks and serums!
2. Sephora & sephora.ca: The Annual 20% Sale on Sale & Boxing Day Sale!
In the past, immediately after Christmas you start seeing a number of limited edition, holiday items being put on sale. As Sephora wants to clear out this stock asap, they usually do a "sale on sale" where you can expect to save 20% on the sale prices! I spy a few skincare sets and Urban Decay items that I want to add to my list!
We've also seen some Boxing Day deals come out on the 26th. You can shop for them on this page (Look for the $15 items with "NEW" label on it) I am not sure if it is going to be Canada-specific this year (this was the case for the past two years) but you can expect to see some limited edition sets like the ones during Black Friday available in-store and online! I've shopped these Boxing Day sale for a couple of years now so you can check out what kind of items are available during this sale in my previous posts:
3. Lush Cosmetics: BOGO on Holiday Items
There is only one time in the entire year that Lush has a sale and that is during their boxing day event! You can expect to purchase holiday items (including fan favourite, Rose Jam!) at a fantastic discount – somewhere in the realm of 50% off! In order to clear out stock, there are also tons of BOGO offers on many of them! You can check out what I bought in last year's here: Stocking Up on Lush Haul
Pin this for later!
Are you planning to do any Boxing Day shopping this year?