It's that time of the year again when we get to partake in the Sephora Black Friday 2014 deals. For those of you who aren't familiar with the Sephora Black Friday sale, it's a time where select items are going for $10/C$12 apiece, a great way to try new products at a fraction of the cost! I also like to purchase last minute stocking stuffers, or gifts for Secret Santa that is for under $20! Sephora always rounds up some really great picks and most of these are items from brands that I have yet to try.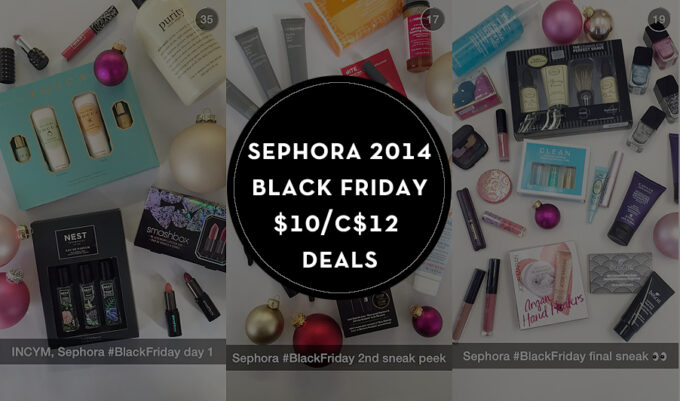 Personally, I love going early to the mall to grab some of these awesome deals. Last year, I was the second person in line, and I was able to get everything I needed. This year, I plan on doing the same, and I'll be picking up some extras to throw in the stockings this year! Love these kinds of sets because you can break them apart and give them to different individuals (and maybe keep one for yourself!)
The full preview was showcased on Snapchat, and I took these snaps for you, though you can now see everything live on the Sephora pinterest page. Here are the items that will be at the sale this coming Friday, both online and in-store.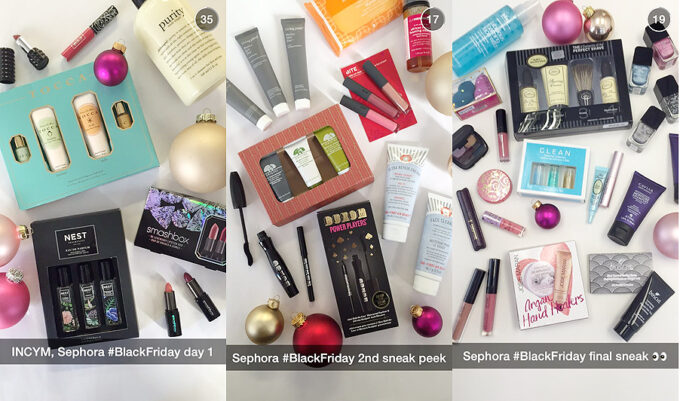 Tarte Magical Moments Deluxe Best Sellers Essentials Set (0.05 oz LipSurgence™ lip gloss, 0.15 oz Amazonian Clay 12-Hour blush in Magic, 0.13 oz Lights, Camera, Lashes™ 4-in-1 mascara)
Boscia Pore-Purifying Duo (1 oz Luminizing Black Mask, 100 x Black Charcoal Blotting Linens)
Clean Rollerball Collection Trio (0.17 oz Warm Cotton Rollerball, 0.17 oz White Woods Rollerball, 0.17 oz Fresh Laundry Rollerball)
Philosophy Limited Edition Purity Made Simple (12 oz)
MAKE UP FOR EVER Get Glossy (Get Glossy Size 2 x 0.09 oz Shimmering Beige/ Shimmering Indian Pink)
Smashbox Be Legendary Lipstick Duo (2 x 0.7 oz Travel-size Legendary lipsticks in Posy Pink, Fig)
Formula X The Two in Chaotic & Hynotize (2 x 0.4 oz)
bareMinerals the INCREDIBLES Dynamic Eye & Lip Duo (2 x 0.1 oz BareMinerals READY® eye shadow 2.0 The Phenomenon in Azure Iris, Golden, 0.07 oz Marvelous Moxie lip gloss In Rebel)
Formula X The Two in Juju & Voodo (2 x 0.4 oz
The Art of Shaving The 4 Elements Of The Perfect Shave Starter Kit Unscented (0.5 oz Pre-Shave Oil, 1 oz Shaving Cream, 0.5 oz After-Shave Balm, Shaving brush
Bliss Fabulous Foaming Face Wash (6.7 oz)
NEST Fragrances Rollerball Trio (0.6 oz Midnight Fleur Rollerball, 0.6 oz Dahlia & Vines Rollerball, 0.6 oz Indigo Rollerball)
SEPHORA COLLECTION Precision Makes Perfect Mini Airbrush Set
Buxom Power Players (0.22 oz Mini Hold the Line Waterproof Eyeliner in Call Me, 0.33 oz Sculpted Lash Mascara in True Black
Kat Von D Lip Love Set (0.04 oz Studded Kiss lipstick in Lolita, 0.10 oz Everlasting liquid lipstick in Berlin)
Alterna Caviar Moisture Trio (1.35 oz CAVIAR Anti-Aging® Replenishing Moisture Shampoo, 1.35 oz CAVIAR Anti-Aging® Replenishing Moisture Conditioner, 0.85 oz Caviar CC Cream 10-in-1 Complete Correctio)
Origins Task Maskers (0.5 oz Clear Improvement Active Charcoal Mask To Clear Pores, 0.5 oz Modern Friction Nature's Gentle Dermabrasion, 0.5 oz Drink Up Intensive Overnight Mask)
Tocca A Touch Of Luxury Gift Set (2 x 1 oz Hand Cream in Giuliette and Stella, 2 x 0.10 oz Rollerballs in Giulietta and Stella)
BITE BEAUTY Lush Lip Trio Minis (3 x 0.06 oz Lush Fruit Lip Gloss in Strawberry, Currant ,Rambutan)
Too Faced Primed For Sex (0.17 oz Shadow Insurance Anti-Crease Eye Shadow Primer, 0.17 oz Better Than Sex Mascara)
Josie Maran Argan Hand Healers (1 oz Whipped Argan Oil Intensive Hand Cream in Sweet Citrus, 20 x Bear Naked Nail Wipes in Lavender)
Living Proof Perfect Hair Day Collection (1 oz Perfect Hair Day Shampoo, 1 oz Perfect Hair Day Conditioner, 1 oz Perfect Hair Day 5-in-1 Styling)
Ole Henriksen The Clean Truth Cleansing Duo (10 x The Clean Truth™ Cleansing Cloths: Brightening, 1.5 oz African Red Tea Foaming Cleanser)
First Aid Beauty FAB Star Duo (2 oz Face Cleanser, 2 oz Ultra Repair® Cream)
The items bolded are my picks for this sale! Will you be partaking in this year's Sephora Black Friday deals?