I normally avoid the mall during the hectic shopping weeks throughout December, and rarely make an appearance on Boxing Day or Black Friday. With so many of my favourite retailers having a well-established online store presence, and free shipping if I hit a certain minimum, there isn't much incentive to deal with elbow-sharpening, and sardine-packed stores. And the best thing about Boxing Day is the ability to peruse and shop many different stores online in my onesie, no makeup, with cookies and snacks on the side, just lazing it out as best as I can with a Christmas food baby.
So I surprised myself when I agreed to accompany my sister to the mall December 26th morning and decided to pop into a couple of stores. We got there pretty early – 7:15am and got a parking spot within 2 minutes! In hindsight I'm really glad I did – I think there would have been a lot of "What did I miss out on?" moments and disappointment because a whole bunch of stuff I wanted during the Sephora Boxing Day special that sold out online when I got back two hours later.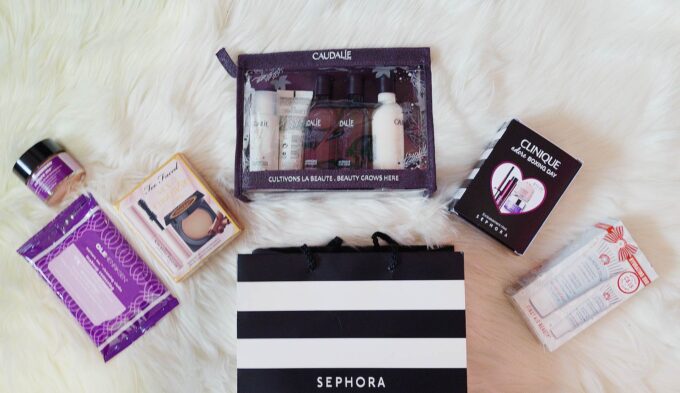 The first haul I'm going to share with you is from Sephora simply because I think it would be fun to split out this haul a little bit and space them out!
Sephora Boxing Day Deals
I posted about this on the Sephora beauty talk forum, and the Canadian beauty bloggers Facebook page because I spotted them on the 25th when I was doing some pre-boxing day shopping. Similar to the $13 sets that were released during Black Friday, Sephora released numberous beauty and skincare sets but for $15 each this time around. Although not that much more expensive than the Black Friday ones, it was disappointing to see a 25% price hike compared to last year when they were only $12. To make up for the slightly higher price, I did find some products to be a little more generous than what I had expected, so here's what I picked up.
I picked up the CaudelieCaudelie Favourites Boxing Day Set ($15, sephora.ca) which includes 5 mini items that are perfect for travelling. You get a Fleur de Vigne shower Gel ($15, available here), Gentle Conditioning Shampoo (available here), and Nourishing Body Lotion ($32, available here) as well as the Micellar Cleansing Water ($28, available here) and Vinosource Moisturizing Sorbet ($40, available here). All of them are generously sized from 50-70ml (except for the Vinosource serum). I'm a bit bummed about picking up only one because when I got home the set had sold out at Sephora and I wasn't too keen about driving back to the mall.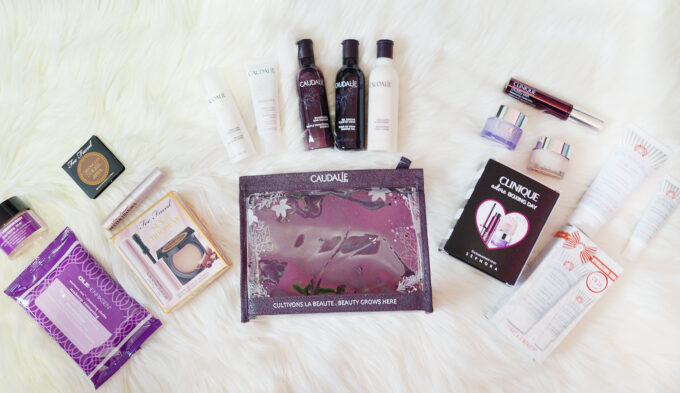 I also bought the Ole HenriksenNurture Me Duo Boxing Day Kit ($15, sephora.ca) which includes a very generous-sized Nurture Me moisturizer ($50, available here) – 30ml vs. 50ml full-size, at $50 and a 10-pc Nurture Me Makeup Cloths ($10, available here). This set paid itself over, and I am loving the citrus scent! I'm not always the biggest Ole Henriksen fan but this set is perfect for travelling, and I love the heavy jar that I can re-use once I've gone through the product.
Also from Sephora, I picked up the Too FacedSex & Chocolate ($15, sephora.ca) which has my 2 favourite products from Too Faced! I love the Better than Sex Mascara ($30, available here) and have tubes of backups in my arsenal, and the Chocolate Soleil Bronzer ($38, available here) is my favourite dupe for the Benefit Hoola without the price tag!
Lastly, I bought the CliniqueClinique Loves Boxing Day ($15, sephora.ca) set which includes 3 mini favourites from Clinique: the Chubby Lash Fattening Mascara in Bodacious Black Honey ($20, available here), the Moisture Surge Extended Thirst Relief ($61, available here) and Take the Day Off Cleansing Balm ($36, available here). I'm a huge fan of Clinique's skincare and beauty products – I feel they are relatively underrated compared to a lot of other higher end brands.
I really appreciate Sephora Boxing Day deals in keeping up these seasonal deals as they are great to stock up on for travelling, care packages, and for gifting throughout the year! While I'm likely keeping most of them, I picked up a few backups for gifts and to include in care packages that I plan on sending to a few people!
Did you pick up anything from the Sephora Boxing Day sale?