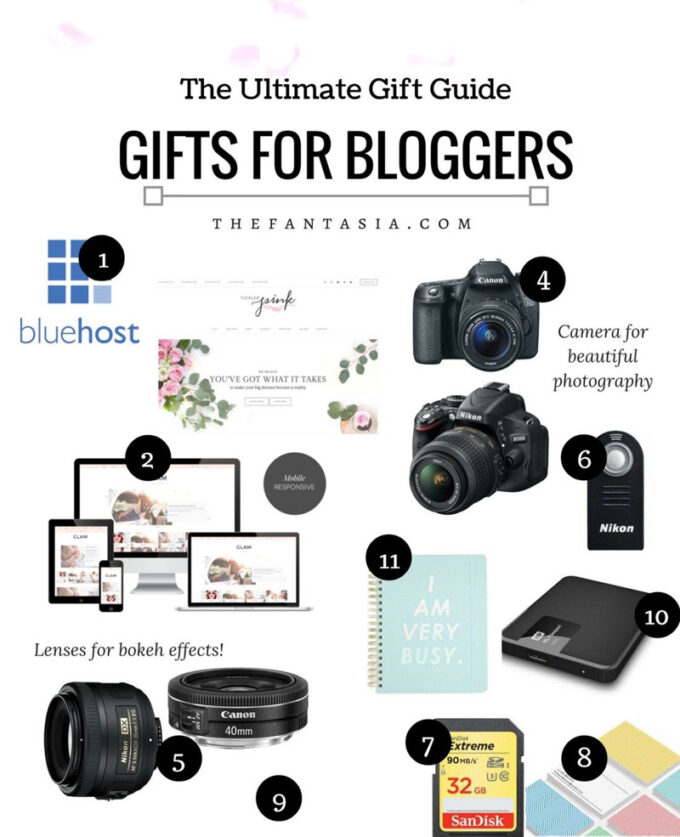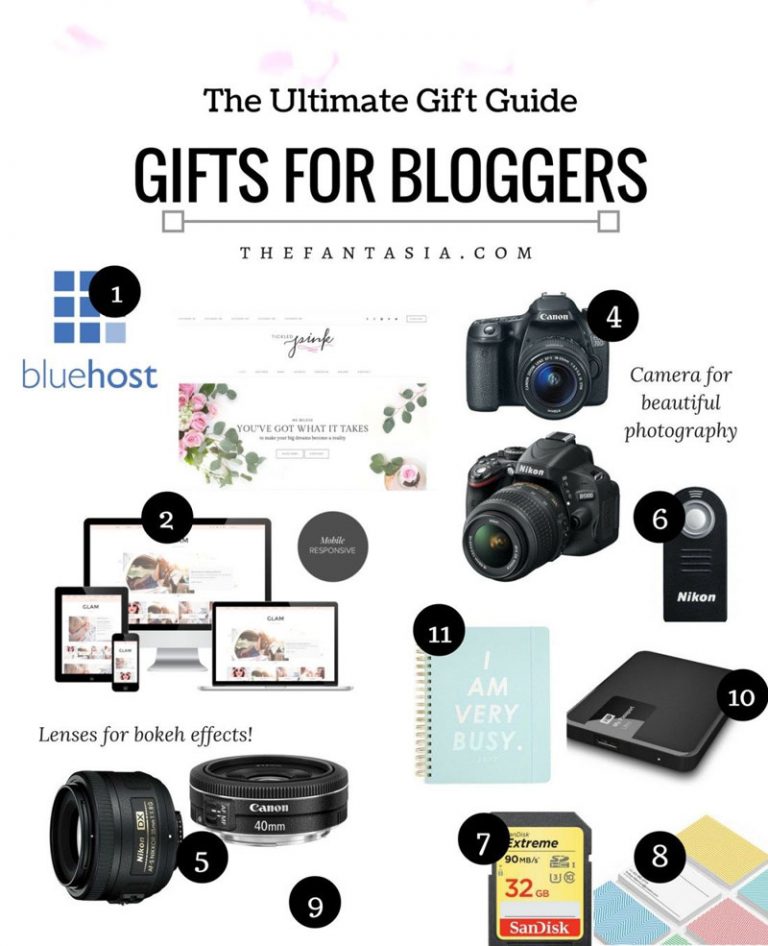 With less than two weeks to go until Christmas, I am sure there is still a lot of frantic, last-minute shopping that is still happening. Even if you are a very well-prepared shopper, there are simply so many amazing deals during the holiday season that can always add that extra bit of finishing touches to your gift!
I am sharing a gift guide for all the bloggers in your life – whether s/he is an aspiring blogger, or a well-established one, I am sure there are still a few things that can enrich their blogging experience! I am certain that this list of thoughtful gifts for bloggers is going to make you an instant bestie and favorite Santa to your blogger friends!
Most people don't know that it can be a LOT of investment in running a blog, especially where you want to stand out. From hosting, domain, themes, plugins, courses, and physical equipment, the cost of these investments can quickly add up!
Why not show how much you admire their passion by gifting a few things that they may want to invest in?
The benefit of shopping for from this list is that most of the products/services can be purchased online or at a regular brick-and-mortar store, meaning that they are available immediately, so there are no paying extra for expedited shipment or waiting for the goodies to arrive!
I have personally used the items listed below because I would not recommend or share something I don't believe in. Note that products/tools linked below may contain affiliate links which go to further support running this blog! If you are looking for more information before making a purchase or thinking about investing in these yourselves, but still not 100% sure, leave me a comment or send me an email – [email protected]! Happy to chat and share some of my experience!
Table of Content
---
The Technical Side of Blogging
1. Web Hosting & Domain Registration: Site Ground & HostGator
Both Site Ground and HostGator are some of the most recognized and popular names in the web development industry (they been around for over 10 years!) so your blogger friends will be in good hands with either one. I have been hosted with Site Ground several years ago for about 3 years (my previous website was hosted with one of Site Ground's reseller plan!) and I didn't have any issues with much downtime (really critical for an online business or blogger!) and the customer experience is solid! In my 12+ years experience in the web-development world, I've had hosts disappear or declare bankruptcy without much of a warning so the fact that Site Ground and HostGator have been around for decades is a testament to their enduring presence! 24/7 help, and 99.9% uptime – enough said!
Both Site Ground and HostGator provide domain registration services as well so you can look after both hosting and domain in one place which simplifies the whole process and makes the hosting experience a lot more pleasant! Site Ground has plans starting at $3.95/month with a FREE DOMAIN NAME! ($10 value!) which is an incredible starter deal for any aspiring blogger! For context, I pay $75 for my hosting plan (but without unlimited space!) and $10 for domain! I am considering switching in the new year!
2. Premium WordPress Themes & Plugins: Restored316 Designs & MyThemeShop
I have used several themes over the course of the past couple of years from the aforementioned websites. The design used immediately prior to this current theme was purchased from Restored316 Designs which creates some of the most beautiful, feminine, and powerful themes. What do I mean by powerful? The themes are designed with the Genesis Framework in mind which is the backbone of some of the most popular websites out there! This means that your website is fully optimized for SEO and mobile which are critical to ranking higher on Google Search results. A couple of favourites include Glam Theme, and Tickled Pink Theme.
I've also purchased several themes from MyThemeShop which I used exclusively throughout 2012-2013. Their functional and versatile themes are also very powerful, SEO-friendly, and highly customizeable. Perfect for any bloggers looking to showcase their content! MyThemeShop also creates beautiful free AND premium WordPress plugins which range from blog backups, testimonial and subscription plugins to run your online businesses or blog! A couple of my favourites include Splash (I've used this and loved it!) and Glamour.
Pro Tips! MyThemeShop runs sales / promotions quite often (even outside the holiday season!) Keep coming back to see what latest themes/plugins are available!
They also often offer their new plugins for free to download before making it premium. Grab those free plugins before you have to start paying for them!
3. Blogging eCourses / Programs:Udemy


Blogging has evolved from being a general hobby to something that most people aspire to monetize and grow some side income from. No shame in that – why should you not be rewarded for the hard work and investments you've made? There are some incredible courses on Udemy

, an online learning platform that covers topics from Digital Marketing, Social Media marketing, or if you really want to, dive into coding as well!
A really popular course is the The Complete Digital Marketing Course – 12 Courses in 1 which covers everything from SEO, Facebook, YouTube, Email Marketing, Copywriting, Google Analytics, Adwords & More! This course is very similar to one I had to take at work (Media Marketing 101!) and I cannot tell you how much I have learned and utilized towards growing my blog! There are plenty of courses available for aspiring and well-established bloggers out there!
In case you care more about growing your skillset outside of Marketing, Udemy

offers courses in photography, design, music, language and so much more!
Tools for Beautiful Pictures
I have outlined in great details, a few of the tools that I use to run this blog over on the Recommendations page! To summarize, there are a few tools that I would recommend using for any aspiring blogger out there!
4. Camera: Nikon D5100 16.2MP DSLR Camera or Canon EOS 70D DSLR
My camera of choice is the Nikon D5100 which is a mid-level model, that is easy enough to use for beginners but one that you can grow with as you become a more advanced used. My younger sister owns a Canon model and I've gotten to play around with hers for a bit. The choice between a Nikon and Canon really depends on your preference, but I've always preferred Nikon because its model are generally technically more superior. A lot of bloggers use the Canon model so both choices are equally popular!
I love using my DSLR and taking pictures with the manual mode which I thought was a daunting prospect! I took a few courses to help me become comfortable with the manual mode and highly recommend making that investment to get the most out of your tool! There are a number of photography schools in the Toronto area – one I recommend is GTA Photography which is where I took a few classes at. You can review their schedule over the next few months on this registration page.
5. Prime Lenses For Incredible Bokeh Effects: Nikon AF-S DX Nikkor 35mm f/1.8G Lens or Canon EF 40mm/2.8 Prime Lens
You know how beauty bloggers have those oh-so-beautiful blurred background in their pictures? You may know them as the bokeh effect which continues to be so popular because it is really pleasing to the eye. To achieve these beautiful effects, you need a lens with a very low f-stop number (or large aperture) – anywhere from 1.8-2.8 which can be achieved primarily with a prime lens rather than the standard lens your camera kit comes with.
I recently splurged on a 35mm prime lens (Nikon AF-S DX Nikkor 35mm f/1.8G Lens) and it changed my life! This is what I now primarily use in my beauty blog posts – you can see examples in this post and this one as well! My sister owns the Canon EF 40mm/2.8 Prime Lens which I have occasionally "borrowed" from her for "research" and blogging ????
Extra Photography Tools
6. Wireless Remote for Those Flatlays & Fashion Shots:Nikon ML-L3 Wireless Remote Control or Fosmon Wireless Remote Control for Canon DSLR
I invested in a wireless remote from Amazon and it has been life-changing. I can now easily set my camera on a tripod for an effortless flatlay or full-shots of me. At $25, this is one of those tools that you will continue to reach for!
7. Memory Card:SanDisk Extreme 32GB Memory Card
I also use the SanDisk Extreme 32GB Memory Card which transfers raw photos really quickly, and conveniently. 32GB is more than sufficient for my raw images – if your aspiring blogger is looking to get into YouTube as well, you might want to consider a larger volume to ensure sufficient space! I always have a few of these handy as their size makes it easy to misplace them!
Tools that Take Blogging to The Next Step
8. Business Cards:Moo
There is no greater feeling in the world than being able to hand out your business cards to a company / PR representative! A well-designed business card can take your blog to new heights – creating that coveted connection! I have exclusively used and continue to use Moo which creates some of the most beautiful business cards out there. I designed the cards myself as I am a designer at heart, but there are plenty of templates to choose from for any type of blogger out there.
9. Extra Battery Pack:Poweradd Pilot Portable Charger Power Bank
When you have to constantly update Snapchat, post the latest pics on Instagram, and tweet an exciting deal on Twitter, your phone's battery is guaranteed to run out fairly quickly. Especially on days when you have a blogging event immediately after work, the last thing you want to go is run out of battery in the middle of the event. My sister gifted me the Poweradd Pilot Portable Charger Power Bank which retails for only $25 on Amazon but guarantees at least 3 full charges on my iPhone 6S. Comparing the offerings available at Best Buy, I would say this is the far better deal – Best Buy carries brands that only deliver 2-5K mAh but retails for over $30!! What a rip off!
This particular model comes with 2 charging ports so you can charge multiple devices at once. I always find the charging time to be incredibly fast, and I like that it has a fast-charge option (the blue port) for times I'm in a time pinch!
10. Portable External Hard Drive:WD My Passport Ultra 1 TB Portable External Hard Drive or the Seagate Backup Plus Slim 1TB Portable External Hard Drive
One of the most easily overlooked things on a blogger's to-do list is backing up their website – content, pictures, and every single file. It isn't until the inevitable happen (I've been there) – whether it be hacking, or updating a plugin / theme / version gone awry that they realize it's too late. Encourage the bloggers in your life to constantly back up their website so they can have that peace of mind should something happen! I use the WD My Passport Ultra 1 TB Portable External Hard Drive and the 1TB of space I have is so much more than I need, but definitely gives me a peace of mind!
11. Planner:ban.do I Am Very Busy 18 Month Planner
I think all bloggers are super-human, #GirlBosses and basically the modern Renaissance woman! She is always on the go, she needs to know the latest information and she needs to be scheduling tweets / pins / blog posts among her day to day responsibilities. She needs a planner that can keep up with her!
Pin for Later!
Do you think I've covered everything that a blogger might have on their wishlist? Do you have other ideas on gifts for bloggers in your life?