Hello, sunshines! Today, we will be talking about self-tanning, a fascinating subject. Especially for those unlucky women who only get a few months of solid sunshine a year. Namely, the best self-tanners at Ulta are our topic of the day.
Best Seller
Best Price
Don't Miss
Also Consider
St. Tropez Self Tan Express Advanced Bronzing Mousse, Lightweight Self Tanner for a Trusted Natural…
Browning Lotion – All Natural Fast Dark Tan 8 fl.oz
TAN-LUXE The Body – Illuminating Self-Tan Drops, 50ml – Cruelty & Toxin Free – Light/Medium
COOLA Organic Sunless Self Tanner Face Serum, Dermatologist Tested Anti-Aging Skin Care Infused with…
Best Seller
St. Tropez Self Tan Express Advanced Bronzing Mousse, Lightweight Self Tanner for a Trusted Natural…
Best Price
Browning Lotion – All Natural Fast Dark Tan 8 fl.oz
Don't Miss
TAN-LUXE The Body – Illuminating Self-Tan Drops, 50ml – Cruelty & Toxin Free – Light/Medium
Also Consider
COOLA Organic Sunless Self Tanner Face Serum, Dermatologist Tested Anti-Aging Skin Care Infused with…
Tanning salons are another popular option for getting a tan. But, as you've likely heard, tanning beds are not all that safe for your skin. Especially for sensitive skin.
Using a self-tanner is currently both the safest and cheapest option for keeping that stunning golden glow all year. But, the market for self-tanners is huge. Selecting the correct product can be intimidating, especially if you are new to self-tanning.
So, how does one get started?
In order to help you choose the product best suited for your skin, we decided to put together a list of best self-tanners at ULTA. Before we get started, allow me to answer some of the most common questions regarding self-tanners:
Will a self-tan look natural?
Yes, modern self-tanners look exactly as the "real thing".
Have you ever wondered how celebs such as Kylie Jenner keep their golden complexion all year? Spoilers ahead, not by basking in the sun each and every day!
Are self-tanners safe?
In short, yes they are.
DHA is the self-tanning ingredient responsible for darkening your skin. And, DHA has been approved for external use by the FDA. All in all, self-tanners are the safest option for getting a tan.
How long will my self-tan last?
Depends entirely on the product. Most self-tanners start to wear off after about 3-4 days. Of course, you can apply a self-tanner consistently in order to keep a golden glow for as long as you like.
And, for those who do not want to re-apply that often, there are several stronger self-tanners available. Some of these will keep your skin tanned for up to two weeks.
Will self-tanners stain my clothes and towels?
No, self-tanners have come a long way. These days, the formulas will fully seep into your skin and will not leave nasty spots on your towels and clothes.
Now that we have answered some common questions regarding self-tanners, let's get right into it.
These are the best self tanners at ULTA:
Best Overall: Tan-Luxe The Body Illuminating Self-Tan Drops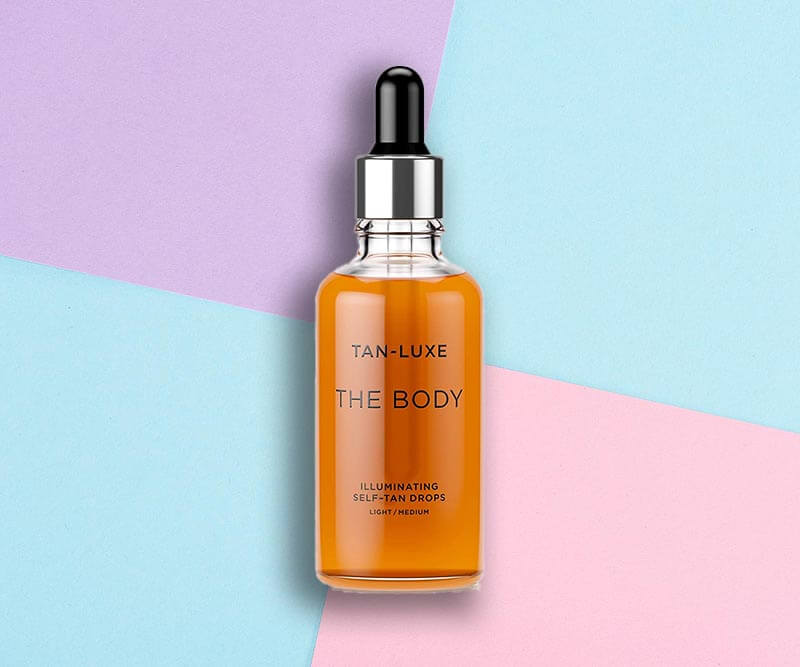 Self-tan drops? Huh? Yup, you heard it right, Tan-Luxe has developed an innovative self-tanning serum.
So, how does it work? Simple. You just mix a few drops of the serum into your regular body lotion and use the product as you normally would. You can control the depth of your desired skin tone by how many drops of serum you add to the lotion.
Sounds super easy? It is!
And, there are more pros to using a serum self-tanner. For one, you will not get the traditional self-tanner smell. Instead, you can smell like the products you use daily anyway. Not a soul will know your sun-kissed look came from a gorgeous little bottle.
And, in addition to giving you a gorgeous Kardashian-like tan, the formula also firms and tones your skin. This is due to the Raspberry Seed Oil and Vitamin E included in the serum.
So, to sum it up, what do we have here?
A serum that gives you a natural-looking tan while also improving the overall look of your skin. And, you can easily mix it into your regular routine. Sounds like a magic potion? Well, it is.
A Luxurious Anti-Aging Self-Tanner: Coola Organic Sunless Tan Anti-Aging Face Serum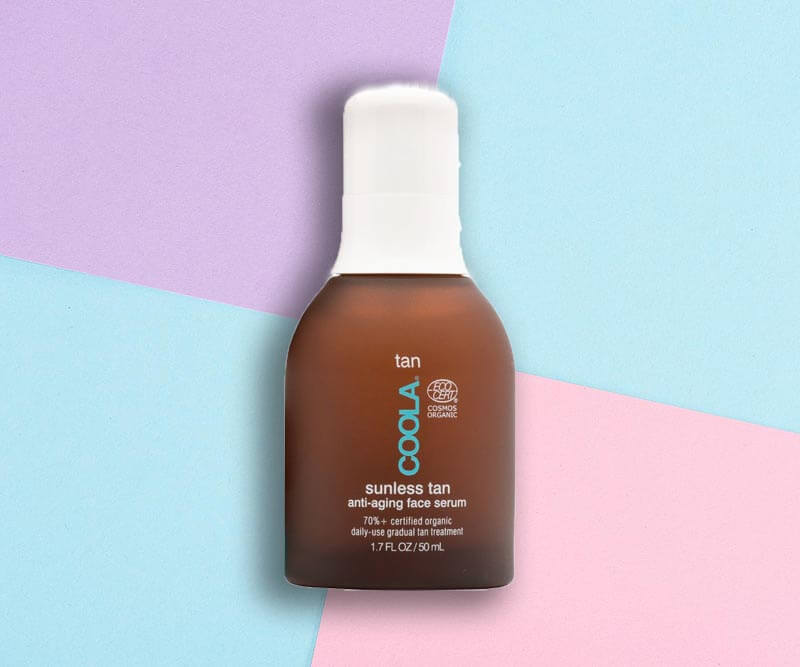 Can you get a beautiful tan while also effectively combating signs of aging?
It is commonly known that spending hours in the sun every day is not good for your face in the long-term. However, there is a solution.
Coola has developed a serum that will give your face a year-round bronzed glow while also battling those annoying crows feet and wrinkles.
But, how does it work?
Just apply 2 or 3 drops of serum directly or mix with your favorite moisturizer. After applying, wait for about 4 hours for the serum to fully work its magic. And, voilá, you will instantly have a natural-looking golden complexion. This is an eco-certified, fully vegan product. This means that it is one of the few self-tanners that is 100% safe for daily use.
All in all, what a gem of a find! It is vegan-friendly, anti-aging, and is suitable for daily use. Plus, the bottle looks chic and can easily fit in a purse. Super useful if you travel a lot.
Best Value Self-Tanner: Ulta Self Tanning Express Tan Tinted Mousse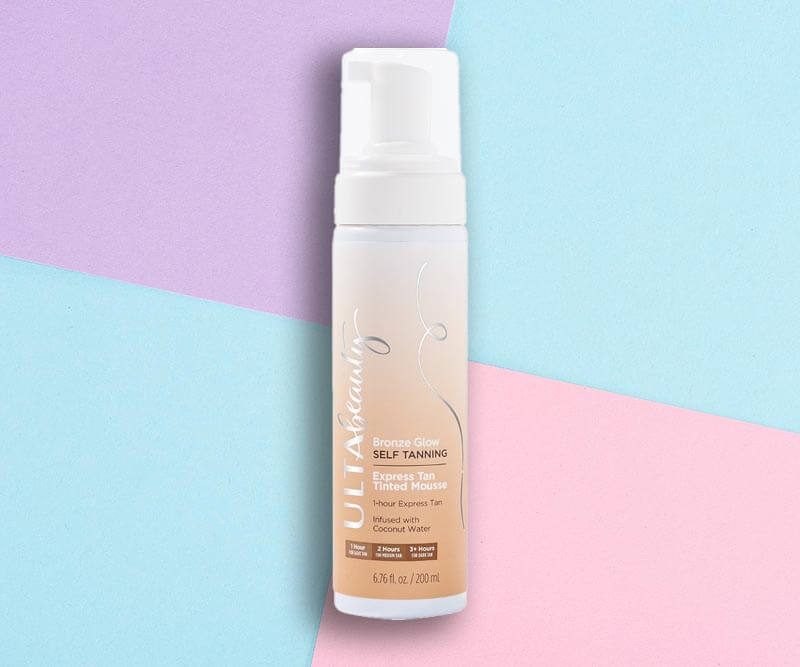 Let's continue with a very budget-friendly yet effective self-tanner. This is an ULTA self-tanner. Meaning that it is actually produced by their own brand. This mousse self-tanner is one of the cheapest options out there. Does this mean that it suffers in quality as well? Luckily, it doesn't! In fact, it performs up to par with the best of them.
A natural-looking finish? Check! Controllable depth of tone? Check? Long-lasting results? Check!
What I also love is that this ULTA self-tanner feels super pleasant on the skin. This must be due to the coconut water in the formula. It feels almost as if you used a high-quality moisturizer, not a self-tanner.
Usually, cheap self-tanners tend to underperform. This is absolutely not the case here. So, I consider this product to be the biggest surprise on this list. It really is possible to get a solid, year-round tan for under $15. Remarkable stuff!
St. Tropez Self Tan Express Bronzing Mousse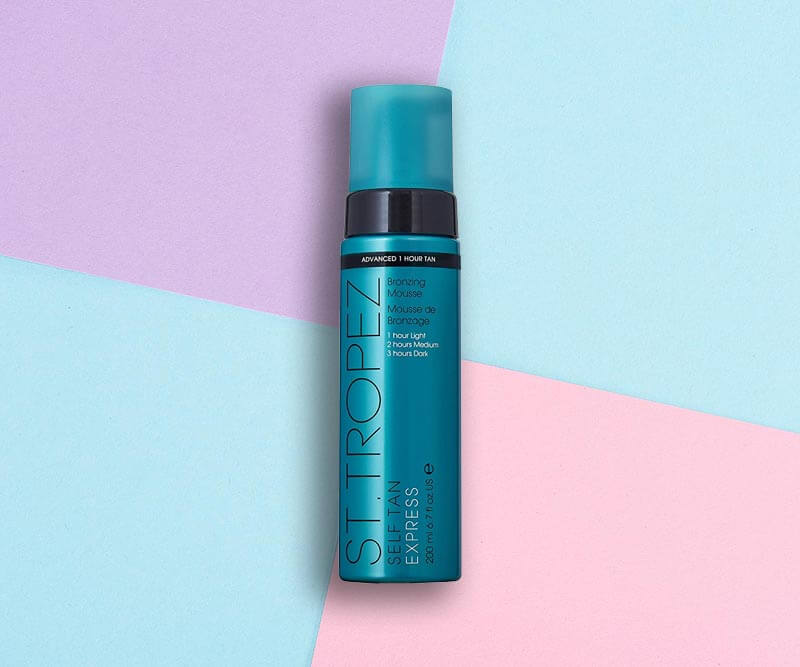 Let's kick this list off with one of the best mousse self-tanners currently on the market, the "St. Tropez Self Tan Express". This self-tanning mousse comes with several lovely benefits.
For one, you can easily control the level of depth of your tan. Keep the mousse on for 1 hour for a light sun-kissed look. 2 hours for a deeper, golden look. And, if you want to go for a gorgeous fully-bronzed look, keep the mousse on for 3 hours.
However dark you want to go, you do not have to worry about the chemical smell common to most self-tanners. Yes, while this ULTA self tanner does have a slight fragrance, the smell is super-light and will fade away completely after a few hours.
While the formula is seemingly super-light, the longevity of the tan is still up to par with the best of them. Of course, each skin is different, but you can expect your tan to last at least a week.
Overall, this self-tanner is easy-to-use, has a pleasant smell, and performs very well. One of the best tanning products at ULTA? You bet!
Fake Bake Flawless Darker Self-Tan Liquid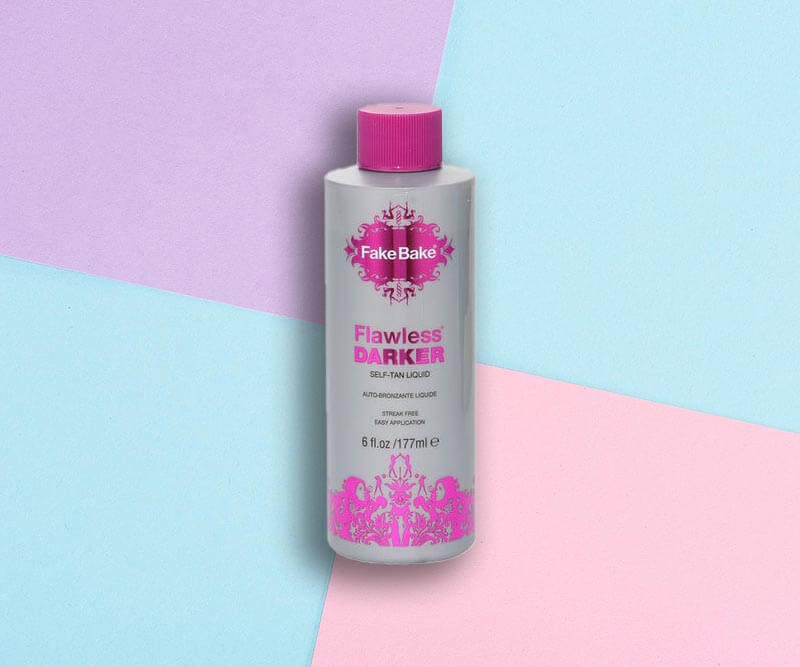 When it comes to sunless tanning, Fake Bake is a legend. Many of their products are hailed as being the best-performing self-tanners out there. And, "Flawless Darker Self-Tan Liquid" is one of the hit products of Fake Bake. So, let's examine what makes this indoor-tanner so special.
This ULTA self-tanner comes with a mitt and a color guide. The mitt makes applying the product super easy. Even if you have previously never used an indoor-tanner before, you will not end up a streaky mess with this one.
A note of caution, though. Fake Bake self-tanners are quite strong. So, be sure to use the included color guide to get your desired outcome. We do not want you looking like a grilled chicken!
I also love that Fake Bake condones animal testing. This means that you can enjoy your golden tan with a clear conscience.
Overall, it is easy to see how Fake Bake has gained a cult-like following among indoor-tanning enthusiasts. Their products are green, well-performing, and very beginner-friendly. Hard to go wrong with Fake Bake
Tan Towel Self-Tan Towelette Full Body Application For Face & Body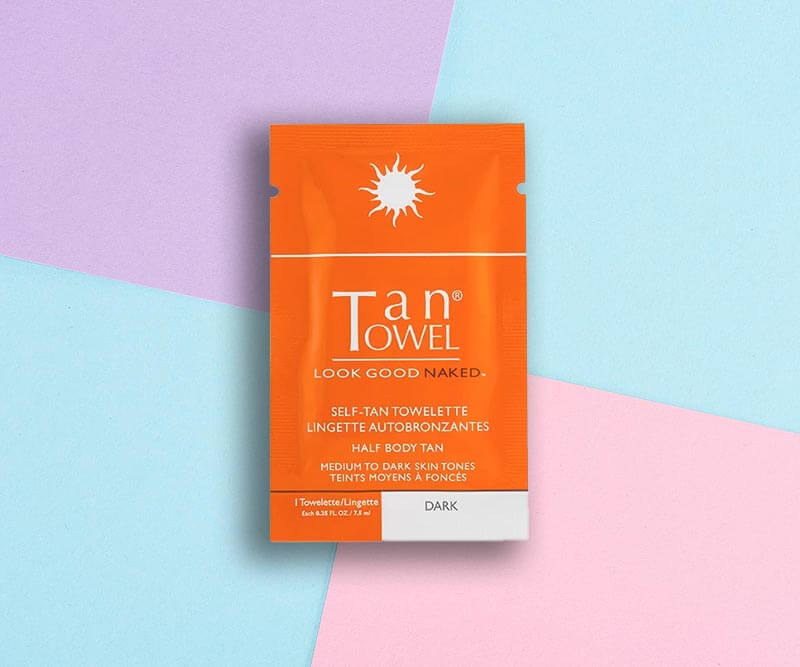 If you are new to at-home tanning, going for a tan-towel might be your best bet. Why? Because it is one of the easiest self-tanning methods out there. Just grab a towel (the package comes with five towels) and rub all over your body and face.
No stickiness, no messy bathrooms, no artificial self-tanner smell. The product also driest super fast, so you can quickly continue running your errands after applying.
Since the tanning towels are so simple to use, many women mistakenly apply too much. One towel is enough to do your whole body and face. If the results seem too light at first, just wait. The tone keeps developing during the day. If the skin tone is still too light for you after 24 hours, feel free to use a second towel.
The only slight qualm I have with using a tanning towel is the longevity. The tanning towel gave me approximately three days of bronzed skin. The best lotions and mousses usually give me about a week. However, since the tan-towels are supremely comfortable to use, I would still highly recommend giving them a go.
Maui Babe Browning Lotion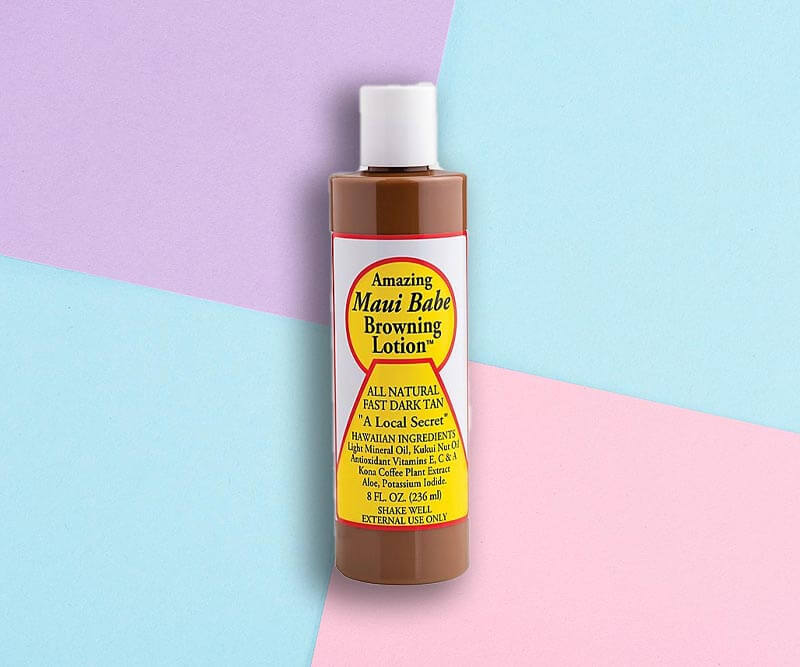 Indoor-tanning is nice, sure. But, sometimes you still want to lay outside and catch some of that precious all-natural sunshine.
If that is the case, this browning lotion by Maui Babe is a wonderful companion. Why?
Well, it accelerates the natural tanning process tenfold. So, if you have trouble getting a solid tan, throw this baby on. You will be stunned by how quickly your skin tone will catch that lovely golden hue.
And, when I say quickly, I really mean it. For beginners, Maui Babe advises an hour of tanning at most. This is seriously impressive, considering that I usually have to put it at least four hours in the sun to catch a noticeable tan.
In a nutshell, I consider this lotion a tanning hack of sorts. A wonderful product for women with stubbornly pale skin that resist even the hottest of sunrays.
Loving Tan 2 HR Express Self Tanning Mousse Dark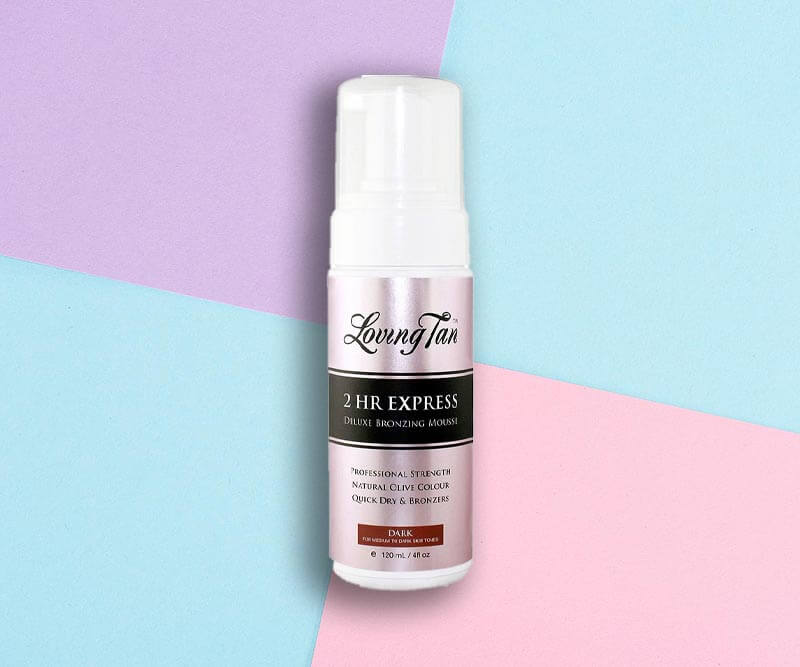 Mousse mode, baby! When compared to the self-tanning mousse from St. Tropez, this stuff is much stronger.
This mousse is officially best suited for medium to dark skin tones. But, from my personal experience (my skin is on the fairer side), the results are great for paler skin as well.
Upon application, the mousse might shock you at first. The color seems much darker in comparison to other self-tanners. No worries, though. Give it two hours and rinse the mousse off. You are left with a sleek, sexy, super-natural tan.
Make no mistake, though. Longevity wise, it is one of the strongest self-tanners out there. The tan lasted approximately a week and a half on my skin. Seriously impressive. Just make sure to apply carefully to avoid strange stripes and streaks. You will have a hard time scrubbing this stuff off!
If you are on the cusp of stopping searching for that perfect self-tanner, give this ULTA self tanner a shot. Yes, it leans on the pricier side, but the best-in-class longevity of the tan more than makes up for the price.
Jergens Natural Glow Instant Sun Mousse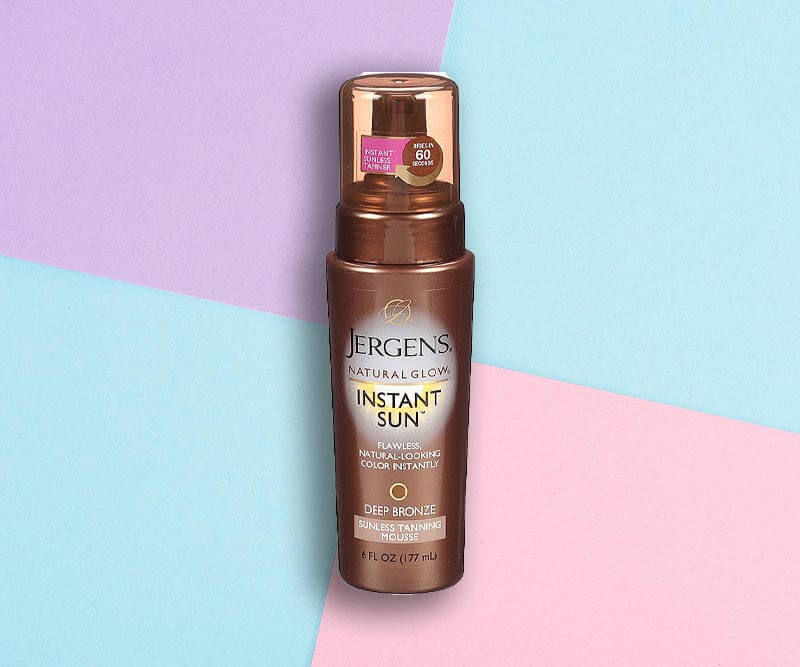 We continue with another great cheapie self-tanner at ULTA!
Jergens has become a legendary choice among indoor-tanning enthusiasts. And, for good reason. It is nearly impossible to go wrong with Jergens. Their products are affordable, high-quality, and super simple to use.
This specific product is "greatest hits" worthy for one clear reason.
This stuff dries fast as a rocket! Just rub the mousse in and give it a minute. Yes, it takes merely a minute to fully soak in.
This makes it an ideal on-the-go product for all you busy women out there.
Longevity wise, this beauty will give you a couple of days of bronzed skin. Not too bad for something that seeps into your skin as fast as a knife through hot butter.
All in all, this is a superb ULTA self-tanner for women who want to shortcut their way to a gorgeous bronzed look. Perfect for a quick skin touch-up before heading out.
St. Tropez Self Tan Classic Bronzing Mousse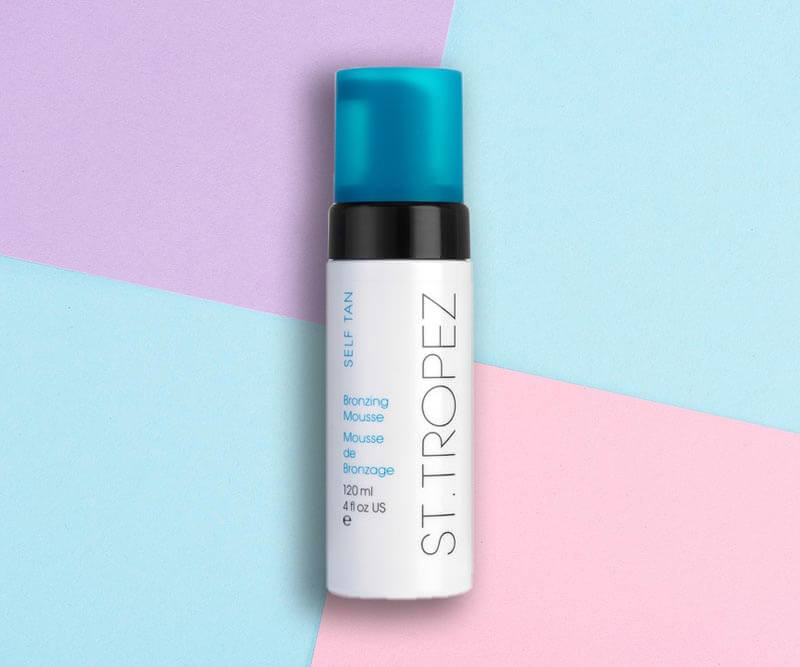 We continue with one of the best-selling tanning products of ULTA. "Self Tan Classic Bronzing Mousse" is one of the best options for women trying out a self-tanner for the first time.
It is not too heavy, has very little fragrance, and is super easy-to-apply.
But, there is more to love in this hit product. Not only will this ULTA self tanner help you achieve a beautifully bronzed skin, but it also doubles as a moisturizer. That's right. While most self-tanners dry your skin, this one from St. Tropez actually functions as a moisturizer as well.
A superb 2-in-1.
With all that said, it becomes clear why this product comes with such acclaim. A worthy final bang to round up our list of best self tanners at ULTA.
Also, take a look at these products that are available at the Amazon right now: