My favourite kinds of lipsticks? The ones that doesn't make look like I'm wearing one of course – the barely the lipsticks! It may not make sense to most people that I prefer lip colours that barely show up or looks like it's barely there. I just think there's always something about these lip colours that pull a look together without looking like you've put in a lot of effort. Best of all, since they barely require any effort or precision when applied so you can be rushing out the door and still look totally put together!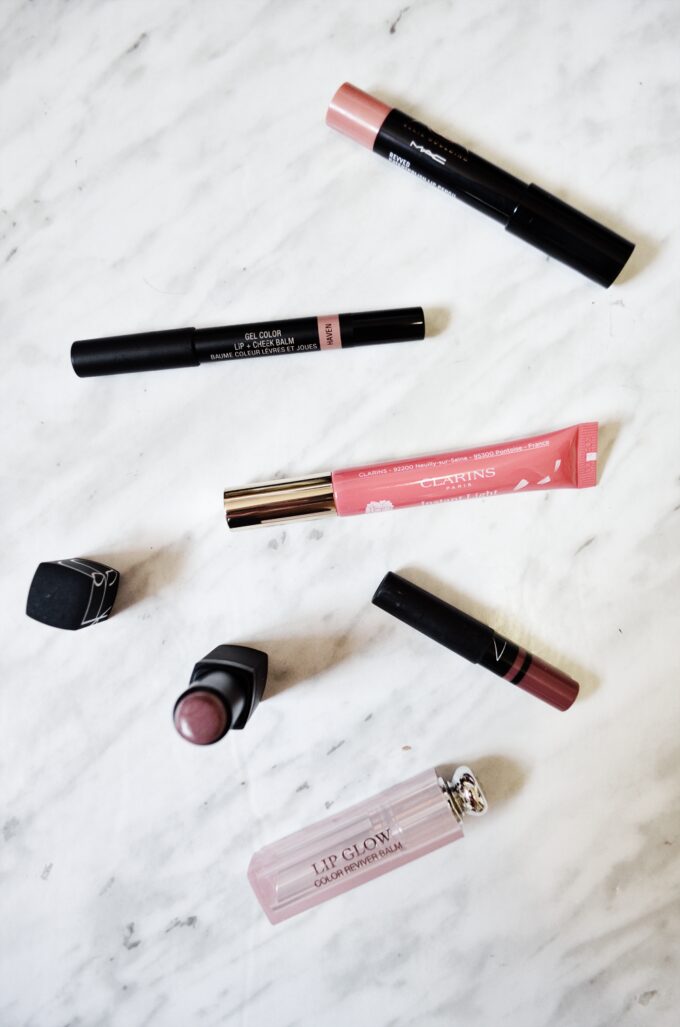 I always like packing one of these in everywhere I might need to reach for it – my bag, car, office desk, and home office. Starting with the NARSDolce Vita ($34, available here) a colour that is simply the best match to my natural lip shade so it just adds that hydration and moisturization that makes my whole look come together. It's a pricy lipstick and there's naturally a number of less expensive options but I've been loving this one in particular and there's just something about this particular shade that makes me coming back. I often switch this up with the NARS Satin Lip Pencils in Rikuguen depending on my preference for the finish.
I'm also digging the MACPatentpolish in Revved Up ($24, available here) – it's the colour that I packed with me when I went to South Africa, and I can't stop wearing it even after I got back. It's a colour that just suits my skintone so perfectly – giving that laidback warmth to my skin. The formula sits so comfortably on the lips so you don't have to keep reapplying throughout the day.
Lip pencils are becoming more of my thing than just a lipstick or lipgloss formula. I've been reaching for the NudestixGel Colour Lip + Cheek Colour in Haven ($28, available here) when I want more of a sheerer look and comfortable formula. The formula is very similar the NARS Satin Lip Pencil and I will reach for this if I find the MAC Patentpolish to be too thick.
I talked briefly about the ClarinsInstant Light Lip Perfector ($20, The Bay) and no product has ever made me want to replace every lip product I had opened at the time. I'm so digging this beautiful colour which although doesn't look or feel like much, it still wears well on the lips. It's one of those products that's immediately became a staple for any occasion. It can be worn on its own or work over another product which gives it a nice glossy finish.
The last one of the bunch is the DiorLip Glow ($40, available here) a unique lip balm-like product that adjusts shade to your lip colour. This means that your lip colour is your own – it's a unique colour that I like to apply under or over other lip shades.

What are your favourite lip colours?
---
Disclaimer:
This post features product(s) provided for editorial consideration. All opinions are my own. For more information about my review policy, please
click here
.
---