MAC Cosmetics is like the Queen Bee in the world of beauty. Its complexion numbering/naming system is the standard way of comparing foundation colours, even if you don't shop there. Its lipstick shades have gained not only cult following, but become so universally recognized that no one would ask what is "Ruby Woo" or "Teddy" lipliner.
Collaborations with celebs, designers have only proven time and time again, its pull to women of all age, and colours. Themes from tame to the wild and somewhat questionable (remember that Laundromat-inspired collection?) collections have won many hearts and many kisses of approvals from women worldwide. It helps that MAC has an extensive range of lipstick colour, and finishes. I've reviewed many in the past, and that's barely scratching the surface.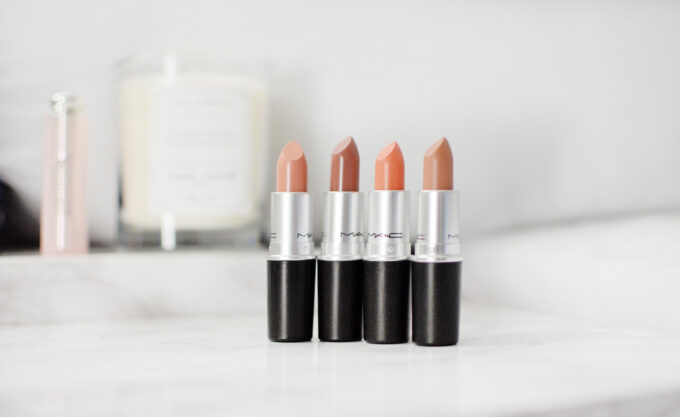 MAC continues to be my go-to brand when it comes to long-lasting, pigmented pout that I can rely to get through the day. Given that neutral (mostly nude) lip shades are my favourite, I felt it was appropriate to share to give you some ideas for your next shopping trip. These four colours are my trusted, go-to neutral/nude shades that are especially flattering on NC25-30 skintone.
MAC Pure Zen – This cremesheen is described as frosted warm nude by MAC. At first, I was concerned that it would be too frosty and shiny a la '90s glosses, but this pinky nude colour looks incredibly flattering on those with warmer skin tones. On my NC25-30 skintone, this works to lighten up my naturally pigmented lip colour to achieve that sophisticated nude lip that doesn't wash me out or make me look sick. The creamsheen formula isn't meant to be too pigmented so this lip colour actually looks good on a lot of people because it allows for the natural lip colour to shine through. Add a nude liner underneath, and this becomes my go-to nude lipstick to pair with smokey eyes.
MAC Kinda Sexy – I admit, I bought this because of the whole hoopla with Kylie Jenner's lip job (did she have it, did she not?) debate. I wasn't really looking for a brown lip colour that was so in back in the 90's but I was looking for some new neutral/nude colours that would complement my colouring. The MAC artist who helped me was so helpful and recommended the matte formula called Kinda Sexy which is pretty much the exact same colour as my lip shade. Despite the matte formulation, it doesn't sit drily or highlights any lines on the lips. This lip colour help me look polished, and naturally brightens the rest of my complexion while staying true to my natural lip colour. This is my go-to #GirlBoss shade for important meetings and presentations at work.
MAC Shy Girl – I think I've talked Shy Girl to death on the blog, but I definitely found "the one" with this colour. It is such a perfect match to what I was looking for: subtle neutral lip colour leans more coral nude but still adding that brightness to my complexion when wearing it. Again, the creamsheen formula makes it semi-sheer, but 2-3 layers of the lipstick will ensure it looks pigmented on the lips. This lipstick colour is one of those that you throw on when you are rushing out the door or the one that you quickly swipe on before going for an interview.
MAC Patisserie – The sheer formula is like MAC's Kinda Sexy but a lot sheerer, making it my exact my lip but better colour. It doesn't add too much on the lips, but that's sometimes how you like things, right? It's definitely for the days when you're not really up for wearing too much lip colour, and just want a glossy finish to show that you made some effort. It's a lovely neutral pink that adds a bit of oomph on your lips with a little bit of glitter to add some brightness on the skin.
I think four is a pretty small number of neutral MAC lipsticks I own, so I'd love to hear your recommendations! What are your favourite neutral MAC lipstick shades?