A couple of weeks into the new year, and I'm really feeling that post-holiday slump. It's hard not to – January is probably the time of the year when we need a vacation the most! It's cold, getting to work / school is a battle with so much snow on the ground, and we're still working off that holiday indulgence. If you've made the Skyscanner website your homepage, or have been going through Pinterest for some travel inspirations, you'll want to stick around. I'm going to share with you a couple of destination ideas, "Where to Go When" for every month of the year!
I had a moment of awe when Lonely Planet released a new book, Where to Go When ($35.99, available here) the ultimate solo / group / couple trip planner, travel agent and conversation starter. Keep it out at all times on your coffee table for inspirations and to get the conversation flowing – I promise you there won't be a dull moment. I've already singled out a few destinations I'm adding to my bucket list for this year!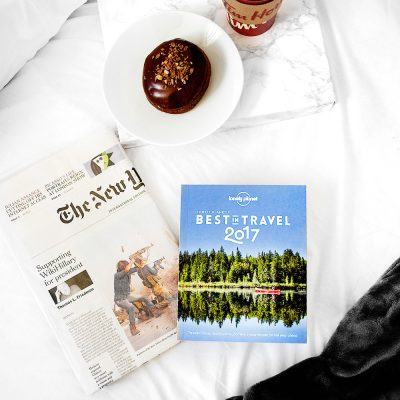 The Lonely PlanetWhere to Go When is available at: Chapters Indigo • Amazon Canada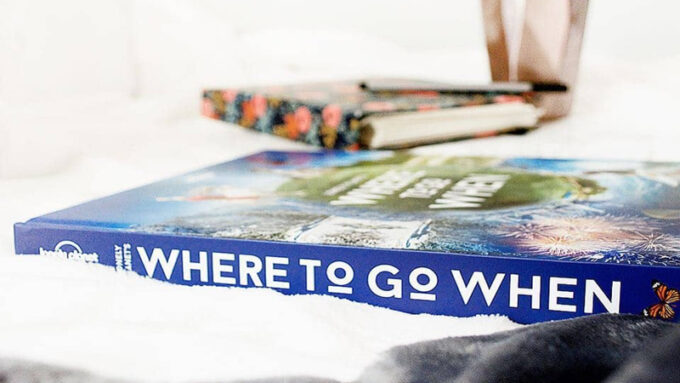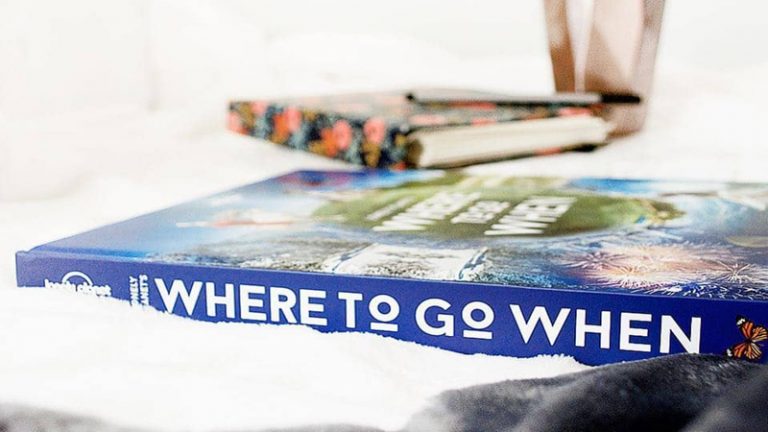 Lonely Planet Where To Go When – Travel Agent & Trip Planner in One
Haven't you always wanted to have someone tell you where to go on a certain month because it's the best time to visit or see the safari / festival / northern lights, hike the Inca Trail, go surfing, etc? Whether you have 3 days or 3 weeks, travelling solo or as a group, looking for adventures or enjoying nature, there are so many options that it can get overwhelming? The Lonely Planet Where to Go When is doing that homework for you – it is that trip planner and travel agent in one. It's a book that you want to always keep open and pull out when reviewing new destinations to go visit.
Each month offers 30 possible destinations to choose from based on your preferences. There's even a decision tree to help you decide, a flowchart comparing the value and scope of the destination (adventurous, family-friendly). If going to a hot destination during the colder months is so important to you, there's a page dedicated to showing the average temperature of the various destinations. Aside from these helpful consideration tools, there's a little key at the end of each post indicating what kind of experiences you can expect to have: adventures, leisure, nature, food & drink and so forth.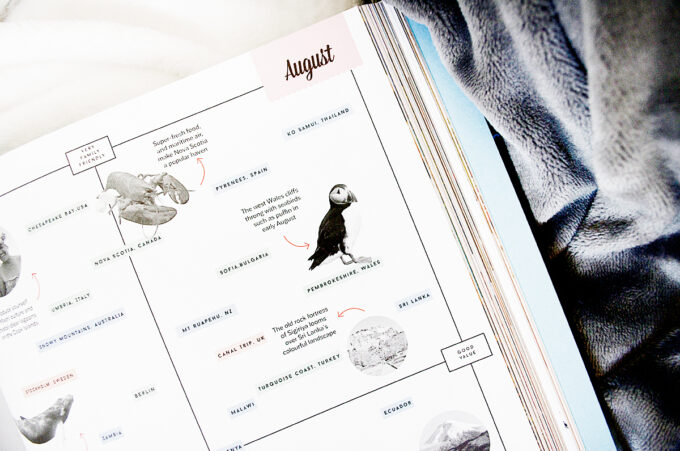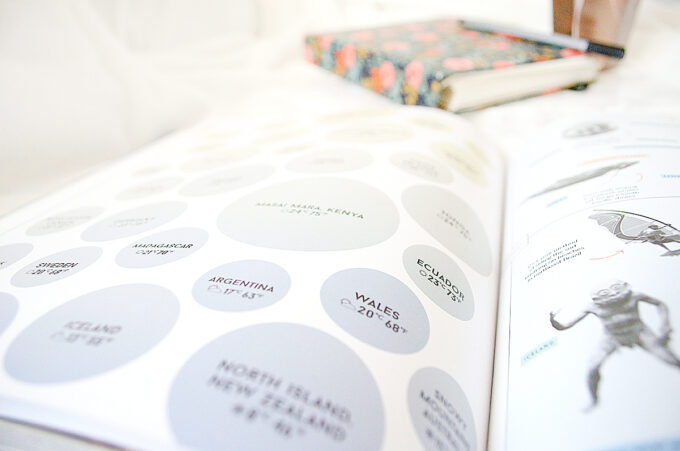 Lonely Planet Where To Go When | Jan – June
With 30 recommendations per month, I won't even begin to attempt to summarize each destination for you. What I'll do is pick two from each month and share the cheapest flight from Toronto at the time of writing to give you a bit of context.
January
Ethiopia: Celebrate Christmas and Timkat (commemorating the baptism of Jesus) in one of the oldest Christian sites of the world. And of course, enjoy the incredible taste of Ethiopian coffee in all of its glory.
» Plan Your Trip: You can find direct flights to Addis Ababa from Toronto with Ethiopian Airlines starting at $994.
Wellington, New Zealand: January is considered the warmest month in the windy city of Wellington. There are plenty of activities to keep you occupied here, from free concerts at the Botanic Garden, and the annual Pasifika Festival, a celebration of the culture of the Pacific Region. If you want to explore other islands and areas of New Zealand, there are a number of ferries that sail multiple times daily across the Cook Strait.
» Plan Your Trip: You can find flights to Wellington from Toronto with Air Canada and Air New Zealand starting at $2281.
February
Wyoming, USA: Love to ski? Expect great powder (dry and deep) at the Teton Mountains Resort of Jackson Hole! Visit the world-famous Yellowstone National Park to view geysers and hot springs (Just don't go swimming in them!) and spot grey wolves against the snow-capped landscape.
» Plan Your Trip: You can find direct flights to Jacksonville International starting at $368.
Rio de Janeiro, Brazil: One word. Carnival! It's time to join Brazilians in one of the biggest parties in the world in this iconic dance party – sequins, samba, drinking in one place. Early booking is critical as seats and hotels will fill up very quickly. Note that you may be required to get a visa upon entry.
» Plan Your Trip: Book early, and be sure to add on the beaches to your visit!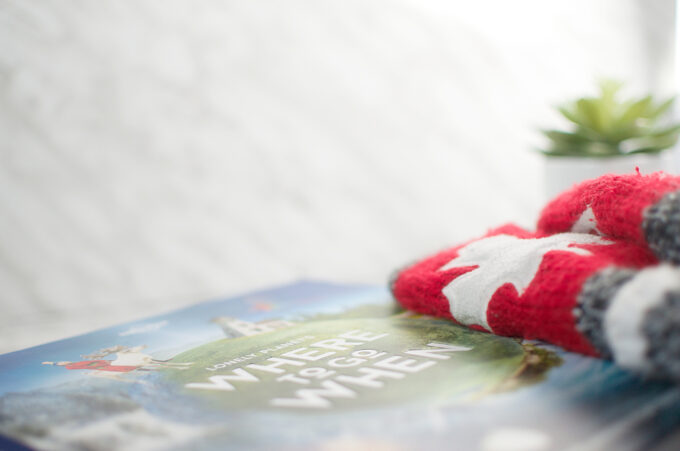 March
Costa Rica: Enjoy the coastline, cloud forest, volcano during the most pleasant season of the year! How does the idea of exploring lush rainforests, ziplining, surfing, and watching faunas like the sloths, iguana and manatees right after touring a coffee plantation sound to you?
» Plan Your Trip: Bring insect repellent, heavy duty sunscreen and open mind! Expect to have plenty of adventures and see wildlife.
Antigua: While everyone else is busy crowding Florida, Miami and Ibiza, come to Antigua and explore the cerulean blue waters and cool breezes! March is the perfect month to come in between the lull of high seasons! The hurricane-free weather is perfect for family or couples with many types of water sports to be enjoyed.
» Plan Your Trip: Sunscreen – lots of sunscreen. And a love for water adventures.
April
Jordan: You'll imagine yourself to be Indiana Jones / Jane as you walk through 2000 year-old ancient wonders. April is a much more forgiving weather and the vastness of Petra can be easily explored, heat excluded.
» Plan Your Trip: Be sure to stop by the Dead Sea, Dana, Petra and Wadi Rum during your visit.
Istanbul: Despite some of the security challenges the country faced in recent months, Turkey is still a breathtaking melée of cultures. Discover bazaars, breathe in the deliciousness of spices and explore culinary secrets in peace.
» Plan Your Trip: The Bosphorus River separates the European and Asian sides of the country. Don't forget to do the hot air balloon ride in Capadoccia!
May
Cape Town, South Africa: My favourite time of the year to visit South Africa has been during this time. I've had very good luck in terms of the weather (sunny, 15-20C weather which is basically summer for us Canadians). May happens to be the best time for safari as the cooler weather means the animals are more active even during the day – more chance of seeing the Big 5.
» Plan Your Trip: Bring a good camera. Scratch that, bring a GREAT camera for your safari. As an added precaution, get malaria pills if you can. If you plan on doing extreme sports (i.e. shark cage diving, surfing, etc), get travel insurance! It's worth it rather than coming home to a $$$ bill. For reference, I used World Nomads in my recent trip to South Africa.
Amalfi Coast, Italy: Enjoy the dolce vita approach of life with a sprinkle of sparkling azure blue waters, and cliff-side towns. Come before the summer high season which can bring the picturesque roads to a standstill. While you're there, explore Positano and Ravello – some of the most Instagram-friendly destinations of the moment.
» Plan Your Trip: Enjoy the foodie delights of Naples, where pizza was born. If you can, add Positano to your list of places to go!
June
Bali & Lombok, Indonesia: Sun, sea, food and surfing during the dry season and just before the high season hits. Surf breaks are at their best, and June is just right before the school holidays in July. Climb a volcano or two, visit rice fields, go diving or snorkelling!
» Plan Your Trip: If you want to get certified in diving or continue your diving certification, this is a good time and place to do it – cheaper than most!
Dubrovnik & Dalmatian Islands, Croatia: Home of King's Landing from the popular epic series Game of Thrones, and the undiscovered destination of the moment, it has been dubbed the "Pearl of the Adriatic". Explore the city's rich history just before the cruise season comes around.
» Plan Your Trip: Book in advance to get the best deals possible as it is almost the high season.
Stay tuned for part 2 where I'll be sharing 12 more destination ideas for the next six months!
Do you have a travel destination in mind already? What do you think of Lonely Planet's Where to Go When book?
Pin for Later!