Dubai is a city unlike any other cities I've ever visited and it was the perfect introduction to the Middle East. Globally, the city is known for its superlatives – the biggest mall in the world, the tallest man-made structure in the world, the fastest-growing city in the world – you get the gist. So when I first landed in the country, I had a carefully laid out Dubai itinerary – there was some expectations and Dazzling Dubai did not disappoint.
I visited Dubai for the first time back in 2012 – a group of 11 of my university classmates and I were selected to represent Canada in the DohaGoals Forum and we decided to make a stop in Dubai after the session prior to returning to Canada. We were already in the region anyway, so it wouldn't hurt to extend our stay for another 4.5 days. Since that trip, I've been back to Dubai twice – both times en route to South Africa and I had a 1-day layover in the city which gave me a good understanding of the city.
My introduction to Dubai included adventures through the city covering all the touristic destinations and it was great! Discovering the Old Town Dubai, Gold Souq, JBR (Western University students would know this as something else), the Burj Khalifa and the largest malls in the world. Here is our jam-packed 4-day itinerary from my trip in 2012, exploring a little bit of old and new Dubai!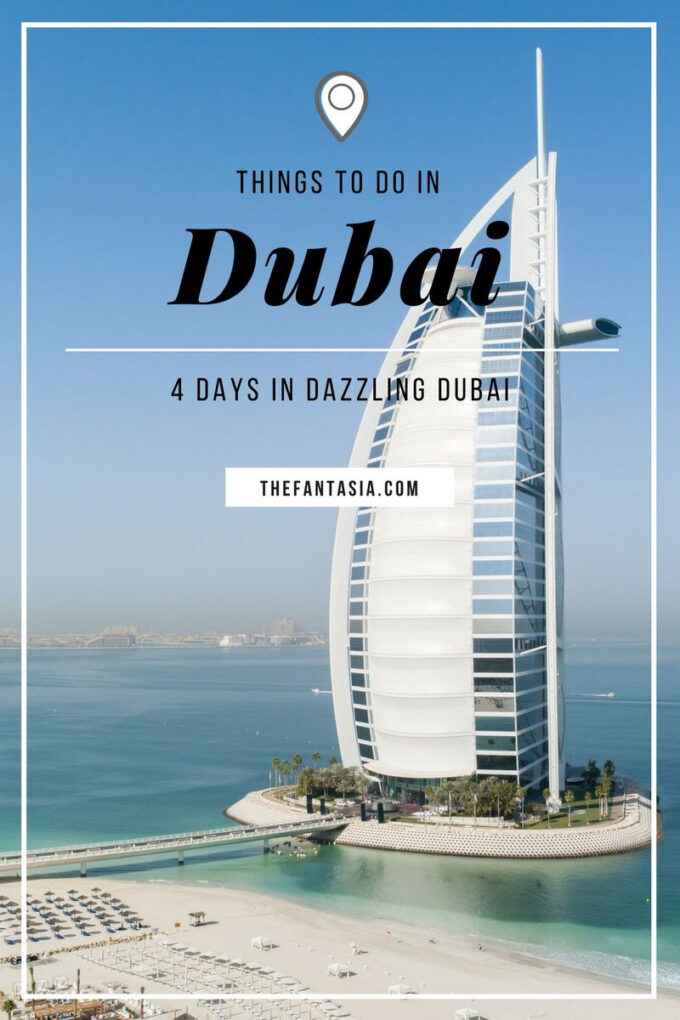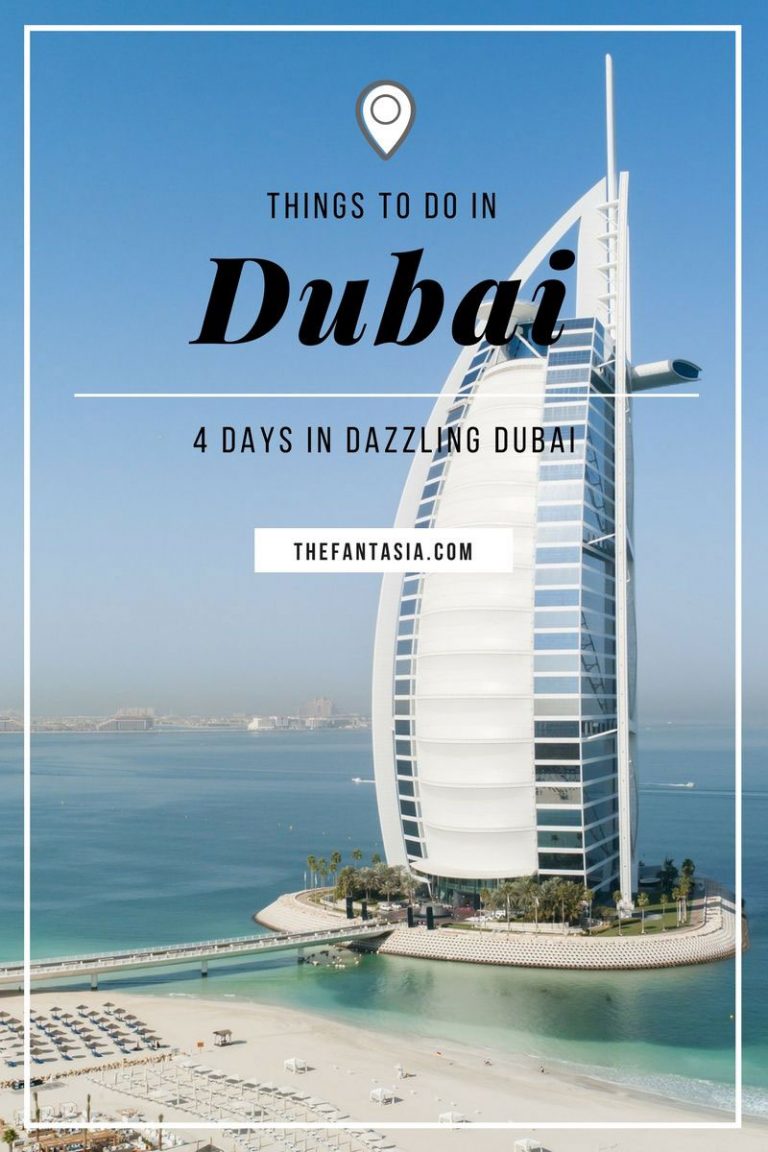 Day 1: Jumeirah Beach Residence (JBR)
Jumeirah is a coastal residential area of Dubai and is also considered as one of the most exclusive areas of the city. It boasts five-star hotel chains along its coastline, the likes you would normally associate with movie stars and wealthy tourists/expats. It is incredibly popular with tourists and expats alike, given the stunning vista of Jumeirah Beach that you wake up to every morning.
As the icing on the cake, the most prominent icon of Dubai, Burj Al Arab Hotel, is located on this beach front. Though the likes of Ritz-Carlton and Jumeirah Beach Hotel chains are way out of my student budget, I found the equally lovely, and more budget-friendly, familiar chain, Ramada Hotel to be far more than enough for my stay in Dubai with my group of friends.
My group booked an airport transfer picked up at the airport and was promptly driven to Ramada Plaza Jumeirah Beach Hotel located right next to the gorgeous Jumeirah Beach.
This "aparthotel" was the perfect place to stay being in the "centre" of the actions. Located only 2 minutes away from the beach, 10 minutes from the Mall of Emirates (the biggest mall in the world), and being part of the exclusive part of town definitely made the stay quite a luxurious one!
Since we arrived in Dubai fairly late, we proceeded to find dinner, and stayed to people-watch. The strip of road in front of Jumeirah Beach Residence is like the runway of high end, luxury cars as we spent more time identifying which luxury car just passed by and which that we expect to see than actually eating. It was truly the definition of ostentatious and flagrant display of oil money in Dubai. From Ferrari, Lamborghini, Maseratti, BMW, Mercedes Benz, and Rolls Royce in all sorts of vivid colors with all sorts of add-ons (ahem, velvet?)
Day 2: Exploring Old Town Dubai, the Old Textile Market and Gold Souq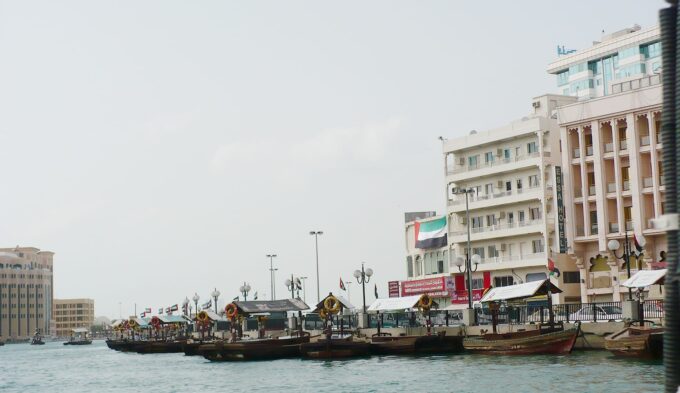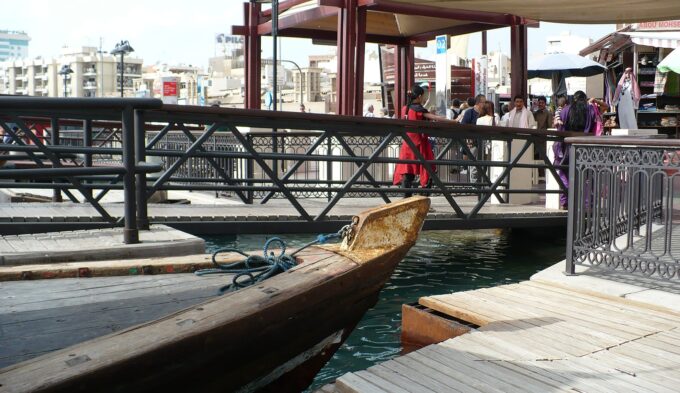 On my group's first full day in Dubai, my friends and I took a cab to go to the gold souq, otherwise known as the gold market. It was fascinating to see so much gold being sold in a traditional market dedicated to only selling gold. We went there solely to see the market, and not so much trying to purchase gold as the market was quite sketchy at best. The experience was a lot of fun (I mean, how often do you see a vest made entirely out of gold?) and definitely worthwhile to see the "other", more authentic Middle Eastern experience than the glitzy malls and glamorous hotels.
There were also shops located in the Textile Market set up dedicated to fake designer goods tucked away in very old, almost crumbly buildings that in retrospect was not a good idea to go into. You can choose to buy the high-quality fakes or the low-quality ones, depending on your budget. Every brand, design and world-famous monogram can be found here.
After the market, we decided to have an early dinner. We wanted to try something local so we walked around for a little bit to find a place to eat. We decided to cross the creek (Al Khor) to see the other half of the market and find a place to eat there as well. We took the water taxi, locally known as abras which costed a mere AED1 ($0.30) for the journey. It's a favourite of locals and tourists alike and obviously the cheapest way to get from Deira to Bur Dubai. The journey took around 5 minutes!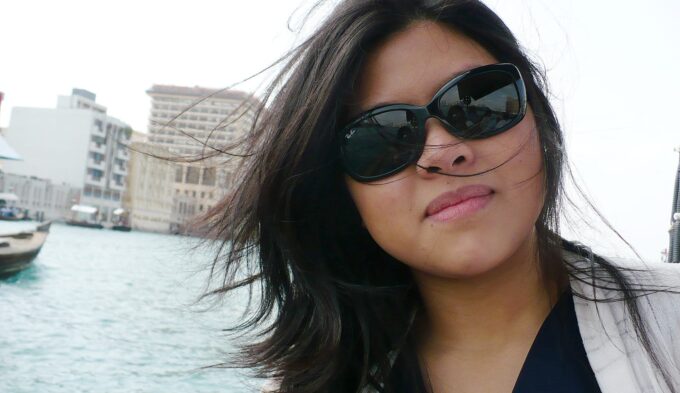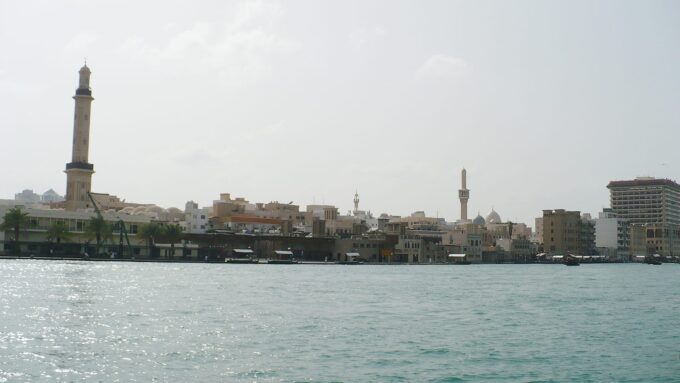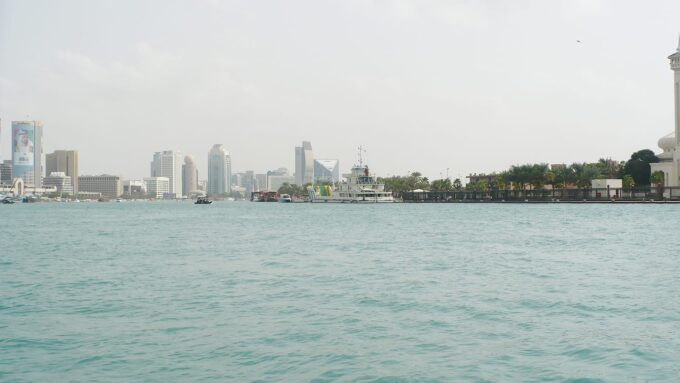 Day 3: Desert Safari Tour
I've written a separate post about my desert safari experience in Dubai. It's an experience not to be missed and I felt every dollar spent was worth it! I will refer you to the original post so you can read and find out more about it in greater details!
Day 4: Checking out The Biggest Malls in the World
We spent part of the morning exploring Dubai's two malls – the Dubai Mall and Mall of the Emirates. Each mall boasts a unique offering that I'll write more about in an upcoming post but the combination of being located right next to the Burj Khalifa (Dubai Mall) and boasting an indoor skiing range (Mall of the Emirates), these two sites deserve a quick visit, even if it was just for half a day.
Ultimately both malls feel very similar to high-end malls in any other parts of the world. There's a lot more of Dubai to discover so I would caution against spending too much time here!
Day 4.5: Burj Khalifa
We finished off our visit to Dubai with a stop at the Burj Khalifa. The tower is currently the tallest man-made structure in the world, and is Dubai's pride and joy. The Burj Khalifa is practically synonymous with the city of Dubai. I wrote a post about my experience on the Burj Khalifa, having visited it twice in the last four years. I'll be sharing more details in an upcoming post about the Burj Khalifa experience!
What You Need to Know
Getting there: Flying to Dubai is easier than ever – there are plenty of airlines operating direct and indirect flights into the city. My favourites are Emirates (Dubai's official airline) or Etihad Airways (Abu Dhabi's official airline)
Where to Stay: Dubai is not exactly a budget destination – you can expect to spend some dough in the area. I stayed at the Ramada Plaza Jumeirah Beach Residence aparthotel as I went with 11 other friends, and our group size made it logical to stay here
Currency: The United Arab Emirates Dirham is known as the Emirati Dinar trades for CAD$1 = AED0.34. It is currently pegged to the USD dollars at a rate of 1 USD = 3.6725 AED.
Getting Around: Dubai has an extensive, brand-new and very modern public transportation system. I never took it as my group preferred to travel by taxi given the short amount of time we had in the city.
Don't Forget: While Dubai (and the UAE) is a progressive Arab nation, showing and respecting local customs never hurts. When dressing err on the side of conservative where possible. Although the city is highly accustomed to tourists, and there are plenty of expats around, Dubai is still a country that observes a more strict view of the world
One more thing: Dubai is one of those places where you can skimp once in a while. Attractions like the Desert Safari Tour or Burj Khalifa shouldn't be skipped, but the malls can be!
Have you been to Dubai?