So it's still winter, and the temp is obviously anywhere close to being baking hot that would get you sunburnt. However, I thought I'd write this to get you inspired for any Spring Break trips or upcoming summer trips/vacations (Feel free to check out my Life Set Travel Guide for some inspiration!) See, I grew up in a tropical country, accustomed to 30C+ degrees weather so my experience with tanning or sunburnt skin is at an all-time high of zero. In fact, I regularly feel so embarrassed that I can't get tanned or look like I've just come back from a lovely trip even though I take multiple trips in a year, as you might be able to tell from Instagram!
On a recent trip to Mexico, I got so sunburnt that I was scrambling trying to figure out what to do. Seriously, don't laugh. I was like a chicken running around with its head cut off (sorry for the graphic description) trying to figure out to be best stem off the pain, redness, and peeling skin asap!
Fortunately, I have a stash of skincare products at home, and immediately rummaged through them to find something that would help immediately after I got home. Fortunately, my sunburn was relatively mild so my skin was only a nasty shade of red with a bit of peeling and flaking. Despite this highly traumatizing experience, I credit 2 products that helped my skin heal faster so I can get a restful sleep at night!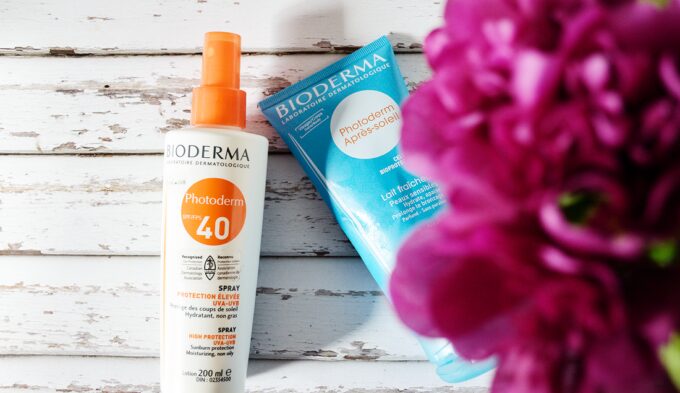 Before this trip, I didn't really see the importance of after-sun creams / milks / lotions. I would buy them but use them similar to how I would use body lotion, particularly in the summer season. That is until I cam across the BiodermaPhotoderm Refreshing After-Sun Milk ($23.95, available here). I used up an entire tube of 200ml of this product within the first week that I got back. The thin, silky consistency of the product melts into the skin without leaving a greasy residue so you can put your top on immediately. It creates a thin, protective layer on the skin to protect it from the chafing/scraping of your shirt against the skin as it heals. This after-sun milk can be applied on the body and face and the best part is that it prolongs your tan, the one that you worked so hard for!
Even if I am wearing layers to go to work, or running errands, I still spray the Bioderma Photoderm Spray SPF 40 ($29.95, available here) everywhere on my body. It's so important to still be applying sunscreen, especially in the winter season even if the weather misleads you to think that it will be cold and cloudy! The sun still emits the same levels of UV rays and according to the Skin Cancer Foundation the snow actually reflects up to 80% of the sun's rays, meaning that you often get the double-dose of sun, even in the winter! I make sure I get a good dose of sunscreen on my face as it is the most exposed part of my body in the winter.
Even though I am not partaking in winter sports/activities that would constantly expose me to the sun, I still believe in liberal application of sunscreen and using after-sun lotion/milk to protect my skin throughout the season and prevent the awful sunburn skin experience!
Now it's your turn! How do you deal with sunburn? Do you have any favourite products that helps heal your skin faster?
---
Disclaimer:
This post features product(s) provided for editorial consideration. All opinions are my own. For more information about my review policy, please
click here
.
---