After the Black Friday and Boxing Day sale shopping binge, I have a ton of new skincare products that I'm really excited to get incorporated in my routine. Mixing some of these new purchases into my existing routine has been a blessing – even if it took the extra time to get everything to sync up together. This combination has been really good for my skin – it's never been as soft and smooth as it is know despite the up and down weather we've been having!
Lately, I've been mixing my skincare more and more – I'm really starting to enjoy the benefits of targeted skincare products as well as layering on serum and face oils in addition to just a moisturizer. I've also been incorporating plenty of anti-aging and firming extra skincare bits as I'm in getting to my mid-twenties. Here are a six winners – the best of the best skin care products – that I am really excited to share with you.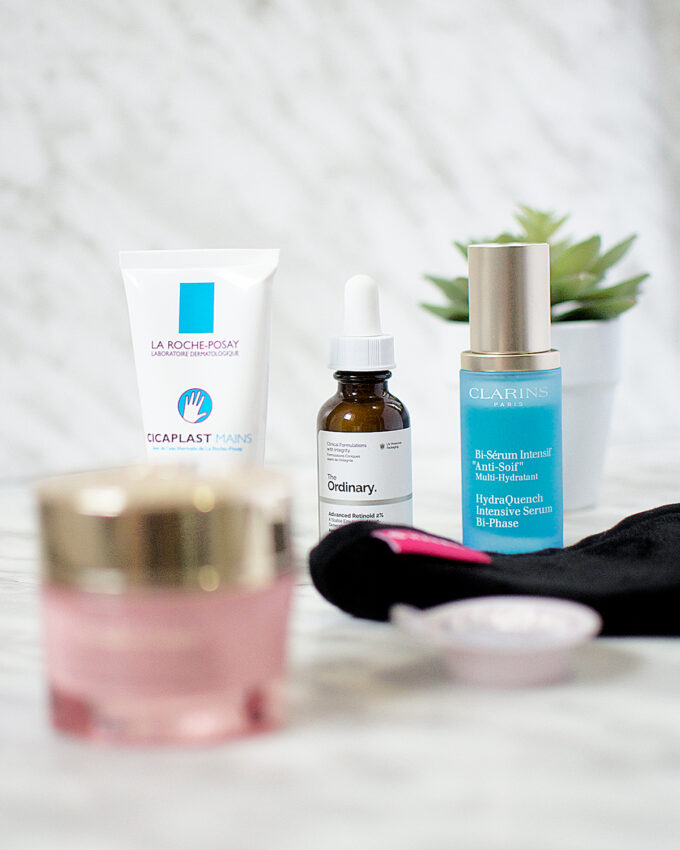 Best Skin Care Products | My Favourites of the Moment
Makeup Remover: I've been loving the Sephora CollectionMakeup Removing Cloth ($15, available here) as it is a much gentler option to removing my makeup rather than using makeup wipes. The cloth is very easy to clean between daily uses and it's been much less of a waste to keep repurchasing micellar water. With this makeup removing cloth, I don't need a cleanser or any other products to effectively remove every bit of makeup, even waterproof ones! I throw it in the rest of my laundry pile once a week for a deep clean!
Serums: I've been layering two awesome serums to start of my skincare. I start with the ClarinsHydraQuench Intensive Serum Bi-Phase ($59, available here) because any type of hydrating or anti-aging products should always be applied first as they target skin cells that are deepest.
I pictured the wrong product here but I love layering The Ordinaries100% Organic Cold-Pressed Rose Hip Seed Oil ($9.90, available here). It feels so good on my skin and leaves my skin baby soft that even my friends and and sisters noticed! I've already gone through almost half of the bottle and there's been no sign of the oil clogging up my pores so I think we have a winner here! For someone who typically dislikes face oil, I've surprised myself by how much I like this one!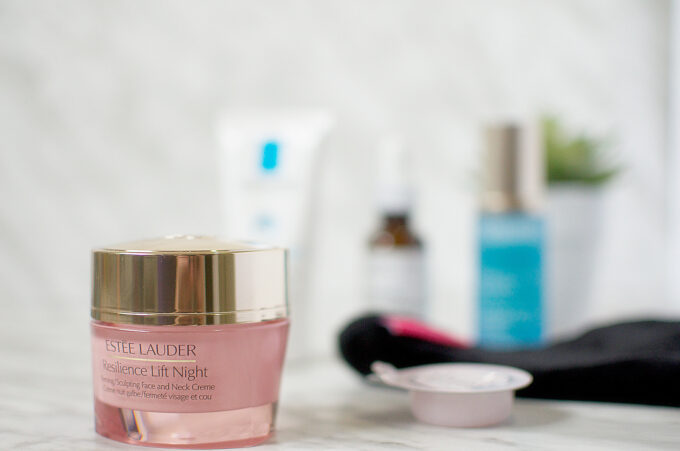 Hand Cream: I know, I know – I've mentioned that Vichy NutriHands Hand Cream was my all-time favourite. However, La Roche Posay recently brought out a new one, and formulated with the ingredients from their Cicaplast range and oh. my. goodness. This hand cream will heal your cracked skin overnight! I've never had skin as soft as this – like a baby's skin! I haven't been able to stop stroking my hands – yes, I'm aware of how weird that sounds.
Believe it or not, I'll readily admit that the La Roche PosayCicaplast Mains is better than my go-to, the iconic blue-tin Nivea Creme with its thick texture and "mother of all cream" status. The La Roche PosayCicaplast Mains (Shoppers Drug Mart) is formulated with Niacenamide to soothe and create that protective barrier on the skin as well as Glycerin which creates another another layer to protect the skin whilst the formula heals the skin underneath. It's non-sticky and dries quickly – two characteristics that are most important when it comes to hand creams like these.
Night Cream: One of my 2017 resolution is to look after my skin better – this involves drinking more water, and adding anti-aging and nourishing products into my routine. Lately I've been obsessed with the Estée LauderResilience Lift Night Cream ($115, available here) which aside from being good at firming up the skin (it's all about prevention!) it is also hydrating so I can let my skin soak in the goodness of this moisturizer.
Sleeping Mask: I'm not normally into sleeping masks as I prefer to be able to wash them off and let my nighttime skincare routine do all the work. After receiving the Sephora CollectionPearl Sleeping Mask ($5, available here) in a recent giveaway I won, I've been really in love with the rich cream-gel texture which brightens and relaxes as I sleep. Although it's not the most nourishing one in the range (I'm really eager to give the honey and rose masks a try!) I feel my skin is sufficiently hydrated and feels a lot less clogged up!
What are some of your favourite best skin care hydration products?
---
Disclaimer:
This post features product(s) provided for editorial consideration. All opinions are my own. For more information about my review policy, please
click here
.
---