I'm about to make your Christmas shopping easier and better. If you are a Dad/Husband/Boyfriend reading this, I'm about to help you win brownie points so do stick around until the end. It will be bring you closer together, promise. If you're just shopping for yourself, well, you definitely want to star around to find out about this ~exciting~ new holiday set.
Okay fine, I can't take all the credit, but give me credit for spreading the word! It's no secret that Benefit Cosmetics knows how to make your heart beat just a little faster with high performing products that stand the test of time. Plus, the Benefit team really knows how to celebrate the festive season with adorable packaging, great holiday and value sets!
So if you're shopping for someone on your Secret Santa list, for a friend, for someone who is starting out their makeup collection, or most importantly, shopping for yourself, you need to get this set, because it's an absolute steal! As in you need to get to Sephora right after reading this post and get at least one of these sets before it's all gone. And if you still have your 20% code from, this is an even better deal.
Now the set that I'm talking about is the limited edition Benefit CosmeticsGet Your Party On ($55, sephora.ca), a Sephora exclusive that I picked up during the VIB Rouge 20% off sale, which meant that I only paid a measly $11 per item – that's probably cheaper than some drugstore products from L'Oreal or Revlon these days! I can't find this set online, so it appears to be a limited edition, in-store only set so keep an eye out for it on your next shopping trip.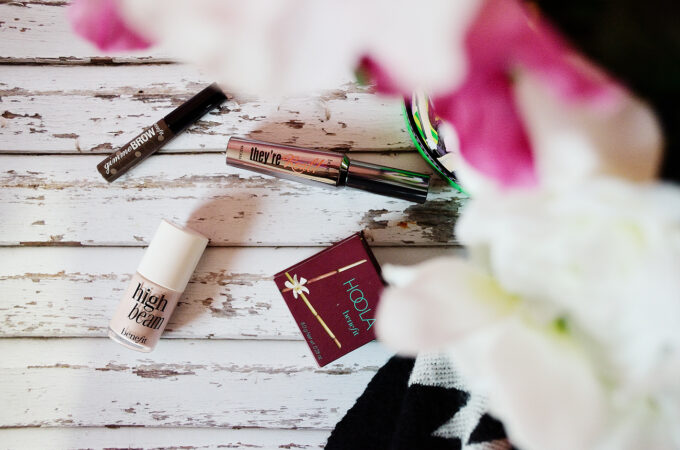 I hadn't even intended to purchase this until I saw several ladies carrying 2-3 of these kits during the VIB Rouge private sale event. I was a bit surprised because I mean, I'm sure it's a steal to get the value set (I mean, that's the whole idea right?) but, carrying 2-3 at a time? When I saw the content of the kit, I snatched one so quickly that I must have scared the ladies working at the Brow Counter!
The set comes with four (4) full-sized best-selling products from Benefit. Once you see what's on the list, I'm sure you'll be coveting one or two yourself!
Benefit Hoola Bronzer ($36, sephora.ca)
Benefit High Beam Highlighter ($36, sephora.ca)
Benefit They're Real Mascara ($29, sephora.ca)
Benefit Gimme Brow in Medium/Dark ($26, sephora.ca)
Are you already on your way to Sephora yet? Because this entire set is a total steal! The total value of this set is estimated at $125, which means at $55 SRP, you are already saving 55% of the price! Plus, purchasing it during the Sephora sale meant that I saved a further $11, so I literally only paid just a little over the price of one of the products here, and got the other 3 for free. At $11 a piece, this set is comparable, and perhaps even cheaper than some drugstore products out there – in case you had been on the fence about it.
This value-packed set comes in a circular tin that twists around like a lazy suzy which I thought was adorable and justified the price. I'm not the biggest fan of the colour they chose this year (green, yellow with black polka dots) but it's the content that really matters right? Since the tin is much bigger than previous year's I ended up storing all of my travel skincare products in here.
What do you think of this year's Get Your Party on Set from Benefit? Have you tried any of these Benefit products before?