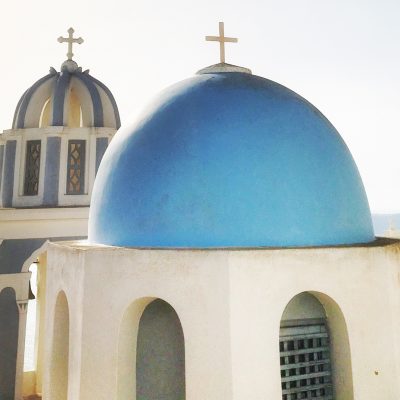 As I was preparing for my Santorini trip, I had a very challenging task at hand – where do I stay? Not familiar with the island nor relative distances, I was a little bit intimidated. The lack of hostels and quality (or reasonably priced) AirBnBs made the process a little bit more overwhelming.
Based on my research, it seemed that people stay in both Fira and Oia equally so I wasn't sure if there was a significant benefit of staying at one over the other.
After comparing the two sites, Fira and Oia, I decided that it was more sensible to base myself out of Fira due to its "city centre" status and middle-ground location, which is a nice compromise.
Fira, being quite literally in the centre of the island, is often referred to as Thera or Thira. Be wary of multiple spellings (i.e. English vs. local) during your trip so you don't get confused!
It turned out to be an excellent decision. Fira is busier, and livelier – the bars, tourist shops, bus station and food joints made my experience so time-efficient (something you don't normally associate with "island vibe") and easy to get around.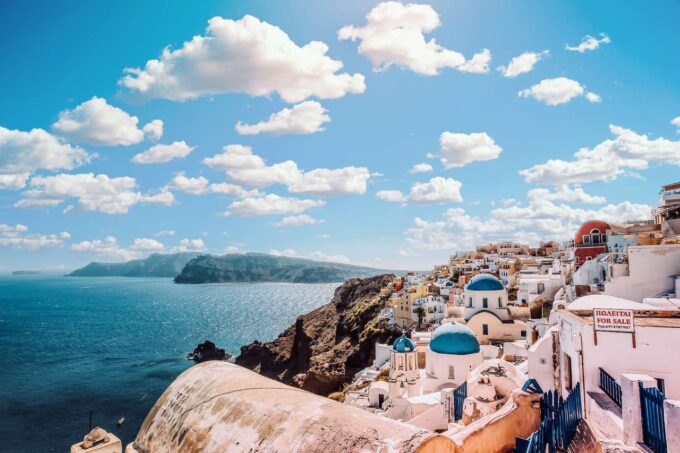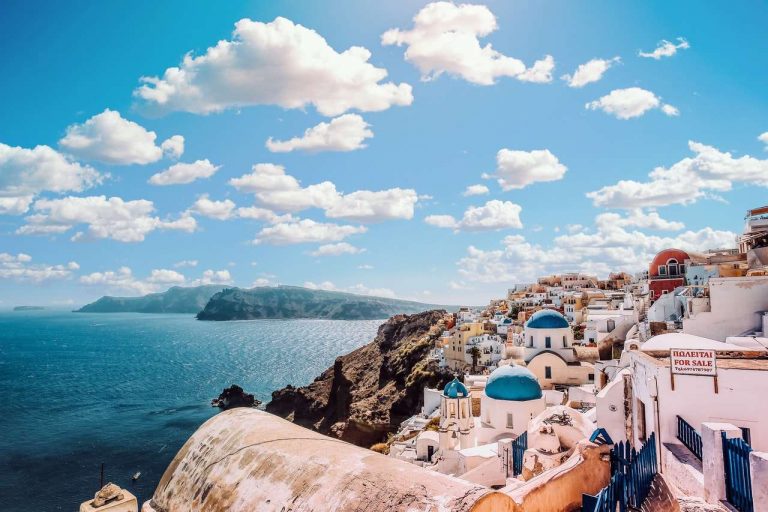 Food & Grocery
One of the most important considerations of any trips for me is the accessibility to food sources particularly when you're staying at an accommodation that doesn't provide breakfast or any other meals.
My budget hotel is perfectly situated in central Fira, with a McDonalds at my doorstep should I ever find myself in need of emergency food, a 24-hour bakery right beside that said McDonads, a 5 minute walk up to the caldera, restaurants, gyro / souvlaki stands, and a Carrefour supermarket.
I often made my own breakfast (oatmeal with banana. Yum!) and enjoy a gyro pita or souvlaki stick (€1-3) from Luckie's Souvlaki for lunch and dinner. I could have them any day and they are so so cheap but filling!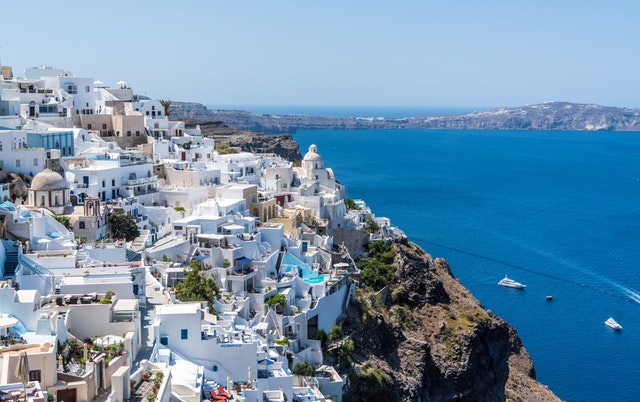 Getting Around
There are about 3-4 ways to get around in Santorini:
1) Rent an ATV
2) Rent a car
3) Ge a taxi
4) Take the bus
Of the four, the bus is of course, the least expensive, expansive but also the most informal and unlike most transportation systems I've been on. It has a bare bone schedule that is more like a guide (i.e. Expect 5-10 minutes wait after the stated arrival time), and a very strange way of being run. However, after taking it about 5-6 times, I feel a lot more confident to rely on it further.
Fira has the central bus stations that run to both ends of the islands, and to the beaches as well. Tickets are inexpensive – around €1.80 – 2.40 each way. Take a look at the images below to get a sense of the schedule and price.
Caldera View
The caldera in Santorini is world-famous, and pretty much the reason that most people visit the island in the first place. The caldera is an easy walk up from the city centre and there are plenty of fantastic restaurants and view points from the area.
Fira being the city centre is serviced throughout by the buses and taxi's. The central situation makes it really lively with plenty of tourists around.
In comparison, visiting Oia was significantly more peaceful, romantic, quiet and gave me a sense of being more in the country-side. There's nothing wrong with that of course, but I would assume things quiet down significantly after sundown. I enjoyed staying in Fira because it's still quite loud and lively during the evening and nighttime so I felt safe coming home later at night!