Day two of my full day in Santorini was one of the best, most scenic and exciting. Aside from the caldera's, Santorini beaches is quite iconic and undeniably picturesque. Having been stunned by the impeccable, otherworldly beauty of Iceland, I was excited by the prospect of seeing even more of what this incredible planet has to offer in Santorini including the Black Sand Beaches in Kamari and Perissa, and the Red Beach in Akrotiri.
Unfortunately, as I wasn't feeling well when I landed, I opted not to go swimming, but rather, enjoy the views of the spectacular Santorini beaches against some of the most dramatic backdrops of cliffs, rock formations and other islands.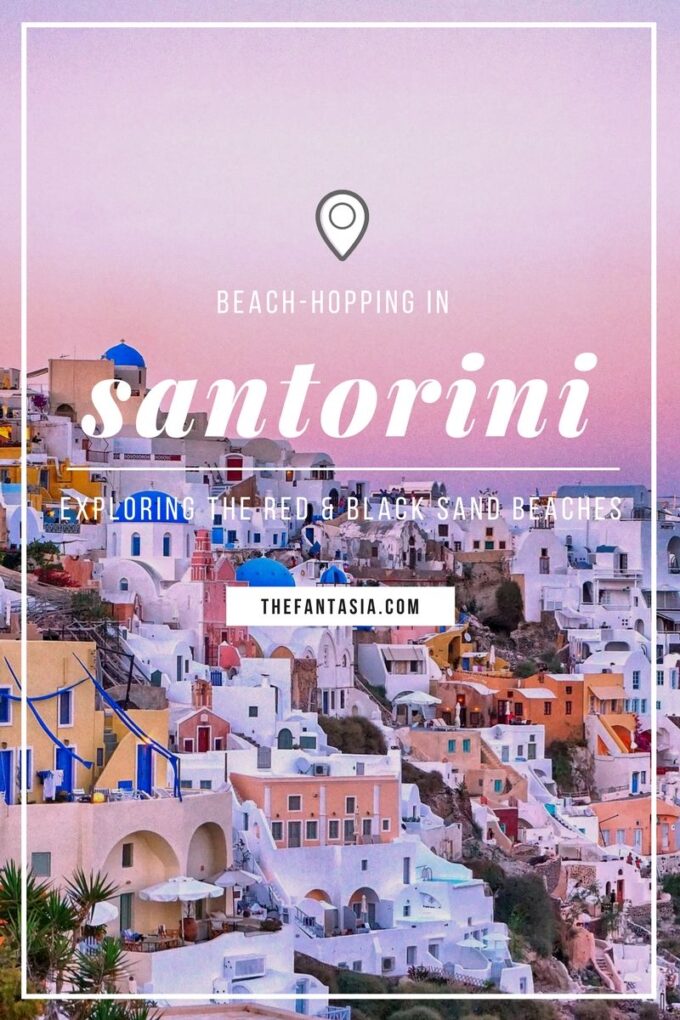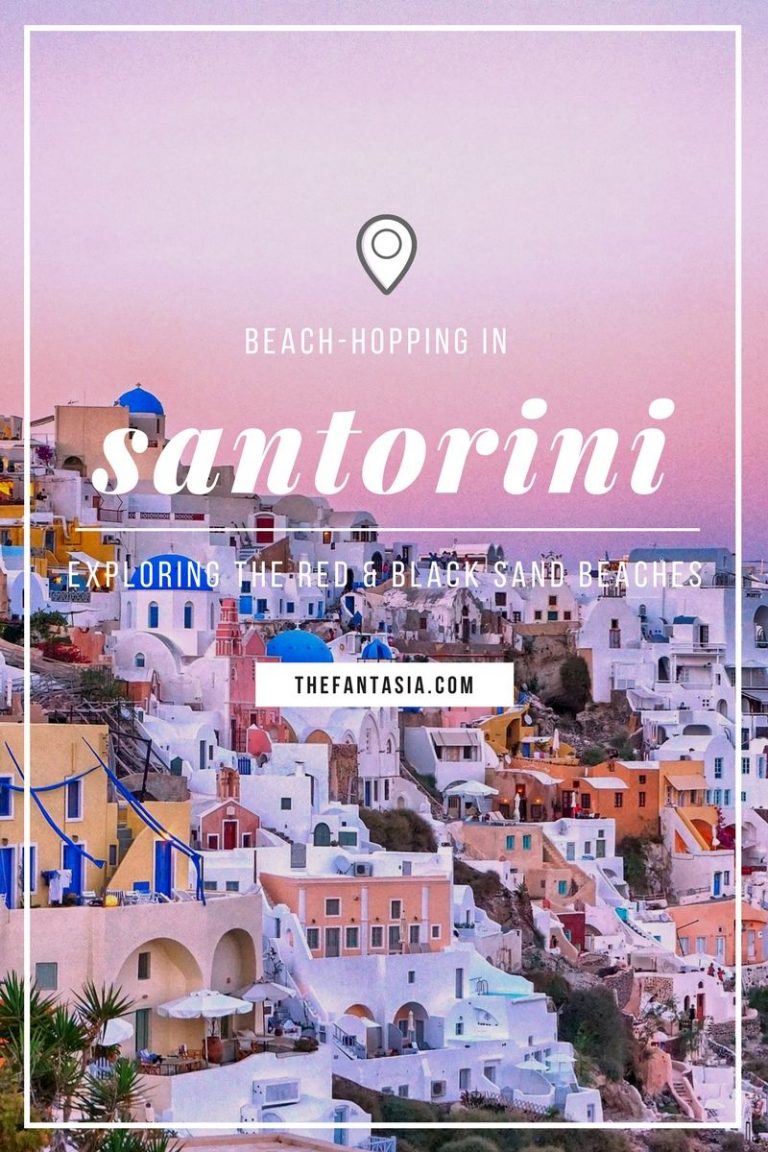 It is very simple to visit the Santorini beaches – you simply take the local bus from Thira / Fira, and each beach is the last stop on the route. If you plan to go beach-hopping, you will need to return to Thira / Fira city centre first, and take a different bus as there is no direct one between the two beaches.
Unfortunately I found Santorini beaches to be much smaller than I had seen in pictures. The island itself fairly small so I think everything is all about the scale and relativity.
A note on accommodation: Budget hotels that are actually decent is difficult to find in Santorini, traditionally a honeymoon and luxury destination. AirBnb didn't yield good enough results so I ended up staying at the San Giorgio Villa in Thira. A budget hotel that caters to budget travellers run by a family. Excellent location (cannot beat the 2-3 minute walk to all the gyro stands, and 5 minute walk to the caldera, tourist shops and bus stations!) For a solo female traveller, this hotel is difficult to beat – clean showers spacious bedrooms, a fridge and working table make the hotel quite worth the price!
Visiting the Red Beach in Akrotiri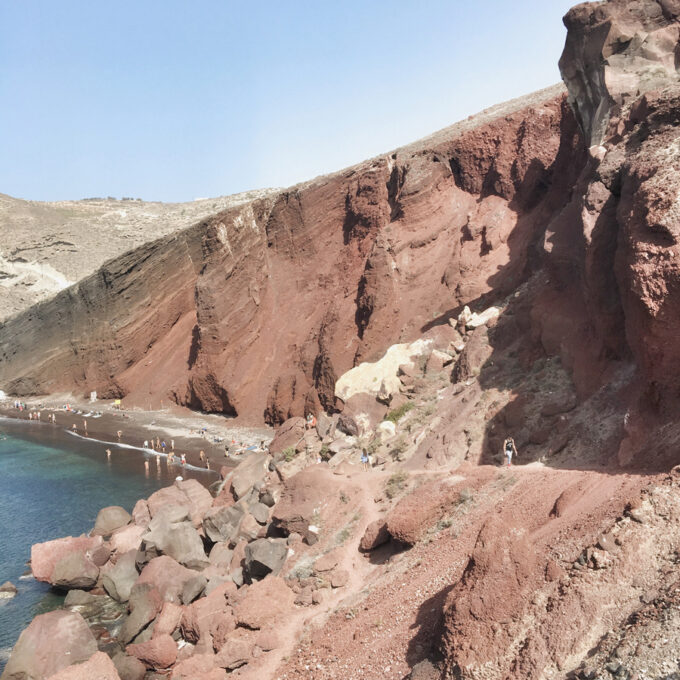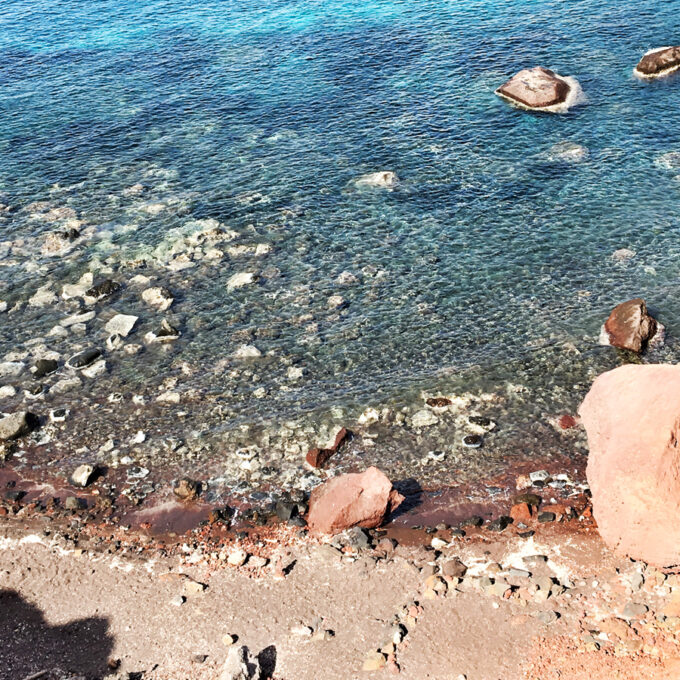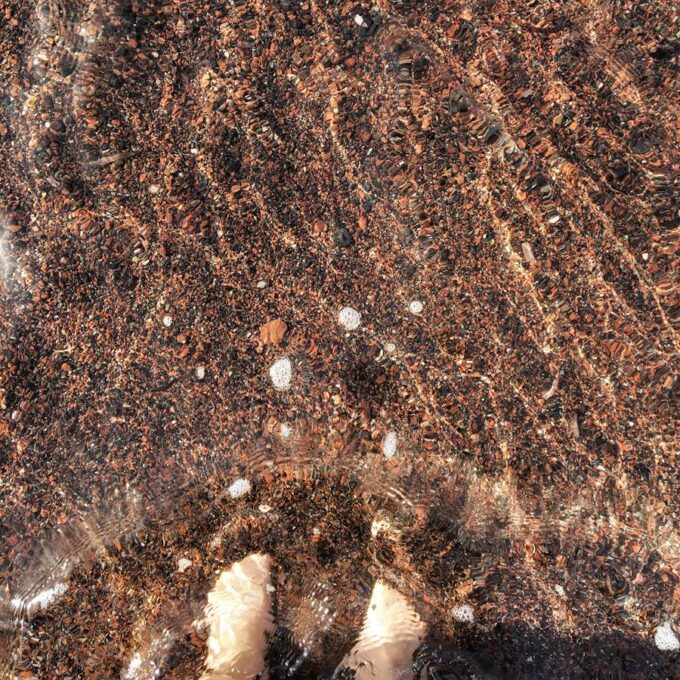 My first stop during my trip was the Red Beach in Akrotiri. I had imagined fine red sands similar to the ones you see in the Dubai desert. I was actually a little bit surprised to see how much walking is required to get to beach. The sign at both beginning and end of the "trail" leading to the beach warned of uneven ground, and landslide and prohibits entry. However, as there were no other way of getting to the beach, I along with many other tourists, carefully made my way to the red beach, taking great care to not be distracted by photos as there are a lot of steep uphill and downhill walks to be done. I recommend wearing sneakers, and packing your sandals for later. Please don't be distracted and be sober as you make your way through the trail because there is no railing or any kinds of protection to prevent falling off the cliffside.
The beach itself is quite small – I was expecting something that's much bigger, but fortunately, visiting in the low season means that the beach didn't feel as busy. The water is the perfect kind of cold to swim in and is very beautiful and clear. As for the sands, I was disappointed to see that the sands were actually more like pebbles. Red and black pebbles to be exact so I was getting quite the foot massage (albeit a painful one) as I was walking through the beach. Not exactly the best beach I've ever been to but quite the experience so definitely make a point of visiting for the pictures!
Visiting the Black Sand Beach in Kamari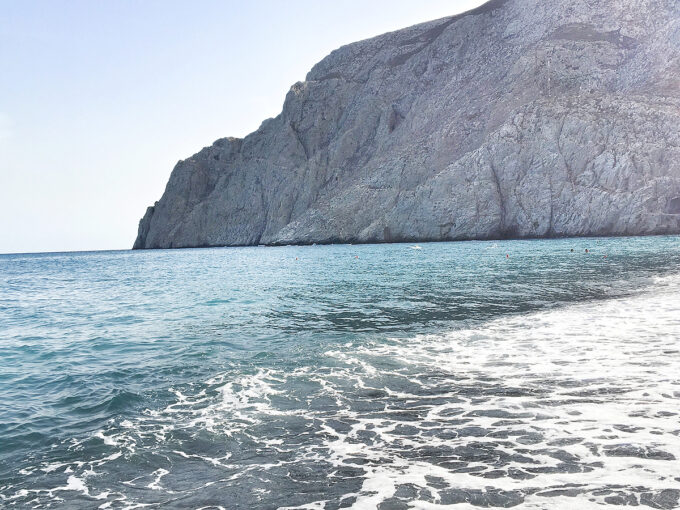 Someone's blog had mentioned this beach as being superior to Perissa Beach so I was keen to visit it given the likelihood of fewer tourists as well. The beach was superior to the Red Beach, it's still small, but less busy with a dramatic cliff in the background. The water is equally clear and relaxing to dip into, and there are even fewer people on this beach compared to the Red Beach.
There are a combination of black sands and pebbles on this beach and plenty of restaurants offering sea views for a quick and inexpensive meal.
I had the luck to meet another traveller from South Africa during my trip. For whatever reason, we kept seeing each other all morning as we beach-hopped around Santorini but didn't approach each other. We went to the same places twice and it wasn't until around lunch time when I was wanting some gelato that I bumped into her again. We immediately became fast friends and met up for dinner and travelled together over the next 3 days! Definitely helps to not feel lonely during my trip and I love meeting friends from all around the world!