I never thought I'd have to sit down and write a mini-guide on taking the bus anywhere. However, it is a very informal thus confusing and intimidating process so I thought I'd write this down to share the knowledge. I myself benefitted from reading about the process from someone's blog so, here's paying it forward, I'm sharing my guide on how to take the bus in Thira.
I flew to Santorini for $536, which is considered a steal, even during the shoulder season. It's a hot destination for many honeymooners, couples and solo travellers. Don't forget to use Skyscanner or download the App on your smartphones so you can always find the best deals and cheapest flight for your next trips!
For reference, the local bus station is quite hidden. If you are walking on the main street with the restaurants, and shopping places, you'll find a taxi stand first. Keep walking and you'll come across the bus station behind it.
A Quick Overview on the Bus System in Thira, Santorini
There isn't a formal bus system or network – it seemed more privately owned more than anything, like someone decided to buy an old coach bus and decided to start running a route. I could be wrong, but it definitely doesn't feel like any other bus system / networks I've seen.
There are about 5-6 bus routes in Thira, and there are schedules pasted on the wall by what you might assume is a ticket booth. It's not – tickets are sold on the bus. See below for some examples of the timing, fees and an example of the bus ticket.
My Hotel in Santorini
My hotel in Thira is actually a quick 10 minute walk to the station. Budget hotels that are actually decent is difficult to find in Santorini, traditionally a honeymoon and luxury destination. AirBnb didn't yield good enough results so I ended up staying at the San Giorgio Villa in Thira. A budget hotel that caters to budget travellers run by a family.
Excellent location (cannot beat the 2-3 minute walk to all the gyro stands, and 5 minute walk to the caldera, tourist shops and bus stations!) For a solo female traveller, this hotel is difficult to beat – clean showers spacious bedrooms, a fridge and working table make the hotel quite worth the price!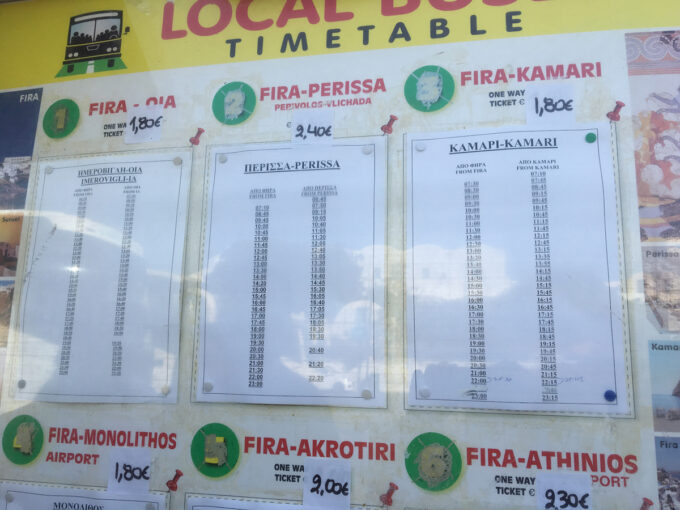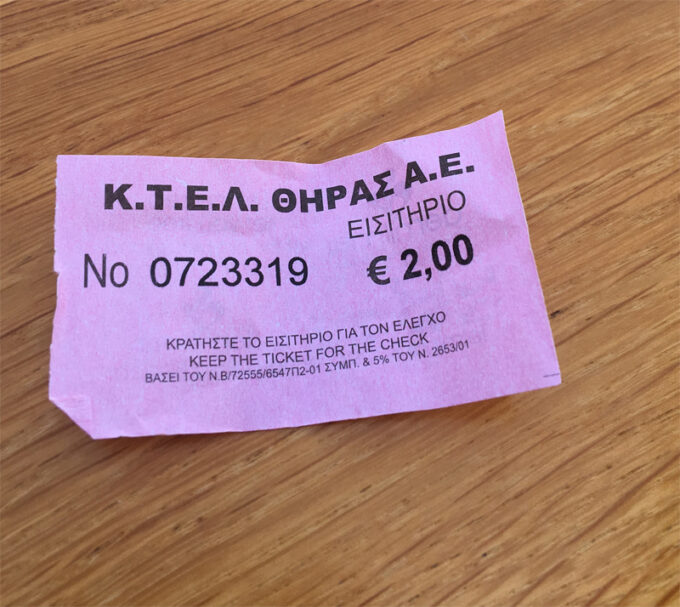 There is a waiting area, but you only buy the bus ticket once you get on the bus. You need cash (though they can provide change) so be sure to have some handy. There is a ticker on the bus that indicates the route – for example "Fira – Akrotiri" or "Fira – Oia". Be aware of local vs. English spellings like Fira / Thira or Oia / Ia. There are plenty of tourists around so if you still can't figure it out, just observe for a little while and you should get a feel for it.
The bus conductor will then tell you to get on the bus – they'll shout either the destination ("Oia") or what's at the particular location ("Red Sand Beach") so again, you should be able to quickly tell which bus to get on. Make sure the bus has the "LOCAL BUS" signage on the front like below. The buses are actually one of those big tour/coach buses that's been reused as a local bus so a lot of people get confused and get on a tourist bus instead. Be careful of this.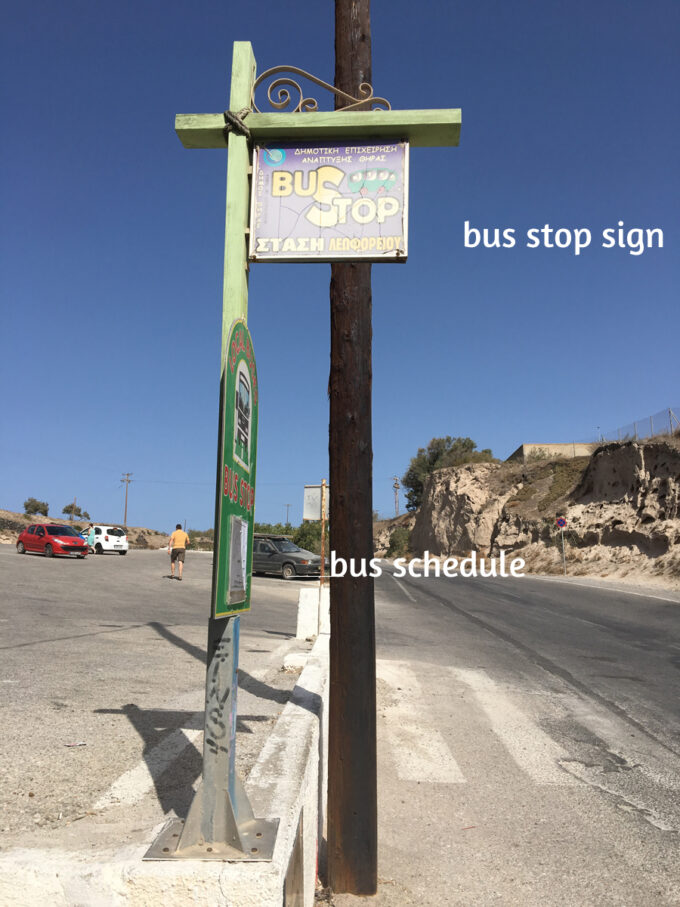 Once you're well on your way, the conductor will go around and collect your money. He will hand you a ticket. Hold on to it because they might ask to see it again. There are no "formal" stops in the sense of an actual bus stand – listen to the conductor if you want to know where you're at. There seems to be an informal way of asking being dropped off which only the locals seem to know anyways. For the most part, your destination will likely be the last stop, so just watch and listen when everyone is getting off.
The process outlined above might make you feel a little intimidated by the process of taking a bus in Santorini. But don't worry – there are so many tourists around (the buses are almost 60% tourists and 40% locals during my trip) so just keep an eye out for other tourists to get started.
Pin this for later!
Have you taken the bus in Santorini?