I have this terrible habit of not writing about my favourite products often enough on the blog. There are many fantastic drugstore items that I've been using for months that haven't made its way to the blog so I figure this is a good time to talk about them! This is only a few favourites from the vast universe that is drugstore makeup, and over the years of testing and trialing, I can safely say these are products I would easily repurchase from the drugstore once I'm out!
A few products featured here, you might have seen before in previous posts but I want to give you a few more budget-friendly options and alternatives should you be in need of one!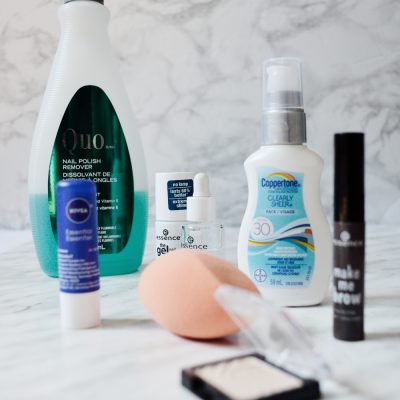 Quo Brand Vitamin E Nail Polish Remover $4.99 – When it comes to doing my nails, I very rarely indulge in the world of high-end nail tools. I find most manicures last only a week on me, so no matter what expensive tools I'm using, the effect is very similar to what I could achieve with drugstore products. This nail polish remover removes all traces of nail polish efficiently (especially when combined with the Quo Cotton Pads) and without drying the skin around my fingernails either! This is my second bottle and I will continue to repurchase!
Essence Cosmetics Gel Base Coat $3.49 & Quick Dry Top Coat $3.99 – I have never come across a more impressive drugstore duo than this for my nails! I love that the gel base coat creates a barrier between my fingernails and the polish so there's never any issues with staining. Furthermore, it creates a flat, even base for the colour coat to sit on and doesn't peel!
The Quick Dry top coat is my favourite product for my nails, despite having tried the expensive OPI and Seche Vite offerings (which unfortunately got all gloopy too!) The top coat keeps the shine of my colour coat, and doesn't chip. At. All. My manicures usually last 5-7 days easily, without me having to worry about uneven chipping or peeling (THE DREAM!) I've tried OPI, Essie and many other high end base/top coat, and never really loved any of them as much as the essence offerings! At the cost of a latte each, these are purchases you won't regret!
Nivea Lip Balm $3.49 – No matter how many new products I have in my stash, there will always be at least one of these moisturizing lip balm stashed in my arsenal somewhere. I am never without this, and the moment I finish one, I will go out and repurchase one. There's something so comforting about having a product, tried and tested, that has withstood whatever lip game I've thrown its way!
Coppertone Clearly Sheer Face Sunscreen $9.99 – Did you know that at least 50% of Canadians are not wearing sunscreen? Or that 90% of Canadians don't wear enough? At any given day, 40% of the UV rays still reach the Earth, even on a cloudy day? These are facts that shocked me too – I consider myself to be quite dilligent when it comes to sunscreen, but I know that I'm one of the 90% of Canadians that don't wear enough sunscreen on my face.
I'm not a fan of sunscreen that makes my skin feel greasy and have to layer on makeup on top of it which is why this Coppertone Face sunscreen has been a favourite of mine! With its travel-friendly format, and formula that has been deemed to be safe enough for sensitive skin, the sunscreen creates a lightweight but effective barrier on the face so your makeup can sit comfortably over it. It is water-resistant up to 80 minutes so you can enjoy a playful beach excursion without worrying about re-application (although be sure to re-apply sunscreen every 2 hours!)
Wet n Wild Studio Icon Eyeshadow $1.99 – I haven't wandered in the drugstore beauty aisles recently, but I can't help but love this product again and again as I currently have this one and the Taupe shade on rotation. These were one of the first beauty products I ever purchased, finished, and continued to repurchase. These two neutral shades are my favourite combinations and "wear-by-itself" colours. If you're new to doing makeup, and looking for affordable alternatives to MAC (these are identical dupes to MAC's Blanc Type, and MAC Satin Taupe), this should be on your radar!
Real Techniques Miracle Sponge $7.99 – Long touted as the closest thing to a Beautyblender dupe, this sponge is quite unequal given its value. For less than 1/4 of the price of the actual BeautyBlender, this product delivers a finish as close as the real thing without the price!
essence cosmetics Make Me Brow $3.99 – From the outside, and product quality, this product is every bit like the more expensive sister, Benefit Gimme Brow which retails for an eye-watering $29. If you've never tried the Benefit Gimme brow, and don't make to splurge, this product is very much identical to the more expensive version! Save yourself some bucks and buy this one instead!
Have you tried any of some of my favourite drugstore products?
---
Disclaimer:
This post features product(s) provided for editorial consideration. All opinions are my own. For more information about my review policy, please
click here
.
---