When it comes to innovation, Make Up For Ever sets the trend, and probably has a pipeline as long as the number of SKUs it has in the portfolio. This behemoth of a brand never fails to impress. I am always in awe of the pipeline and am so excited by every new launches – I mean, Make Up For Ever has basically become this brand that takes an expert technique and creates a product that can be used by the masses to master that particular technique!
Dany Sanz, the creative director and founder of the brand, took her own fine arts roots as inspiration for the new Pro Sculpting Collection which launched in March 2016. This range is all about creating art with your face as the canvas, but only using light and shadow to sculpt the face. The comprehensive collection includes products for the face, lips and eyes which I'll talk to more towards the end.
Today, it's all about the face palette, the Make Up For EverPro Sculpting Face Palette ($54, available here).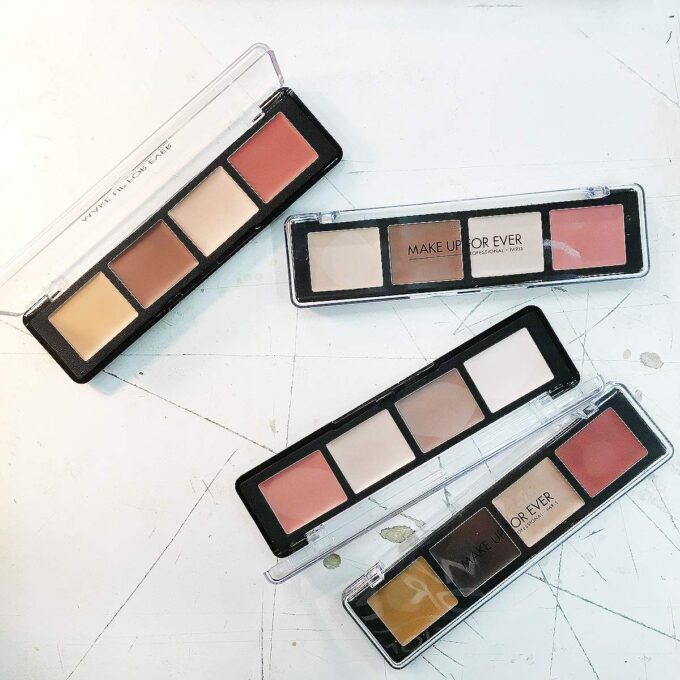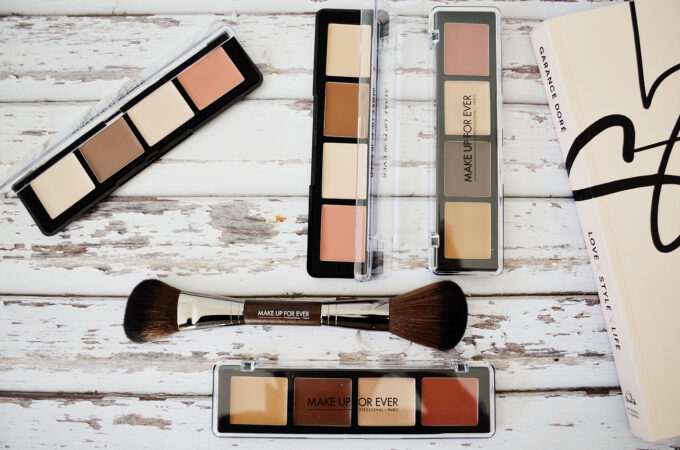 Available in 4 shades (Light 20, Medium 30, Tan 40 and Dark 50), the Pro Sculpting Face Palette is a 4-in-1 go-to palette to subtly accentuate and define the face in 4 really simple steps. The idea is to create a portable, easy-to-use palette so that everyone can master the proper highlight and contouring technique!
The four colours are all cream-based, similar in texture to the HD Cream Blush, in 1 clear palette. The four colours are a matte highlight, matte contour, shimmery highlight and a universal blush shade (not sold separately). Conveniently, Make Up For Ever also included a very useful booklet that shows you how to properly contour your face depending on its shape! So valuable!
The formula features similar ingredients as the HD Cream Blush, which ensures blendability, intense pigmentation, natural finish and long-lasting wear – the quality of this palette is another Make Up For Ever success! I don't think there's been a Make Up For Ever release that I wasn't excited about. The synthetic mica makes this formula a winner – it helps diffuse light for a satin finish and a glowy, natural look that doesn't look cakey on the skin (as is often the case when it comes to cream-based formula).
This is a convenient palette to travel or carry in your makeup bag on a daily basis. It has all the colours you need in one place, and I feel like such a pro when using it! I have been getting a lot of compliments when wearing this palette, and I was honestly very surprised as I didn't think it would be very obvious. Compliments such as "natural-looking glow", and "highlights that really pop without being too shimmery" were a few that really caught my attention!
Make Up For Ever really knows how to whip up really great formula's and this is it. I've tried many cream-based formula's and makeup products, to be often left disappointed because the formula would fade or get cakey very quickly. Not with this! It feels like butter when applied and it stays on all day long! The days that I wear this, I'm always trying to find a reflective surface to see how my makeup look – it accentuates my face that well!
All the shades are very multi-purpose – the highlights (both matte and shimmer) can be used as an eyeshadow base, or eyeshadow colour, in addition to highlighting the face. You can also use the flesh blush shade on the eyes as well.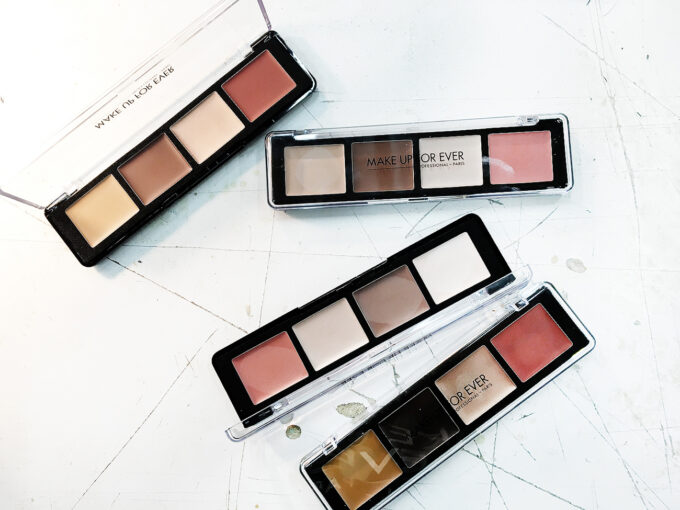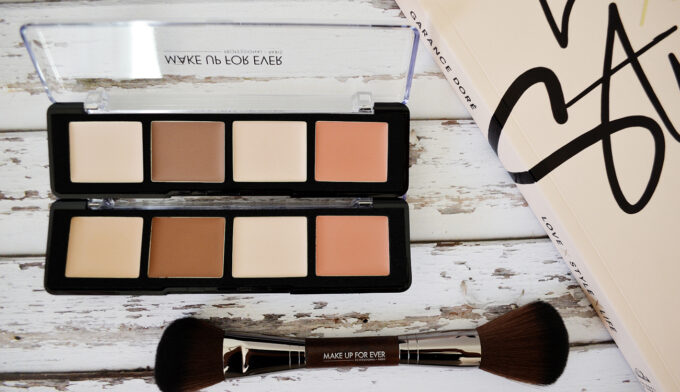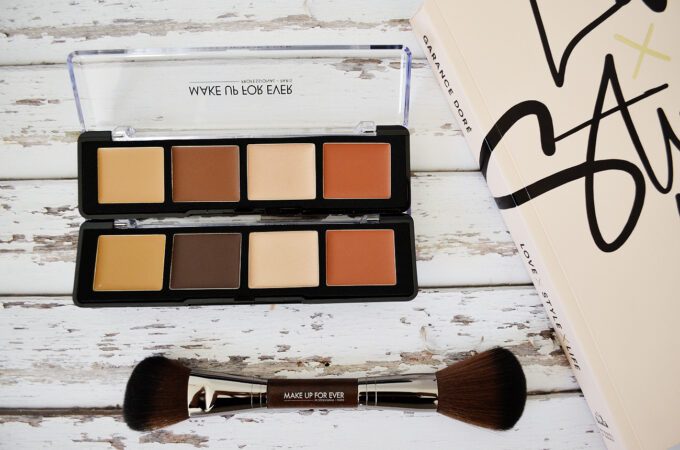 The recommended brush to use with this palette is the Make Up For Ever 158 Double Ended Sculpting Brush ($68, available here) featuring a rounded end and a sculpting one on the other. The entire Artisan Brushes range is a revolution in brush craftsmanship – they feature 100% fibre brushes are available in a range of 76 handcrafted styles. To achieve the ultimate collection, every brush has gone through 25 production stages by 30 craftsmen and has been checked for quality 50 times! If you read reviews of this product you'll note that this brush is a favourite among beginners and pro's alike – a testament to Make Up For Ever's ability to create products that really speak to the different consumer base respectively.
On my tanned NC25 skintone, I have been using Medium 30 which is a perfect match on my skin. The contour shade is a little bit too warm for my preference (I much prefer the contour shade from Light 20, which has more of a taupe/grey undertone) and is more of a bronzing colour than contouring shade. The blush shade in this palette is very similar to shade 225 from the HD Blush shade range.
Overall, this palette and the formula is another impressive winner from Make Up For Ever! But that's not everything in the Pro Sculpting Collection – here are a few more should you wish to try out something new!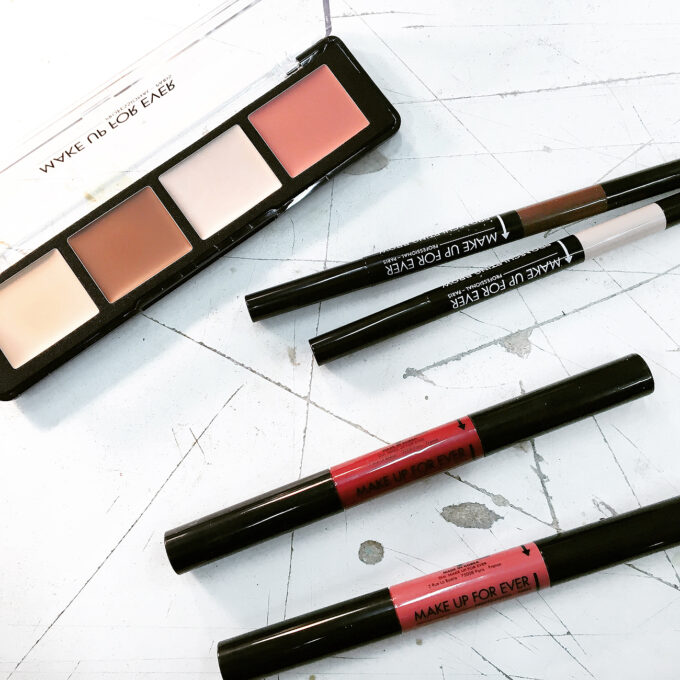 Included in this collection is a collection for the eyes and lips.
Pro Sculpting Brow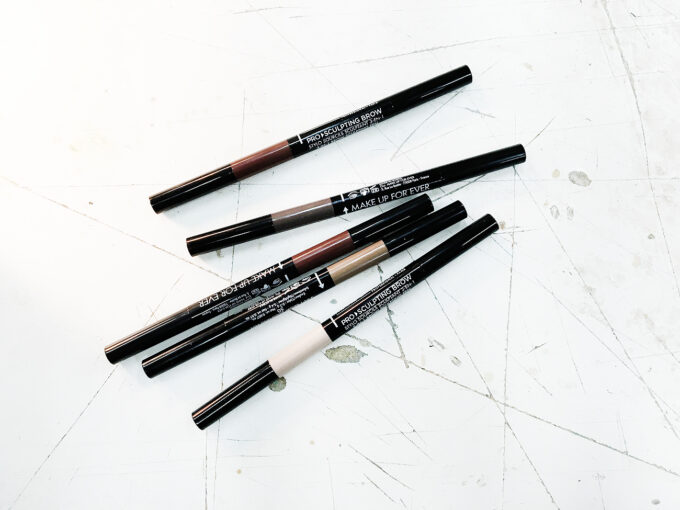 The Pro Sculpting Brow ($32, available here) is a revolutionary 3-in-1 precision brow pencil, nylon-fibre brow brush, and highlighter (for the brow bone) in one. The pencil can be retracted into three parts which will reveal the individual pieces for application. The pencil is available in 5 shades: Blond (1), Dark Blond (20), Brown (30), Dark Brown (40), and Brown Black (50).
The Pro Sculpting Brow pencil his formulated with ingredients like coco and carnouba wax, as well as synthethic mica to deliver a smooth application, long-lasting wear, and natural colour that looks like your brow hairs. The highlighter combines micro-spherical powders and esters for a quick, soft-focus and easy glide-on formula that doesn't look like too much on the face.
Pro Sculpting Lips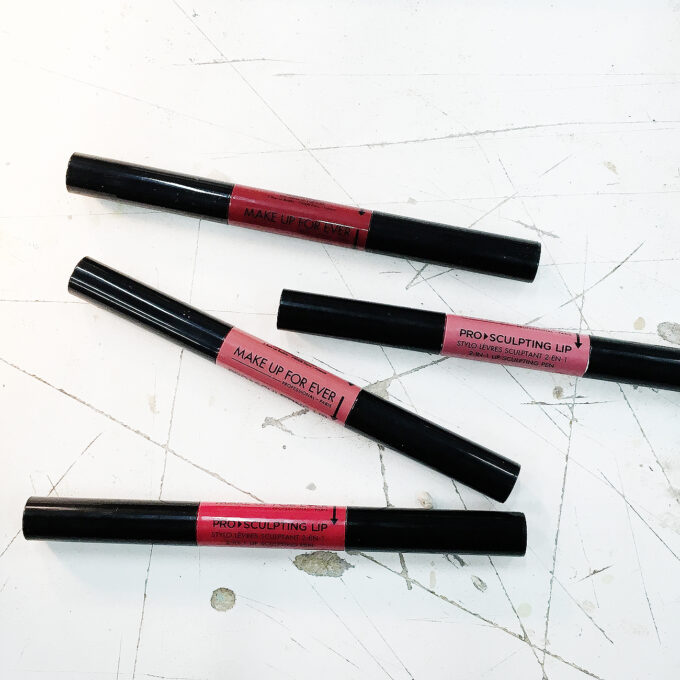 The Pro Sculpting Lips ($32, available here) is a collection of 4 natural satin-finish lipstick shades perfect for any occasion. The pencil lipstick has cream-to-powder end to use to highlight and give illusion of volume when applied at the centre of the lips. The retractable pencil comes in natural shades to compliment the natural shades of the lips so don't expect a super bold shade in this range! The applicator applies a very thin layer of highlight with pearl pigments that makes the cupid's bow really pop!
Which product from the Pro Sculpting Collection are you most interested in?
---
Disclaimer:
This post features product(s) provided for editorial consideration. All opinions are my own. For more information about my review policy, please
click here
.
---