I can be the ultimate beauty enabler in my life so it's very rare that you see a product that I didn't like on the blog. I've spoken a little bit about a few items I didn't like in only previous two posts, Products that Just Didn't Work and I'm Just Not That Into You. As a beauty blogger and having a little way more than I need, I often just toss the products out before I had the time to photograph and talk about it.
Around this time of the year, I like to start my annual spring clean. I discovered a number of new products and found a few that I was more ready than ever to toss out. It takes a lot for me to want to toss a product out – I've always felt that I need to be able to make the most of every single item I purchase because they were bought with my hard-earned money. Even if the shade is wrong, I'd still keep the product "because I can always use it for the blog".
The whole idea behind today's toss out are products that simply didn't work because of the formula. After lots of attempts, failures and disappointment, I've discovered that these are products that I cannot make work, no matter how much of an effort I make with them.
If I've listed an item that is your favourite, do let me know how you get on with the product and share any tips you might have!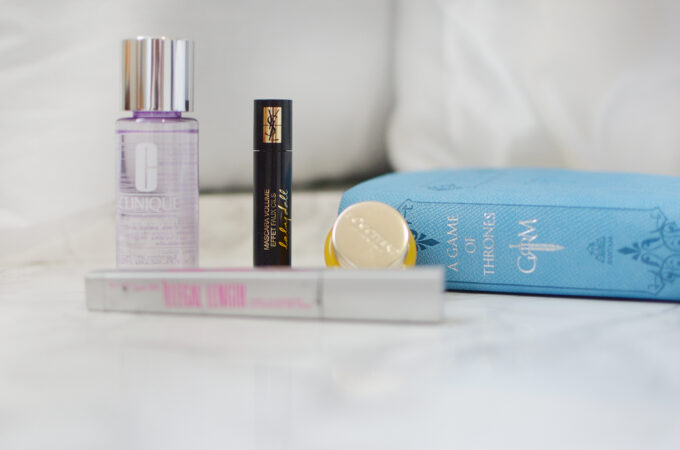 Bare MineralsLash Domination: There is absolutely nothing spectacular about this mascara – it doesn't volumize or lengthen as its hyperbolic name might imply. The brush is very thick and the wand bristles are spiky, so trying to coat the bottom half of your lashes is not the most pleasant experience. Considering the price, there's a lot of cheaper and even drugstore options available that does a better job for your lashes.
Bare MineralsHigh Shine Eyecolor Collection: I bought this about two years ago during a Sephora Black Friday sale (of course), and it came with two shades, one in a copper shade and another in a gold shade. The High Shine Eyecolor Collection are quite unique in my collection as I don't have anything quite like it – it's not exactly powder, nor is it loose eyeshadow powder. It's almost like a hybrid between the two. The thing is, the High Shine Eyecolor Collection was a dream to swatch on the back of my hand – pigmented, and easy to blend. Once you are applying it on the eyelid however, it just gets everywhere – as if you're applying cracker crumbs on your lid. It is not as vibrant on the lid which was highly disappointing!
Marc JacobsMini Lash Lifter Mascara: Okay, this is the only time I'm every going to swear on the blog (or at least come close to it), but what the eff is wrong with the formula of this mascara? Maybe, not the formula, but there's just something wrong with the sample that I have because the formula is like thick honey being applied on the lashes. I kid you not, but when you pull the mascara wand out of the tube, there's like a cheese string of mascara lump that comes with it. And I'm like, "I'm supposed to apply this on my lashes?" It's a very thick formula that doesn't really coat your lashes in any way and is difficult to remove. So nope. This got tossed out after that first use.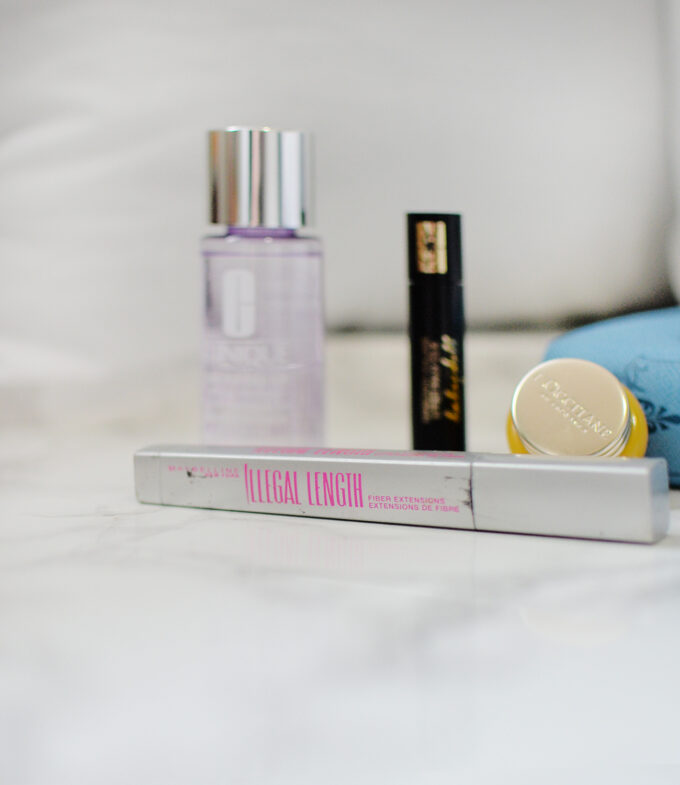 CliniqueSkinny Stick: I love Clinique. A lot. They've really upped their makeup game, but their Skinny Stick eyeliner is a step too far. It's so skinny that it breaks every time I try to use it. And it's not the kind of soft that makes it easy to break, but there's just this brittleness in the formula that it breaks off a piece every single time I use it. I never actually finished using up the product – my floor ate it all up.
StilaMagnificent Metals Foil Finish Eye Shadow Kitten ($42, available here): Stila's Kitten eyeshadow is quite legendary in the beauty world – it was an iconic shade and is likely their most popular colour. The cream eyeshadow has a lot going for it – an iconic shade, and a finish that's supposed to be one-of-a-kind, but was just a madness to apply. There's a primer that you use to apply before the eyeshadow, and no matter how many times I've tried to make this work, it just would not apply well on the lid. It was patchy and I felt like I wasn't even picking up anything on the brush or my fingers.
ClarinsWaterproof Cream Eyeshadow ($24, The Bay): I seriously wanted to love this product. I did at first, and chalked up my exciting review from a couple of months back to a case of an exciting first impression of the product. Now, this product was genuinely a dream to apply and swatch on the back of my hand, The creaminess, pigmentation, blendability (when wet), and drying time was really good upon application.
It dries very quickly – almost as if the cream dried too quickly and makes it practically impossible to blend once it's dry. So if your application was super patchy, you basically want to remove everything before attempting any fixes. It doesn't work as a primer either because once it's dry, it's like dry paint – no creaminess to it for anything powdery on top of to adhere to. My problem with this product however, is that it feels like Elmer's glue on the eyelid. Elmers glue is probably easier to remove than this and I kid you not, my eyes are so red afterwards. It is such a shame because the colours are stunning.
How do you deal with a product that doesn't work for you? Do you toss it right away or give it a second chance?