There aren't too many posts on this blog on products that I didn't like, and I realize that it may come off the wrong way to some people. Aside from the fact that it's just harder for me to write bad things about a product, sometimes I feel like I just don't have the effort or energy to dedicate to writing that kind of post when there are tons of other topics to write about. Plus, when I dislike a product, it typically goes directly into the trash – why hang onto them?
I'll start to be a bit more dilligent about this and start writing more about these anti-favourites. Maybe you can let me know how I can use them better to get the most out of the products.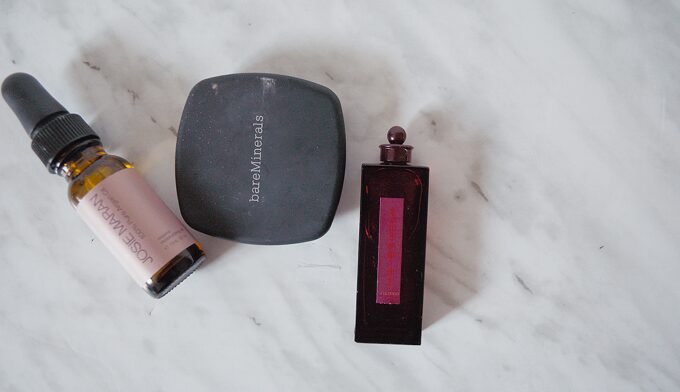 Josie Maran Argan Oil
Face oils seem to be a big thing a couple of years ago, and as I've been loving any kinds of moisture booster (i.e. products I can apply under my moisturizer for that extra boost of hydration), face oils seem to be a natural choice. Josie MaranArgan Oil seems to be a favourite among many and there are tons of positive reviews and raves about these. I wished I could like these too but it is really not good for my skin. I started getting cysts around my eyes, and while they are not painful, they are not something I've never seen on my face before. I stopped using this and all the cysts went away.
I've tried using other face oils, including the GuerlainAbeille Royale Face Treatment Oil which worked much better on my skin than this. Maybe it is too potent or rich for my skin which is unfortunate because I have 80% of this bottle remaining.
bareMinerals Translucent Powder
How I wished to get along with this product better because I have several mini's of it left which will now have to go into the blog sale pile! This powder is so so powdery, as in you can lightly touch the powder that there will be kickback everywhere. Plus it sets the makeup too well meaning that I get quite cakey around the nose area quickly. The worst part though, is that it pills like crazy! That's when you get all sorts of peeling and balling of the product, which baffled me to no end because this product has so much potential! I love the fact that it is translucent and one-shade fits all mentality; I like that it doesn't change the colour of my foundation so it could have done so so well!
Shiseido Eudermine Revitalizing Essence
Okay this product was something I was genuinely sad to write that it didn't work for me at all. It seemed like something that was made and designed solely for me. Shiseido's legendary presence in the skincare market, I was so excited to see this essence/serum product that is meanth to be applied under your skincare. It has a fantastic scent, and is super lightweight – it feels like water that just absorbs directly into the skin. But that's when things kind of goes sideways – it feels a little too much like just… water. Do I really want to pay $78 for 4.2 oz of water? Not really. And that was just the first problem.
The second was that my skin reacted poorly to this product – I started getting really, really dry skin patches that were scaly and I frantically tried all sorts of different hydrating masks, and even replaced my day moisturizer with a night cream since it was richer and theoretically, should make the scaly patches go away quickly. Did not work.
That's when I looked at the ingredients list; this product is basically water and alcohol which explained the reaction. If you look at the ingredients list, ingredients #2 and 3 are derivatives of alcohol. Ingredient #1? Water. So pardon me for being absolutely outraged by this product.
What are some products that just didn't work for you?