I though travelling in Cambodia was going to be easy – by easy I mean assuming it had a well-developed infrastructure for tourism. It wasn't. There's still a lot of work in progress so I wanted to put this "getting around Cambodia" guide for any (solo female) travellers who may be heading to Cambodia soon!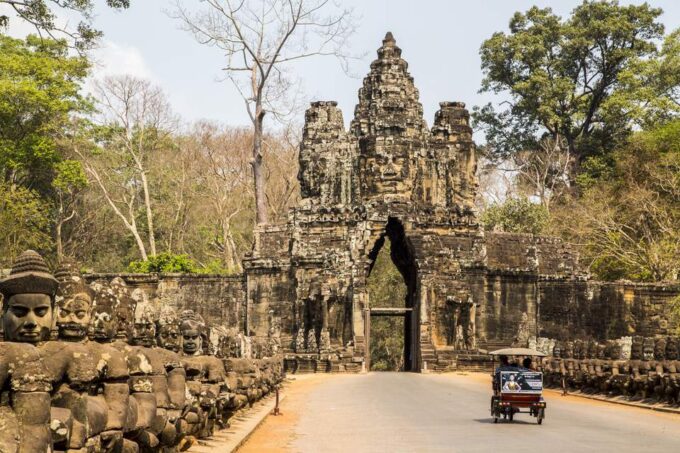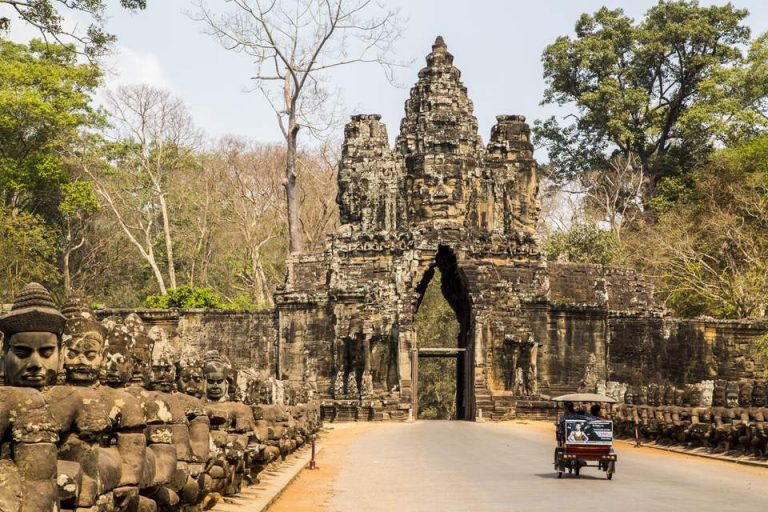 Keep in mind the information below is current as of May 2018 and prices listed below have been identified as USD/CAD accordingly.
How to Get into Cambodia
As one of the country on the "backpackers' trail", Cambodia is surprisingly easy to access from other countries by land or air. Flying is probably the easiest, but also a little bit more expensive, while land takes longer, is often rife with scams at the border but can be significantly cheaper.
1. Flying into Cambodia
The two major airports are based in their main cities, Phnom Penh and Siem Reap. Both airports are surprisingly developed and loo quite new. At the airports, you can find Starbucks, Relay and a clean food court / gift shop. Servicing both airlines are various low-cost airlines in addition to the regular ones so there's quite a few options to choose from.
Visa on arrival is available at both major airports.
a. Flying in from Thailand
Cambodia Angkor Air (Cambodia's national airline), Lanmei Airlines, Bangkok Airways, Thai Smile Airways, AirAsia, Malaysian Airlines. I flew with three of the airlines here and can recommend highly Thai Smile Airways (which flies to both Phnom Penh and Siem Reap) and Bangkok Airways. I prefer flying with Thai Smile Airways over the other airlines as it departs from the Suvarnabhumi (BKK) airport (where most international flights arrive to) and the cost is much cheaper. It is the low-cost carrier of Thai Airways and my experience on it was far superior to AirAsia or Bangkok Airways – think free food/snacks during the 1-hour flight and a newer/cleaner plane.
b. Flying in from Vietnam
From Saigon/Ho Chi Min City, you can fly in with Qatar Airways, Cambodia Angkor Air, Malaysian Airlines, Vietnam Airlines
c. Flying in from Laos
From Vientiane or Luang Prabang, you can fly with Bangkok Airways, Malaysia Airlines, Vietnam Airlines, Cambodia Angkor Air or Lao Airlines
2. Getting into Cambodia on Land
If you have time and are restricted in budget, land crossing might be a more appropriate option. Cambodia shares border with 3 countries including Vietnam, Thailand, and Laos. Visas on arrival are available at most land crossings but it might be worthwhile to check the most current Cambodian border crossing list, especially if you are considering to get an e-visa ahead of time.
Keep in mind border scams (extortion and bogus fees) are quite rife and you're really at their mercy if you're stuck in one of these situations. It's also worthwhile to have cash on hand (USD) and check the border crossing opening and closing times before you go as ATMs/amenities there may be very limited.
There are a number of bus operators that regular service crossings between the countries, so I recommend checking out BookMeBus where you can reserve and book your preferred seat ahead of time and compare different operators to find one that suits your timeline and needs. With Mekong Express, you are looking at USD$22-25 to travel between Vietnam and Cambodia, $18-23 between Bangkok to Siem Reap and so on. Ultimately, the pricing tends to be under $30 for a one-way ticket.
Cambodia Entry Visa Information
Entry visa is required for foreign tourists and the single-entry, 3-months visa costs USD$30. Available at major crossing points (land and air) and payable in only cash. You need to bring a passport-sized photo with you (I brought 2 just in case). Your passport needs to be valid for 6+ months after your entry and the photo must be recent.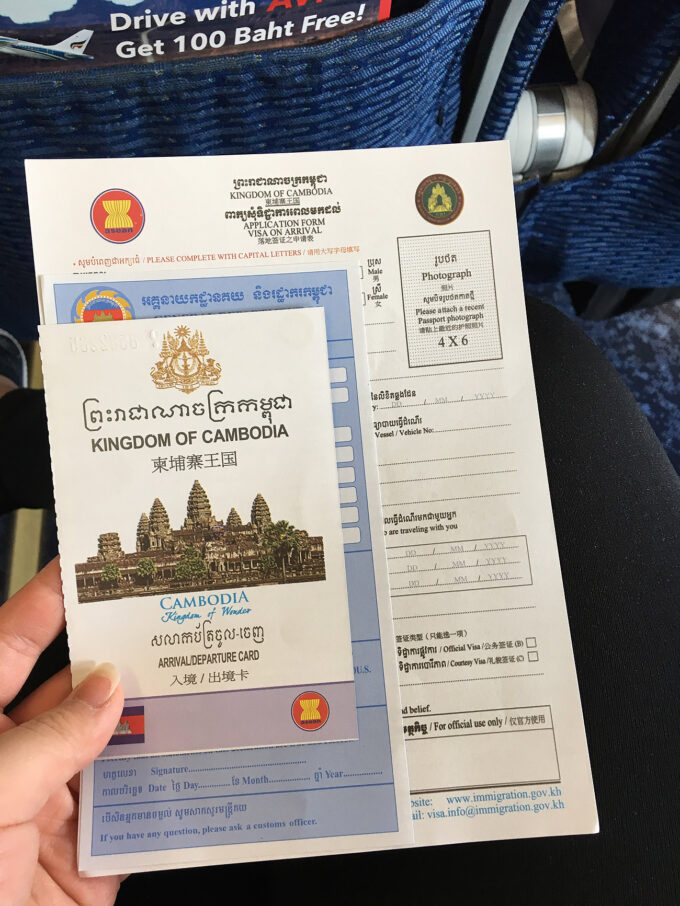 You can save time by getting your visa ahead of time through the government eVisa service which takes only 3 days to process, but costs an additional $6 for processing fee. Keep in mind not all land borders accept evisa and you should double-check which crossings will accept it before you go.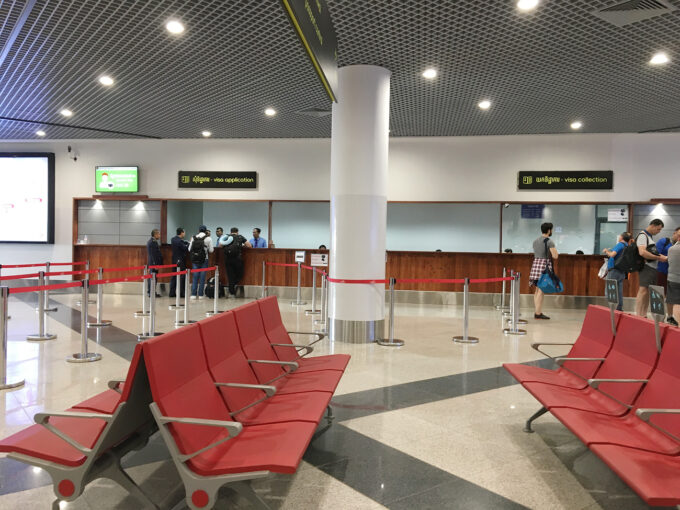 I opted to get my visa upon arrival and it was a very quick process. On the left hand side of this picture is where you surrender your passport, and photo. The right side is where you pick up your passport with the visa on it, and pay your $30 in cash. No processing fee involved.
Getting from the Airport to the City (And Vice Versa)
My experience of airport transfer is from my time at Phnom Penh although I suspect Siem Reap will have the same/similar process.
Airport taxis at the Phnom Penh airport is now regulated (previously you pay what they tell you) and it costs USD$12-15. If you have travel buddies, this is a cost worth sharing. Tuk-tuks are also available, with the cost of USD$8-10 depending on your final destination. I opted for the taxi because this was my first time in Cambodia. If you have a lot of luggage of ones that could easily be carjacked during the trip, I recommend sticking with the taxi.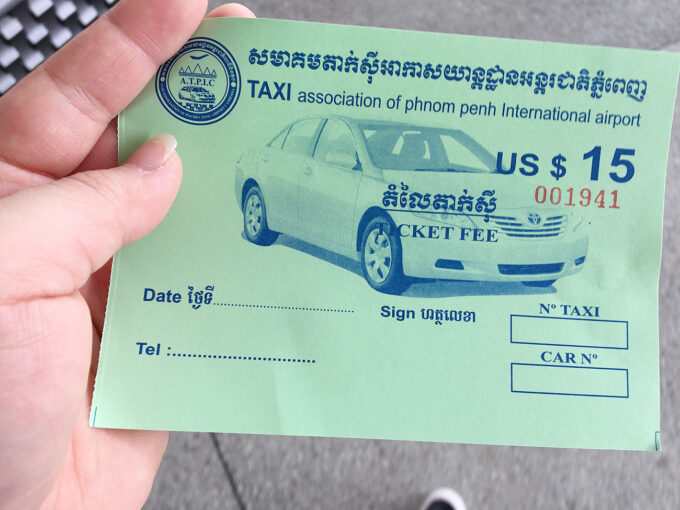 I'm glad I did take the taxi as I arrived during rush hour (8:30am) so the journey that should have taken 20 minutes on the taxi ended up being a 50-minute ride. Between inhaling the exhaust fumes, hot and humid weather, as well as the stress from traffic, the taxi was a luxurious splurge that I would have gladly repeated.
My experience taking the taxi from my hostel to the Siem Reap airport (which presumably is a similar trip vice-versa) cost USD$10 in a regular van. I had my B&B book this for me. A tuk-tuk would have costed USD$8 so it's not a major difference, and depends highly on your preference and budget constraints.
Getting Around Cambodia between Cities
Cambodia's road and infrastructure are still very basic and almost bare but the options are slowly starting to improve. Traveling within Cambodia can be done on land or air (or ferries if you're travelling to islands). Flying with Cambodia Angkor Air or even Lanmei Airlines can be quite expensive and the quality of the flight may not meet your expectation (I've read about unexplained delays, charging checked luggage by the kilo and so on amongst other horror stories).
Taking the bus seemed to be the reasonable option and there are a few tourist-friendly options to choose from. Mekong Bus and Giant Ibis are long-time tourist favourites. Giant Ibis operates exclusively within Cambodia and offers a night route if you want to save the day-time. Mekong Bus connects Vietnam and Thailand in addition to operating between the major cities in Cambodia.
Similar to booking the inter-country bus, you can book your bus at BookMeBus ahead of time. I used the Cambodia Post VIP Van transfer on the Phnom Penh – Siem Reap route for $9 on a 4.5 hour journey.
Getting around Phnom Penh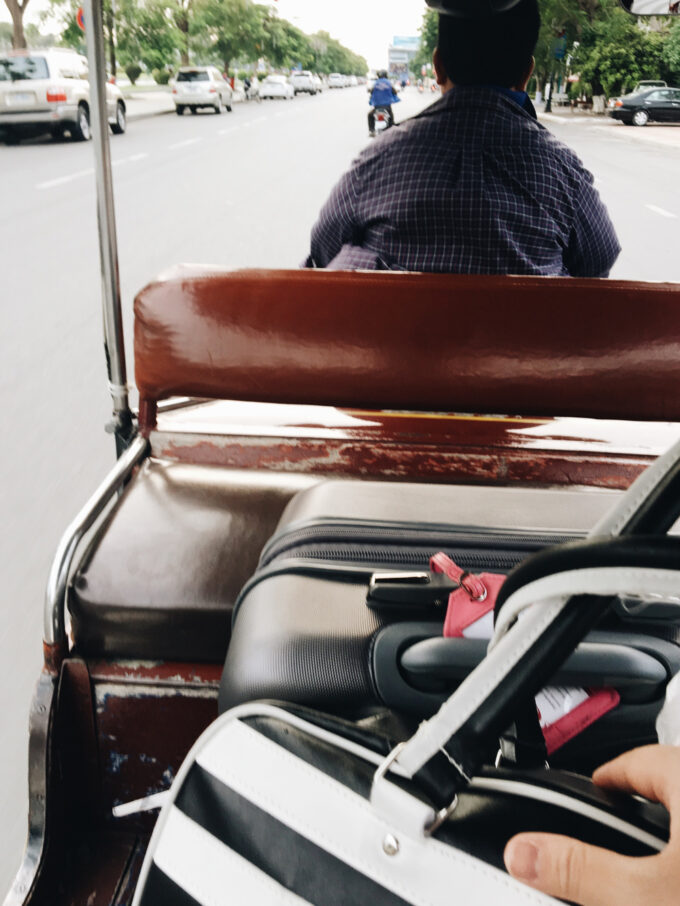 My hostel in Phnom Penh was conveniently located a lot of places I wanted to check out so aside from the tuk-tuk rides to go to the Killing Fields and Genocide Museum, I didn't have to take the tuk-tuk elsewhere (aside to get to the Cambodia Post to take the van). If you plan on visiting the pagoda temple, worthwhile to take the tuk-tuk. I personally felt a little wary as I've heard many horror stories.
Getting Around Siem Reap
As the city that is more used to mass tourism, Siem Reap has tuk-tuks everywhere you go. The drivers are surprisingly polite and they are available everywhere so there's no issue with flagging them down. If you are wary about getting ripped off, you can always ask your hostel. There seems to be a standard rate for some of the touristy attractions so you can compare prices to ensure you're not getting ripped off.
Getting to and Around Angkor Wat
You will need to hire a tuk-tuk (and I recommend it) unless you're willing to bike your way through the various temples. It is doable but each temple can be at 5km+ from each other so you need to consider whether you have the physical capacity to do all that biking and hiking/walking in the temples themselves. Keep in mind, you'll also have to know where you're going as there are very minimal signage. I broke down the costs (including if you want to see the Angkor Wat sunrise and sunset) on my How Much Does it Cost to Travel in Cambodia? post.
More details about your visit to Angkor Wat can be found on the my Angkor Wat travel guide.
Have you been to Cambodia?