When I didn't know any better, my makeup life was all about MAC Cosmetics. Who hasn't passed by their minimalistic stores adorned with beautiful posters/window art of their latest collection, and displays of bright lipsticks/eyeshadows/blushes that makes the world go round?
MAC Lipsticks were once my achilles' heel – a new collection, you say? You bet that I will find at least one lipstick to add to my cart. Now that my beauty "horizon" has expanded somewhat, my love for MAC Lipsticks have not abated. With 13 different finishes, and a wide array (For the life of me, I can't think of a brand that carries as wide of a range of shades as MAC does!) there are bound to be not just one or two favourites to be found, but 12 to be exact.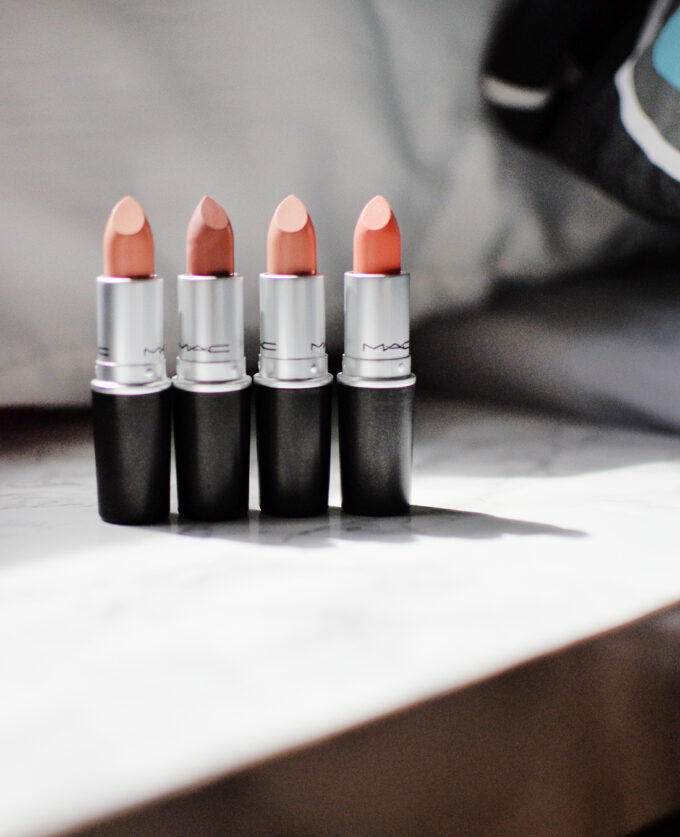 Despite owning 12 MAC lipsticks (which I assure is nothing compared to other beauty bloggers out there!) I'm quite happy with my collection – it has the right "variety" of shades, and finishes that keeps me coming back to try more MAC products!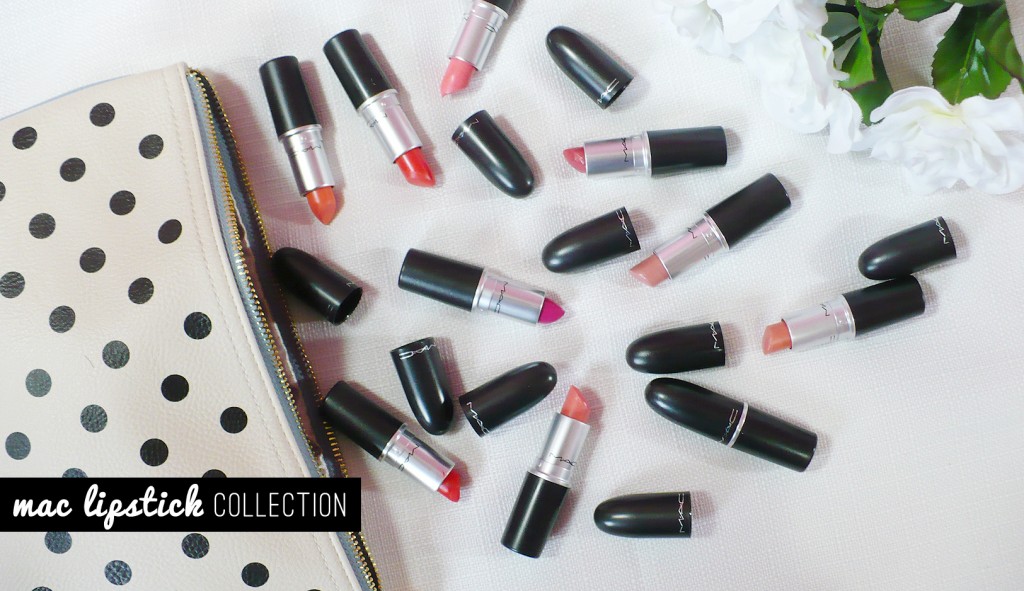 Shy Girl (Creamsheen) – Described as a creamy neutral coral beige, this was a high recommended shade that most people told me I needed. I didn't believe them because I didn't feel that it was a colour that would suit me. Was I wrong or what? This shade is so pretty on my NC25 skintone – looks natural and barely there. A shade that is Grandma approved, boyfriend approved, and definitely more than appropriate for work!
Razzledazzler (Lustre) – light cream peach. If you're not ready to rock the orange lips full on, this is your compromise. Not really orange, but more peach that leans orange-ish on my skintone, this shade is absolutely work appropriate and adds a lovely pop to brighten your makeup.
Sunny Seoul (Creamsheen) – Frosted light warm pink. This is the best pink lipstick I have come across. Due to its warm undertone, the lipstick will suit those with warm undertones (think anything NC). It's a colour that will make you smile when you wear it.
Flamingo (Lustre) – light milky coral. A "pick-me-up" shade – a nice combination of coral with a hint of pink undertone.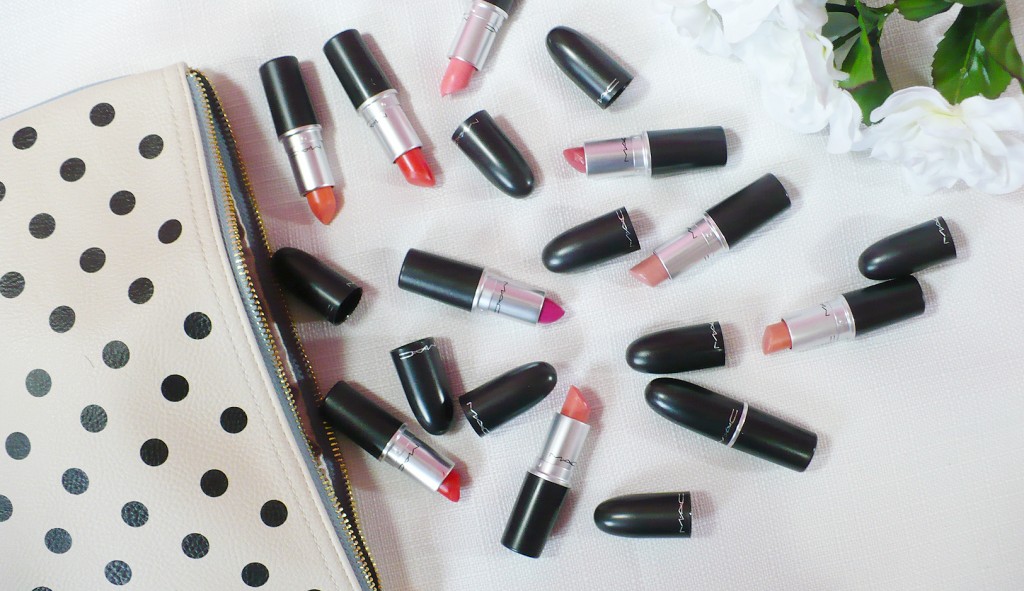 Pleasureseeker (Frost) – dirty peach with subtle warm undertones. A shade that I was really not into initially because it wasn't really peach or nude, and it was just a weird in between. However, this shade is really growing on me, particularly when applied lightly.
Sweet Experience (Amplified Creme) – bright pink with an amplified finish. I was hoping that this would be another great warm-toned pink to add to my collection. It didn't really deliver as it was much too cool-toned and far brighter than what I am used to wearing. Still quite nice to add a pop of colour on an otherwise bland makeup look!
Sushi Kiss (Satin) – midtone coral cream. If you're almost ready to rock the orange lip trend, this is another step in the right direction. Though MAC describes it as a coral shade, it does lean quite bright on my lips – looking a lot brighter than coral against the contrast of my skintone.
Sea Sheer (Lustre) – grapefruit pink. I bought this after hearing recommendations from my fave MAC guy ever (Drew who works at the Union station MAC). MAC See Sheer Lipstick is a lustre-finish lipstick, which you know, shouldn't really have worried me as the bold, pigmented colour of the tube will not necessarily translate to the intense colour in the tube. intensely on the lips. It is a lovely muted pink with a hint of red. Head over to the MAC Sea Sheer review page to read more about this shade!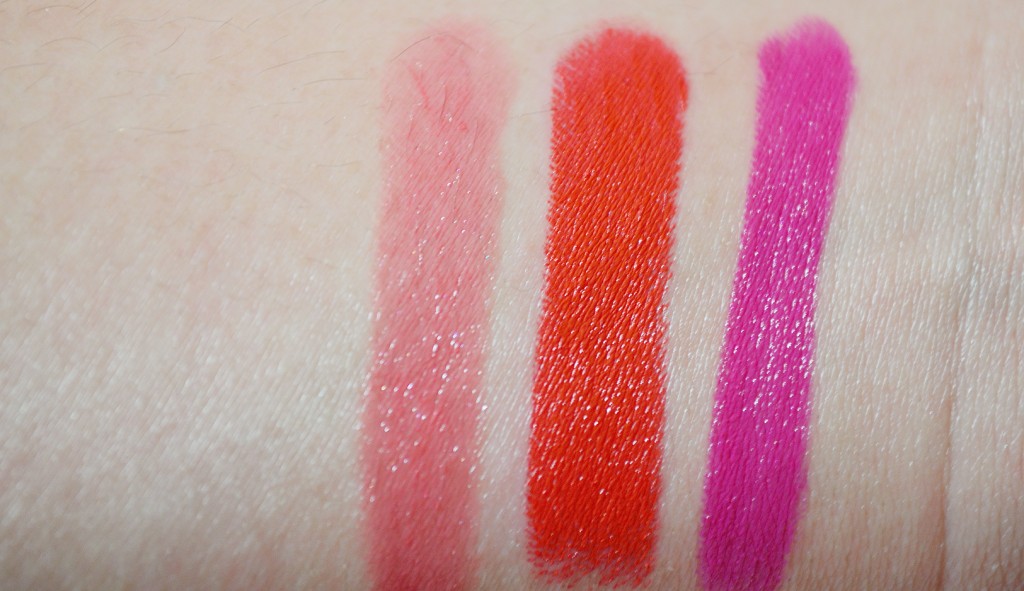 MAC Dreaming Dahlia (Lustre) – sheer red coral. In the tube, the shade appears to be an in-your-face-red which can be a little scary to rock for a conservative gal like myself, but lo and behold, when swatched, it is so much more wearable! You can read my review on the MAC Dreaming Dahlia lipstick here.
Lady Danger (Matte) – vivid bright coral red. This lipstick was not my first choice for a red lipstick, however it has that youthfulness and confidence that really suited my coloring. Also, it is apparently one of the top 3 red lipsticks from MAC, but the only one that always sells out. Head over to the Lady Danger lipstick review to read more about this shade.
Girl About Town (Amplified creme) – Bright blue fuchsia. One of those colours that I purchased mostly because of the rave reviews. It's a lovely colour and formulated with a great finish, but simply not something I wear on a regular basis. Looks fantastic on warm skintone despite the blue/cooler undertone.

Which MAC lipsticks are your favourite? Any other shades that you think I should try out? As always, I'd love to hear your thoughts! Share with me comment section or through Twitter or Instagram!