I was not going to partake in this year's Sephora Chic Week 2014 (AKA Spring's Hottest Ticket) event since I prefer to wait for the 20% event in November. However, given that there is a VIB Rouge Exclusive event this year, I figured I might as well show up and indulge myself at the event.
Pictured below is the exclusive invite for VIB Rouge members – Sephora is hosting a private shopping event in most US/Canada locations. Don't worry if you have not received any email or mailer – I have not received my email/mailer either! I found these links while browsing other blog posts, and the Sephora forum. The emails are supposed to be sent out on March 22nd, but earlier today when I checked the link for the event, I was able to sign up. More details about the actual shopping event itself can be found on the Sephora forum (on a thread I started!) Details about the sale and the VIB Rouge event is at the end of this post!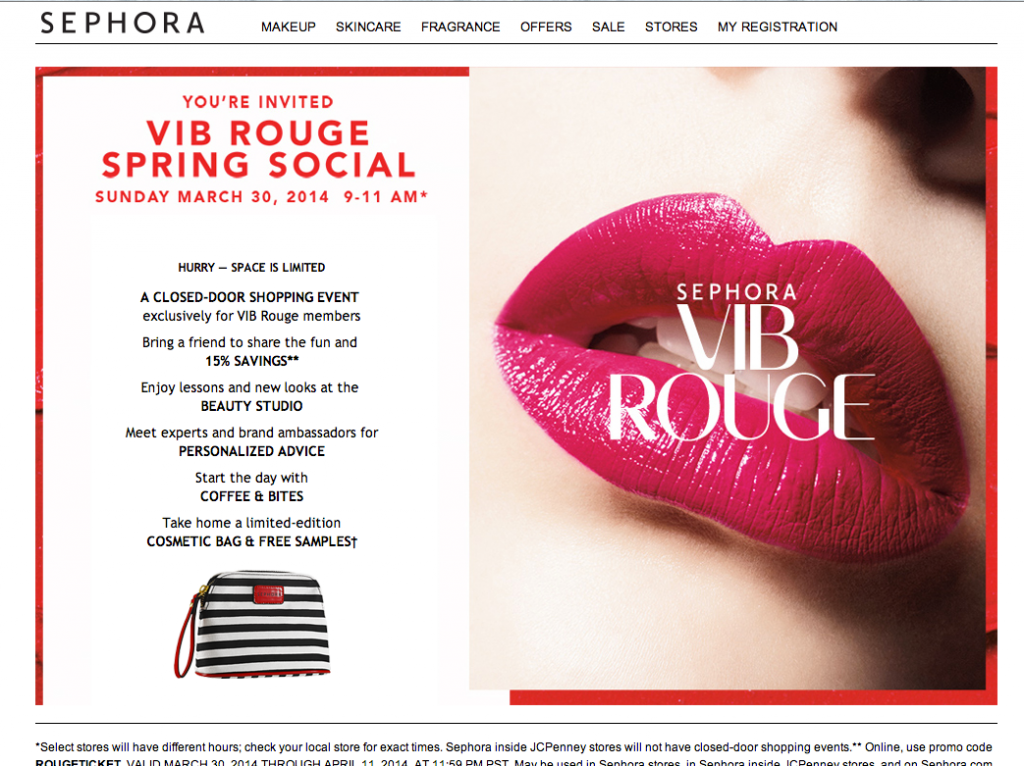 In all honesty though guys, this Sephora Spring's Hottest Ticket event may turn into me shopping for a giveaway! I need you lovely people to enable me – if I hit 300 readers (I'm only 10 readers away!) by March 30th, you will be sure that I will host a giveaway to celebrate the milestone ???? It's a win-win for everybody, so spread the words!
Sephora Spring's Hottest Ticket 2014 Wishlist
My wishlist this year is not terribly long – there are really only 2 products I really want. The CliniqueCheek Pop ($24, available here) which has been receiving tons of rave reviews online and everywhere. I'm really digging the shades Ginger Pop and Peach Pop – very predictable shades for me. Truthfully, I'm not supposed to be shopping for any more blushes (remember my haul from the Make Up For Ever HD Blushes?) I am also curious about the AnastasiaDipbrow Pomade ($24, available here) because so many people have recommended them to me as the ultimate brow product.
The NARSSmudge-Proof Eyeshadow Base ($29, available here) is also another one I'm curious to try. I'm a little intrigued by the HourglassAmbient Lighting Blush ($45, available here) particularly Mood Exposure and Diffused Heat; judging from the swatches, they look most promising on my skintone. I was seriously let down by the Ambient Lighting Powder (that's a story for another day – a review of which I will have up shortly) so I'm going to have to give the blush a really good thinking before splurging on it. The last thing that I think I might want, is the SmashboxFull Exposure Palette ($58, available here), a palette lusting that was started by my friend, Zubie who blogs at Zubie's Musings.
Event Details for VIB Rouge
Dates: March 30, 2014 between 9-11AM
RSVP: Required here (must be a VIB Rouge otherwise you won't be able to sign up); You can bring 1 guest who doesn't have to be a Beauty Insider
Gift with purchase: Free Sephora Cosmetic Bag and samples valid only during the in-store event on Sunday, March 30, 2014 or while supplies last, with any merchandise purchase.
As for the Sephora Chic Week/Spring's Hottest Ticket sale itself, here is the information I've picked up from the RSVP page; keep in mind that this is VIB Rouge information, and details may differ for members in different tiers.
Sephora Chic Week/Spring's Hottest Ticket 2014
Online Code: ROUGETICKET
Discount: 15% (Update: The offer can be redeemed multiple times through April 11th for VIB Rouge. The 15% off promotion is available in US and Canada in store and online. – Source)
Dates: March 30, 2014 – April 11, 2014, at 11:59 PM PST
May be used in Sephora stores, in Sephora inside JCPenney stores, and on Sephora.com on any merchandise purchase (fine print does not mention whether this code is one-time use or can be used multiple times)
Now, it's your turn – will you be shopping the Sephora Spring's Hottest Ticket Event? What's on your wishlist? Share with us in the comment section below!