It has been a very long time since I purchased a MAC lipstick despite the fact that they make some of my favourite shades and has an amazing variety of formulas (13 to be exact). On top of that, MAC comes out with a new collection every other week, so it is absolutely in my credit score's best interest that I keep as far away as possible from the MAC counter. On a more serious note though, MAC really needs to stop raising the price of their products – the lipsticks are now $19 each and it was $17.50 last September! I probably will have to start B2M more often to get my lipstick/eyeshadow fix if they keep upping the price!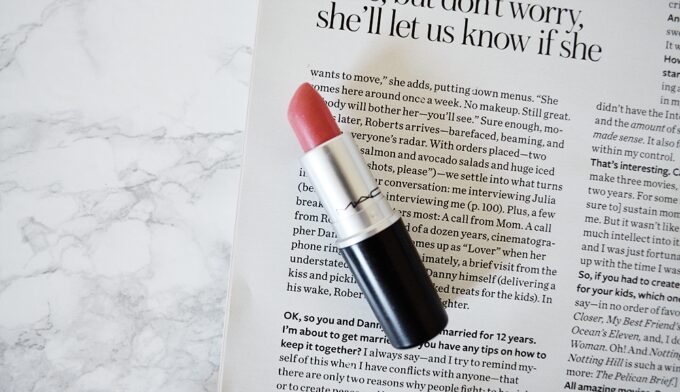 MAC Dreaming Dahlia Lipstick
Recently, I allowed myself a quick trip to the counter to satisfy my curiosity for the MACPro Longwear Concealer ($24, available here) which everyone raves about (I ended up purchasing it by the way!) I've tried the MACPro Longwear Foundation ($35, available here) before and found it to be mediocre at best. Of course, my eyes had to start wandering to their displays and a short while later, found myself walking away with the MACDreaming Dahlia Lipstick ($19, available here) from the A Fantasy of Flower collection. Just my luck, I got the last one that they had in the store.
MACDreaming Dahlia Lipstick ($19, available here, limited edition) is aptly described as a sheer red coral. MAC's lustre formula has never been my favourite finish (my favourites are Amplified and Matte). There's a whole host of reason why I dislike the lustre formula: The finish and colour intensity tend to look different on different skintones, the pigmentation is very subtle and glossy finish is drying on my lips. Dreaming Dahlia Lipstick is such a stunner that I was more than willing to forget about my aversion to their lustre formula. Just look at that colour – in the tube, the shade appears to be an in-your-face-red which can be a little scary to rock for a conservative gal like myself, but lo and behold, when swatched, it is so much more wearable!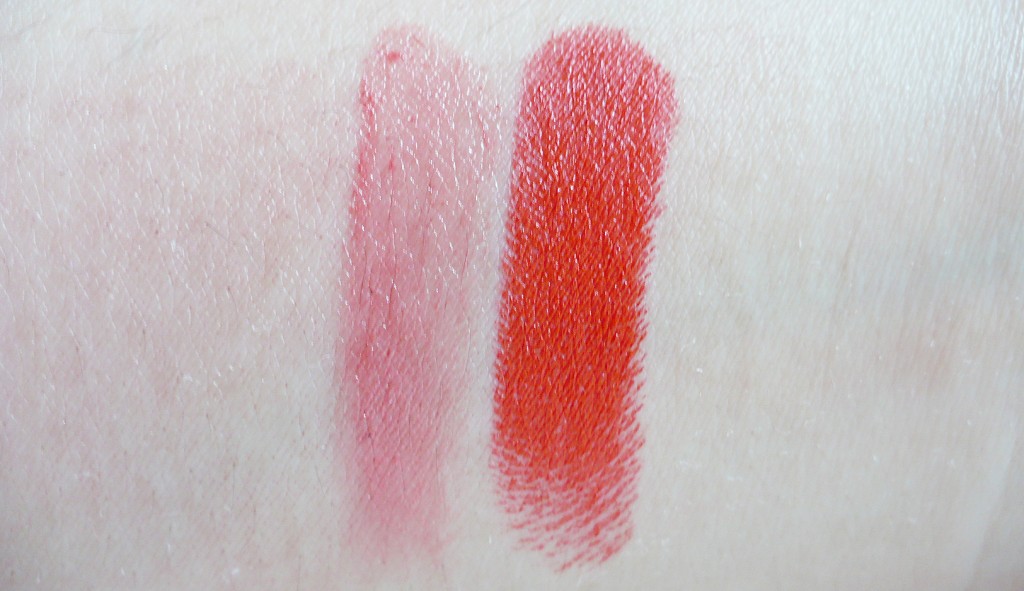 So you must be thinking, "What's so special about it!? Looks very similar to every other sheer red around!" Well, that's true. But the amazing thing about this shade is that on the lips it actually reads more red, like a medium-red that falls in between this light arm-swatch and my all-time favourite red lip, MAC Lady Danger. Imagine a beautiful medium-toned red that falls in between the two swatches above. That's what we have here, and you can control how sheer or bold it looks!
I'd say that I got quite lucky with this particular shade in the lustre family. This shade is like a step down than a bold red shade like MAC Lady Danger. One swipe of the colour gives me a light, coral tint that looks like lip balm and two swipes gives me a bold red lip with a glossy finish. Sort of a toned-down MAC Lady Danger would look like with a clear gloss on top.
What do you think of MAC Lipsticks and their collections? Do you like the formula? Any particular favourites that you think I should check out? Did you pick up anything from MAC's recent collections? Share with us in the comment section below!
Where to Buy: MAC Cosmetics ($19)