If you have been following my tweets recently, you know that I have been on a quest to find the Scarlet Ibis lipstick from the Iris Apfel collection. This iconic shade, coupled with its packaging and inspiration is simply a must-have! Since I have not been very successful, I opted for a similar shade from MAC Cosmetics' permanent line, and Drew, the salesperson at the MAC Counter in Union station, introduced me to MACLady Danger ($17.50, The Bay | MAC Cosmetics)
Drew was kind enough to pull out several different shades for me to try. I asked to try Ruby Woo and Russian Red since I've heard so many good things about them and seems to be a beauty blogger staple! He was gracious enough to help me try them on despite the fact that they weren't really my colour, and guided me through the decision-process! One of the best experiences I've had in0store with MAC!
MAC Lady Danger – A Red for Everyone
Unfortunate, my story with MAC Lady Danger wasn't a "Wow! I have to get it right now!" moment. I had a lot of back and forth between this shade and "Russian Red". But it was after trying on both shades that I realized how much better "Lady Danger" looked on me. "Russian Red" made me look old and too moody while "Lady Danger" has that youthfulness and confidence that really suited my coloring. Also, it is apparently one of the top 3 red lipsticks from MAC, but the only one that always sells out.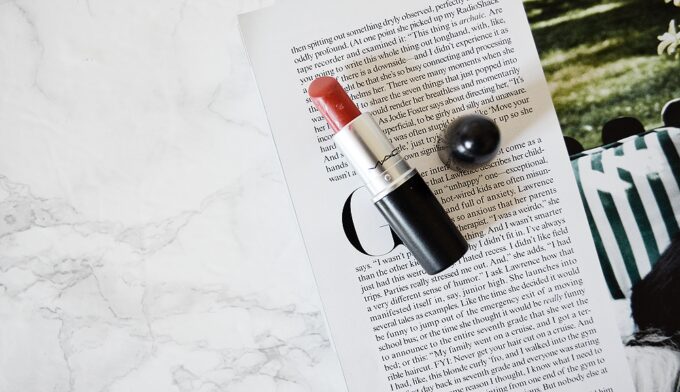 Lady Danger looks amazing on neutral eye looks (think browns, beige, and neutral shades) and simple cat-wing eyes. As of today, "Lady Danger" is definitely my favourite. It's one that I can't wear all the time, but when I wear it, I feel more confident, "alive", sassy, and playful! I'm so grateful to the SA for "forcing" me to get this lipstick. It's those "pushiness" that I really appreciate because even though I did not immediately liked it, he introduced a unique shade that he knows will work well with my skintone.
This shade wore really well on me – it lasted a good 6 hours and gives a stained look on the lips as it wears off. I was told to "stain" the lips for an even longer wear! To use a matte lipstick to "stain" the lips, 1) apply the lipstick as usual, 2) blot it with tissue then 3) "press" on some setting powder to make it look natural and last a long time. You can also use the tissue to prevent accidentally swallowing the setting powder – I imagine it won't taste very good!
Now it's your turn! Have you tried any MAC lipsticks? What are you favourite colours? As always, I'd love to hear your thoughts! Share with me comment section or through Twitter or Instagram!