[metaslider id=16831]
The blogosphere is awash with Valetine's Day makeup tutorials, and all sorts of gift guides for him/her. Instead of jumping the bandwagon, but still keeping up with the spirit of Valentine's Day, I figured I would shade some of my current pink-themed favourite beauty products again!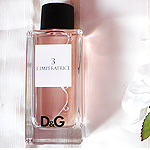 I am currently alternating between 2 favourite fragrances. One of them is the D&G3 L'Imperatrice ($89, available here). Don't let the simplistic nature of the bottle fool you in any way; This has become my signature fragrance ever since I bought it two years ago. This fragrance is the absolute definition of balancing force of character, charisma and feminine charms; it is one I imagine women like Michelle Obama, Béyonce, and Sheryl Sandberg would wear. That being said, this is my go-to fragrance when I go to work, interviews or just need that confidence booster. It's really hard to fully appreciate this fragrance without being able to experience it in person, but the next time you swing by Sephora or The Bay, do give this a whiff!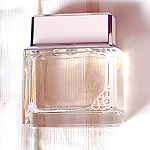 Givenchy Dahlia Noir Eau de Toilette $92, available here[/caption]The GivenchyDahlia Noir Eau de Toilette ($92, available here) has returned to my winter rotation once again. This is one of those scents that smell so much better when the weather is cooler outside since it seems to agree with my body chemistry a lot better. Just like L'Imperatrice there is something disarming and charming about this fragrance. For those with sophistication, elegance and an abudance of feminine charm, this fragrance is sure to be a favourite and staple. As for myself, this is something I reach out for when I have dinner dates planned, and only for very special occasions (i.e. Valentine's Day). I have featured this fragrance in a previous favourites post which you can read here.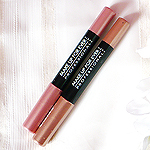 The eyeshadow bases that I have been constantly reaching out for is the Make Up For EverAqua Shadow ($24, available here). It's a familiar sight of eyeshadow sticks/pencils, and the most distinguishing feature of these pencils is the formula. I have raved so much about the Aqua Cream in my recent review, and this pencil is equally, if not, just as good. The pencil doesn't glide as smoothly as I expected, so there was some tugging on the lid. The firmness of the formula doesn't take away from its stellar formula though – just as with the Aqua Cream, once these eyeshadows set, they will not budge, move or fade. There is a little bit of time post-application to pat or smooth the colour out in place, but once it dries, it will not move until you decide to remove it. My current favourites include #20E and #28E, both pearly shades in the taupe/beige family with a strong pink undertone, perfect for the romantic Valentine's Day look.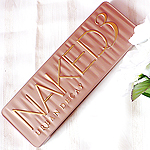 It seems that no pink-themed posts can be complete without the inclusion of the Urban DecayNaked3 Palette ($62, available here). I recently received this in the mail and have been very much in love with the cohesiveness of all the pink and purple shades. My day-to-day makeup typically features beige/taupe shades on the lid with dark purple/burgundy on the crease so this was a palette that felt like it was made specifically for me. Urban Decay's eyeshadow formula is one of my favourites – great velvety texture, intense pigmentation, and overall wear. This palette might not be something for everybody as the colour palette leans warm. A few of the colours are still new to me but overall, this has been a mostly satisfying palette, and money worth spending.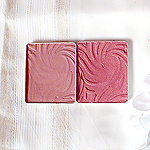 My absolute staple in recent months has been the Wet n WildStudio Color Icon Blusher ($6-8, available here). Readily available at most drugstores that carry the Wet n Wild line, great colour selection and priced very inexpensively at $3-6 a piece, this is a product that has impressed me over the years, and kept me coming back. This was in fact, the very first beauty product I ever finished (a glittery blush shade in Pearlescent Pink). My staple shades of the moment are Mellow Wine, a matte dusty rose, and Berry Shimmer, a shimmery berry shade. I depoted these (be extra careful as the texture is extremely soft and will chip/break), but the imprint on the blushes remind me so much of bouquets of flowers and Valentine's Day!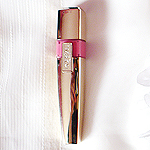 Another one of my favourite budget-friendly picks is the L'OrealColour Riche Caresse Wet Shine Stain ($10, available here), supposedly a dupe for the famous Yves Saint LaurentRouge Pur Couture Glossy Stain. With a great variety of shades, and a lovely glossy and natural-looking stained finish, this budget-friendly option will leave you looking like a million bucks. The formula starts out fairly watery/liquidy and eventually thickens on the lips. At first it was something that felt somewhat uncomfortable but you can blot the excess away and be left with a stain that lasts hours! There are a number of shades to choose from, ranging from the boldest red, to demure, my-lip-but-better colours. The one featured here is Lilac Ever After (am I the only on who sensed how fitting this product name is for Valentine's Day?)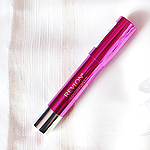 For a bold, high-shine finish lip shade, the RevlonColorburst Lacquer Balm in Tease ($12, available here) has been one I reach out for recently. I never thought that this was a colour that I would wear or reach out for, but the glossy finish with hints of shimmer is simply too beautiful to pass up. Additionally, the formula is one of the most comfortable drugstore ones I've ever come across. It sits on the lips without feeling heavy and leaves a natural-looking stain once it starts fading away. Revlon has made impressive claims with these balms and truly delivered. They are also available in matte shades and both formulations are now available in-stores for a fraction of what similar high-end pencils would cost.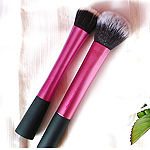 It is no secret that I am head over heels for Real Techniques brushes, and both the Stippling Brush ($10, available here), and Multi-Task brush ($18 – part of a set, available here) have been surprising favourites. The Stippling Brush is I avoided using for foundation as the surface area is much smaller, thus taking more time to work with to apply foundations. However, this brush is absolutely stellar when it comes to applying cream-based products that are highly pigmented, such as the Stila Convertible Colours which I reviewed a couple of weeks ago.
My first Multi-Task brush was actually a failure as the one I received did not have a tapered head, leading me to chuck away the brush in disappointment. I now have a second brush which truly lives up to the name. Used to apply blushes or bronzer or powder, this does the job without any problems!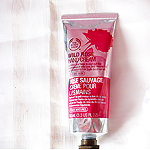 The Body ShopWild Rose Hand Cream ($20, available here) has been a nice addition to my hand-cream family. It has a very rich formula and fragrance, though not the most moisturizing one out there. It left my hands a little more greasy than I would have liked. Even though it's not my absolute favourite product, it is still worth mentioning, because how lovely would it be to receive one of these hand creams? I won't lie that at full-price this happens to be an overpriced hand cream; I typically purchase these when The Body Shop has a number of sales/promotions that run quite often if you are interested! Also, keep a look out for one of those $10 off $20 purchase coupons that The Body Shop often shares on Facebook or their website to save even more!
What are some of your favourites for Valentine's Day? Share with us in the comment section below!