The past 1.5 weeks have been filled with a plethora of product reviews but I thought I would share something a little bit more fun. And what could something more fun be than a haul?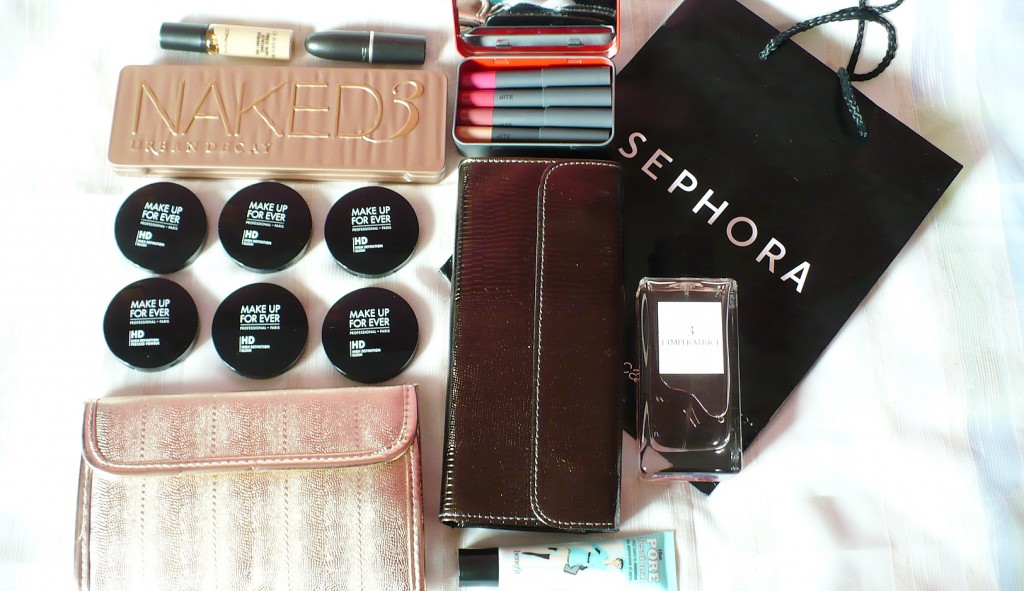 Starting with the Urban DecayNaked3 Palette ($62, available here) a product which really goes to show how weak my resolve is. I told, promised, and vowed to myself that I do not need another pink/purple eyeshadow (my staples) but seeing the "Out of Stock" sign at Sephora was something I did not stand against. I sprinted home and pushed that online order through as a little Valentine's Day Gift for myself (cheesy?) I don't think it is a decision I regret – I have been loving every look I am putting together with this palette and it cannot seem to do any wrong ????
I also purchased two brush sets from Wal-Mart (surprised? so am I!) which are dupes for the Sephora Collection brushes which retailed for $70 each. It was something that someone discovered on the Sephora forum, and when I spotted it on clearance ($3.50 for EACH set), I had to immediately get my hands on them. Regrets? Absolutely not. They are some of the best quality brushes I've come across – definitely comparable to some high end brands, and considering that they were made in the same batch as the Sephora brushes, I'd expect nothing less.
An invitation to the Make Up For Ever press event for their new HD Cream Blushes ($31, available here) left me blushing since I walked away with so many new blushes (taking advantage of the special pricing at the event of course!) I picked up a number of colours which are a little bit out of the box for me since I typically stick to one tried-and-tested shade.
In December, back when all those pretty holiday sets were available for purchase, my hem and hawing resulted in my missing the BITE BeautyBest Bite Set ($28, sephora.ca, LE) which sold out quickly. Fortunately, they came back in stock a couple of times, and the one time I was ready to check out, it stayed on my cart! Quite pleased with my luck that day ????
I also stopped by the MAC store which is something I have not done in a very long time. Curiosity got the best of me and I had to try the MACPro Longwear Concealer ($24, available here) which everyone raves about all the time! The shade I picked is NC20 which is about 1-2 shades lighter than my current skintone. I think I can finally understand all the raves as in the past 2 weeks that I have been using it, I have nothing but good things to say about it!
I also picked up a MAC Lipstick in Dreaming Dahlia from a recent limited edition collection. I have reviewed the lipstick before and I am in love with the colour which does not appear as bold or bright as it seems in the tube!
The last item I picked up is of my favourite fragrance ever – the D&GL'Imperatrice ($85, available here) which is rumoured to be discontinued. Fortunately, Sephora still carries them, and I decided to purchase one during the 3x points on fragrance earlier in the month. I've written about this fragrance here, and it remains as my all-time favourite.
Overall, it has been a great month of purchases but I did find myself going over the limit which was completely unplanned. Here's to a more conservative spending in March!