A new brand launch is always exciting to write about, and soon Canadians will have access to Dermablend, the #1 Dermatologist recommended camouflage brand in the US! Launching in October 2016, the full-range will be distributed nation-wide at select Shoppers Drug Mart, making it really easy to get a hold of!
I have heard a bit about Dermablend before I was invited to the product launch event in Toronto. I struggled with hyperpigmentation from old acne scars so I spent some time researching for a high-coverage, full camouflage makeup when I first started with makeup. I went with CoverFX as it was a brand available locally at the time so it is really nice to have a few more options today.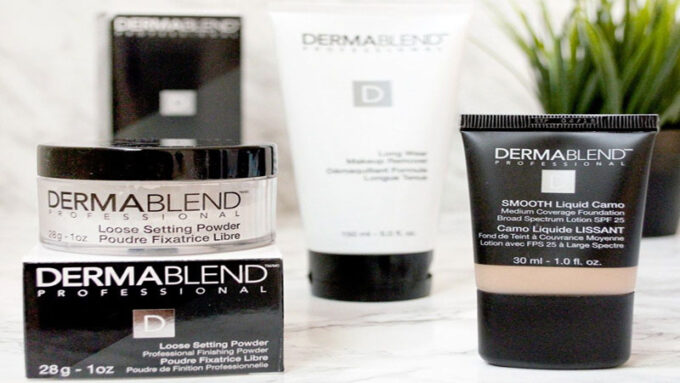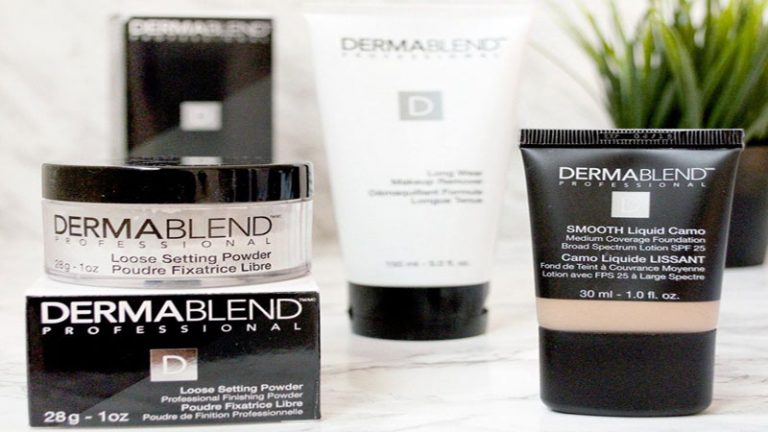 Dermablend will be launching their full range of products which are safe to use even for those with sensitive skin, as the products are dermatologist tested, allergy tested, sensitive skin tested, non-comedogenic, non-acnegenic and fragrance-free. The pigmentation level in the products is high enough to full cover tattoos on top redness, dark circles, uneven complexion, vitiligo, rosacea, tattoos, scars, acne and the simple desire for flawless coverage. Regardless of what kind of skin issue you may be struggling with, there is a product to address your concern!
The Dermablend Full Camouflage Makeup Range
The Dermablend range is all complexion products including medium to full coverage foundations, concealer, and the setting powder. I was provided three of their products to test and try out, including the:
Smooth Liquid Camo Foundation ($42, available here), a medium-coverage liquid foundation
Loose Setting Powder 28gr ($34, available here), the lock-in powder that will set your makeup for up to 16 hours
Long Wear Makeup Remover ($23, available here, the gentle gel-based makeup remover
Smooth Liquid Camo Foundation
The foundation is quick-setting, lightweight liquid foundation. Unlike the name or brand would suggest, the foundation has a more liquid-cream blend consistency. The closest foundation I can compare the texture to would be the Laura MercierSilk Creme foundation (older formula). The tube packaging makes the foundation easy to travel with keep in my daily makeup bag. It comes with the standard 1 fluid ounce / 30ml worth of foundation.
This foundation wears nicely and dries to a more matte finish so you probably don't really need a setting powder. It has SPF25 in it which I don't personally feel is sufficient to be worn without additional sunscreen. I am an NC25 in MAC foundation range, and I was matched with Camel 30N which has a neutral undertone. I have a light-to-medium skinton with golden undertone. The Dermablend website has a helpful chart / shade picker you can use to determine your shade match. The good news is that if you know your shade from one product, it is easily transferrable to the other products provided the shade exists which minimizes the risk of guessing your colour. The thicker cream-like texture does make the foundation feel a little heavier as the day wears on.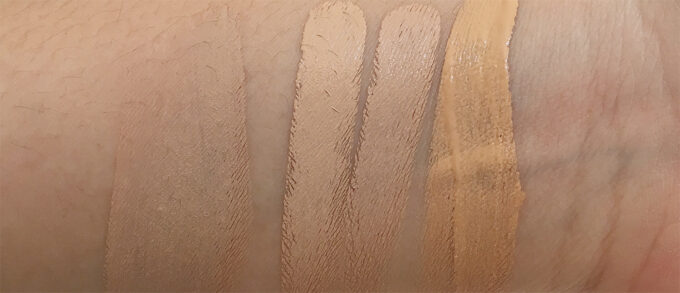 The cream texture makes it important to blend quickly otherwise you'll get some streaking. I've found that using a fluffy flat-top brush or a beauty blender makes the application as seamless as possible. The brand claims a 16-hour wear when set with the setting powder. I don't really feel that it has the same level of comfort and coverage as a lot of my favourite medium to full-coverage foundation from Make Up For Ever or Estée Lauder.
On its own the foundation does feel a little heavier and more mask-like than I'm used to.
Loose Setting Powder
The setting powder comes with a generous amount, and is a one-shade-fits-all opaque white shade. I didn't have any issues with this particular white powder as being too ashy on my light-medium skintone. The powder is fantastic to use to bake and achieve that long-lasting finish. I love using this over my other liquid foundation as it helps seal in the wear without affecting much of the makeup underneath.
I find wearing this powder over the matte-finish liquid foundation makes the wear feel heavier than I'm used to and definitely can feel a little mask-like for those who are not normally accustomed to wearing such a thick foundation. I think wearing the combination is best used for special days/nights (i.e. costume makeup).
Long-Wear Makeup Remover
The opaque gel makeup remover helps melt makeup and the massaging motion helps pick up all the bits that are also around the crevices of the nose and difficult-to-reach areas. It has a pleasant floral scent and removes even the most stubborn waterproof and long-lasting makeup without excessive rubbing. The generous amount (150ml) will last quite some time – I usually use about a quarter-sized amount to wipe off my makeup at the end of each day.
Have you heard about Dermablend? Which product would you try out first?
---
Disclaimer:
This post features product(s) provided for editorial consideration. All opinions are my own. For more information about my review policy, please
click here
.
---