The Make Up For EverAqua Cream ($28, available here) is a collection of ultra-pigmented, waterproof cream eyeshadows. Available in 21 shades, this product is part of its Aqua product range, which features a highly pigmented, waterproof, and smudge-proof formula. Formulated with mother of pearl particles infused with high concentration of pigments, this cream eyeshadow applies and leaves a finish unlike any other products in my beauty drawer. These Aqua Creams are marketed mostly as an eye makeup product (eyeshadow base, eyeshadow colour), but I find that some of the shades can be quite versatile and used as lip/cheek products when I swatched them in-store.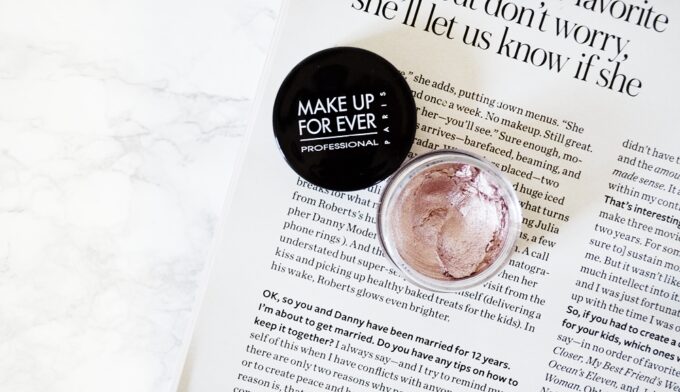 Make Up For Ever Aqua Cream
Packaged in a transparent plastic jar, the Make Up For Ever Aqua Cream is quite a familiar sight. It has a very soft, mousse-like texture, that I find easiest to work with using my fingers. The eyeshadow applies effortlessly on the lids, and true to its claim, has a stunning luminous finish that is unlike any other eyeshadows I have in my collection. #16 drew me in because it is not a colour that can be described in one word – the best way I can describe this shade is shimmery pink with a metallic frost finish that looks like a duochrome in some angle and is very unique despite (what I'd like to think) my extensive eyeshadow collection.
I have used this product with and without a base, and I didn't find that the base made a significant difference in the application. I find that once applied, the eyeshadow is not immediately as pigmented or bright as it appears on in the pot, so if you have been hesitant about taking the plunge with it because of the colour intensity, this is something to note. I have to apply several layers to achieve the exact same pigmentation as seen in the pot but that is not to say that sheerness is a bad thing. With this easy-to-build-up formula, the Aqua Cream is very forgiving and a lot easier to play around with because you have the option of building up the colour or simply to use it as a sheer wash of colour on those no-makeup days.
I personally like to layer this colour to achieve the same intensity as the pot, mostly because I adore this color on its own, and it looks amazing paired with a plum/purple shade for a romantic/first-date look.
Make Up For Ever Aqua Cream in 16 Pink Beige vs. Maybelline Color Tattoo Inked in Pink
When I first saw this shade, I was immediately reminded by another familiar drugstore product, the MaybellineColor Tattoo Inked in Pink. At a glance, both shades look very similar but there are subtle differences in application. The MaybellineColor Tattoo Inked in Pink appears to be a darker shade of pink and a less shimmery product, but once applied, the Make Up For EverAqua Cream applies as a lighter and brighter shade of pink, and is immediately much more pigmented than the MaybellineColor Tattoo Inked in Pink which looks very flat. The MaybellineColor Tattoo Inked in Pink has a firm texture unlike the mousse-like texture of the Make Up For EverAqua Cream. Most of the differences come down to your own preference, but a very obvious difference to note between the two is definitely the formula. The Make Up For EverAqua Cream is completely crease-proof on my lids, but I noticed creasing with the MaybellineColor Tattoo Inked in Pink.
I would not say that they are exact dupes of each other, but they are very close. The Make Up For EverAqua Cream may cost a pretty penny, but I find the price to be absolutely worth it given the quality, excellent pigmentation and texture, and the wide variety of shades available. Is this a product for everyone? No – if budget is a big consideration then the MaybellineColor Tattoo is a great substitute for the Make Up For EverAqua Cream range, albeit with a smaller shade selection and lower-quality formula. If formula, quality of finish and long-lasting staying power are important to you, I would highly recommend the Make Up For EverAqua Cream over any drugstore dupes.
True to its claim, this eyeshadow cream will not budge, or smudge once it sets. Once you apply the product, you have a bit of time to work with (blending out the colour) it but it will not move once it sets and you can really tell when the eyeshadow has set/dried. It is completely waterproof, and did not crease on me when I wore it. Despite the intensity, and waterproof formula, it is still very easy to remove at the end of the day with makeup wipes.
It is a true stand out within my entire collection, not simply in terms of colours, but also because of its stellar formula!
What about you? Have you tried the Make Up For EverAqua Cream? Is it on your to-purchase list?