Ever since Urban Decay came out with their absolutely popular Naked palette series, as well as reformulated their eyeshadow formula, the brand has quickly topped my list for quality eyeshadows. When I heard that there would be a limited edition, Urban DecaySin/Mushroom Eyeshadow Duo ($22, available here), I was so thrilled. Whoever's idea it was to combine two of my FAVOURITE shades from Urban Decay deserves props, really!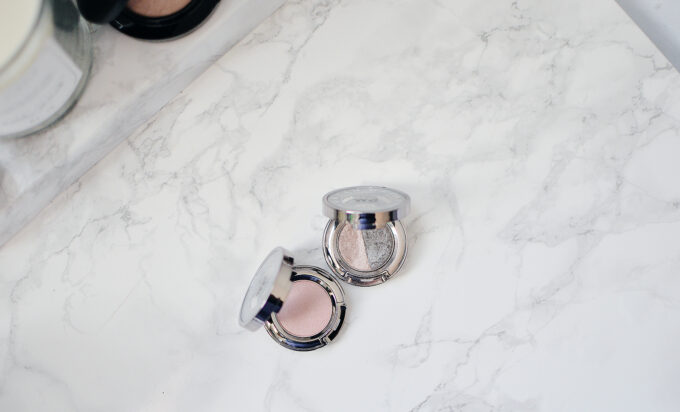 Encased in the same token-like plastic casing as their permanent single-colour eyeshadow range, the two shades are split right down in the middle. I've never tried mixing the two colours together as I prefer them on their own, but this is such a great easy-to-carry, 2-in-1 duo that can create a myriad of looks without taking too much space in your makeup bag.
Urban DecaySin has been my all-time favourite lid colour – perfect for adding that subtle glow all over or just in the corner of the eyes. It can double as a highlighter for the cheeks or for the cupid's bow as well if you find yourself in a pinch. The shade is flattering on my NC25 skintone, and it is such a gorgeous mix of champagne pink that is unique to my collection. Worn alone, this shade will add such a beautiful sheen on the eyes, subtle, and perfect for work (Definitely "grandma-approved"!) A similar shade (not 100% accurate, but quite close in my opinion) is the NYX Salmon eyeshadow which retails at a fraction of the Urban Decay one.
Urban DecayMushroom is a warm gray/taupe shimmer that is not as frosty as it looks or when swatched. This is a great shade to use for that one-colour smokey look, but pairs very well with Sin if you want an everyday smokey look.
Both shades can be worn alone and they would be perfect (i.e. Sin for the daytime, everyday look and Mushroom for that one-colour smokey shade). From the 2 shades alone, you can already take your daytime look to night. With "Mushroom" in the crease, you have the option of creating a subtle daytime look or smokey daytime look without using too many colours.

As expected from a brand like Urban Decay, the quality of these eyeshadows is excellent! The texture is very smooth to the touch, and not too powdery. The pigmentation is excellent as you can see in the swatches above. Both shades are part of their permanent range, so it shouldn't be too hard to track them down.
Where to Buy: Sephora, Urban Decay Website ($22, LE)